Introduction
Why be boring when naming your dog? There is no rule that says you have to have a dull, mind numbing name rather than a fun, flirtatious one. The caveat here is that it should be fun, not shocking or repulsive. You can combine names of things to get a new name such as Dogbert which has a new twist. Or maybe you can hint at your dog's fun thing to do, such as Barkin, if he loves to keep barking! You can have a little fun when you are choosing a name. Take the time to nut it out, make a list of possible names and wait a day - you may find the next day the name just sounds wrong. I love Skeeter (short for mosquito) for a dog that is always buzzing about. Or maybe Flea, for a small dog with a big bite, okay, so that is weird, but still retains its coolness.There are so many options when choosing a name, so don't rush it. Get it right and life will be so much easier for you and your dog.
Creative Dog Names in Pop Culture
Featured Famous Dog with a Creative Name
Horrie the Wog Dog
A perfect example of a creative dog name is Horrie the Wog Dog. He was an Egyptian Terrier who was befriended as a puppy by Australian soldier, Private Jim Moody. This was Egypt, 1941 and the dog became the unofficial mascot of Moody's unit, the 2/1st Machine Gun Battalion. Horrie was devoted to his new master and friends, and went  with them as they moved around the Middle East and Greece. The Terrier was very intelligent and easy to train, and he was employed as an air sentry which meant he alerted troops to approaching aircraft. His excellent hearing could pick up the sound of the planes well before the soldiers could, which gave them a distinct advantage to be prepared for the attack. He was promoted to the rank of Corporal and he was there at the evacuation on Greece, and was on-board the troopship Costa Rica when it was sunk. He survived that ordeal but was later wounded by a bomb blast in Crete. When he returned home to Australia, Moody smuggled the dog through the stringent quarantine officials so he could have his furry pal with him. This brave little dog was a hero and a companion to all who met him, giving hope and a moment's respite from the reality of war. 
Speaking of heroic dogs with creative names, Strelka and Belka were two Russian dogs that spent a day in space aboard Sputnik 5 on 19th August 1960. Previously a dog named Laika had become the first living creature from earth to travel on Sputnik 2 on November 3rd, 1957. Nicknamed Muttnik (a play on words from Sputnik) she unfortunately died between 5 and 7 hours into the trip. Luckily Strelka and Belka, plus the grey rabbit, 42 mice, two rats, and several other plants and fungi who accompanied them, survived the trip and returned safely  to earth. Strelka went on to have six puppies,  one named Pushinka, who was presented to President John F. Kennedy in 1961. Pushinka  later  had a litter of puppies (nicknamed by the President as Pupniks) and their descendants are still living today. A Russian animated feature film called Belka and Strelka: Star Dogs was released in 2010.

Movie dogs have often been given creative names, such as Barkin, after Charles B. Barkin, a character out of the movie All Dogs Go to Heaven. This title  must be true as dogs have such giving natures, who else but a dog could be guaranteed a place? 
Creative Dog Name Considerations
There are a lot of things to consider when choosing a name for your dog. What are they? Okay, fair question. First, the name must be easy to say, because if you need two or three goes to get it out, it will be ineffectual. By the time you get the name out, your dog will have lost interest and wandered away. You want something that rolls off your tongue easily, so watch those exciting but hard to understand names. If the pronunciation is difficult, discard the name. It doesn't have to be a short, one syllable name, but you do have to be able to say it clearly and easily. Secondly, it has to make sense in relation to the dog. Poppet for a big, brawny dog just doesn't ring true. Poppet is better suited to a small female dog who is delicate and dainty in proportion. Bruiser sounds more like your serious guard dog, it gives an air of authority, and describes your dog accurately. Select a name that suits the dog, after all you both have to live with it for a long time. And thirdly, respect your new dog and give him or her a name to be proud of. Choose a name that is not a common name for many things so your dog recognises it as its name. They don't speak our language, so make it easy for them. Check out lists like this one to find your own unique name and honor your dog with a name it can be proud of.
Votes
Name
Vote
8

Twix

Perfect for a small chocolate colored dog

5

Chewie

As in dog loves to chew stuff - such as shoes, toys, clothes and so on

4

Houdini

Yep, a true escape artist

4

Skeeter

Imagine a small dog that is always buzzing about but thankfully doesn't bite

4

Cubby

For a shy dog that likes to hide in cubby holes

3

Flea

I love this one - for a small dog with a BIG bite

3

Kojak

Perfect for a hairless dog such as the Chinese Crested

2

Barkin

A play on the word Bark, meaning to keep barking

2

Digger

Slang for the term soldiers from Australia and New Zealand

2

Gotham

The Dog Knight

1

Dogbert

Combination of dog and the name Bert, sounds interesting yes?

1

Elvis

As in 'You ain't nothing but a hound dog'

1

McCool

A cool dog, he prefers to be called Mr McCool thank you

1

Twistit

For a dog who is always wiggling or twisting

1

Amigo

Spanish word meaning friend

0

Astro

The pet dog of the futuristic Jetson Family cartoon - very apt for the modern day dog

0

Brad Pitt

A great name for Pit Bull Terrier... as in Brad Pitt... the actor.... enough said

0

Crowbar

A steel rod but ideal for a tough dog that is as hard as steel

0

Dawg

After the Terrytoons animated series Deputy Dawg

0

IPod

A tech savvy dog

0

Bungee

For a dog who loves to leap about

-1

DeVito

Danny DeVito - a famous American actor and director

-1

Digby

Ideal for a dog that loves to dig

-1

Kayak

For a dog who loves the water

-1

MacGyver

Remember the guy who could get out of any sticky situation?

-1

Siggle

Rhymes with wiggle and giggle but is actually a sacred symbol meaning magic and protection

-1

Gangsta

As in the hip hop music genre

-2

Hotdog

Better than a cold dog, I guess

-2

Jaws

Think angry Doberman or Rottweiler - lots of teeth

-2

Hooch

The famous canine character in the movie called Turner & Hooch

-4

Java

Named after the drink, yum
Female Creative Dog Names
Votes
Name
Vote
6

Gremlin

Small and mischievous from the movie Gremlins

5

Babushka

A Russian word for grandmother, but sounds like a fun dog name

5

Midget

For a really small dog

5

Barracuda

A dog with a lot of teeth (after the fish)

5

Alshafa

A generous, gracious, if some what light headed being

4

Munchkin

From the Wizard of Oz - sounds so cute and cuddly, like a small fluffy dog

4

Sixpence

A small coin of little value but let's just say its for a dog that is short and small

4

Monsoon

A dog that can take a lot of rain

4

Kooky

A dog with a twisted sense of humor

3

Jitterbug

A dog that is always bounching around

3

Doom

Can you imagine a Chihuahua with this name?

3

Taboo

Means not allowed, forbidden

2

Pinot

After the wine Pinot Noir made from red wine grape species Vitis Vinifera

2

Manasa

A word that means creative for a dog that is, well, creative

2

Otta

It is spelled right, and means creative and imaginative

2

Jewel

After all sorts of lovely gems, means your dog is a valuable gem to you

2

Cinnamon

Sweet and spicy

1

Morticia

From the Adams family, it would suit a black dog with long hair

1

Titch

A slang term for a little gal

1

Pozer

Yep, the moment you get out the camera, your dog strikes a pose

1

Jiselle

Just had to add this one, it means prettiest girl on earth

0

Dotcom

For a tech savvy little pooch

0

Chianti

A wine produced in the Chiani region in Italy

0

Blondie

After the beer brand

0

Vashali

Ooh lovely, meaning beautiful, creative, and big heart

0

Foxy

A dog with a cute foxy face, what else

-1

Dimples

For a dog with a cute smile

-1

Jellybean

Small and sweet, just like the candy

-1

Bitcoin

For a precious little pooch

-2

Vinifera

After the grape species for wine making, Vitis Vinifera - its got to be good for you
Community Dogs with Creative Names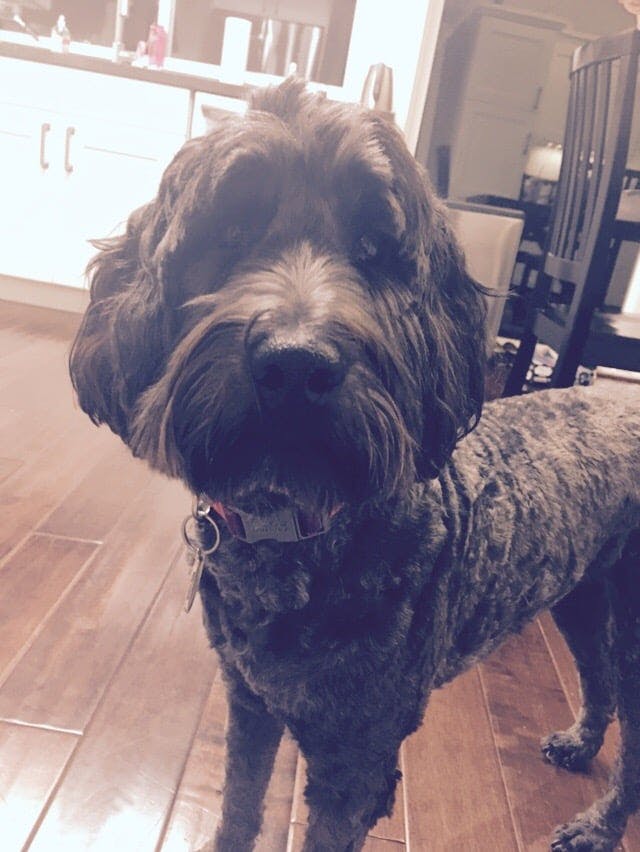 Shiner
Female
Labradoodle
San Francisco, CA
Personality
Sweet
Mellow
Trainable
Prancer
She was a little bit older when we got her because nobody wanted a black dog and we named her after my brothers black eye that he got 2 weeks before