Introduction
Finding the perfect name for your Dachshund can be a fun experience or it can be a daunting task. With Dachshunds being the 13th most popular dog breed within the United States, many families are facing the same challenge. These fiercely devoted, completely stubborn and slightly odd appearances make them such a lovable dog for your family. These tenacious badger hunters come in a variety of colors and sizes making naming them even more fun. Many people look for names from the Dachshund's native country, Germany. Others come up with laughable names that give homage to their nickname as wiener dog.
Dachshund Dog Names In Pop Culture
Featured Famous Dachshund Dog
Danke
When you think of famous dachshunds, the first thing to come to mind is the movie by Disney, The Ugly Dachshund, released in 1966. In this movie, a prize-winning Dachshund named Danke is having puppies. Her nervous human mom, Fran Garrison, has high hopes for these puppies. Danke has three girl puppies, Wilhelmina, Chloe and Heidi. Danke's veterinarian, Dr. Pruitt, has a Great Dane that just delivered puppies as well but she was rejecting one of the boy puppies. He convinces Fran's husband, Mark, to take the male puppy and have Danke foster him.
Fran was unaware that this fourth puppy was not actually Danke's puppy until Mark finally comes clean and tells her the story of Dr. Pruitt's Great Dane. Mark named the little boy puppy Brutus. As Brutus grows and thrives under the excellent mothering of Danke, he believes he is just another Dachshund. He adopts many habits from his adopted family such as scrunching down and walking low to the ground. His siblings are typical Dachshunds and mischievously lead Brutus into situations where he gets into a lot of trouble.
Finally, Fran is fed up with having the awkward and very large Great Dane under foot and demands that Mark get rid of him. However, after Brutus risks his own life to save Fran's favorite pup, Chloe, from the trash truck, Fran decides Brutus can stay. The Garrison's enter all of their pups, including Brutus, into a dog show and Brutus finally meets other Great Danes. He notices a lovely harlequin Great Dane and he pulls himself up and stands tall and proud, just like a Great Dane. No longer does Brutus slink around believing he is a Dachshund, but he still loves his adopted family as if they really were his true family.
In a more recent movie, The Secret Life of Pets, released in 2016, there is a lovable black and tan Dachshund named Buddy that stole the hearts of pet lovers everywhere. In this computer animated comedy, pets are in the spotlight and when their owners are away, they do indeed play. The movie is set in a Manhattan apartment building and Max, a rather rambunctious Jack Russell Terrier, has his life turned upside down when his owner brings home Duke, a slobbery mongrel of indiscriminate heritage.
Max and Duke must team up with other pets in the building including Buddy, a goofy black and tan Dachshund to stop Snowball, a charming white bunny. Snowball is trying to raise an army of unwanted or lost pets to exact revenge on those who did not want them and the pets who have loving homes and families. 
Dachshund Dog Name Considerations
Sometimes coming up with the perfect name for your new puppy can seem like a daunting task and puts a lot of stress on a family. But naming your new friend should not be that taxing or complicated. Many people choose to give their Dachshund a name that reminds them of the Dachshund's country of origin, Germany. There seem to be a lot of Dachshunds names Franz, Otto, Heidi or Gretel. Some German names can be Americanized for those who do not care for the hard sound of many German names. Aside from German names, names that honor the Dachshund's nickname seem to also be very popular. Names such as Oscar or Meyer or even Heinz or Pretzel are the name of choice for those inspired by hot dogs. Whatever you decide to name your Dachshund, make sure it is a name that fits their look, personality and your own likes. Find a name that you personally like and see if it is the right one for your new companion. Sometimes, you will be able to tweak the name to fit your puppy, such as instead of calling him Franz you change it up a bit and call him Frank or Frankie making the name sound less formal and more happy. 
Votes
Name
Vote
9

Digger

Dachshunds are earth dogs and love to dig

6

Heinz

As in the name brand of ketchup, a popular condiment for hot dogs

6

Hunter

Dachshunds are tenacious badger hunters

5

Olaf

From the character in Frozen; German meaning ancestor's descendant

5

Roscoe

A great hound name; Old Norse name meaning doe wood

4

Klein

German word for small

4

Wolfgang

Derived from the German words meaning wolf and path; famous German composer Wolfgang Amadeus Mozart

4

Winchester

Popular dog name for gun collectors or avid hunters

3

Frankie

Refers to a member of the Germanic tribe, the Franks

3

Otto

German name meaning wealth or fortune

3

Winston

Meaning wine's town; popular name for many black and tan Dachshunds

3

Rolf

Comes from the name Rudolf; popular German name for dogs

3

Freddy

Short for Friedrich; cute name for small dogs

2

Sigmund

German name meaning victorious or protector

1

Meyer

The second half of the famous hot dog manufacturer, Oscar Meyer

1

Scooter

Common dog name especially for short-legged dogs

1

Bruno

German word can mean armor, protection or the color brown

0

Oscar

After the famous hot dog manufacturer, Oscar Meyer

0

Copper

As in the color; many red Dachshunds are named this

0

Buddy

From The Secret Life of Pets movie

-1

Fritz

A common nickname of Friedrich which is the name of several kings

-1

Ludwig

Famous German name; after Ludwig van Beethoven

-2

Gunner

A popular name meaning battle strong

-2

Schnitzel

A type of meat that is tenderized and fried; popular name for German dogs

-2

Adolf

Common German name used mainly for pets since the end of WW II

-2

Johan

Scandinavian form of John

-3

Franz

Many Austrian rulers have had this traditional German name

-3

Herman

German name meaning army man

-4

Hansel

From Grimm's fairy tale, Hansel and Gretel

-4

Hans

Common German name that is very popular with Dachshund owners
Female Dachshund Dog Names
Votes
Name
Vote
9

Libby

Short form of Olivia; meaning olive

8

Pretzel

Fun name after the twisted, tasty snack

7

Danke

From The Ugly Dachshund; thank you in German

6

Gretel

German name from Grimm's fairy tale, Hansel and Gretel

6

Reba

Form of Rebecca; became very popular when Reba McEntire became famous

6

Liesl

From The Sound of Music; popular German name

5

Brina

Short for Sabrina; means protector

4

Daisy

After the dainty flower; Old English word meaning day's eye

4

Hilde

A form of Hilda meaning battle; perfect for these determined hunters

4

Phoebe

Meaning bright and pure

3

Annie

Popular name for dogs; from the German form Anna

2

Penny

Name given to many red girl Dachshunds because of their color

2

Minnie

Great name for miniature Dachshunds

2

Cricket

Cute name after the insect that chirps loudly at night

2

Darcy

From the Norman French d'Arcy; also from Pride and Prejudice

2

Xena

After Xena Princess Warrior who is strong and stubborn just like the breed

1

Molly

A form of Mary; great short name for short-legged Dachshunds

1

Struedel

Tasty German layered pastry

1

Winnie

Named after Because of Winn Dixie; fun name for mini doxies

0

Heidi

After the popular children's novel

0

Ruby

Precious gem; many Dachshund owners see their dog as precious or priceless

0

Bailey

Meaning bailiff; a very popular Dachshund name

0

Tess

Short for Theresa; popular name for small dogs

0

Scarlett

Popular with red Dachshunds; after Scarlett O'Hara

-1

Ginger

Spice that is reddish-brown in color; popular for red or chocolate Dachshunds

-1

Rita

Became a popular name for pets after Rita Hayworth

-1

Princess

Most Dachshunds think they are royalty

-2

Sadie

A form of Sarah; meaning princess, lady or noblewoman

-2

Greta

Popular female German name; after Greta Garbo

-3

Zoey

Means life; popular Pokemon character
Community Dogs with Dachshund Names
Lily
Female
Dachshund
Califon, NJ
Personality
Feisty
sporatic
hyperactive
we name my dog lily because she has a white patch on her chest which resembles a lily flower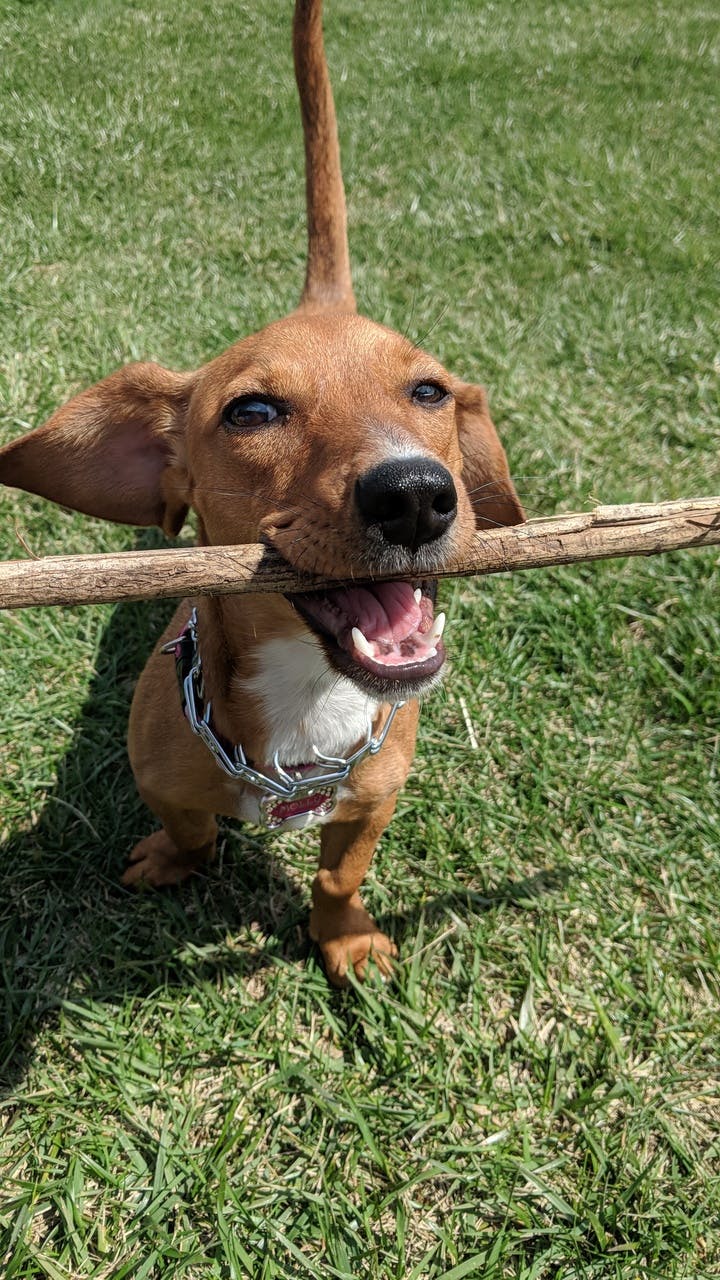 Molly
Female
Dachshund
Waynesboro, PA
Personality
Affectionate
Playful
Naughty
Funny
Molly was the perfect name for this tiny, energetic ball of fun. She's sassy and loveable. She was nearly Bridget but Molly won.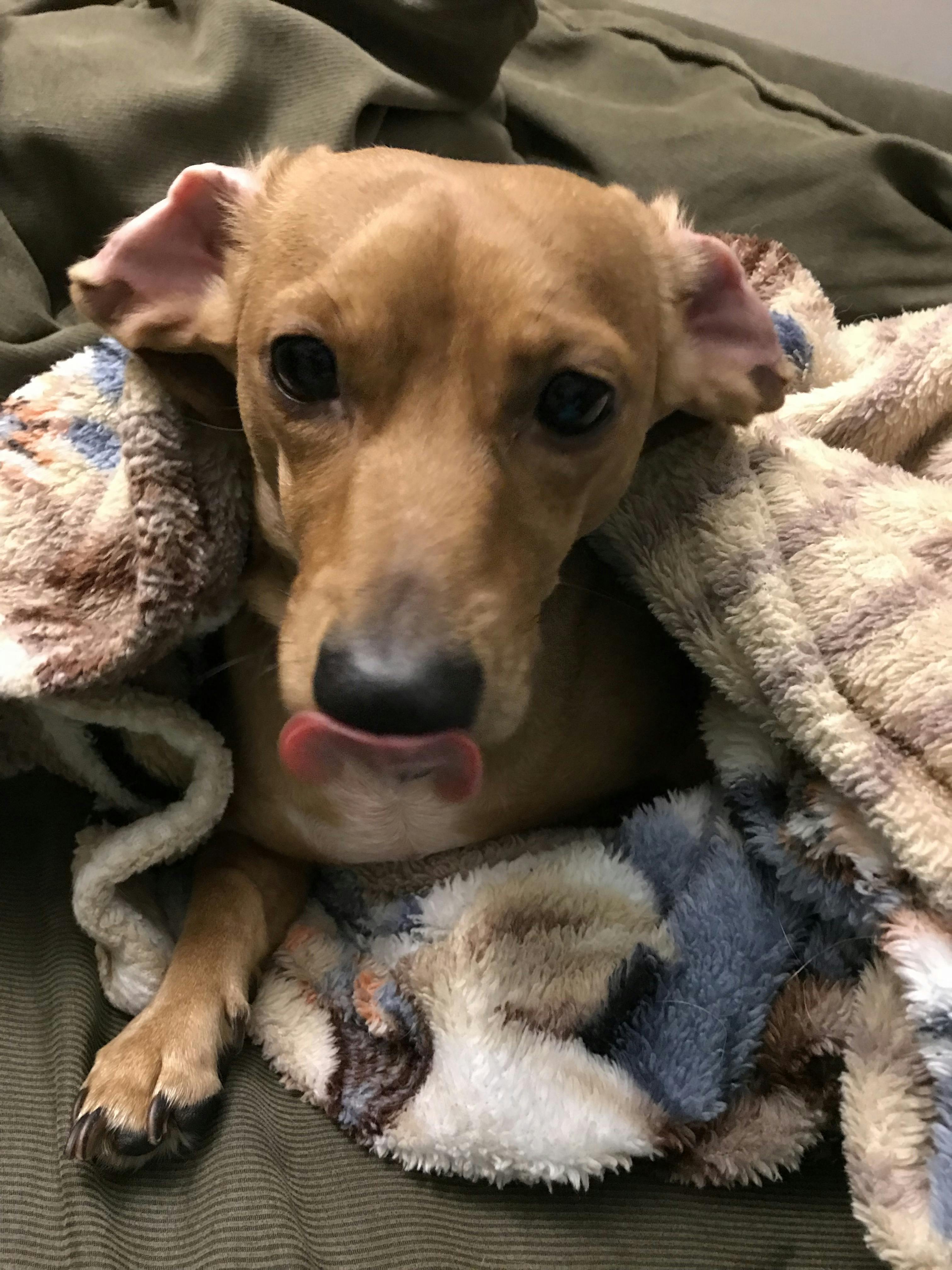 Pixie
Female
Dachshund
Seattle, WA
Personality
Energetic
Lazy
Crazy
Cuddly
Mischievous
Tricky
sneaky
Pixie means mischievous tiny fairy and my dog is very tiny and sneaky like a pixie.