Introduction
When choosing a name for your dog, it can be a struggle to come up with something that is truly original and meaningful. Dog owners often explore other unrelated areas to find that one unique name that is perfect or as close to perfect as they can get it. Literature, movies, famous actors and people  - they are all good areas to look at. But what about something different, something like ... desserts! Sweet, yummy, tasteful and a real delicacy, you can find a name or two in this field that is unbelievably... sweet (sorry - I just had to say it ). Sometimes a special food may be associated with a happy time such as 'biscuit' after grandma's special biscuit recipe that everyone loved. Or it may be something that the owner has a special craving for, such as sorbet, cupcakes or fudge. These are all perfect for a dog that is special and gives the same feeling of bliss when thinking about them. There are so many sweet desserts that can be lovingly bestowed on your best buddy. Just make sure it is easy to say and cannot be shortened to something unpleasant. 
Book First Walk Free!
Dessert Inspired Names in Pop Culture
Featured Famous Dog with a Dessert Inspired Name
Dougal
Dougal is an animated adventure about a dog who just loves candy and all sweet things. While not good for his health or his teeth, you can't help but love this adorable mutt who is on a mission to save the world from the evil sorcerer Zeebad.  It is a lovely children's movie as Dougal and his gang of friends battle to save their friends and family while encountering a lava-bordered volcano, ancient temples, and evil skeleton guards. It is also a great movie to find names for your dog, such as Dougal, Zeebad, Moose, Dylan and Sam. In this story, Dougal's vow to give up all things sugar is forgotten completely (who cannot relate to that), he reverts to his old sweet habit and solves the problems, becoming a reluctant hero in the process. The movie portrays Dougal the dog as the hero, as all dogs are, given their instinctive nature to protect, shelter and love.

Another movie that spotlights the dog is called Bailey's Billion$. It is a lovely story about a Golden Retriever who inherits a large amount of money (billions in fact) from his eccentric owner. Although this has nothing to do with desserts, it is a sweet story suitable to families as it relates to the evil relatives who plot to get the money and get rid of Bailey. And Bailey is a sweet talking dog... if you get the connection? Sweet - desserts... do you get it? However, back to the story. Nephew Casper and his money hungry wife Dolores (great names here for your dog) hatch a plan to get rid of Bailey, but luckily he is supported by a loyal guardian Ted, friend Marge, and a clever Border Collie named Tessa. I will leave it to you to find out the rest but it underlines again the spirit of the dog and how they always seem to come from a good place. Their devotion and affection are pure and true. Bailey is a lovely name for a dog. It reminds me of the creamy thick  liquor that desserts are often made from, or you could just pour it over ice cream and you're done! 

Finally, another story which became a best selling book and a movie is called Because of Winn Dixie. This is a sweet (again that connection to dessert as in sweet) story about a young girl named Opal who moves to a new town  and the dog that changed her life. Winn Dixie is played in the movie by Picardy Shepherds, a rare breed from France. When Opal takes on Winn Dixie who was causing havoc in the supermarket, the dog repays her kindness by helping her to settle into the new town and make new friends. The plot is simple but adorable and tears will no doubt fall in some parts, but I am not going to spoil it for you - you will just have to see it for yourself. This movie is a good source for a name for your dog, and is another lesson in the devotion of the dog.
Dessert Inspired Dog Names
The dessert niche offers a surprising range of titles that you can adapt for your new puppy. The names are quite unique, and names like Cocoa or Ginger (items used to make many desserts) can describe your dog's color perfectly. A name is an important consideration, and it should makes sense, be easy to say and it should be able to be paired with commands once training begins. Your dogs name should be respectful - don't call a puppy fatty or fatso as they will not always be plump little round bundles of joy. They will grow up to (hopefully) become lean, fit and full of life. To start, give your cute canine a name that is easy to say, such as Cupcake. If you have a name that your tongue finds hard to get around, it will not work. Often you have to command your dog quickly to protect it, such as 'Stay' or 'Stop' when out and about in traffic. Their name has to flow off your tongue easily to be effective. When you are choosing a name and come across one you like, say it out loud as though you are calling your dog. Combine it with the commands you will teach your dog to ensure it sounds effective, not confusing. By saying the name aloud you will get a feel whether this name will work for you and your new companion.
Male Dessert Inspired Dog Names
Votes
Name
Vote
13

Oreo

The name of a biscuit that is black and white - perfect if your dog is those colors

9

Sundae

Often a mix of ice cream flavors, cream and sauces

7

Bear

A pudding taken after the pastry bear claw which is a sweet, yeast raised pastry with an almond and raising filling

6

Napoleon

Not the French military leader but a type of French pastry used in a vanilla or custard slice

6

Muffin

Perfect for a proud and perky pooch

6

Strudel

A dessert where layered pastry is combined with a sweet apple filling

5

Cocoa

Perfect to describe your new brown puppy - cocoa is a chocolate tasting brown powder

5

Chill

A lot of desserts need to be chilled prior to eating

5

Alaska

Taken from the baked Alaska dessert containing ice cream and meringue and would be ideal for a white dog

4

Carob

This is a powder similar to cocoa but supposedly healthier than chocolate

4

Walnut

A type of nut used in baking, or could describe your dark golden brown dog

3

Mace

A spice used in cakes and desserts, coming from the waxy red covering that surrounds the nutmeg seeds

3

Zest

Obtained by grating the outside of a lime or lemon for a tangy flavour and perfect for your active dog

3

Sherbet

A frozen fruit and dairy product that is great on a hot day

3

Whip

A process of whipping a product such as cream to make it thicker

2

Cobbler

A type of dessert that has a fruit or savory filling

2

Devil

Taken from Devil's food cake

2

Churro

A type of dessert pastry

1

Aroma

A word that describes the smell of a newly baked pie wafting through the air

1

Rocky

As in the popular Rocky Road ice cream

1

Pistachio

Bit of a mouthful (pardon the pun) but a type of delicious pudding

0

Bean

Such as a vanilla bean often used in dessert recipes

0

Biscuit

A cute name for an affectionate dog

0

Dundee

Taken from a popular dessert, the Dundee cake

0

Colaz

A donut shaped cookie flavoured with vanilla, cinnamon, and cloves

-1

Carpone

While it sounds like a gangster, it is actually short for mascarpone, a type of strained thickened cream

-1

Torte

A decadent cake recipe often round, flatter and denser than a regular cake and has a sweet rich glaze

-1

Junket

An old fashioned type of pudding made with milk

-2

Soda

Baking soda is an all-important ingredient in many recipes

-2

Mousse

Love this for a male dog, it is a dessert but reminds one of a large strong moose
Female Dessert Inspired Dog Names
Votes
Name
Vote
8

Peach

As in a fruit, or it could describe your new best friend

7

Berry

Berries such as blueberries, raspberries and strawberries are featured in many desserts

7

Sorbet

A frozen dessert made from sweetened water with flavoring

7

Toffee

A type of sweet flavor in desserts or a sweet

7

Mango

A delicious fruit used in dessert making

7

Angel

Taken from the dessert Angel food cake

6

Cinnamon

A delicious spice used to flavor desserts

5

Cupcake

A small sweet cake for one person - how appropriate for a cute small pooch

5

Apple

How cool for a dog that is the apple of your eye... precious, treasured, companion

5

Valencia

This name comes from a dessert pie and just sounds so elegant

5

Sugar

The word says it all - something sweet, hard to resist, and absolutely delicious

5

Buttermilk

The name is cute, sweet and lovable and comes from a type of milk used in baking

5

S'mores

A combination of marshmallows, chocolate and graham crackers

5

Eclair

Choux pastry filled with cream and topped with icing - or it could be the posh new name for your puppy

4

Saffron

A spice derived from the flower of the Crocus sativus - a costly treasured spice

4

Praline

A very exotic name coming from the dessert or confection containing nuts, sugar and usually cream

3

Filo

A type of light pastry

3

Ginger

A spice used in dessert making and yellowish in color, much like a golden spaniel

3

Blondie

A rich sweet dessert bar resembles the Chocolate Brownie and is a good description for a golden dog

3

Chantilly

A delicious chocolate cake with a Chantilly Frosting coating

3

Castella

A type of sponge cake that has many uses

2

Caramel

Made by heating a variety of sugars to obtain a delicious flavored syrup

2

Mallow

Taken from those soft, white or soft pink yummy sweet marshmallows

2

Gypsy

Taken from the Gypsy Tart made from evaporated milk, muscovado sugar and pastry

1

Cassata

A delicious traditional sweet from Sicily, Italy

-1

Sago

A lovely pudding made from sago which is a starch extracted from the spongy centre of various tropical palm stems

-1

Sprinkles

A type of sugar often colored that is shaken onto the top of a dessert

-2

Honey

Who doesn't love honey, and it is lovely for a small dainty dog's name

-2

Muffin

This sounds so cute and sweet, just like the small cake like dessert it gets its name from

-2

Lady

Taken from the dessert Ladyfingers - elegant and refined in taste and presentation
Community Inspired Dogs with a Dessert Inspired Nam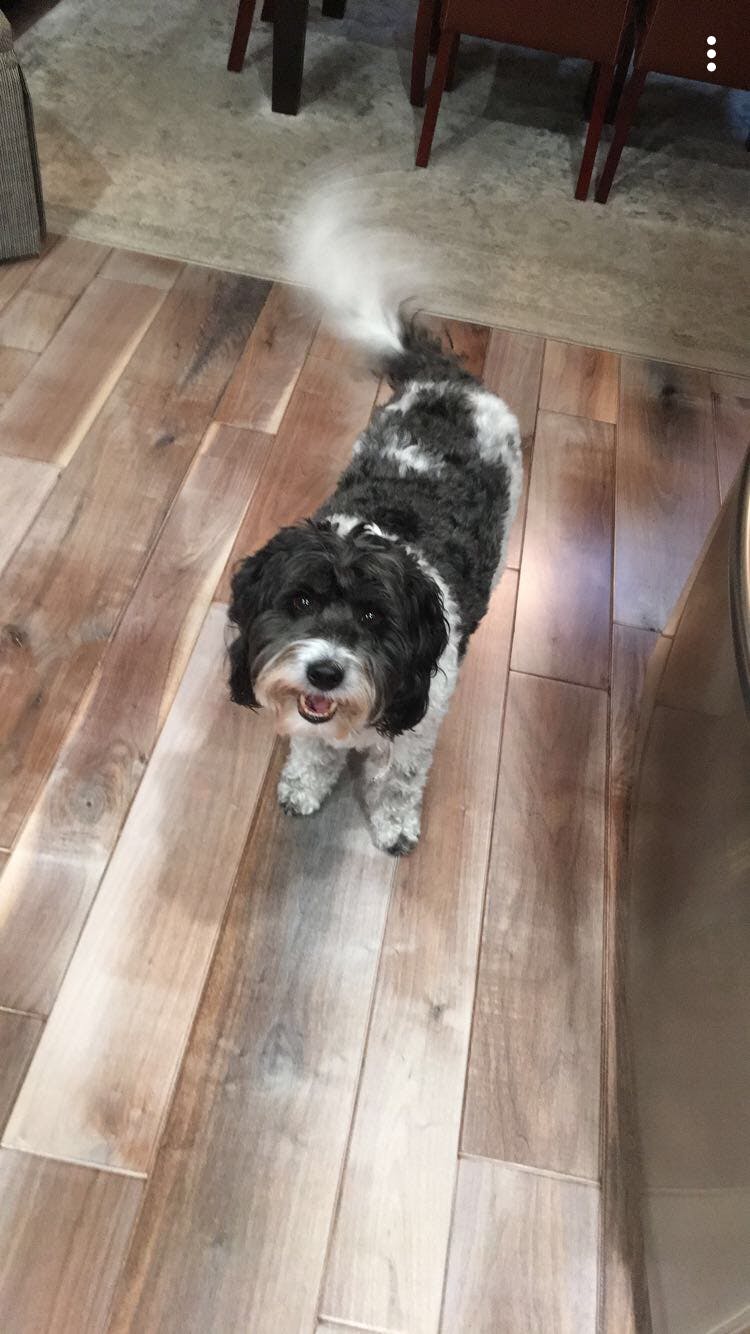 Oreo
Male
Labradoodle
Napa, CA
Hes black and white dots. It was just fitting.