Introduction
Who doesn't love Disney movies, especially those with lovable, cheerful dogs that bring a smile to your face! Everyone has their favorite Disney dog character and many times these favorite pups influence us when choosing the name for our own new pooch. Throughout the years, Disney has given us a plethora of dog characters that have made us laugh, cry, scream and fall in love. These Disney dogs come in all shapes, sizes and breeds. Your new puppy's name will reflect your love of all things Disney and the humanized dog characters that have stolen our hearts throughout the years. 
Disney Dog Character Dog Names in Pop Culture
Featured Famous Dog with a Disney Dog Character Name
Beethoven
Everyone has heard of the lovable Saint Bernard, Beethoven, who became an instant sensation when he hit the silver screen in 1992. Nobody could have guessed that the movie Beethoven would spark an eight movie film series that features the larger than life canine.
The original movie, Beethoven, was relatable to any family that has found and then adopted a pet. Beethoven finds himself a part of the Newton family and everyone loves him except George, the family patriarch. It is not until Beethoven is taken by veterinarian Dr. Herman Varnick that George realizes just how much he loves Beethoven. Dr. Varnick in the meantime is planning to kill Beethoven for his most current animal experimentation.
Beethoven becomes a dad in Beethoven's 2nd. This movie, released in 1993, finds the Newton family racing to save Beethoven and Missy's puppies from dognappers who dognap Missy and her puppies. These evil people have plans to either sell or kill the puppies.
Beethoven's 3rd finds Beethoven travelling from Denver, CO to a Newton family reunion in California. Released in 2000, this third film introduces us to George's brother, Richard and his family. George and family are currently stuck in Europe and they send Beethoven to Richard with instructions to bring him to the family reunion. Over the course of the road trip in a state of the art RV, Richard and is family learn to love Beethoven as much as George does.
Beethoven's 4th, released in 2001, was a spin-off of the prince and pauper situation. The Newton family is confused and pleased when Beethoven becomes obedient overnight. Unfortunately, it does not last because they soon realize that it is not Beethoven, but rather Michelangelo. Michelangelo is a Saint Bernard that looks identical to Beethoven and is owned by a rich family. The final movie in the original series, Beethoven's 5th, was released in 2003. We find Beethoven and Sara going on an adventure to visit Sara's eccentric and slightly crazy uncle. During their trip, Beethoven finds a clue that might just lead to a buried treasure.
Beethoven begins a new storyline in 2008 when a stray St. Bernard becomes a big movie star in Beethoven's Big Break. An animal trainer and single dad becomes the trainer of this overly large, completely lovable Saint Bernard. However, there are unscrupulous people out there who plan to kidnap Beethoven and hold him for ransom.
In the next Beethoven movie, Beethoven's Christmas Adventure, released in 2011, where we find Beethoven helping a rather incorrigible elf. Beethoven and Henry the elf search for Santa's toy bag and help unfortunates along the way. Beethoven's Treasure Tail is the last movie in the franchise, released in 2014. Beethoven is fired from a film and heads home with Eddie, his trainer. After being stranded in a small town, Beethoven helps a young boy search for buried treasure. 
Disney Dog Character Dog Name Considerations
It is an exciting time when a new puppy comes into your family. Finding the perfect name for your new bundle of joy can sometimes be stressful, but you should have fun during the name search process. Have the whole family make suggestions and if you are a family that loves Disney dog characters, this is the perfect opportunity to honor a Disney character that has stolen your heart. While there are many purebreds featured by Disney and given unforgettable names, do not feel that you have to pick a Disney dog character based on their breed. It is perfectly acceptable to have a small dog named Beethoven or a large dog named Percy. In fact, the unexpectedness may just be what you were hoping for and give you a chuckle every time you see the surprised expression of people you meet. Your pup's name should be a reflection of his personality and many times their behavior will remind you of a specific Disney dog character. So whether you have a Great Dane named Percy, a Chihuahua named Beethoven, a St. Bernard named Bolivar or a Dachshund named Danke, their name will reflect who they truly are and give a little insight into your own individuality. 
Male Disney Dog Character Dog Names
Votes
Name
Vote
7

Butch

Bulldog that is Pluto's arch nemesis

7

Lafayette

Bassett Hound from The Aristocats; friends with Napoleon the Bloodhound

7

Copper

The Coonhound puppy from The Fox and the Hound

7

Tramp

Mongrel that falls in love with Lady in Lady and the Tramp

7

Colonel

The Old English Sheepdog from 101 Dalmatians

7

Shadow

The old Golden Retriever from Homeward Bound

7

Yeller

The Blackmouth Cur from the classic Old Yeller

7

Beethoven

The incorrigible Saint Bernard in the Beethoven series

6

Bolivar

Donald Duck's mild mannered Saint Bernard

6

Napolean

Bloodhound from The Aristocats; friends with Lafayette the Bassett Hound

6

Dodger

Oliver's best friend and leader of Fagin's dog gang in Oliver & Company

6

Sparky

From Frankenweenie; Victor Frankenstein's dog

4

Winston

From the short animated film Feast

4

Ronnie

Pluto's Saint Bernard puppy friend

4

Pongo

Father from 101 Dalmatians; biological father of 15 of the puppies

4

Patch

The most mischievous of the Dalmatian puppies in 101 Dalmatians

3

Pluto

Lovable hound that became Mickey's sidekick

2

Lucky

One of the puppies in 101 Dalmatians

2

Chief

The mean spirited Irish Wolfhound in The Fox and the Hound

2

Bolt

The White German Shepherd in the animated movie Bolt

2

Demon

The lead Husky in Snow Dogs

1

Goofy

Mickey Mouse and Donald Duck's best friend

1

Chance

The young American Bulldog from Homeward Bound

0

Toliver

Saint Bernard that befriends and protects the Three Orphaned Kittens

0

Bruno

Hound from Cinderella who turns into the footman for her coach

0

Scamp

The son of Lady and Tramp

0

Toby

Sherlock Holmes Basset Hound in The Great Mouse Detective

0

Percy

Ratcliff's arrogant Pug in Pocahontas

-1

Dante

The stray in Disney/Pixar's Coco

-1

Dug

The loyal, heroic pup from the movie Up
Female Disney Dog Character Dog Names
Votes
Name
Vote
6

Fifi

The Pekingese that was Pluto's girlfriend

6

Molly

The mother Golden Retriever in Air Bud

6

Nikki

Alaskan Malmute from Nikki, Wild Dog of the North

6

Heidi

One of the Dachshund sisters in The Ugly Dachshund

5

Penny

One of the original puppies in 101 Dalmatians

5

Danielle

Third daughter of Lady and Tramp

5

Rita

Tough but loving Afghan Hound in Oliver & Company

5

Bielle

Wife of Bayard and has four pups; in Tim Burton's Alice in Wonderland

5

Nana

The lovable Saint Bernard from Peter Pan

5

Missy

Saint Bernard that is Beethoven's girlfriend

5

Annabelle

The Whippet angel in All Dogs Go To Heaven

5

Roxanne

Max Goof's love interest in A Goofy Movie

4

Wilhelmina

A Dachshund puppy in the movie The Ugly Dachshund

4

Chloe

Pampered Chihuahua in the Beverly Hills Chihuahua franchise

3

Annette

Daughter of Lady and Tramp; Scamp's brother

3

Delilah

The stray Kuvasz in Homeward Bound II: Lost in San Francisco; Chance's girlfriend

3

Dolly

Daughter of Beethoven and Missy in Beethoven's 2nd

2

Dinah

The Dachshund that replaced Fifi the Peke as Pluto's girlfriend

2

Angel

Scamp's girlfriend in Lady and the Tramp II: Scamp's Adventure

2

Ruby

Afghan Hound that is part of the Junkyard Dogs in Lady and the Tramp II: Scamp's Adventure

1

Lady

The prissy Cocker Spaniel from Lady and the Tramp

1

Rosebud

The only girl Golden Retriever puppy in the Air Buddies series

1

Georgette

The airhead Poodle that is very vain in Oliver & Company

-1

Perdita

Mother from 101 Dalmatians; biological mother to 15 of the puppies

-1

Dixie

The kind hearted Saluki from The Fox and the Hound 2

-1

Maya

The lead sled dog in Eight Below

-1

Danke

The mother Dachshund in The Ugly Dachshund

-1

Peg

The Pekingese rescued by Tramp in Lady and the Tramp

-2

Collette

Middle daughter of Lady and Tramp

-2

Rose

For Granny Rose, a member of the Singin' Strays in The Fox and the Hound 2
Community Dogs With Disney Dog Character Dog Names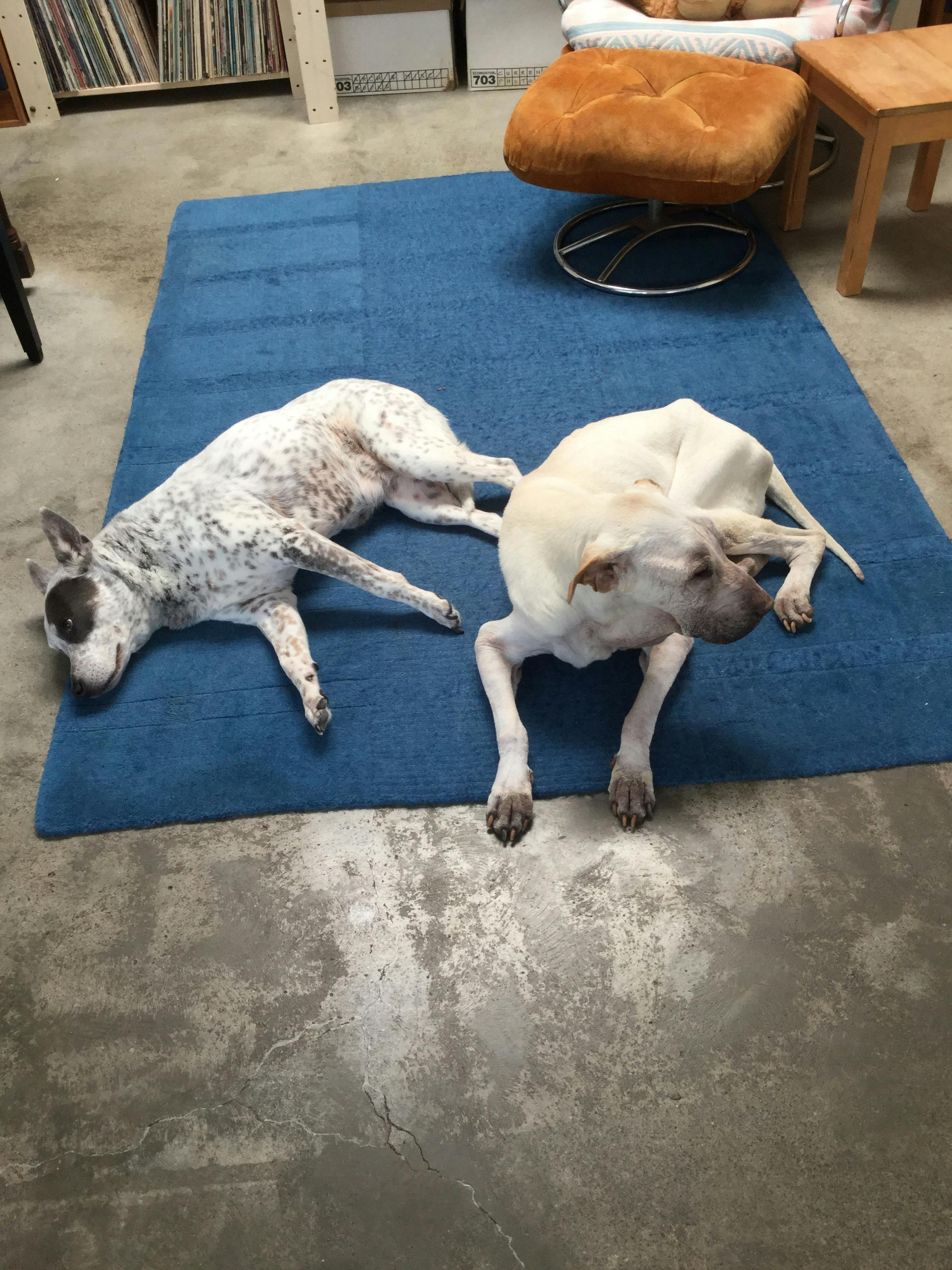 Sydney
Female
Australian Cattle Dog (Blue Heeler)
San Rafael, CA
Sydney was on her way to meet her friend Tiana Gianna them the blood hound when she came upon a pug in distress and she ask him waht was wroung he saidI can't find my Tennis ball She asked may I help you look he said shure so they looked and she found it and she went on her way to meet her friend.
Figment
Male
Australian Shepherd
Los Angeles, CA
Personality
sweet and protective
There is a character at Epcot center called "Figment of Your Imagination" we always told the kids a dog would be a figment of their imagination (we'd never get one)