Introduction
Welcome to the world of dog names!  Like so many people, you may find yourself suddenly (or maybe not so suddenly) saddled with the task of naming that new precious pooch who is likely sleeping peacefully in your lap.  Names are important and level of this importance has waxed and waned over the past centuries.  Today, names are important, especially as they refer to your children...but, what about that precious pooch you've added to the household?  Don't those family members also deserve a name worthy of their importance to the family unit?  Let's talk about that name...
Dog Names Ending in 'ah' in Pop Culture
Featured Famous Dog with a Name Ending in 'ah'
Jonah
If you are a Will Smith movie fan, then you may have seen a movie in which he starred back in 2007 called
I Am Legend
which was adapted from the book of the same name, published in 1954 by Richard Matheson.  The movie is a deep, dark one which is set in New York City after a man-made virus has all but decimated the population in that city as well as many others worldwide.  Will Smith plays a military scientist named Robert Neville who, seemingly, is the only survivor of the biochemical disease.  Neville has lost his wife and child to the disease and is accompanied by his only friend, Samantha, a German Shepherd who defends and protects him.  Throughout the movie, Neville must duck and dodge the remaining infected inhabitants of the city as he moves through it, attending to his appointed tasks...which are essentially all associated with staying alive and trying to find an antidote for the virus which has affected so many people.  The movie is quite moving, the viewer feeling the emotion as Neville fights for his life, experiments with rats and a human being in an attempt to find the antidote and feels the loneliness and frustration of the loss of his family.  The movie is especially emotionally charged when Samantha, having been bitten by an infected dog while defending Neville, turns on her beloved master.  Neville finds himself in yet another fight for his life as he wrestles his infected beloved Samantha, eventually strangling her to keep her from biting and infecting him.  
Samantha died as a result of protecting and defending the master she loved  Her loyalty was displayed throughout the movie, showing the love, loyalty and willingness to sacrifice her life for the human she loved.  These are traits in canines that we dog-lovers have come to love and appreciate...traits that we all probably wish were more prevalent in other humans.

There are some other traits exhibited by our canine companions which mirror those which we humans exhibit.  Let's take, for example, Dinah the Dachshund from the Disney cartoon series.  Dinah is the new girlfriend of Pluto and she is a typical diva ... she's fickle, snooty, prissy, clingy and arrogant... basically, your typical damsel in distress type.  She's flirty and sometimes even dates Butch the Bulldog, though she really doesn't like him much.  I'm sure you know some one who fits this description.
Also displaying some interesting human-like traits, let's look at Jonah from the short-lived Family Dog TV series.  Jonah was just a family dog, loving his family and trying so hard to please, but alas, failure was way more common than success.  He's was always getting into some sort of jam or predicament which usually displayed a significant degree of ineptness. For example, burglars break into the family home twice and he fails to protect the home as his human family expects him to do.  His human papa sends him to dog training school to remedy the situation.  At dog training school, they teach him to be more aggressive (successfully by the way), and when the burglars return, Jonah turns the tables on them.  Jonah made a complete 180 degree turn or a pendulum swing - going from docile and friendly to aggressive and snarling, attacking the policeman who was investigating the break-in!  He even went so far as to attack his human papa who had locked himself out of the house and is caught sneaking into the backyard as he is duly protecting the property.  Again, I'm sure you know some humans who have made this type of pendulum swing and changed their demeanor significantly.
These famous dogs in pop culture who have names ending in 'ah' display many human traits and characteristics like Samantha the German Shepherd did, making it absolutely scary sometimes when you think about it.  Your canine companion can pick up on cues from you as they grow up and mature, becoming almost an extension of those with whom they spend the most time and bond with the most closely.  They can be fiercely loyal, loving and protective and they can make that turn just as quickly as we humans can.  Funny isn't it ... how interesting it is to live with a furry canine family member! 
Dog Names Ending in 'ah'
Yes, it is quite true that names are important and, over the years, people have utilized many differing ways to choose those important names.  Some methods have proven more successful than others and it remains a choice which rests solely with the individual who has been given the responsibility of naming the child or precious pet.  In regards to naming your pet, some of those methods include references to their breed, or the color or texture of their coat, or their personality or cute (or not so cute) behavior, and some have even included utilizing the alphabet in a variety of ways.  We have talked about names which begin with various letters of the alphabet and even various moniker options which end with specific letters or letter combinations from the alphabet.  Today, may we suggest consideration of some names for your precious pooch which end with the letters 'ah'?  We'd love to reduce your stress levels, which can run so high these days, and that's one of the purposes of our dog name guides.  We're hoping that something you read here will result in a title that will fit your pet, or spark your imagination to invent your own name or variation for that furry family member.
Male Dog Names Ending in 'ah'
Votes
Name
Vote
0

Pumah

An English variation of Puma which is the name of a mountain lion as well as a line of sportswear

0

Mandah

A Hebrew variation of Manoach which means "rest"

0

Idonah

A Germanic name which means "hard-working man"

0

Darbeah

An Old Norse form of the name Darby which means "deer town"; also can be a unisex name

0

Amaziah

A chiefly African name which means "God strengthens"

0

Abynah

An African name which means "born on a Tuesday"

0

Abijah

A chiefly Hebrew name which means "Yahweh is my father"

0

Abdullah

An Arabic name which means "servant of Allah"

0

Abbah

A spelling variation of the Hebrew name Abba which means "Father"

0

Tobiah

A Hebrew name meaning "goodness of God"

0

Jarrah

A Hebrew name which means "God gives sweetness"

0

Uriah

A Hebrew name which means "God is my light", "light of the Lord"; also the name of Bathsheba's first husband in the Old Testament

0

Jebidiah

An English and Hebrew name which means "beloved of God"

0

Jedidiah

An English and Hebrew name which means "beloved of Yahweh"

0

Azariah

A Hebrew name which means "Yahweh has helped"

0

Obadiah

A Hebrew name that means "servant of God"

0

Judah

The Hebrew name of the tribe of Israel from which Jesus came

0

Josiah

A Hebrew name meaning "Yahweh supports", "Yahweh heals"; also the name of a good king of Israel in the Old Testament

0

Elijah

A Hebrew name which means "my God is Yahweh"; also the name of an Old Testament prophet

0

Hachaliah

A Biblical name meaning "who waits for the Lord"

0

Jeremiah

A Hebrew name meaning "may Jehovah exalt", "exalted of the Lord"

0

Nehemiah

A Hebrew name which means "comfort of the Lord", "comforted by God"

0

Zechariah

A Hebrew name which means "the Lord has remembered"

0

Hezekiah

A Hebrew name which means "God is my strength"

0

Joshuah

A spelling variation of the Hebrew name Joshua which means "Jehovah is generous", "Jehovah saves"

0

Isaiah

A Hebrew name which means "Yahweh is salvation"

0

Micah

A Hebrew name which means "who is like God?"

0

Lucah

A spelling variation of Lucas and Lucius which is a Latin form of Luke meaning "light"

0

Jonah

Hebrew word meaning "dove"

0

Noah

Hebrew name which means "rest, comfort"; also the name of the builder of the Ark in the Old Testament
Female Dog Names Ending in 'ah'
Votes
Name
Vote
0

Selah

In the Bible, this word occurs frequently at the end of verses in Psalms and Habakkuk, could likely be a musical direction

0

Susannah

An English version of the Hebrew name Shoshana which means "lily"

0

Deborah

A Hebrew name meaning "bee"; also a Biblical prophetess and judge in the Old Testament

0

Beulah

A Hebrew name which means "married, to marry, claimed as wife"; also is the Biblical symbol Heavenly Zion

0

Savannah

A term which refers to a grassy plain in tropical and sub-tropical regions which has few trees

0

Farrah

A Middle English and Arabic name which means "lovely, pleasant"; also the name of a now-deceased American actress (Farrah Fawcett Majors)

0

Mirah

An Arabic name and variation of Elmira which means "princess"

0

Elisah

A Hebrew name and variation of Elizabeth which means "God is my oath"

0

Unah

A Greek name and a form of Agnes which means "pure, holy"

0

Adrienah

A form of Adrienne, a Latin and French name which means "from the city of Hadria" or "the dark one"; might be a great name for a dark brown or black canine family member

0

Abishah

A variation of Abijah which has Hebrew root, meaning "God is my father"

0

Ayeishah

An Arabic name and variation of Aisha which means "alive and well"

0

Aliyah

A Hebrew name and variation of Aliya which means "exalted, sublime"

0

Tallulah

A Creek or Choctaw Indian word or name which means "leaping waters"

0

Laviniah

A form of Lavinia, a name which refers to the daughter of King Latinus in Virgil's "Aeneid", a Latin epic poem

0

Aberdeenah

Uncommon name with Scottish origin

0

Lilah

A Hebrew, Arabic and English name which means "languishing, lovelorn, seductive" and "night beauty"

0

Allanah

An old high German and Irish name which means "precious", "child"; also in Gaelic the name means "beauty", "serenity"

0

Norah

An Italian, English, Irish, Albanian, Scandinavian, Arabic and Baltic name which means "honorable"

0

Rebekah

A Hebrew name which means "captivating", "knotted cord"; also the wife of Isaac in the Old Testament

0

Hannah

A Hebrew name and variation of Hanna which means "Yahweh is gracious", "Yahweh is merciful"

0

Sarah

A Hebrew name which means "princess"; the name of the wife of Abraham in the Old Testament

0

Mariah

A variation of Moriya and Hebrew name meaning "teacher"; the name also means "Mary" which was the name of the mother of Jesus

0

Dinah

A variation of Adena which, in Hebrew, means "decoration"

0

Leah

A Hebrew name meaning "weary"; an Akkadian name meaning "mistress or ruler"; also the first wife of Jacob in the Old Testament

0

Darrah

An alternative spelling of Dara which is a Hebrew name meaning "nugget of wisdom"

0

Asherah

An ancient Semitic name which means "mother goddess", "Ugaritic goddess"

0

Esmereldah

A Spanish name which means "the emerald gemstone"

0

Adah

A variation of Ada, an old German name which means "adornment"

0

Delilah

A Hebrew name which means "amorous, delight, languishing, temptress"; a fitting name for the woman who was Samson's nemesis
Community Dogs with Names Ending in 'ah'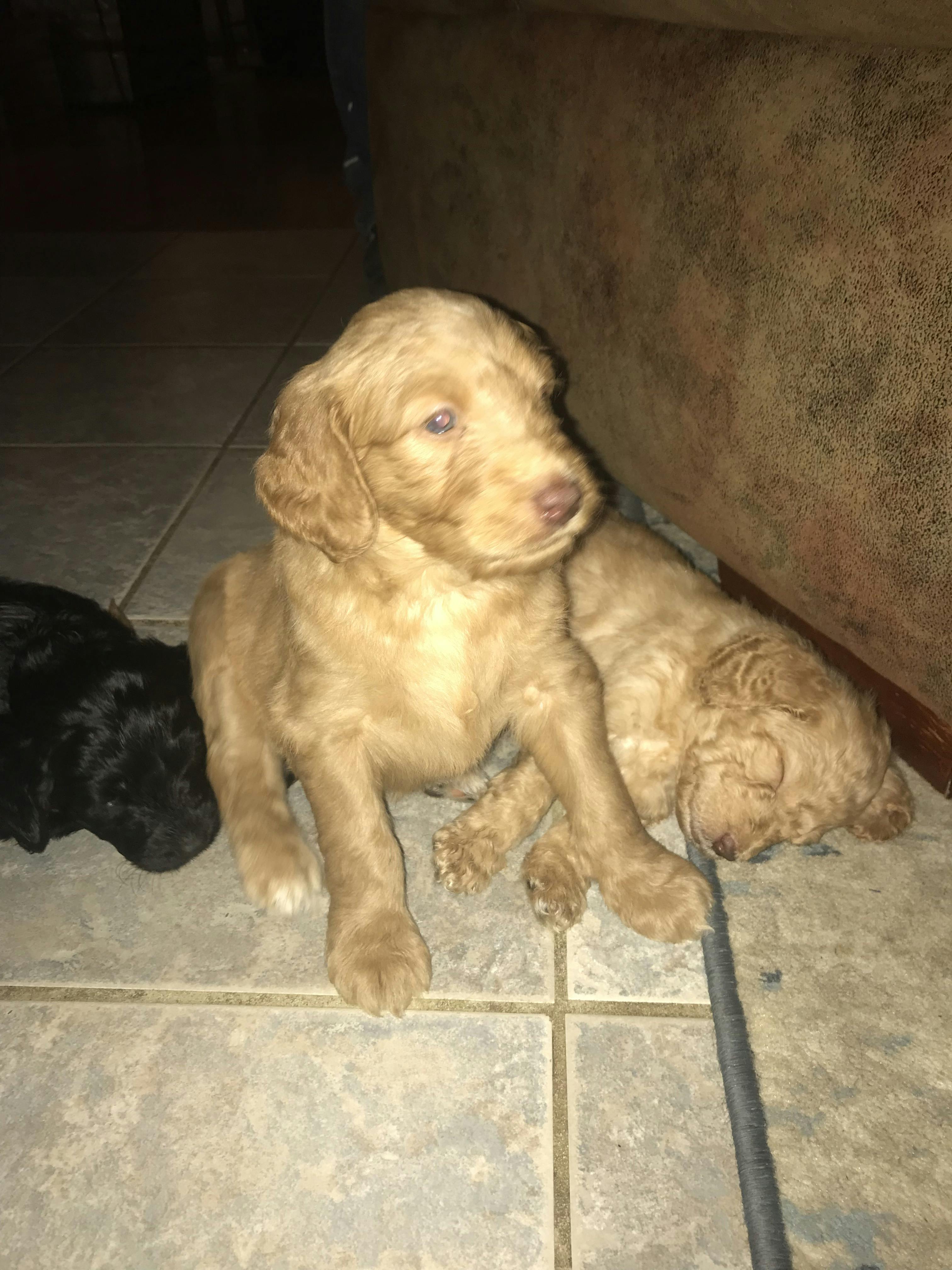 Lunah
Female
Goldendoodle
Brownsburg, IN
Both my girls name is Alliyah and Skylah so we wanted to stick with the ah. 🌸