Introduction
Picking a theme for your dog's name can be subtle and might already fit a family theme.  In the 1980s, parents jumped at the chance to name their newborn babies a "J" name, like Jason, John, Jennifer, and Jessica.  The number of "J" name babies soared.  Like "J" names in the 1980s, named ending in "n" are on the rise. Many families are choosing fun baby names, like Addison, Dixon, and Hayden, so why not maintain the theme and give the family dog a name ending in "n" as well.  This theme is subtle, yet demonstrates family solidarity.
Dog Names Ending in 'n' in Pop Culture
Featured Famous Dog With a Name Ending in 'n'
Rin Tin Tin
While baby names ending in "n" seem popular these days, famous dogs in popular culture that end with an "n" are not as common.  In Welsh mythology, the famed spectral hounds known as Cwn Annwn are one such group of dogs.  These mostly white hounds have red-tipped ears, and while Christian mythology tends to associate these hounds with Hell and therefore, Satan, the true Welsh mythos of these dogs is one of justice, beauty, and everlasting youth.  Cwn Annwn may bring death with them during the Wild Hunt, but according to Welsh tradition and myth, death comes for the villain, and the Cwn Annwn represents justice for those the villain has wronged in his life.
The Cwn Annwn is a legendary pack of hounds and well known in various mythologies as Hell Hounds, Gabriel's Hounds, and the Yell Hounds.  However, in pop culture, the Cwn Annwn may not hold the title for the most well-known dog name ending in "n."  That title must belong to the famed German Shepherd, Rin Tin Tin who's three-part name ends in three "n's." 
Rin Tin Tin is the name of the most famous Hollywood dog in movie and film history, though his birth and life were 100 years ago.  Rin Tin Tin, nickname Rinty by his owner, Duncan Lee, had a rough start in life.  Duncan Lee discovered the five-day-old pup in a bombed-out kennel in Lorraine, France during the Great War, World War One.  Duncan, rescued Rin Tin Tin and a female sister pup he named Nanette  According to Hollywood legend, Duncan named his dogs after the small French puppets Rintintin and Nanette, which French children gifted to soldiers for good luck.  When Duncan set sail from Europe to return home, he was lucky enough to arrange for both of his dogs to come home with him.  Unfortunately, Nanette did not survive the journey, leaving Rin Tin Tin the only surviving puppy from his litter.  While in Europe, Rin Tin Tin showed great promise in training and intelligence, and when Duncan returned home to Hollywood, he captured the entertainment's eye with his story and his talented dog.  Rin Tin Tin quickly rose to fame in silent films and was in 28 feature films during his lifetime.  The name, Rin Tin Tin, also continued through the 1950s with the offspring of the famed German Shepherd to the great grand pup Rin Tin Tin IV.  Rin Tin Tin help properly introduce the German Shepherd as a great family dog during this time and not the feared war dog some may have associated with the breed when it first came to America.     
Dog Names Ending in 'n' Considerations
Today, there are many popular and unique names ending in "n" that might fit a newly adopted puppy or dog.  However, many dog owners like to deviate from the people names and get creative with descriptive names that fit their dog's look or personality.  If a descriptive dog name is something you would like to consider for your dog, you can take into account your puppy's color, size, and breed; or the projected features of your dog as they grow into adulthood.  Names like Cotton, Aspen, Lemon, and Fawn are color specific while names like Bean, Zeppelin, and Tycoon have strong size connotations associated with the names.  
You will not know for sure what your dog's personality will ultimately become, but you might be able to project or even take an educated guess based on the first few days with your new dog.  Some dog owners who want to give their new friend a name ending in "n" may look to nature as well.  While many nature-inspired words end in "n" and are color specific, some are just fun and easy to give any dog.  Names like Acorn, Thorn, Glen, and Cairn are not color specific.  Finally, there are no rules that say you cannot give your dog a "people" name, like Mason, Owen, Lillian, or Lincoln.
Male Dog Names Ending in 'n'
Votes
Name
Vote
2

Falcon

A popular bird of prey

1

Glen

A narrow valley

1

Thorn

A sharp feature that protects something beautiful

0

Rin Tin Tin

The most famous German Shepherd in history

0

Mason

A popular name for boys today

0

Hudson

A major river in New York and a large bay in Canada

-1

Egon

A variant for Eugene

-1

Acorn

A small nut from an oak tree

-1

Cairn

A pile of rocks meant to mark a spot

-1

Bruin

A bear from folklore

-1

Benjen

The Stark nightwatchman uncle from Game of Thrones

-1

Flynn

The love interest of Rapunzel in Tangled

-1

Roman

Many dog breeds can trace their lineage to the spread of the Roman Empire

-1

Captain

The master of a ship

-1

Neon

A bright element

-1

Pan

A mythological, flute-playing figure

-1

Bean

A small legume, high in protein

-1

Sultan

A ruler of the Middle East

-1

Tycoon

The businessman on top at all costs

-1

Van

A Dutch name

-1

Zeppelin

A famous Hydrogen blimp with an unfortunate history

-1

Lincoln

The 16th President of the United States

-2

Owen

Welsh for young warrior

-2

Dylan

Perhaps your dog is a Bob Dylan fan

-2

Baron

A member of the English nobility

-2

Penn

Maybe a magician, maybe a university in Pennsylvania

-2

Bacon

Because almost everybody loves Bacon

-2

Cumin

A spice used in cooking

-2

Mutton

Some have Mutton instead of Lamb

-2

Dustin

A popular male name
Female Dog Names Ending in 'n'
Votes
Name
Vote
1

Cotton

A white fibrous material

1

Autumn

A colorful season

1

Dawn

The beautiful morning sky

1

Lemon

A yellow citrus fruit

1

Moon

Earth's satellite

1

Pumpkin

An orange squash

1

Queen

The highest female ruler of a nation

1

Satin

A sleek, shiny fabic

1

Siren

A sea nymph who sings to sailors

1

Quinn

A popular name for a girl

1

Lillian

A traditional name for a girl

1

Raven

Edgar Allan Poe's famous black bird

0

Raisin

A tasty dried grape

-1

Aspen

A white barked tree

-1

Hon

A nickname for Honey

-1

Button

A small object to fasten two items

-1

Dandelion

A weed with a yellow flower

-1

Fern

A plant with long feather-like leaves

-1

Maiden

A name for a young, unmarried girl

-1

Pagan

Polytheistic people

-1

Pigeon

A city bird

-1

Sojourn

A temporary stay

-1

Rain

Water falling from the sky

-1

Cwn Annwn

The Welsh Hounds of Hell

-1

Carnation

A small flower, usually red in color

-1

Valarian

A flower with sedating properties

-1

Crimson

A dark red color

-1

Cyan

The color of blue and pink combines in the sky

-1

Brooklyn

A borough in New York City
Community Dogs with Names Ending in 'n'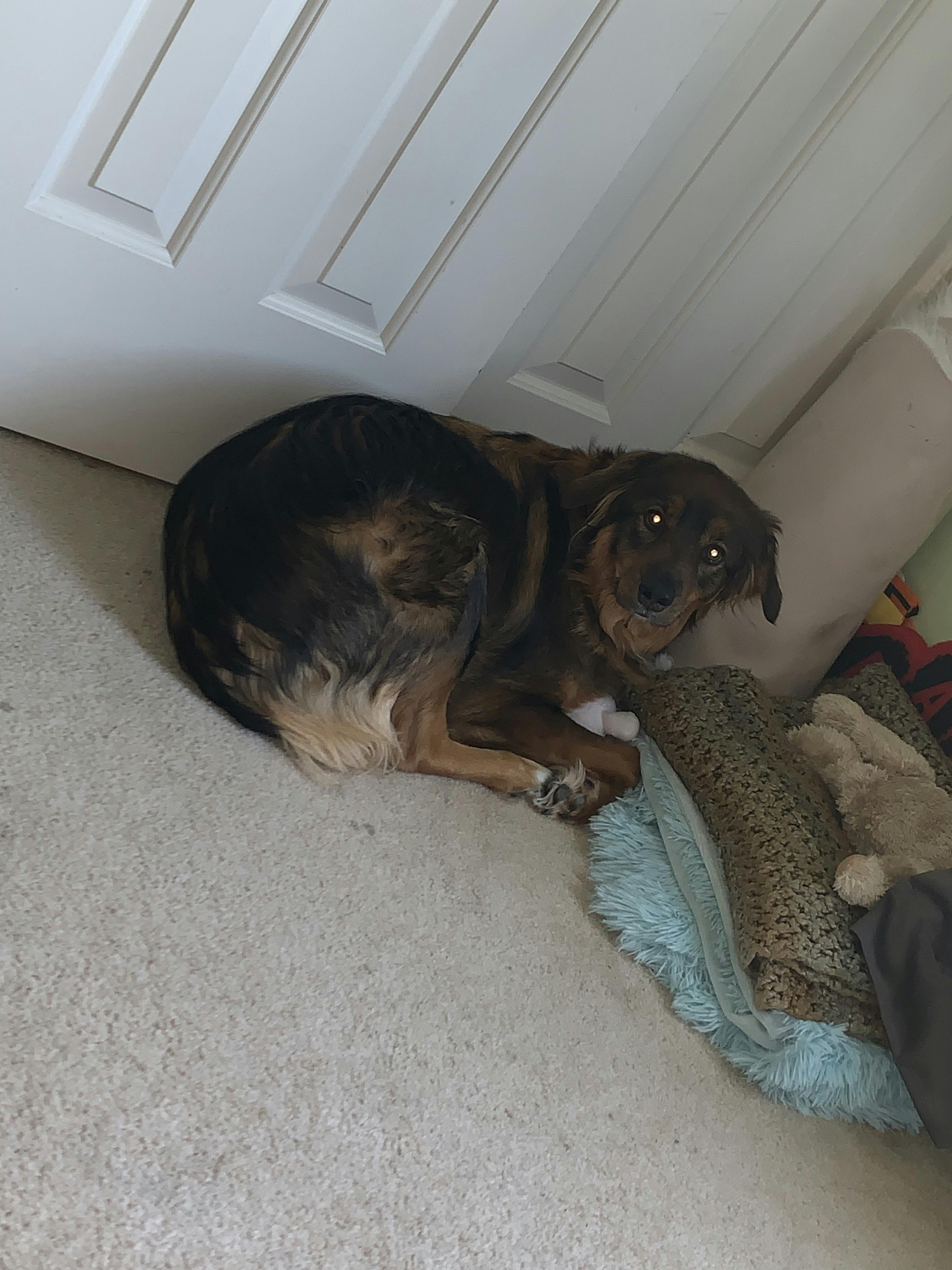 Riley
Female
German Shepherd
Omaha, NE