Introduction
When purchasing a new puppy or adopting a new dog, you will want the best name for them.  There are dog names that end in many letters and sounds. Some names are specifically for dogs, and some names are used typically for humans. If you have another dog with the name ending in "na", you may want to also name your new dog with the same last syllable.
The thing about finding the perfect name for your pet is that it is exciting! This is the one name you will be calling your new companion for the rest of their life. Luckily, there are many options for finding that ideal name. You can base it on the personality, the look, the breed, or the actual sound of the name, such as a name ending in "na". Deciding on a name can be fun, especially when you have help from family and friends!

Dog Names Ending in 'na' in Pop Culture
Featured Famous Dog With a Name Ending in 'na'
Jenna
Many people are familiar with the movie Balto. This trilogy features Jenna and her owner, named Rosy. The litter of puppies Jenna is famous for include Kodi and Aleu. Balto, the movie, features this beautiful dog, who is in love with Balto. 

Jenna has many wonderful character traits. She is all-around the perfect dog, and would make the perfect human! She is loving, caring, sweet, and honest. She is also quite independent and accepts all dogs, no matter their appearance or their lineage, as her friend. Poor Balto was constantly made fun of by the others in Nome, but Jenna was the one who accepted him for who he was and eventually developed feelings for him. She fell in love with his wonderful personality and considered him to be intriguing and amazing.
Jenna is a wonderful and catchy name for a dog, as it is typically known as a human name. Many people like naming their dogs after human names, and many people have chosen Jenna for a dog name because of her role in the movie.
Another famous dog with a name ending in "na" is Nana. Nana was made famous for her role in Peter Pan! Many of us can remember the story of Peter Pan, who is the boy who never wanted to grow up. There are several books and movies featuring the Darling family, and Nana was the actual Nanny for the children. Nana was able to be an amazing and loving nurse to the Darling children: Wendy, Michael, and John. 
Nana's actual breed was either a Saint Bernard or a Newfoundland; she was considered to be either one in various books and productions. Either way, Nana was a beautiful and intelligent dog who was very active in the lives of the Darling children. She would play with the kids and help them take their medicine, and would cuddle them when they were not feeling well or  were upset.
One famous dog who was abandoned on the side of the road and picked up by a rescuer, Courtney Dasher, is Tuna! Tuna, a mix of Dachshund and Chihuahua, is quite popular and has his own Instagram account. He is also featured in many hilarious memes on the Internet. Since Tuna is so famous, all funds raised for him are used for helping and funding animal rescue groups. Tuna's owner has done a fine job raising him, spoiling him, and promoting him for such a great cause!
Dog Name Ending in 'na' Considerations
There are many male and female dog names that end in "na". Having a name ending in "na" would allow your dog to have a multiple syllable name with a nice ending to it. Names that end in "na" go with a large variety of middle names. Since the "a" vowel sound at the end blends welll with most letters, a name can have any beginning sound and will "roll off the tongue" perfectly.
Popular name considerations for a male dog could be Rhana or Tuna, and popular name considerations for a female could be Hanna or Jenna. You can search online for names ending in "na" or ask your friends and family for suggestions.You may find words ending in "na" that go with your dog's personality, where he was found, or your dog's appearance, such as Vina (wine country), Fauna (lush field or flowers) or Luna (meaning moon). There are many ways to research names from other nationalities according to breed. For example, an Ibizan Hound originated in Spain, and so did the name Adona, which means of the red earth. Or, for an English Pointer, you may choose Canna, which is an English name. You can have fun researching the best name for your new dog, or you may just take one look at your new companion and the name will come right to you!
Male Dog Names Ending in 'na'
Votes
Name
Vote
0

Kana

Of Hawaiian origin, a version of Kane

0

Jona

Jona is a version of John, of Hebrew origin

0

Montana

Latin for mountain

0

Abna

Meaning father of light in Hebrew

0

Arjuna

Arjuna is of Hindi origin meaning white

0

Finna

Irish meaning fair, white

0

Barna

Of Greek origin, a version of Barnabas

0

Keena

Of Celtic origin meaning little one

0

Mheena

African for delightful and joyful

0

Ardena

Latin meaning great forest

0

Lena

Of German origin meaning brave

0

Tiena

Old English for lord

0

Makena

Hawaiian for man of abundance

0

Corona

Latin meaning crown

0

Tuna

Adorable rescue dog and internet sensation

0

Kahuna

Of Hawaiian origin meaning hidden secret

0

Una

From the Basque language meaning shepherd

0

Mithuna

Used in the Indian language, a zodiac sign for Gemini

0

Haruna

Of Japanese origin meaning spring vegetables

0

Setsuna

Of Japanese origin meaning calm snow

0

Daina

Old English and a variation of Dane

0

Harina

Of Sanskrit language meaning deer

0

Abna

Meaning father of light in Old English

0

Agostina

Meaning holy in the Italian language, born in August

0

Aletona

Meaning old town in Old English

0

Allona

Hebrew meaning oak, strong

0

Bhavana

Of Sanskrit origin meaning creator

0

Collana

Native American origin meaning best

0

Channa

Of Indian language meaning renowned

0

Candana

Indian for follower of the gods
Female Dog Names Ending in 'na'
Votes
Name
Vote
0

Luna

Latin meaning moon

0

Abelina

Of Hebrew origin meaning grass

0

Abena

Of African origin, meaning born on Tuesday

0

Adna

Meaning rejuvenation in Hebrew

0

Angelina

Meaning messenger of God

0

Anina

Meaning God is gracious in Czech

0

Anna

Of Chech origin meaning God has shown

0

Arina

Old Greek origin meaning peaceful

0

Arriana

Welsh meaning silver

0

Aubina

Latin for fair one

0

Bambina

Italian for little girl

0

Berdina

German for bright maiden

0

Berna

Meaning brave as a bear in Germanic

0

Brianna

Chech for strength and power

0

Calumina

Latin for dove

0

Carmina

Hebrew for fruit garden

0

Carolina

Dutch meaning free man

0

Cerena

English for serene

0

Dylana

Welsh meaning born from waves

0

Adelina

German, a form of Adelaide

0

Fauna

Referring to lush fields and flowers

0

Akilina

Latin meaning eagle

0

Jamina

Hebrew meaning dove

0

Jardina

Of Hebrew origin, a variation of Jordan

0

Karlena

English, a form of Karleen

0

Laina

English for path or roadway

0

Malina

Hawaiian for peace

0

Afina

Meaning young doe in Hebrew

0

Augustina

Latin meaning holy

0

Yarina

Greek meaning peaceful
Community Dogs with Names Ending in 'na'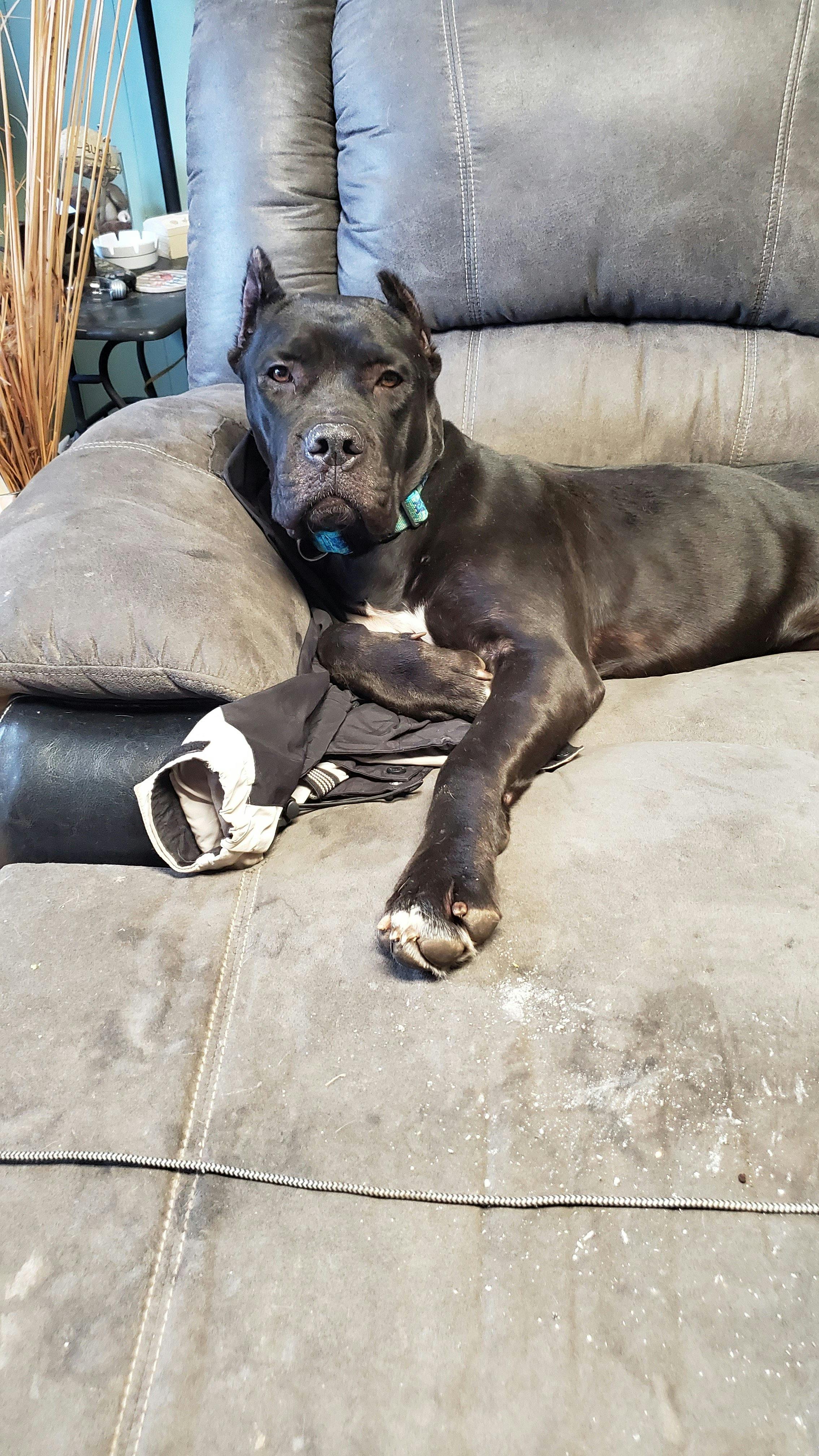 Athena
Female
American Mastiff
Junction City, OH
She is like a goddess so we named her Athena