Introduction
A chocolate-colored coat on a dog is considered one of the most stunning colors.  Often, dogs with this color have beautiful light or amber-colored eyes, and the striking contrast melts hearts.  Some owners are inspired by the rich color and wish to capture the quintessence of such a color in the perfect name.  Chocolate-themed names are excellent ways to capture this description.  The names under a chocolate theme may vary from a reference to the color brown to the sweet treat beloved by many, worldwide.  Naming options in this theme are boundless, whether you want your dog's name to reflect the rich color of its coat or the sinful deliciousness of chocolate.
Chocolate Dog Names in Pop Culture
Featured Famous Chocolate Dog
Farfel the Dog
Farfel may not sound like the best description for a chocolate-themed canine name, but the reference is sure to excite some chocolate-loving nostalgia.  Chocolate and brown colored-dogs are often associated with the sweet taste of chocolate and Farfel is one of the most well-known spokesmen or "spokesdogs" of Chocolate products.  
Long before Quicky, the Nesquik Bunny, debuted in Nestle Quik campaigns, Farfel was entertaining everyone with his anhedonic disposition alongside dummy Danny O'Day and ventriloquist, Jimmy Nelson.  Though Farfel and Danny O'Day had their own show in the 1950s, they are probably most remembered for their Nestle jingle, which ran a decade-long.  Jimmy Nelson was the genius ventriloquist behind both Danny O'Day and Farfel the Dog.  The inspiration for Farfel occurred in 1950 when Nelson spotted a stuffed dog sitting on a piano at one of his live shows.  He gave the dog a gloomy-sounding voice and Farfel was an instant success.  Nelson commissioned a brown-colored Hound Dog to be made, and in 1955, Danny O'Day, Farfel the Dog, and Jimmy Nelson auditioned for the Nestle's jingle campaign that would elevate Farfel to pop culture legend.    
Farfel, whose name means small flaky pasta used in Jewish cuisine, is famous for his part of the Nestle Quik jingle.  Danny O'Day would sing the first part of the jingle; "N-E-S-T-L-E-S, Nestles makes the very best..." and Farfel would end the jingle with "Choc'-lat."  The characteristic snap of Farfel's mouth at the end of the jingle often drew laughter and cheer from the audience because it so greatly contrasted Farfel's overall gloomy disposition with an enthusiastic sound that communicated how tasty and exciting Nestle Quik was to drink. 
Though Farfel, Danny O'Day, and Jimmy Nelson maintained a solid ten-year campaign, Farfel was eventually replaced by other commercials and campaigns.  However, by this time, Farfel was so well-known and so established that his character will always be remembered for his Nestle commercials.  Over the decades since Farfel's active years, Nestle has produced nostalgic commercials and spots featuring Farfel and even Farfel's extended family of chocolate-loving dogs.  Though today we all know chocolate is not safe for our real dogs, we are still entertained and touched by the remembrance of Farfel's days past.  Jimmy Nelson continues, at the age of 89, to entertain people with his mastery of ventriloquism with Farfel the Dog by his side.           
Chocolate Dog Name Considerations
Choosing a name for your dog is personal and requires much thought.  You want your best friend's name to be a perfect fit.  Chocolate themed names, while acceptable for all breeds and types of dogs, are probably best suited toward brown-colored canines.  Brown and chocolate-colored dogs come in many shade varieties as well as sizes.  Some of the chocolate-themed names are better suited to smaller pooches, like small Spaniels, whereas other names are perfect for large dogs, like the chocolate-colored Labrador Retriever.  
True, rich chocolate-colored dogs have the advantage of more pointedly chocolate-themed names while the lighter and red variety of brown dogs might enjoy a more subtle name.  Names like Fudge or Hershey are obvious references to your dog's coat color, but Coco, Chip, Amber, and Twix may not be as color descriptive. Multi-colored dogs that have brown in their coats will also enjoy subtler names.  Cookie, Tootsie, Nougat, and Toby are direct references to chocolatey goodness, but they also have other meanings.  For example, Tootsie might refer to the Tootsie Roll, but it is also a pet name given to loved ones.  Toby, for a male dog, refers to the Toblerone candy bar but the shortened name Toby does not make that instantly clear.  
Votes
Name
Vote
13

Hershey

A famous chocolatier from Pennsylvania

12

Choco

Reference to a 2004 Soul Control pop song

11

Snickers

The nougat, caramel, peanut, and chocolate candy bar

10

Cadbury

A British milk chocolate candy

9

Toby (Toblerone)

A Swiss chocolate bar characteristic by its triangular prism shape

8

Pedro

The male lover in the 1992 movie, "Like Water for Chocolate," and Tita's match

8

Reese

Peanut butter and chocolate combined candy

7

Peanut

A nut that is good on its own but so much better with chocolate

7

Valentino

A variation of Valentine and associated with chocolate giving

6

Ballotino

A twist on Ballotin, the original chocolate whiskey

6

Chip

A small chocolate bite used in baking

6

Roux

The drifter played by Johnny Depp in the 2004 movie, "Chocolat"

6

Twix

A sweet biscuit coated in chocolate and caramel

4

Mars

A food processing company well-known for its chocolate candy bars

4

Nougat

A French confectionery made of honey and nuts

3

Chuao

A small village in Venezuela world famous for its chocolate

3

Kit

A chocolate covered wafer that makes a snapping sound

3

Mousse

A light chocolate desert

2

Rolo

Caramel and chocolate combined chewy candy roll

1

Mole

A Mexican spicy flavored chocolate sauce for chicken

1

Nestle

A Swiss food processing company well-known for its chocolate products, including Quik

1

Roan

A gray-brown color

1

Willy

A reference to Willy Wonka and the Chocolate Factory

0

Farfel

Reference to Farfel the Dog, the famous Nestle Quik "spokesdog"

0

Jackie Brown

A film by Quentin Tarantino

0

Umber

A natural reddish-brown color

-1

Dusty

A light brown color

-1

Klondike

An ice cream bar with a hard chocolate coating

-1

Nibs

Small chocolate bites

-2

Forrest

"Life's like a boxes a chocolates" according to Forrest's mom
Female Chocolate Dog Names
Votes
Name
Vote
10

Cookie

A flat baked sweet food best made with chocolate chips

7

Fudge

A sinfully delicious confectionery treat made with chocolate, butter, sugar, and milk

7

Mocha

A chocolate coffee favor

6

Cocoa

The bitter bean that is the ultimate beginning of all things chocolate

6

Lady Godiva

An 11th Century English noblewoman who road the streets naked and is the inspiration for the Belgium chocolates

5

Ginger

A reddish-brown color and root with a sweet, warm, spicy bite

5

Java

Another name for coffee and also indicating a rich brown color

5

Minny

A reference to Minny's "Chocolate Pie" from the movie, The Help"

5

Parline

A brown-colored confectionery containing sugar and nuts

4

Amber

A light golden-brown color

4

Ambrosia

A sweet marshmallow treat sometimes made with chocolate

4

Browine

A sweet chocolate cake treat

4

Candy

A cute name for any small chocolate-colored female dog

4

Hazel

A light to dark yellowish-brown color

4

Joy

Happiness and a subtle reference to Almond Joy candy

4

Maya

The first people to harvest the cocoa bean

4

Truffle

A chocolate confectionery with a soft, chocolate ganache center

3

Coco

A subtle name that might reference anything from Coco Channel to Disney's hit movie, Coco can also indicate the hot chocolate drink

3

Molly Brown

A philanthropist and suffragette who survived the sinking of the RMS Titanic

3

Roca

Short for Almond Roca, a nut, toffee, and chocolate candy

3

Taffy

A chewy candy treat

3

Tita

A reference to the female lover in the 1992 movie, "Like Water for Chocolate" and best paired with the male lover, Pedro

2

Coco Puff

A chocolate cereal and perfect name for fluffy brown dogs

2

Puddin'

Short for pudding, a cream treat best enjoyed as chocolate

2

Tootsie

A chewy chocolate candy and pet name

1

Chocolat

Pronounced with a French accent, this name references the 2000 movie

0

Serendipity

A 2001 movie where the two lovers first meet at a chocolate shop called Serendipity

-1

Arriba

An Ecuadorian chocolate of legend

-1

Molasses

A slow moving, viscous product of refined sugarcane, dark in color

-1

Viviane

The leading female role in the 2004 movie, "Chocolat"
Community Dogs with Chocolate Names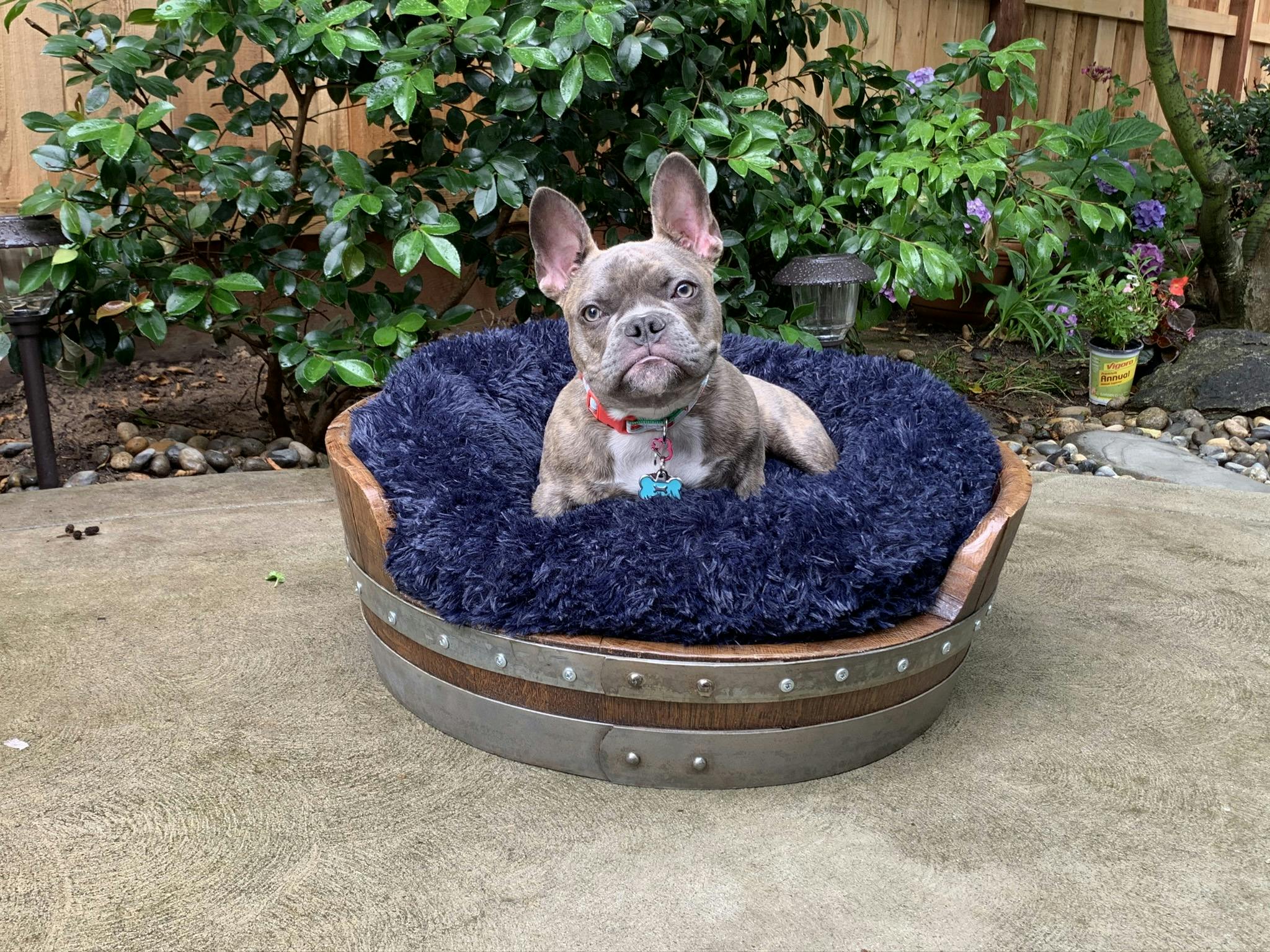 Kahlua
Female
French Bulldog
Fresno, CA
Personality
Energetic
Lovable
Smart
good
I wanted a rich chocolate name because she is an expensive dog and brown in color