Introduction
The gentle giant expression is often used to describe the large breed dogs.  Though they can be fiercely protective and always loyal, they rest most of the day and appear docile unless alerted to potential dangers.  Dog owners and those interested in adopting a giant breed dog should already have an idea of how large their puppy will be at adulthood.  Sometimes, dog owners chose a name that reflects the giant size and the docile disposition of their colossal canine.  There are many options for choosing a name including references to various mythological giants as well as words or names that mean giant.
Book First Walk Free!
Dog Names Meaning Gentle Giant in Pop Culture
Featured Famous Gentle Giant Dog
Hercules
Over the years, many large breed dogs have entertained audiences with their big, slow, and clumsy ways.  Dog personalities such as Beethoven, the Saint Bernard for the Beethoven movies, remind us of the power of these large dogs.  Some of these dogs in popular culture even scare us due to their massive size.  One such gentle giant who inspired fear was Beast from the movie Sandlot.  Beast was a giant English Mastiff, the largest of the dogs by weight, who lived in the backyard behind the sandlot where the boys would play baseball.  The boys believed Beast would devour anyone who stepped foot in the backyard, where baseballs would sometimes end up.  The entire crew fears this dog, but when Beast broke loose and chased the boys throughout the town, it was discovered that he was a loving and gentle giant named Hercules.  All Hercules wanted was to play ball with the boys, and henceforth, the great English Mastiff become the mascot.  This is an important lesson in popular culture.  It teaches us that not all large and scary looking things are out to get us.  Of course, people should always exercise caution when dealing with any dog, but generally, dogs like the English Mastiff are gentle giants who would rather lick us than bite us.
A second and famous gentle giant whose notoriety spans six decades is Clifford the Big Red Dog.  Clifford is the 25-foot red dog that first appeared in the children's book, Clifford The Big Red Dog in 1963.  Since 1963 several more books and a PBS television show have aired the stories of Clifford.  Clifford is always described as a larger than life dog who is shy, a bit clumsy, always wants to help, and sometimes gets into trouble because of his size.   He is friendly, loyal, and wholly devoted to his owner and best friend, Emily Elizabeth Howard, an eight-year-old girl.  Clifford's creator, author, and illustrator, Norman Bridwell, received the inspiration to create Clifford from his own sketches.  His editor had pulled out a sketch of a baby girl next to large Bloodhound and said that "there might be a story in this" as she handed the sketch back to Bridwell.  Clifford is a much loved gentle giant who does everything a normal dog would do but on a giant scale.    
Dog Names Meaning Gentle Giant Considerations
Dog owners who wish to give their large dog a giant name have a few considerations to make.  First and the most obvious; unless dog owners are looking to be ironic, choosing a gigantic moniker should mean they have a giant breed dog in the family.  Gentle giant dog breeds include most of the giant and large breeds, such as the Great Dane, the Bernese Mountain Dog, the Bullmastiff, the Newfoundland, the American Pit Bull Terrier, the Greyhound, the Irish Wolfhound, and the Saint Bernard.  This does not include the full list of gentle giants but also extends the honors to some of the large giants, like the Pit Bulls.  Contrary to popular belief, the American Pit Bull is a loving, affectionate, and gentle dog and worthy of a gentle giant themed name.
The second consideration dog owners must make is in the name itself.  To classify as a gentle giant-themed name, the name itself must not give rise to violent thoughts or associations.  For example, the names Bruiser, Butch, Tank, and Goliath are all big dog names; however, they are also names associated with fighting or warfare.  Names such as Sequoia, Baloo, Groot, and Jolly are giant associated names that suggest a gentleness of nature as well.     
Male Dog Names Meaning Gentle Giant
Votes
Name
Vote
2

Titan

Mythological gods with super strength

1

Montaro

Meaning big boy

0

Baloo

A giant sloth bear from the Jungle Book

0

Snuffy

The largest and gentlest of Muppets

-1

Beowolf

A legendary hero

-1

Samson

A gentle man with super human strength

-1

Hagrid

One of Harry Potter's giant friends

-1

Hercules

A legendary demi-god of Greek mythology

-1

Albion

A Titan of Greek mythology

-1

Marmaduke

A great big Great Dane

-1

Reis

Israeli for giant

-1

Altas

A Titan who held the world upon his shoulders

-1

Harley

A large motorcycle manufacturer

-1

Polaris

The big and bright North Star

-1

Neptune

God of the vast sea

-2

Da-Xia

Chinese for big hero

-2

Rion

A pagan giant

-2

Bear

A great big name

-2

Big Ben

A large clock tower in London

-2

Boomer

Another name for a large ship

-2

Buffalo

A large, woolly bison

-2

Dane

A large sounding name

-2

Humphrey

Meaning giant peace

-2

Anzo

Germanic for giant

-3

Chumlee

Pawn Stars big teddy bear

-3

Groot

A gentle tree-like humanoid from Guardians of the Galaxy

-3

Clifford

The biggest dog ever

-3

BLue Ox

A reference to Paul Bunyan's Babe the Blue Ox

-3

Whopper

A large hamburger

-3

Jupiter

The largest planet in the solar system
Female Dog Names Meaning Gentle Giant
Votes
Name
Vote
0

Sable

A reference to the giant sable antelope

0

Helga

Helga is a giantess name

0

Bestla

A frost giant

0

Gerd

Another frost giant

0

Sequoia

The largest trees on the planet

0

Amazon

Large female protectors

0

Baleen

A large and gentle whale

0

Diana

The most famous Amazon

0

Juno

Goddess and wife of Jupiter

0

Grida

Norse for giant peace

-1

Jolly

The Jolly Green Giant gently suggests you eat your greens

-1

Alaska

The largest state in the U.S.

-1

Bertha

A reference to Big Bertha by Callaway

-1

Kahuna

Hawaiian for large

-1

Mama

Mamas are usually big

-1

Oni

Japanese for giant

-1

Skadi

A Norse warrior

-1

Vishal

Sanskrit for giant

-1

Blue

The Blue Whale is the largest gentle giant on the planet

-1

Arctic

A large frozen land

-1

Pacifica

A reference to the peaceful Pacific Ocean

-1

Denali

The largest mountain in North America

-1

Eureka

A large idea

-1

Fantasia

A Disney movie set to Classic music

-1

Koa

A large Hawaiian tree

-1

Mig

A Russian jumbo jet

-1

Sahara

A large desert

-1

Sheba

A reference to the Queen of Sheba

-1

Daiki

Japanese for a giant tree

-1

Kouta

Japanese for giant peace
Community Dogs With Names Meaning Gentle Giant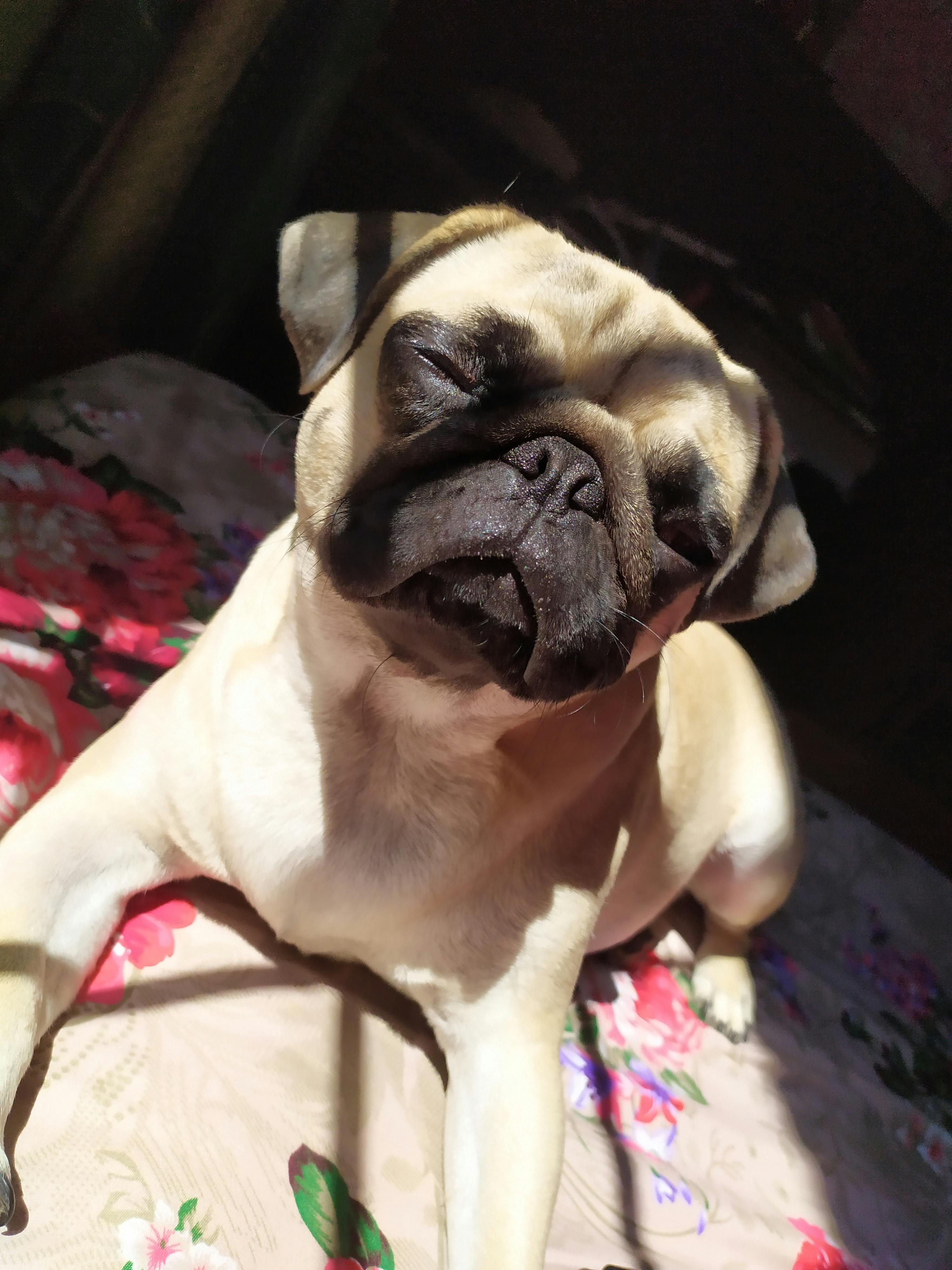 Snuffy
Female
Pug
Katy, TX
I wanted to put an extra name for her that's why I took months and kept on searching and finally I found name i.e Snuffy and she always keeps on smelling everything.