Introduction
It can be challenging to choose a name for the new companion in your life.  When selecting that special name, you can narrow down your search by picking a theme or pattern.  You could choose a specific ending of a name, or a specific beginning, for instance.  This guide looks at names that start with "T".  "T" is a popular letter and there are a lot of great names that start with this. Along with the choice of letter, you can also integrate your favorite food, sport, vacation spot or film. The possibilities are pretty grand. If you think a name starting with "T" might suit your pooch, then you should keep reading. This guide explores the best dog names starting with the letter "T" and will certainly inspire you. 
Dog Names that Start with T in Pop Culture
Featured Famous Dog with a Name that Starts with T
Thor
In pop culture, names that start with "T" have certainly proved to be a hit and many celebrity dogs have names that start with this letter.  A dog named Terry played Toto in the Wizard of Oz – that's two "T" names.  Paris Hilton had a Chihuahua named Tinkerbell that she used to take out with her regularly.  "T" names are popular in children's TV shows; for example, T-Bone is Clifford's friend in the animated series, Clifford the Big Red Dog. 
The name Thor is of Scandinavian origin and it means Thunder. Of course, in popular culture, there is also a Marvel superhero named Thor too, played by Chris Hemsworth. Thor is the God of war, originally from a world named Asgard, and his weapon is a hammer.  There have been three Thor films in total: first, Thor, 2011, the second, Thor: Dark World, 2013, and Thor: Ragnarok, 2017.  The name itself has proved popular, but there is a famous fictional dog named Thor, too. 
Thor is a German Shepherd seen in the 1996 American horror movie, Bad Moon.  This is a werewolf movie whereby a dog perceives that his owner's brother, who has recently come to stay in the area, is turning into a werewolf.  He senses that something isn't right and follows him into the woods.  When his owner follows, he leads her back to the safety of her home.  Thor has excellent senses and he is very protective which makes him a hero in the story. The movie itself actually received bad reviews and didn't do well in box office, however, we can't deny that the skills of Thor are showcased well, based on his instinct.  Bad Moon is based on a novel by Wayne Smith, named Thor.  The novel is actually written from the perspective of the dog. 
Thor is not the only heroic canine with a name beginning with "T".  A dog named Theo worked for the British army and was renowned for his bomb detection skills in Afghanistan.  Sadly, he died from stress after his handler was murdered by Taliban forces.
Another great pooch with "T" name is Tawny, who can certainly be labelled as a hero.  Tawny is a yellow Labrador that gave birth to her first litter, birthing 18 puppies – that's right, 18 puppies in one single litter!  Following this event, Tawny, quite rightly, became the Iams Mother of the Year.  
Dog Names that Start with T Considerations
There are certainly some considerations that you might think about when naming your pooch.  Names beginning with the letter "T" can suit many different dogs because there is a wide scope of names to suit all types.
If you think of size, a name like Titan is great for the larger dog, while Tiny, Titch and Teenie suit the smaller breed.  There is a famous Great Dane named Titan who was once noted as being the largest dog in the world. There is also room for irony here as you could call the larger dog Tiny, or if you have a small dog with a big attitude, then Titan would suit the spunky temperament. Temperament, character and behavior often motivate name choice. There is Tricky for a pet that's good at showing off what they've learned, Tyke for the mischievous pooch, or Trudy for a dog who displays strength in body or character.  
If you feel inspired by color, Tan or Taupe are great names for your four-legged friend. Maybe you are inspired by popular culture or a celebrity pooch with a T name, like Paris Hilton's Tinkerbell. Take a look at the suggestions below and make a list of any names you like and may consider for your new addition.   
Male Dog Names that Start with T
Votes
Name
Vote
2

Tank

For the strong and sturdy pooch

1

Tango

Inspired by the Golden Retriever in Bailey's Billions

1

Theo

Inspried by an English Springer who worked detecting bombs

1

Taro

A Sakhalin Husky abandoned for a year in Antarctica

1

Trakr

A World Trade Centre survivor from 9/11 attacks

1

Titan

A Great Dane named Titan was once labelled the tallest dog

1

Tripp

American origin meaning the third

1

Trooper

If your pooch is a little trooper

1

Tux

For the canine that always looks smart

1

Teddy

Your canine is just a big cuddly teddybear

0

Toby

Inspired by the Basset Hound from Basil the Great Mouse Detective

0

Tramp

Inspired by the wonderful and brave pooch from Lady and the Tramp

0

Trusty

The lovable Bloodhound from Lady and the Tramp

0

Tagg

Inspired by The Adventures of Gulliver

0

T-Bone

Inspired by Clifford the Big Red Dog's friend

0

Timmy

Inspired by the Border Collie from Famous Five On the Case

0

Tyrone

Inspired by the Bulldog in Secret Life of Waldo Kitty

0

Tyke

Spike's son in Tom and Jerry

-1

Thor

German Shepherd from 1996 American horror movie Bad Moon

-1

Terry

A Cairn Terrier named Terry played Toto in The Wizard of Oz

-1

Toto

Inspired by Dorothy's pooch in The Wizard of Oz

-1

Tiger

The Bearded Collie from The Brady Bunch

-1

Tusko

The German Shepherd from TV series Kantor

-1

Talero

A very loyal pooch who stayed with his owner 23 days after his death

-1

Togo

A Siberian Husky who carried the Diptheria vaccine through Alaska

-1

Tyko

Inspired by the pooch in 2005 movie Life is Ruff

-1

Token

Because your pet is a token of your affection

-1

Titch

Ideal for the small pooch

-1

Trinidad

Inspired by the beautiful island

-1

Tito

Inspired by the Chihuahua in animated movie Oliver and Company
Female Dog Names that Start with T
Votes
Name
Vote
2

Tootsie

A great pet name for your little cutie pie

2

Tasha

A shortened form of the name Natasha

0

Tessa

An English name meaning harvester

0

Toffee

For the sweet pooch

0

Tiny

For the small dog; Or a humorous name for the large pooch

0

Tammy

A shortened form of the name Tamara

0

Tequila

Like a favourite Mexican drink

0

Topaz

Because your pup is a precious stone

-2

Tawny

Labrador that gave birth to 18 puppies; Iams mother of the year

-2

Tinkerbell

Inspired by Paris Hilton's beloved pet Chihuahua

-2

Trixie

A retired service dog adopted by author Dean Koontz

-2

Tulip

A German Shepherd from JR Ackerley's memoir My Dog Tulip

-2

Tutu

From television series Little Bear; Tutu is Granny's dog

-2

Taylor

Popular dog name indicated as one of the top 150 by AKC

-2

Tori

English meaning winner and conqueror

-2

Tease

For the pooch who needs regular grooming

-2

Tigriss

Greek word for tiger

-2

Tilly

A shortened form of Matilda

-2

Thyme

A pungent aromatic herb

-2

Teenie

Ideal for your toy breed pooch

-2

Tiffany

Ideal for the designer dog

-2

Tallulah

Native American origin; means leaping water

-2

Taboo

Means sacred and forbidden

-2

Tara

Irish meaning tower or hillside

-2

Tan

Ideal for the tan colored pup

-2

Texas

A great name inspired by the American state

-2

Tiara

For the pet that is a budding jewel in your crown

-2

Tricky

For the dog that is good at tricks

-2

Trudy

Of English origin meaning spear strength

-2

Twinkle

For the pooch that puts the twinkle in your eye.
Community Dogs With Names that Start with T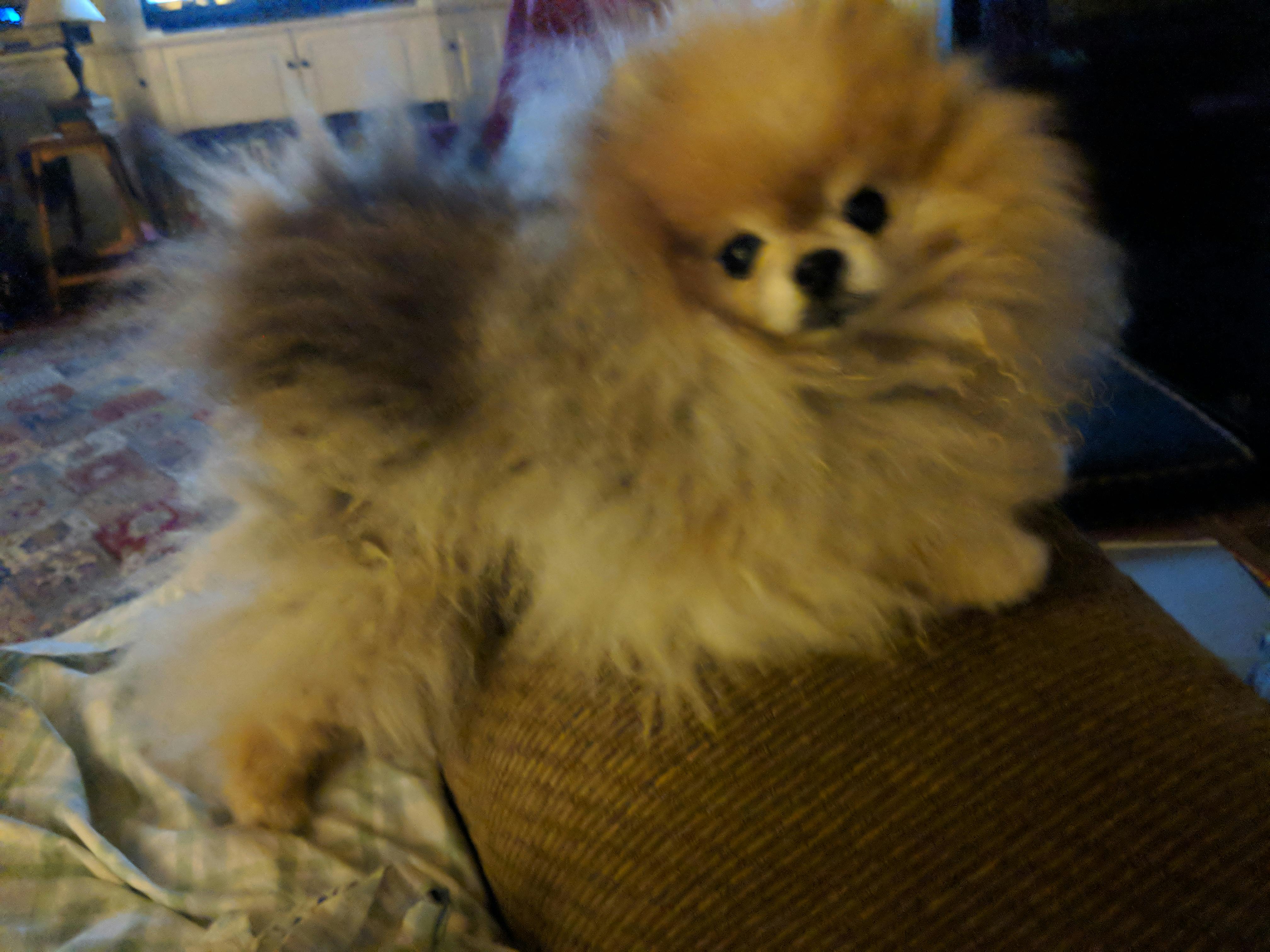 Tigger
Male
Pomeranian
Wesley Chapel, NC
He hops on his back legs like Tigger from Winnie the Pooh