Introduction
Egyptian mythology has long interested many people with its mysteries from the complexities of sacred temples and pyramids to the number of deities and their meanings.  Egyptian hieroglyphics lines the walls and towers of ancient structures as well as the cartouches and sarcophaguses of ancient people; all hinting at the deep connection with natural elements and the gods.  Egyptian themes, books, and movies have fascinated audiences for years, and some people are so inspired by the mythological past of Egypt that they chose to honor their dog with an Egyptian inspired name.  When it comes to giving their dog an Egyptian mythological inspired name, dog owners appear to have many choices.    

Egyptian Mythology Dog Names in Pop Culture
Featured Famous Egyptian Mythology Dog
Anubis
Ancient Egyptian culture and mythology have long fascinated people from all walks of life.  The secrets and mysteries attract scholars and lay people alike who often marvel at the blooming life in the desert.  When it comes to the domestic pets of ancient Egypt, most people naturally think of the cat who is often depicted as a god-like and revered creature.  Cats most certainly have their place in ancient Egyptian mythology and culture, but the dog also played a large role in life and religion.  Several domestic dog breeds, both extinct and extant, have strong ties and possibly came from Egypt.  Some of the modern-day breeds, include the Greyhound, Ibizan, and the Pharaoh.  One look at these dogs and you can see the resemblance to some of Egypt's ancient mythological gods, like Anubis or Bau.  
Anubis himself is an ancient Egyptian god referred to as a dog or jackal-headed god.  He is the god of the afterlife and guides the dead to their destination.  Anubis is one of the most recognized Egyptian gods and symbols today thanks to his appearances in several books, movies, and television shows over the years.  Anubis is often depicted as a large and powerful god with the body of a man and the head of a dog.  His body is dark-skinned, and his head is black with long pointed ears.  Often, Anubis is seen as the villain in literature or entertainment due to his ancient position as the Conductor of Souls to the Realm of the Dead.  In movies such as Stargate, the image of Anubis is used as one of Ra's, the main villain, henchmen and executioners.  Anubis is also seen as the main villain in the 2014 movie, The Pyramid, where he is trapped in a pyramid for the atrocities he committed while trying to reunite with his father.         
Egyptian mythology is a big part of popular culture and dogs have a large share in that as well.  Aside from the images of Anubis, other gods and symbols are used for entertainment purposes.  In the late 1990s an animated series called Mummies Alive featured a group of mummies with superpowers who were pitted against an evil sorcerer named Scarab.  Several dog-like creatures were included in the series, including Anubis, and Scarab kept a dog-like pet named Ammut who was often referred to as the "ugliest dog ever seen."
Egyptian Mythology Dog Name Considerations
Naming a dog is an important custom for many people and not one taken lightly.  Some owners feel deep connections to ancient Egyptian mythology because they work in the field, enjoy Egyptian inspired entertainment, or have a general thirst for knowledge of all things Egyptian.  The connection to the ancient myths of Egypt may lead some owners to chose a godly name that befits their revered pooch.  Dog owners can name their dogs anything they want, regardless of breed, size, or color but there are some considerations owners may want to take when choosing the Egyptian theme.
When it comes to breeds, there are some sleek-looking fleet canines that have possible origins in Egypt.  These breeds include the Basenji, Greyhound, Ibizan, Pharaoh, Saluki, and the Whippet.  All of these breeds have long slender legs with long necks and pointed muzzles.  Their skin is tight, and their coats are short and sleek, giving them a regal, powerful, and graceful look befitting that of an Egyptian god.  Owners may also want to consider the size of their dog when choosing an Egyptian mythological inspired name.  The Sphinx, for example, is a large and famous monument in Egypt and befitting of a large dog, such as an American Yellow Labrador Retriever.  Smaller dogs might benefit from smaller sounding names, like Bastet, who was the Egyptian goddess of warfare.  
Male Egyptian Mythology Dog Names
Votes
Name
Vote
3

Osiris

The consort of Isis

3

Odion

A Egyptian yellow daffodil

3

Ra

The principle god of Egypt known as the sun god

2

Rames

Son of Ra

2

Anubis

Conductor of souls and a god with the head of a dog

1

Bast

Another name for Bastet

1

Abrax

Half god, half demon

1

Aten

The disk of the sun and an aspect of Ra

1

Amon

Meaning hidden love

1

Onuris

An Egyptian god of war

1

Min

The god of fertility

1

Horus

God of light

1

Berenike

An ancient seaport on the Red Sea

1

Baal

The god of storms

1

Aker

An earth deity that guarded the deceased

1

Husani

Meaning such a handsome boy

1

Jabare

Someone known for their bravey

1

Sphinx

A symbolic statue with the body of a lion and the head of a man

1

Maat

The god of order

1

Masuda

Meaning a happy boy

1

Montu

A god in the form of a falcon

1

Nephi

Egyptian for good son

1

Seb

God of the earth

1

Zoser

Meaning the king

1

Canon

As in canon of kings

1

Aegis

An ancient ornamental collar

1

Necho

A pharaoh in the 26th Dynasty

1

Nub

Meaning gold

1

Seth

God of chaos

1

Khonsu

A traveler and god of the moon
Female Egyptian Mythology Dog Names
Votes
Name
Vote
5

Nefertiti

Meaning the most beautiful one

3

Maye

Beloved of Amun

2

Cleopatra

A famous Egyptian queen

2

Chione

A daughter of the Nile

2

Ebonee

Egyptian for black

2

Lapis

A semi-precious jewel of intense blue

2

Midge

The darling of Amun

2

Nefer

A good luck charm

2

Phoenix

A mythological bird that rose from the ashes

2

Shena

A small Egyptian measurement

2

Zaru

An ancient town on the Delta

1

Isis

The mother goddess of Egypt

1

Bastet

Goddess of fertility

1

Sekhmet

Goddess of light

1

Selket

Goddess of the dead and symbolized as a scorpion

1

Satet

The archer goddess of the Nile

1

Nut

Goddess of the sky

1

Mut

Another name for Isis, mother goddess

1

Khepri

Meaning the morning sun

1

Kosey

The word for lion, which were in abundance in ancient Egypt

1

Kissa

The sister of twins

1

Shani

Egyptian for wonderful woman

1

Tiye

Deity of the light

1

Amenti

The Egyptian Realm of the Dead

1

Sah

The constellation known as Orion and associated with Osiris

1

Shabti

Small figurines resenting the helpers of the dead

1

Tefnut

The goddess of dew and rain

1

Teti

A 6th Dynasty Pharaoh

0

Bau

A dog-headed goddess of fertility

0

Scarab

A dung beetle and a frequently used symbol
Community Dogs with Egyptian Mythology Names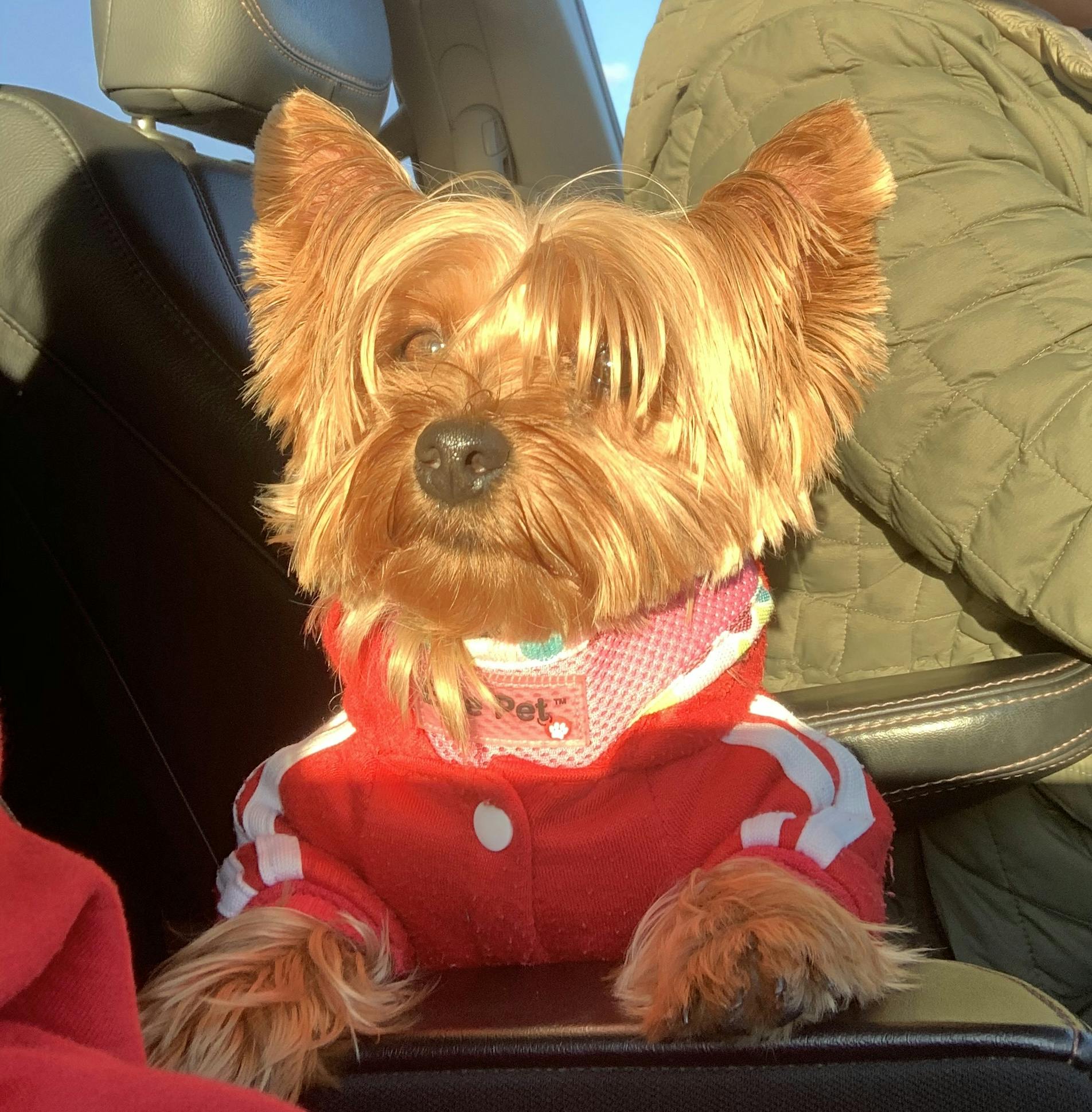 Hazel
Female
Yorkshire Terrier
New York, NY
Personality
Cute
Crazy
Shy
activie
we were looking for dog names for fun and we found the name hazel and we really liked it so then we had no idea that the next day we were going to the pet store but we did and we bought a dog and named it hazel