Introduction
Do you have Georgia on your mind? Are you a citizen of the great state of Georgia? Ray Charles sang the virtues of the state, and natives and visitors alike comment on the beauty and hospitality of Georgia. It was the last of the Thirteen Colonies, and it was originally established as a penal colony for those who could not pay their debts. Georgia was named in honor of King George II (prior to the Revolutionary War, of course); its nickname is "The Peach State." President Jimmy Carter hailed from The Peach State, and he began life as a peanut farmer. Coincidentally, Georgia is the top producer of peanuts. A dog from Georgia is like many other Southern dogs - it is generally pampered whether it is a hunting dog or a toy dog.
Dogs with Georgia Names in Pop Culture
Featured Famous Dog with a Georgia Name
Buck
In Georgia, a dog named Buck is likely a hunting dog. He might be a Labrador Retriever who aids his human hunting partner in retrieving downed ducks. A popular Georgian Dog name, it would also suit a Treeing Walker Coonhound who flushes deer out of their hiding places. 
In Jack London's novel The Call of the Wild, Buck is a dog of mixed heritage who has quite an adventurous life. 
Buck begins life on a farm in the Santa Clara Valley of California. He is part Saint Bernard, a dog known for his hardiness, and a sheepdog. He is a large dog, and in the first part of The Call of the Wild, Buck actually has a life of ease. However, everything changes when gold is discovered in the Klondike (located in Canada, north and east of the Alaskan border). Because of the discovery of gold, a demand for large dogs is created. A greedy gardener employed with Buck's initial owner, Judge Miller, steals Buck and sells him to dog traders who, in turn, sell him to mail carriers Francois and Perrault. As time rolls along, particularly because he must begin relying on his instincts, Buck becomes attuned to them. He learns how to adjust to his new life as a sled dog - sleeping burrowed in the snow, scavenging - and sometimes fighting - for food, and making his place among the pack of sled dogs. 

Buck's chief antagonist is a dog named Spitz, the lead sled dog under Francois and Perrault. Several incidents take place where Spitz challenges Buck. Spitz may be the leader, but he must also eliminate any threats to his leadership. Because he sees Buck as a threat, Spitz often initiates fights with Buck. Eventually, Buck wins a crucial fight with Spitz, taking leadership of the sled dog team. Although Buck is an exemplary dog, he is again sold to a group of inexperienced gold miners. Eventually, following his instincts, Buck refuses to run over an icy area even though he is beaten by his new owners. Cut free by one of the group, Buck watches as the other miners fall through a weakness in the ice. Thornton, the man who cut Buck loose, becomes Buck's master. 

During his time with Thornton, Buck is tempted more and more to give up his domesticated status to live free in the wild. He begins spending more time away from the camp. One day in particular, he comes back to the camp to find Thornton killed by Indians. Buck joins a group of wolves in the wild and becomes their leader. By the end of the novel, he answers his call of the wild and returns to the ways of his ancestors. 

A favorite Georgian cabin vacation spot is named after this novel and is located in Blue Ridge, Georgia. The beautiful wilds of Georgia and the similarity of its people to the determination of man and dog both in the novel can inspire a Georgia name.
Georgia Dog Name Considerations
Georgia is one of the oldest territories in the Southeast, and it was the last of the original colonies when America was young. Georgia has the best of it all; parts of Georgia are in the foothills of the Appalachians, and other parts touch the Atlantic Ocean. Not only is Georgia known for its sweet peaches, but Georgia is also one of the top producers of pecans and vidalia onions (which, surprisingly, are also sweet). Georgia is known as the birthplace of the Civil Rights Movement as Dr. Martin Luther King, Jr. had a home there. 
Georgia is also home to some unique animals. Although Georgia's Stone Mountain sits over 1,000 feet above sea level, live shrimp flourish at the top of the mountain. Rainwater which gathers in the stone provides a perfect habitat for the shrimp to thrive. In addition, Cumberland Island is home to a herd of wild horses. 
What kind of dog embodies the state of Georgia? Virtually any type of dog is at home in The Peach State. Like most other Southern states, the Labrador Retriever is the most popular breed in Georgia. This embodies the love of the outdoors of many Georgia residents. The Labrador Retriever makes a hunting companion; however, he is also a welcome addition to families with children (he is very protective of kids). 
The German Shepherd is the second most popular dog in the state of Georgia. He is an excellent watch dog, and he is often employed in service work of some sort. He is also a highly intelligent dog that is exceptionally brave - adjectives that could easily describe Georgia residents as well. The third most popular breed in Georgia is also a hunting companion - the Beagle. The Beagle is used to hunt both large and small game (anything from raccoons to white tail deer). The Beagle can be somewhat stubborn, but he is also a great companion dog. Of course, no Southern belle would be complete without a small, fanciful dog such as a Yorkie, a Maltese, or Miniature Poodle or designer breeds such as the Maltipoo and Cockapoo. 
Votes
Name
Vote
9

Blue

A great name for a Blue Heeler or a Blue-tick Coonhound

7

Bo

Bo Duke was a lead character and protagonist of The Dukes of Hazzard

6

Luke

Country music artist Luke Bryan hails from Georgia

6

Cobb

As in Cobb County and Ty Cobb, baseball great

5

Cam

Professional football player Cam Newton is a Georgia native

5

Burt

Actor Burt Reynolds is a native of Waycross, GA

4

Chattahoochee

One of the largest rivers in Georgia

3

Chandler

As in Chandler Riggs, star of The Walking Dead

3

Rick

Rick Grimes is the lead character in Georgia-based The Walking Dead television series

3

Vince

As in legendary football coach Vince Dooley

3

Carter

Jimmy Carter, former United States President

2

Khalid

As in Khalid Robinson, nineteen year old R&B singer and Georgia native

2

Uncle Jesse

Uncle Jesse was the patriarch of the Duke family

2

Biscuit

No Georgia breakfast would be complete without biscuits

2

Ray

As in Ray Charles, who sang Georgia on my Mind

1

Fulton

The county in which Atlanta rests

1

Colonel

A military ranking, also a nod to the antebellum heritage of Georgia

1

Max

The most popular dog name in the city of Atlanta according to surveys

1

Brooks

A great name for a Labrador who loves to swim

0

Floyd

This name means "gray," and would fit a silver or gray dog

0

Sanford

Refers to Sanford College

0

Andre

Refers to Georgia native, singer Andre 3000

0

Milton

A county in Georgia, this name means one who works in a mill

-1

Jasper

A county in central Georgia; this is a great name for a hunting dog

-1

Cherokee

One of the largest groups of the Cherokee Indian tribe was originally located in Georgia

-1

Hazzard

Inspired by Hazzard County, a fictional location in the TV series Dukes of Hazzard

-1

Catoosa

A county in the foothills of the Appalachian mountains

-1

Dawson

A county in Northwest Georgia named for a state legislator

-1

Bucky

As in Bucky Dent, Georgia native and Major League Baseball great

-2

Banks

A county in Northeast Georgia
Votes
Name
Vote
7

Georgia

This name is perfect for a small designer dog

6

Julia

Atlanta-born Julia Roberts is an iconic actress

6

Sandy

Refers to Sandy Springs, a city in Georgia

5

Savannah

A beautiful city on the coast of Georgia

5

Daisy

Daisy Duke was the only girl in the Duke family

5

Peaches

Can refer to the state fruit, or the color of a Golden Retriever's coat

4

Coffee

A county in Georgia

4

Juliette

The founder of the Girl Scouts organization is a Georgia native

3

Finley

Refers to Finley Street on the campus of UGA

3

Cookie

Cook County is located in Georgia

3

Suzanne

Refers to Suzanne Sugarbaker, fictional character on Designing Women, which was set in Atlanta

3

Gwynnette

A variation of Gwinnett County, GA

3

Smyrna

A large city in Georgia

3

Athena

A nod to the city of Athens, GA where the University of Georgia is located

3

Tybee

Refers to Tybee Islands on the coast of GA

2

Meri

A variation of Meriwether County, a county in central GA

2

Etowah

A river near Rome, Georgia

2

Bonnie

Refers to Bonaventure Plantation and Historic Cemetery

2

Flo

Refers to the "Waving Girl" statue in memory of Florence Martus

2

Marietta

A city in Georgia, home to Civil War battles and a Cherokee burial ground

2

Cola

The World Coca-Cola Museum is located in Atlanta, GA

1

Alice

Alice Walker, author of The Color Purple, hails from Georgia

1

Gladys

As in Georgia native Gladys Knight, singer

1

Altamaha

The largest free flowing river in the state of Georgia

0

Augusta

A county near the Savannah River

0

Glynn

A county in Georgia

-1

Atlanta

The capital city of Georgia

-2

Maddie

A variation on Madison County, a county in Northeastern GA

-3

Suwannee

A river in Georgia

-4

Kim

Actress Kim Basinger hails from Georgia
Community Dogs with Georgia Names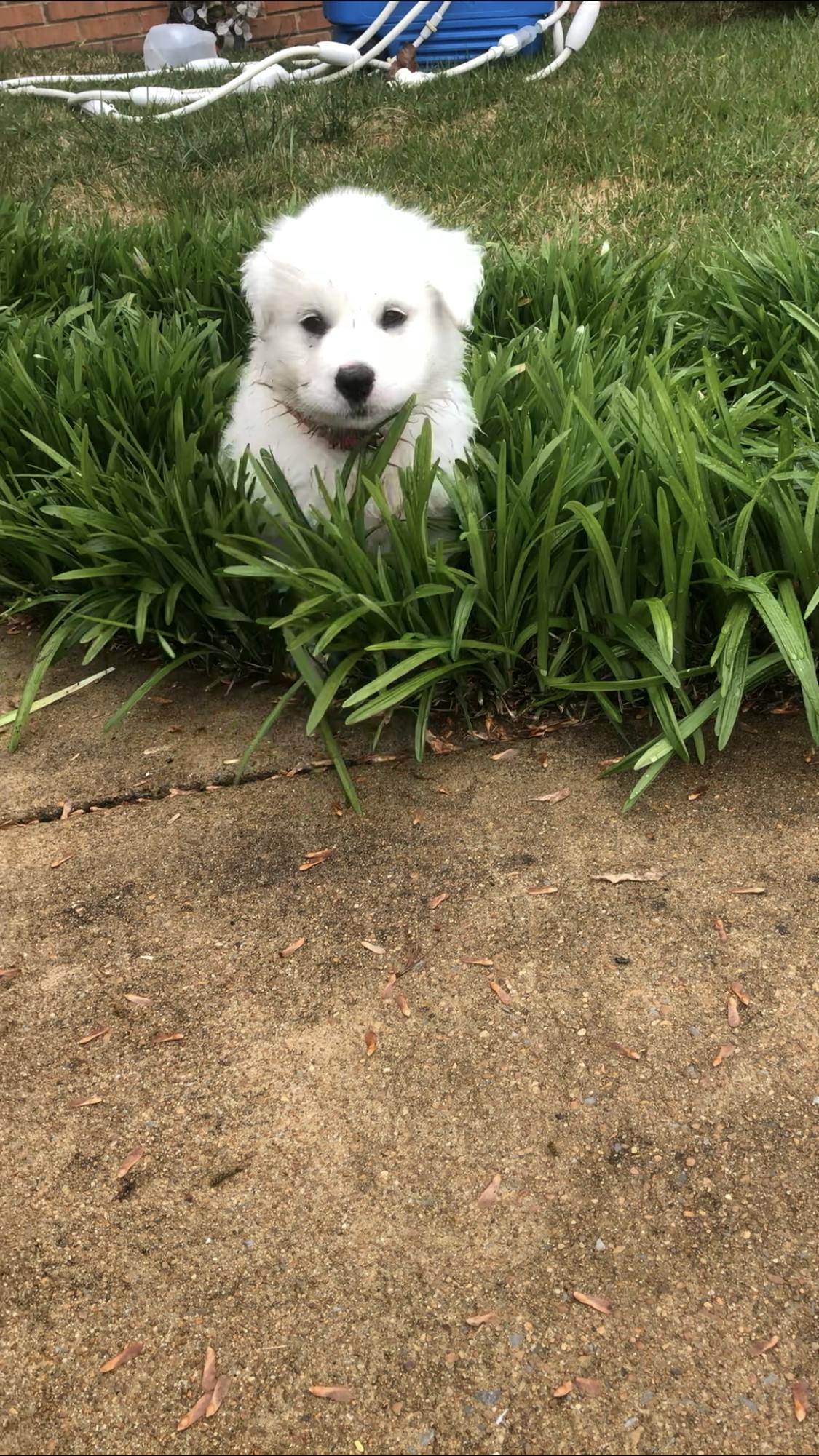 Eason
Female
Great Pyrenees
Chickamauga, GA
Quarterback Georgia. Eason