Introduction
Without a doubt, German Shepherds are considered one of the most recognized dog breeds not just in Germany but also worldwide. In fact, according to the American Kennel Club, it is the second most popular dog breed in the world – and rightfully so. This breed is not only exceptionally loyal to its family, it is also easy to train, attentive and smart. This is also one of the reasons why German Shepherds are used by the military and police forces as their K-9 unit dogs. But, aside from their high level of intelligence, they can also be friendly and sweet to their owners, which makes for the ultimate guard dog and companion. The wonderful dedication to work that this breed has can be an influence when choosing a suitable name for them.
German Shepherd Dog Names in Pop Culture
Featured Famous German Shepherd Dog
Rin Tin Tin
German Shepherds are among the most frequently featured dog breeds in different works. In fact, films starring this particular breed can be traced back to as early the 1920's. During this time, the most famous German Shepherd was Rin Tin Tin, who was a dog actor and an international sensation. Rinty, as he was nicknamed by soldier Lee Duncan, was rescued at a battlefield during the World War I. Trained by Duncan, he passed an audition for a silent film. With his first film becoming a huge success in the box office, Rin Tin Tin gained worldwide recognition and starred in over 27 films.
Another German Shepherd Hollywood dog actor who was as popular as Rin Tin Tin was Strongheart. He was bred in Germany and first trained as a police dog, serving during the World War I. With his owner unable to support him, Strongheart was sent to a friend in the United States. Discovered by a film director known for training dog actors, Strongheart was bought and groomed for acting. He went on to star in four adventure Hollywood films. He was considered to be the first big dog movie star, just 2 years ahead of the rise of Rin Tin Tin. Throughout their lifespan, Rin Tin Tin and Strongheart were fixtures in the show business industry and even received their own stars at the Hollywood Walk of Fame. Lots of German Shepherd owners have also named their dogs after the two canine stars.
Over the years, German Shepherds continued to make frequent appearances, whether in literature, film or television. A Canadian television series, entitled The Littlest Hobo, aired in 1958. The premise revolves around Hobo, a wandering German Shepherd who goes from town to town in order to help those who are in need. Another familiar German Shepherd is Ace the Bat-Hound from DC Comics. Ace was described as the crime-fighting dog of Batman and Robin and has appeared in several story lines of the comic books.
The German Shepherd breed has also popped up in recent films. In the post-apocalyptic movie I Am Legend, Will Smith's character, Robert Neville, becomes the last surviving human being in New York after a virus wiped out the entire mankind. His only remaining companion was a German Shepherd named Sam.
The prominence of the breed in the Hollywood scene caused a massive shift in the perception of German Shepherds and helped make them a popular choice for family dogs in the United States.
German Shepherd Dog Name Considerations
German Shepherds have been around since 1890 and were originally bred for sheep herding, thus the name. Their unique abilities, along with their devotion to their owners, are unheard of in dogs. These traits further solidify why they are one of the world's most adored dog breeds. Therefore, this exceptional breed deserves a similarly exceptional name; the usual dog names simply won't do the trick.
For German Shepherds, whether male or female, a name that exudes strength is appropriate. For the males, names of certain powerful men in history or terms related to power can be chosen. For females, a good name should be one that reflects their femininity while still highlighting their fierce personality. Good examples of such names would be "Thor" for boys or "Xena" for girls.
Aside from the personality, you may also choose a name according to your dog's physical looks. Lots of pet owners name their dogs based on their coat's color or some special markings that they may have. Another option to consider is choosing a German name. Since the breed originated from Germany, it would be apt to give them a name or term that is part of the country's culture.
When it comes to naming your dog, the possibilities are endless. You just have to take some factors into account and eventually, you will find the most suitable name for your new pup.
Male German Shepherd Dog Names
Votes
Name
Vote
8

Berlin

Capital city of Germany

8

Goliath

A Biblical character referred to as a giant

7

Bruno

Means "brown" in German; good for German Shepherds with brown coats

7

Ranger

A watcher or keeper of a certain area

4

Dimitri

Greek name meaning "earth lover"; good for German Shepherds who love to play outdoors

4

Krypto

The pet dog of Superman in the comics

4

Panzer

A popular German tank from World War II

3

Friedrich

German name meaning "merciful leader"

3

Leonard

German name meaning "lion-hearted"

2

Luger

A kind of pistol that is famous in Germany

2

Samson

A character in the Bible known to be extremely strong

2

Henri

Means "home ruler" in German

2

Ellard

Means "brave and noble" in German

1

Rolf

German name meaning "famous wolf"

1

Gunther

Means "battle" in German

1

Kort

Means "bold" in German

1

Burgh

Means "protection" in German

1

Zak

Hebrew name meaning "pure"

1

Fremont

Means "noble protector" in German

0

Dieter

German name meaning "people's army"

-1

Max

Shortened version of Maximus, which is Latin for "greatest"

-1

Schwarz

Means "black" in German; good for black German Shepherds

-1

Eberhard

German name meaning "strong boar"

-2

Adalard

Means "brave" in German

-3

Haan

A small German town known for its beauty

-3

Gregor

German name meaning "vigilant watchman"

-3

Clovis

German name meaning "renowned fighter"

-3

Sigmund

German name meaning "victorious defender"

-4

Exie

Greek name meaning "defending men"

-4

Alaric

Means "noble leader" in German
Female German Shepherd Dog Names
Votes
Name
Vote
8

Rika

German name meaning "powerful protector"

8

Ember

Glowing hot coal; good name for black German Shepherds

7

Lena

Greek name meaning "bright one"

5

Matilde

German name meaning "strong fighter"

5

Erma

Means "warrior" in German

3

Henrika

German name meaning "home ruler"

3

Ulrika

German name meaning "prosperity and power"

2

Milda

Lithuanian goddess of love and freedom; a small German city

2

Gertrude

German name meaning "strength of a spear"

2

Holle

German name meaning "beloved"

2

Walda

German name meaning "ruler"

1

True

English name meaning "loyal"

1

Mady

Means "maiden" in German

1

Süss

Means "sweet" in German

1

Trudy

German name meaning "universal strength"

0

Adele

German name meaning "noble"

-1

Bathilda

Means "heroine" in German

-1

Dame

Means "lady" in Germany

-1

Hedwig

German name meaning "battle"

-1

Elexis

Greek name meaning "defender of mankind"

-1

Sadie

Hebrew name meaning "princess"

-2

Bernie

Pet form of Bernadine, which means "brave as a bear" in German

-2

Brownie

A kind of small cake, also a slang term for brown; can be used for brown-colored German Shepherds

-2

Emera

Latin name meaning "worthy of merit"

-3

Minne

Means "resolute protector" in German

-3

Joli

Means "lovely" in German

-3

Geneva

Means "woman" in German

-3

Cloud

A mass of condensed water vapor seen in the sky; good for white German Shepherds

-4

Anka

Hebrew name meaning "grace"

-5

Heidi

German name meaning "noble"
Community Dogs with German Shepherd Names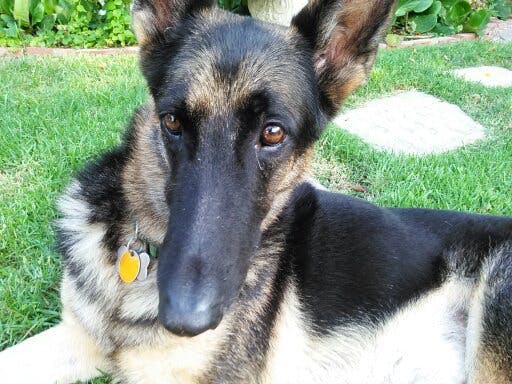 Saxon
Male
German Shepherd
Orange County, CA
Adopted from German Shepard rescue with the name of Saxon which fits him perfectly.