Introduction
How lucky to be welcoming a German Spitz into your home. This adorable fur baby will grow into a happy, alert and bubbly dog. They will bask in all the attention you can give them. Now that you have this little pooch, what are you going to call them? Choosing the name can be difficult. You will want it to be special and mean something to your dog. With so many names out there, it can be a daunting challenge. But have no fear, we have compiled a comprehensive list of dog names for the German Spitz. This list will help you to refine your choices before making the major decision. The name you choose must be easy to say. It should roll off your tongue easily because this dog that you have chosen will move quickly; they are active little souls! You need to be able to say their name quickly to stop them in their tracks! Keep this in mind as you browse our list.
German Spitz Dog Names in Pop Culture
Featured Famous German Spitz Dog
Princess
According to witnesses in a Chinese Television show, a beautiful black German Spitz named Princess put eleven spectators to sleep, just by gazing into their eyes. The show was a talent-type of challenge, designed to find unusual entertainment acts performed by ordinary people and in this case, the contestant was the 41-year-old English owner of a jet black German Spitz. Krystyna Lennon, the owner of the dog, sat on the stage with her dog on her lap, and the spectators came up and sat in a circle around them. As the dog gazed into their eyes, they fell asleep one by one, until there were eleven people snoozing on the stage! 
That wasn't the end of the story though! In 2015 Simon Cowell - that notorious judge from Britain's Got Talent - fell under the black dog's spell when the duo entered the show. Who would have thought Simon would fall for a hypnodog? He did! His comments afterward said it was like nothing he had experienced before. He said after gazing into the eyes of Princess the dog, he was aware that he was going to sleep but he couldn't do anything to stop it, he just went with the feeling. 
Some felt that it might have been the dog's owner who was doing the hypnotizing but there was no proof. To this day, the black German Spitz holds the power over the people! But then, that is nothing new. Ask any dog lover and they will say that they just have to gaze into the beautiful eyes of their dog, and they are under the dog's spell. Dog's rule our hearts in a very subtle, very gentle way.
Popular in Europe, but presently not seen that often in the United States, the German Spitz is indeed a mesmerizing pup! The German Spitz typically weighs between 20 and 30 pounds. This little bundle of fluff named Princess had the power to take over the senses of beings ten times her size!
German Spitz Dog Name Considerations
What do you have to consider when choosing a name for your new dog? First, it must be easy to say, and it must be easy for your dog to learn. Consider a title that does not rhyme with a command; Jay sounds too much like "stay", for example. Simple is best! Secondly, if you do choose a longer name, make sure you like what others may shorten it to. Their shortened version may not appeal to you! Remember you will be asked your dog's name countless times as people stop to admire your pet. So, the name has to be something you are not embarrassed about and it should not be offensive to any party. Apart from that, you can be as creative as you like! For the German Spitz, you could consider a German name such as Fraulein, which means Miss, or Arvin, a tag that means friend to all. Just be sure to check the meaning of whatever you select and make sure you like it.
Male German Spitz Dog Names
Votes
Name
Vote
1

Axel

A German name that means peaceful

1

Frido

Close to Fido but much better - it means powerful

1

Conan

A warrior - someone who likes to do things their way

1

Dingo

Not that your dog looks like a wild dog, but they may be fearless

1

Ranger

A dog that loves to roam - as long as you are with them

1

Wolf

If your German Spitz looks like one or has a wild spirit

0

Nano

This name suits a small dog

0

Dojo

Smart and intelligent, well trained like a ninja

0

Pablo

Like the painter Pablo Picasso, your dog likes to create things

0

Cricket

A small insect that is always 'singing' or talking

0

Stavos

For an elegant, refined dog

0

Armin

Short for Arminium - a German war hero

0

Chaos

Perfect for an unpredictable dog

0

Blizzard

Your dog has a beautiful thick coat that could withstand a blizzard

0

Chief

One who is a great leader

0

Bronx

For a dog who will take on anything

0

Kaiser

A mighty emperor - a regal dog

0

Prince

Will suit a dog with a noble and loyal stance

0

Biscuit

A sweet soft treat

-1

Donner

Another German name meaning thunder - of paws perhaps

-1

Caspian

After the Caspian Sea - sounds very distinctive

-1

Dynamo

A dog with a lot of vitality and enthusiasm

-1

Dexter

If your dog always tries to do the right thing

-1

Hugo

For a savvy, intelligent dog

-1

Gizmo

Like the adorable Gremlin from the 1980's film

-1

Khan

After Genghis Khan - the ruthless Mongolian leader

-1

Loki

The god of mischief - enough said

-1

Nike

You will need your running shoes on for this pup

-1

Nitro

A dog with explosive energy

-1

Warlock

If your dog is a magician
Female German Spitz Dog Names
Votes
Name
Vote
2

Miko

A female priestess - a lovely name for a German Spitz

1

Sprite

For a dog who is as mischievous like a sprite

1

Nikita

A dog with an unconquered spirit

1

Karma

Your destiny or fate

1

Nora

One who is light in heart and pure in honor

0

Laika

A true adventurer, also the first dog into space

0

Leona

A dog with the courage of a lioness

0

Mischa

She who is a gift of God

0

Juno

A goddess of the Roman state, very powerful

0

Dakota

A great and unbeatable fighting spirit

0

Giselle

Fast and graceful - light on their feet

0

Jewell

A very special, precious dog

0

Skye

For a dog with a heart as big as the sky

0

Eden

From the beautiful garden in the Bible

0

Aruba

Beautiful like the island in the Caribbean Sea

0

Willow

Graceful and patient like the weeping willow tree

0

Nanuk

For a dog with a coat that looks like a polar bear

0

Suka

Fast on her feet, she reacts quickly

0

Miska

The little bear - perfect for a fluffy German Spitz

0

Lexi

A good friend who will always stand up for you

0

Babushka

Czech for a shawl that keeps you warm

0

Duchess

A dog with dignity and good manners

0

Misty

As fresh as the early morning mist

0

Muffin

A sweet treat, a mini cake

0

Nina

A dog that loves to dream

0

Pixie

A mischievious, albeit tiny fairy

0

Sage

Suits a dog who is feisty and sweet

0

Reina

This lovely name means queen in Spanish

-1

Elsa

She who is pledged to you by God

-1

Liebling

A German term of endearment meaning darling
Community Dogs With German Spitz Names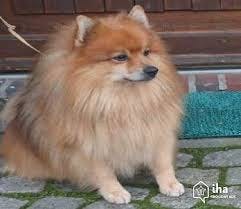 Lucky
Male
German Spitz
Summerville, SC