Introduction
Choosing a name for your dog can be fun. It can also be confusing with so many names to choose from. A good guideline is when a name catches your eye, say it out loud and imagine living with that name for a long period of time. Saying the name out loud lets you hear how easy it is to say, and how it sounds in real life. Sometimes it takes a while before you find a name that is just perfect for your dog. For a Giant Schnauzer, we suggest you find out what sort of characteristics your clever dog has and be guided by that. Remember that this dog will grow to be a large dog, so don't be fooled by the tiny ball of fur that you first see. We have compiled a list of great names that may suit your new addition, so have a browse and see what names leap out from the page for you.
Giant Schnauzer Dog Names in Pop Culture
Featured Famous Giant Schnauzer Dog
Tyr
Tyr has a different look than your regular police dog, which is usually the typical German Shepherd. For one, he has a shaggy snout and carries an air of excitement about him. But when he is on the job as a member of the Saskatoon police canine unit, he is all business and is a total professional. He is the first Giant Schnauzer to become a fully fledged member of the esteemed patrol dog roster in Canada. Due to the high demand for police dogs and price hikes for the German Shepherd after the Sept 11 terror attacks, the force has had to consider other breeds. 
Chad Malanowich says he started investigating the Giant Schnauzer after his German Shepherd partner was diagnosed with medical conditions. The Giant Schnauzer has been used as a police dog very successfully overseas for many years. In Canada, Tyr can outpace a German Shepherd on the run in most instances, and with his shaggy thick coat is well suited to colder regions. Tyr is five years old now, and came to Chad as a puppy. 
The special bond they share is unique. They live, work and play together both at home and on the job. Tyr gained his acceptance into the canine training program in Sept 2012. Chad and Tyr depend on each other in many hostile or difficult situations, and they have a tremendous bond of friendship. Tyr is the first of the breed in Canada in this line of work, but won't be the last. He has led the way to introducing this loyal, devoted and very intelligent breed to the police force. Other officers are now seriously looking at the breed. Tyr is a typical working dog, just happy to be with his master and to be working as a team.

Giant Schnauzer Dog Name Considerations
When considering a tag for your gentle Giant Schnauzer, try to get a name that really defines your dog's character. A large, hairy dog like yours may suit the name Beast, whereas the name would sound weird on a Chihuahua. Unless of course, you like the humor of that name on a small dog! Let's get back to big dogs, shall we? Is your German Schnauzer a colossal bundle of pent-up energy that suits the name Nitro? Perhaps they are shy and conservative and would be better with a name like Bella, Velvet or Shadow. Don't rush into choosing a name, even if it means your Giant Schnauzer has no name for a day or two. Make sure you like the name and can live with it, before bestowing your new friend with their own forever name. There are many titles to choose from, but something simple, easy to say, and one that is easy for your dog to recognize is always the best. Being of German origin, consider Karl or Klaus for a male Giant Schnauzer or Ada for a girl.
Male Giant Schnauzer Dog Names
Votes
Name
Vote
1

Atari

Perfect for a dog who likes to play

1

Kaiser

A German name for a leader or a king

1

Orion

A constellation in the night sky

0

Alpha

Perfect for your Giant Schnauzer - it means the first, and the strongest

0

Karl

Fits a loyal German Schnauzer

0

Badger

For a dog who loves to dig

0

Barkley

A dog who loves to bark will suit the name

0

Klaus

Means people's victory

0

Dexter

For a dog that always errs towards righteousness

0

Duke

Tall and distinguished - like the Duke - John Wayne

0

Enzo

Italian for magnificent - a perfect match for your dog

0

Edge

When you have the advantage, like owning a Giant Schnauzer

0

Fergus

A man (or dog) of strength

0

Falcon

A handsome, powerful bird

0

Honcho

This world is Japanese and means a great leader

0

Kosmo

For a dog who likes order as well as being loyal and true

0

Loki

For a dog who is like the god of mischief

0

Marley

Made famous by the movie - Marley and me

0

Mugsy

A cute name for a dog who is like a gangster sidekick

0

Magnum

Just the fit for a powerful canine

0

Nero

Strong and full of vitality

0

Ninja

A dog with martial art skills - they appear from nowhere

0

Nolan

For a champion dog

0

Nitro

For a dog with explosive energy

0

Prince

A dog of royal bearing and personality

0

Quinn

Intelligent and wise

0

Triton

A positively charged particle

0

Utah

A large western state in the U.S.

0

Wolf

A wild distant relation to your dog

-1

Ajax

The name of a Greek king
Female Giant Schnauzer Dog Names
Votes
Name
Vote
0

Pandora

A surprising gift

0

Petra

Glamorous and capable

0

Petal

Like a lovely flower - elegant and beautiful

0

Amber

Golden and gorgeous

0

Asia

Reborn and beautiful

0

Alina

Of noble bearing

0

Carina

A beloved friend

0

Daisy

A sweet pretty flower

0

Dara

A compasionate, caring dog

0

Diva

A devine one

0

Dana

The meaning is a bright gift of God

0

Ada

Meaning noble

0

Eshka

A dog with spunk and personality

0

Echo

A dog who reflects energy and enthusiasm

0

Gypsy

A wandering traveller

0

Iskra

Slovenia for a sparky, lively person

0

Jade

A precious green stone

0

Janika

A lovely name that means God is gracious

0

Java

A hot, comfortable cup of coffee

0

Kalani

A heart that's as big as they sky, and one who is boss

0

Kiona

A large brown dog that is as big as a mountain

0

Lady

A female with grace

0

Lakota

A good friend

0

Laska

Polish for a very gentle soul

0

Mitzi

Short for Maria - a lovely soft name

0

Nikita

Russian for Victory

0

Rani

A queen - a noble lady of regal birth

0

Sable

A rich deep color that is almost black

0

Tadashi

A loyal dog who is devoted

0

Velika

Slavic for one who is great

0

Yoshi

For a beautiful, virtuous dog like yours
Community Dogs With Giant Schnauzer Names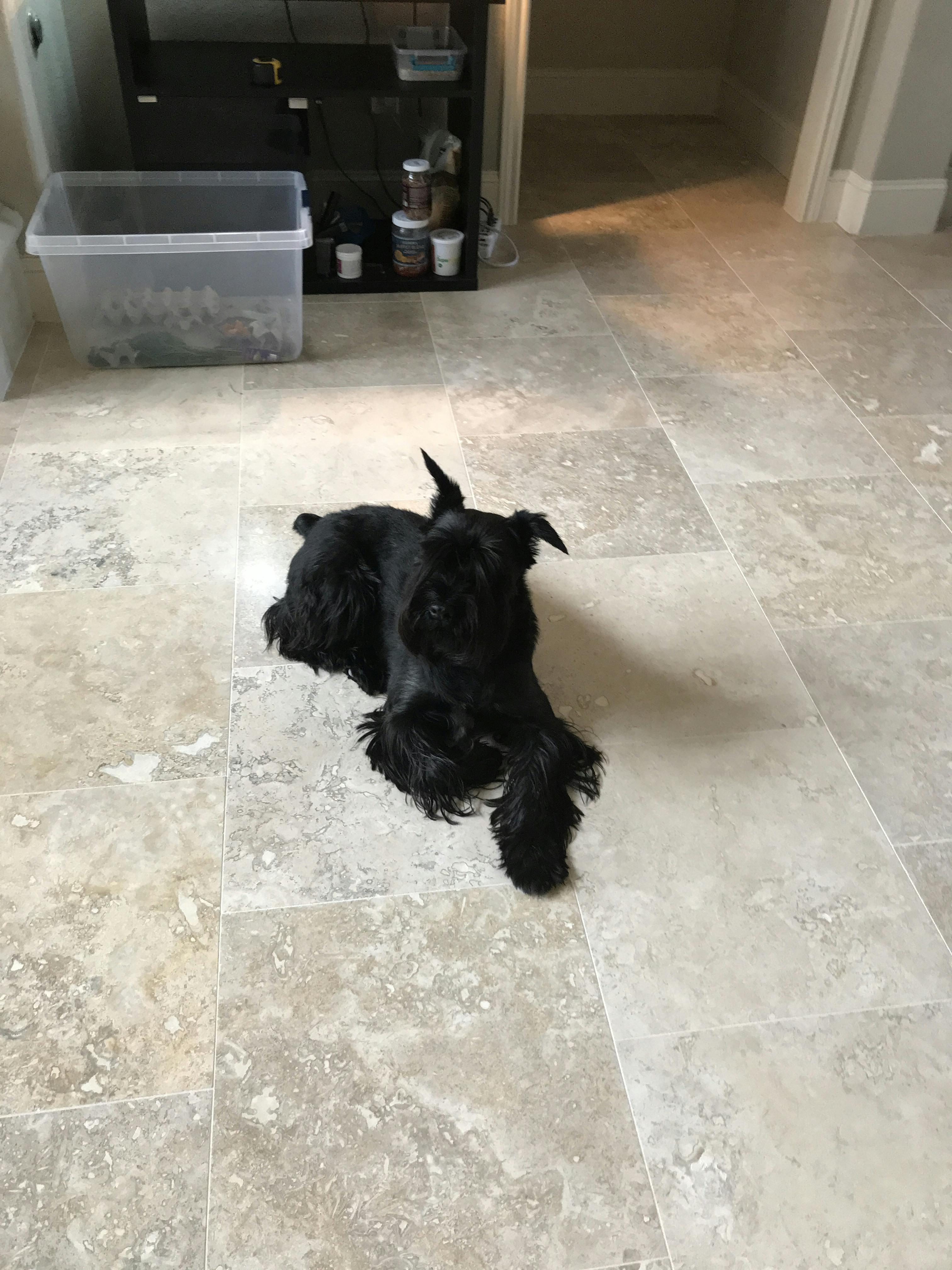 Tokoyami
Male
Giant Schnauzer
Houston, TX
Personality
Calm,silly And smart