Introduction
The Goldendoodle is a rather popular hybrid breed (also known as a "designer dog"). It is a cross between the Golden Retriever and a standard-sized Poodle. The Goldendoodle was developed in North America during the 1980s and 1990s. The Goldendoodle was first bred by Monica Dickens in 1969 in order for the hybrid to serve as a seeing-eye dogs for those with low vision and allergies. The Goldendoodle is hypoallergenic, and it generally inherits the intelligence of both parent breeds, so training the Goldendoodle to work with people is quite easy. In addition, many families are repeatedly choosing the Goldendoodle as a family pet.
Goldendoodle Dog Names in Pop Culture
Featured Famous Goldendoodle Dog
Samson
The Goldendoodle has become quite popular among families as a household pet, and celebrities are no exception when it comes to desiring such as beautiful, intelligent dog. In addition, social media has allowed some Goldendoodles to find popularity on platforms such as Instagram and Facebook. 
First, a trio of Goldendoodles are becoming touted as the "Kardashians of New York Dog Park Scene." The names of the trio are Hudson, Samson, and Neptune. The three dogs share about 200,000 followers. Samson has about 123,000 followers alone. Interestingly enough, the three dogs each have different owners. The trio is referred to as "besties," and they are often pictured together in their Instagram and Snapchat photos. 

The pooches often sport matching outfits (coordinated by their owners, of course), and they are often depicted in almost human-like poses. They may or may not be joined by other Goldendoodles in their social media posts. 

In 2016, Samson embarked on his own adventure. He toured the eastern coast of Canada, particularly Nova Scotia and New Brunswick. He was depicted snacking on lobster while on vacation, and he even enjoyed whale watching. Of course, celebrity watchers remind us that Samson performed these actions before Prince William and Kate Middleton had the opportunity to visit Canada. To be sure, the Duke and Duchess of Wales were slated to visit the western coast of Canada. 
Celebrities love the idea of owning a Goldendoodle themselves! For instance, R & B artist Usher purchased a Goldendoodle in 2012 for his two young sons. In fact, Usher and other celebrities were bidding on a pup that was being auctioned off for the Pencils of Promise charity organization, a group that helps to build schools in poverty-stricken international locations. When Usher won the bid - a feat he managed over actress Jessica Szohr, who bid $11,000 for the pooch - he did not have a name for his new pup. He quipped that he would likely allow his three- and four-year-old sons to name the new addition to the family. However, he did have one suggestion - Poppy (Raymond - Usher's last name). The Goldendoodle was considered a highly valued auction item. Because the Goldendoodle is a designer dog, he is not always readily available. However, even with the high price tag, many families are opting for this hypoallergenic, easy to manage (and love!) dog. 

Goldendoodle Dog Name Considerations
The Goldendoodle is a dog that was designed to be a working dog. However, the Goldendoodle has become a favorite among pet breeds to own. The Goldendoodle has been trained to work with those who are visually impaired, diabetic, and as therapy dogs. They are often chose to work as search and rescue dogs as well. Because they inherit the poodle parent's high intelligence and the eagerness of the Golden Retriever parent, the Goldendoodle is often sought for these positions. However, their willingness to please their owner and their exceptional mental abilities make them wonderful pets as well. Many Goldendoodles compete in agility shows, and they are known for their patience with all kinds of people. 
So, considering all the positive things regarding Goldendoodles, what type of names fit this designer breed? Names that mean intelligent or relating to mental sharpness are great names for the Goldendoodle. Names such as Cato, Hugo, and Doogie are all names that reflect someone intelligent. Cato and Hugo mean "wise;" and Doogie refers to the television series depicting child prodigy Doogie Howser, M.D. 

The Goldendoodle is easy to train, and he is eager to please his family. For this reason, names that depict loyalty are fitting of the Goldendoodle. Amita is not only unique, but it translates to "friend," and what is the Goldendoodle if he is not a loyal friend! Fidel and Hector both mean "faithful" or "holding fast." When deciding to name your sweet Goldendoodle, there are many names depicting the honorable characteristics of the breed. 
Male Goldendoodle Dog Names
Votes
Name
Vote
6

Tucker

This English name means "fabric pleater;" the Goldendoodle is often a working dog

3

Cody

An Irish name meaning "helpful;" this name is perfect for a service dog

3

Teddy

The Goldendoodle often resembles a teddy bear

0

Leo

The king of the lions; the Goldendoodle might be the king of your castle

0

Champ

A very popular pup name

-1

Jax

This English name means "one who is shown favor"

-1

Marley

Could be inspired by the film Marley and Me

-2

Rusty

One of the more reddish brown colored Goldendoodle would fit this name

-3

Duke

A great name for an elegant and regal pup

-3

Goldie

What better name for the golden-colored Goldendoodle

-4

Astro

The name of the dog on the cartoon The Jetsons; this name might work for fans of the Houston Astros

-5

Ozzy

A neat name for a unique pup

-5

Rocky

As in Rocky Balboa; this name is fitting of a smaller Goldendoodle

-5

Beau

A name for a handsome Goldendoodle pup

-5

Walter

This Germanic name means "army ruler;" your Goldendoodle might rule your home

-5

Zeke

This Hebrew derivative of Ezekiel means "God's strength"

-5

Barkley

A reference to a pup prone to barking a great deal

-6

Frankie

An English name meaning "free one;" might fit an adventurous pup

-6

Dallas

This name is fitting of a Goldendoodle residing in the Dallas/Fort Worth area

-6

Kirby

This Norse name means "church settlement"

-6

Winston

A regal name for a stately pup

-6

Hank

This name means "estate ruler;" Hank may very well rule your home

-6

Murphy

An Irish name depicting someone going into battle

-7

Henry

This is a formal version of the name "Hank," it could be a nod to Henry VIII

-7

Odie

A nod to Garfield's nemesis; this name is fitting of a very friendly dog

-7

Zeus

The chief Greek god; a larger Goldendoodle might deserve this name

-8

Scooby

Inspired by Scooby Doo; this name is great for a slightly skittish pup

-8

Miles

This name gives your pup an air of dignity

-11

Angus

A Scottish name which means "one strength"

-11

Mowgli

The lead character of Disney's Jungle Book movie
Female Goldendoodle Dog Names
Votes
Name
Vote
5

Penny

The copper color of a penny might be reminiscent of the Goldendoodle's coat

1

Bailey

This name is fitting of a loyal companion that is protective of her family

0

Lola

This name means "princess of all things"

0

Belle

A name synonymous with beauty; this name is fitting of a pretty Goldendoodle

0

Chloe

The name Chloe is related to the Greek goddess of the seasons, Demeter

-1

Molly

This is a derivative of the name Mary, which means "star of the sea"

-1

Milly

This name is a derivative of Millicent; it means "mild of strength"

-1

Winnie

A nod to Winnie from the sitcom The Wonder Years

-1

Lucy

This English name means 'light"

-2

Annabelle

This is a French name meaning "one who loves"

-2

Amber

This beautiful golden color might describe the coat color of the Goldendoodle

-2

Sophie

This French name means "wisdom"

-3

Zoey

This is a Greek name meaning "life"

-3

Abby

This Hebrew name means "father's joy"

-5

Josie

This Hebrew name means "God will increase"

-7

Gladys

A great traditional name; this is fitting of an elegant pup

-7

Mika

This Hebrew name means "wonderful smell"
Community Dogs with Goldendoodle Dog Names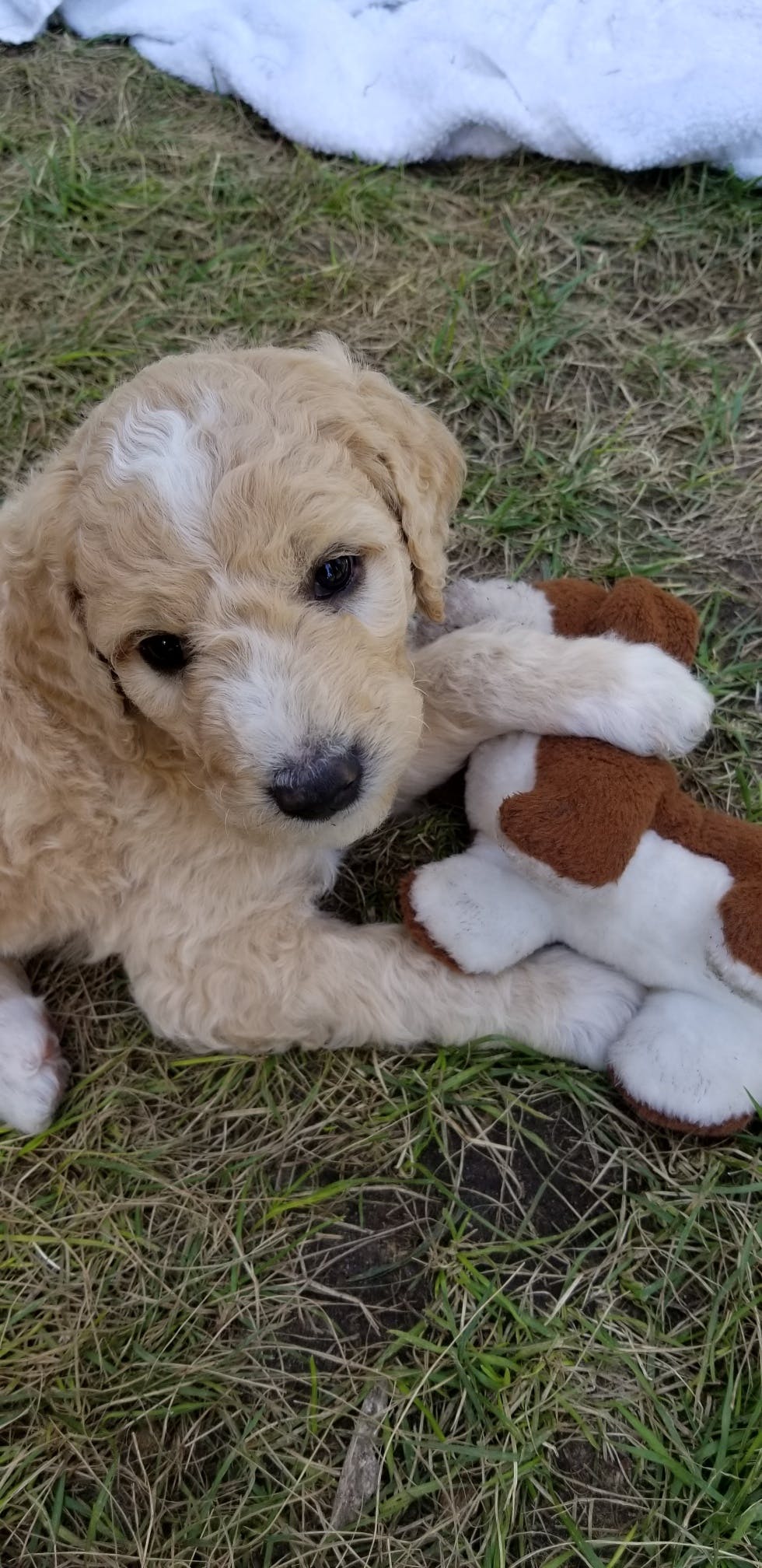 Aoife
Female
Goldendoodle
Saint Paul Park, MN
We are Irish and have a female schnoodle named Duffy. We wanted an Irish name. Aoife means radiant. Legend has it that Aoife was a great warrior. It is pronounced EE-fa.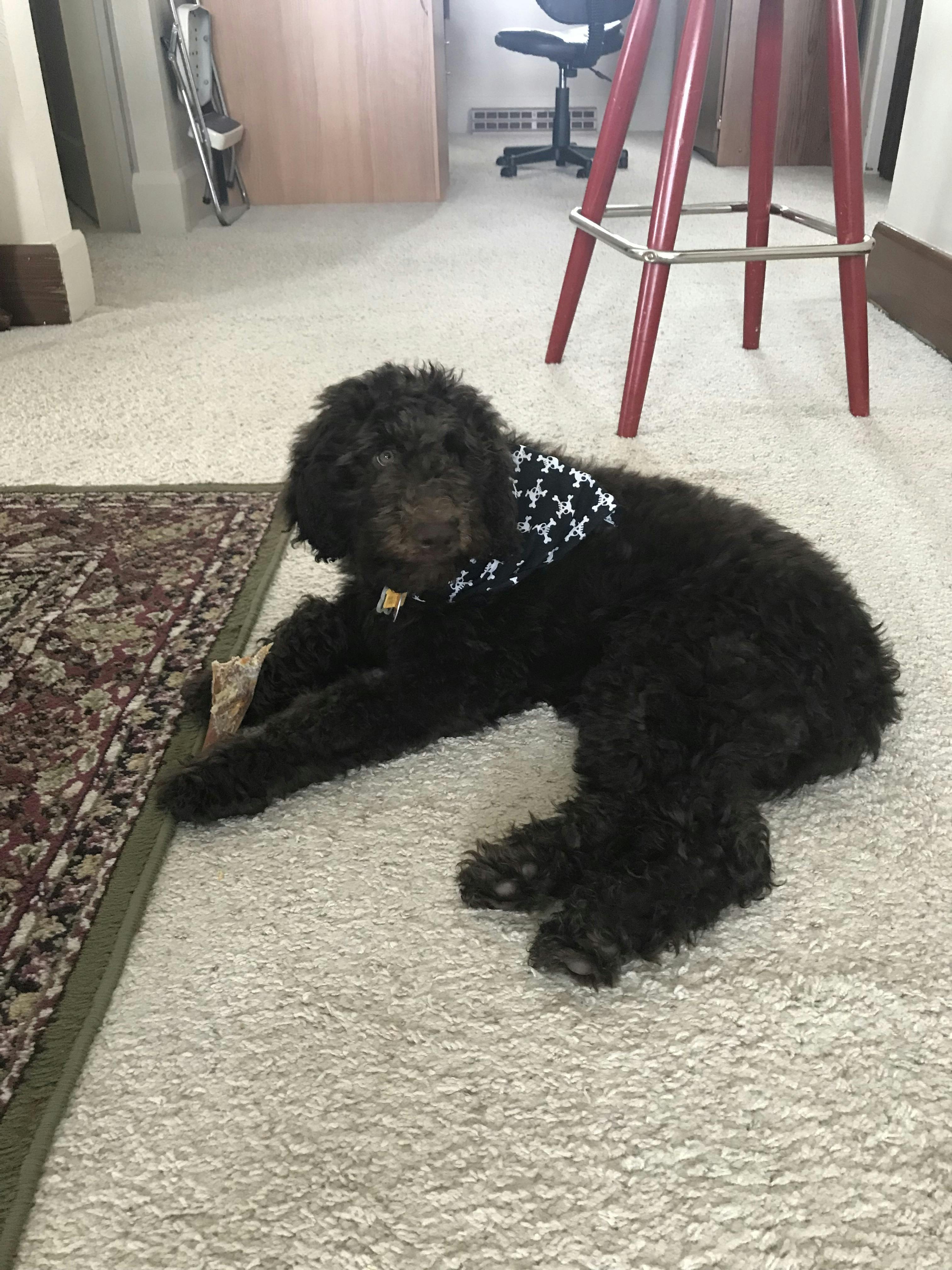 Sully boy
Male
Goldendoodle
Pipestone, MN
We thought he'd be Remington, then I asked one of our daughters. What would be a good boy golden doodles be.....Along with a bunch of suggestions her list she Said Sully, and we fell in love with the name!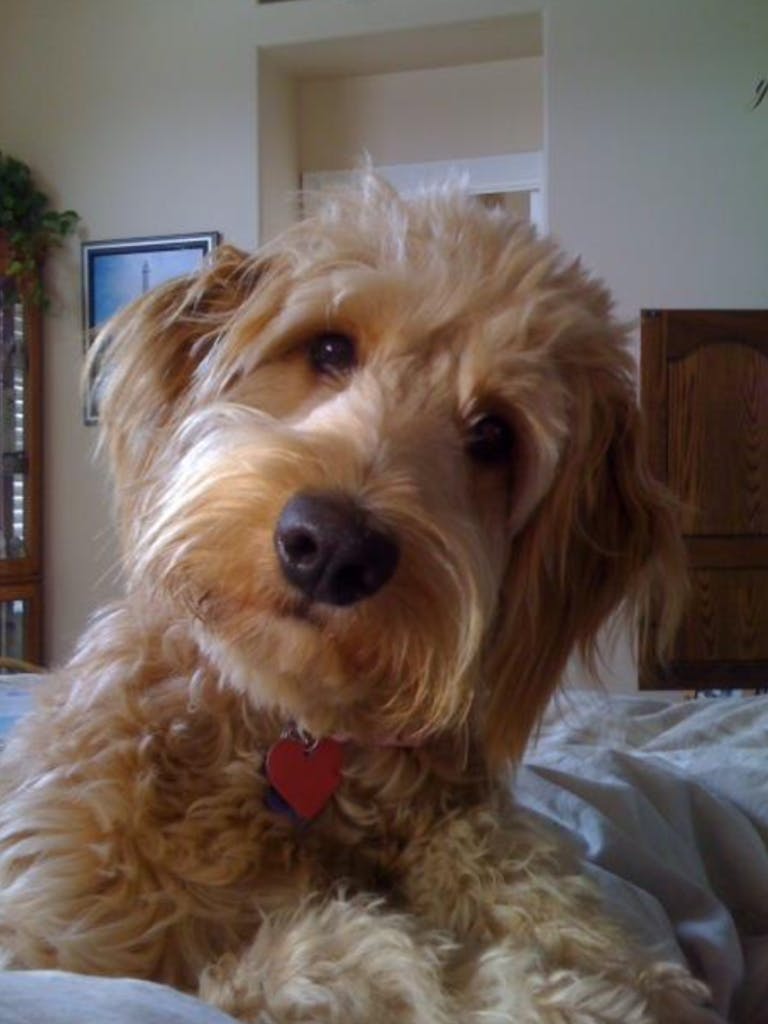 Liberty belle a.k.a. libby
Female
Goldendoodle
Syracuse, IN
I liked Libby and wanted it longer... sitting in a dentist chair i came up with liberty and middle Belle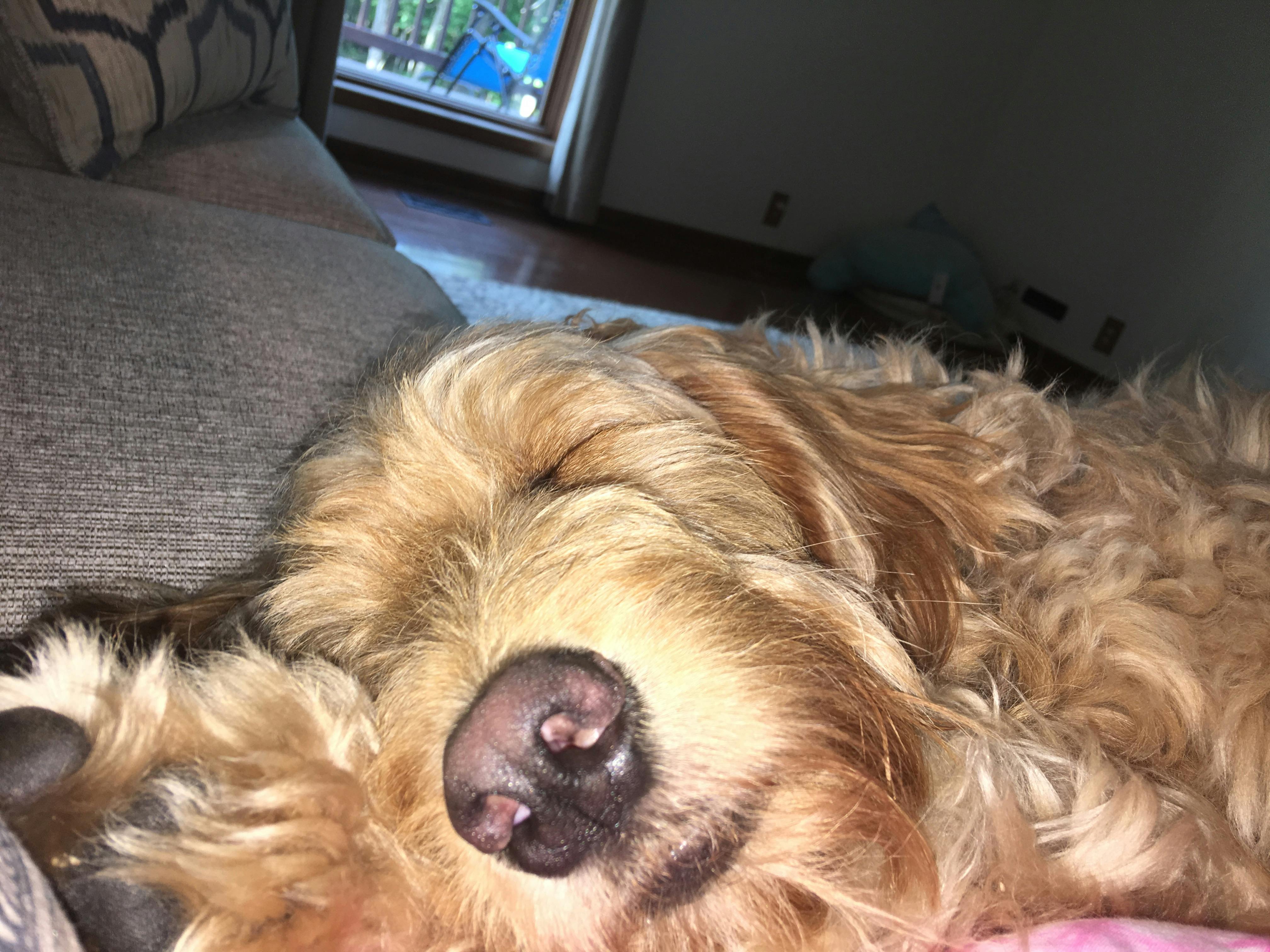 Bentley
Male
Goldendoodle
Breese, IL
His original name when we got him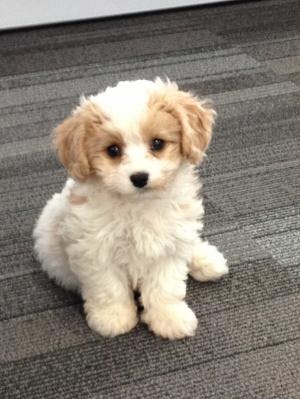 Windsor
Male
Cavachon
Chapin, SC
Named after the Windsor family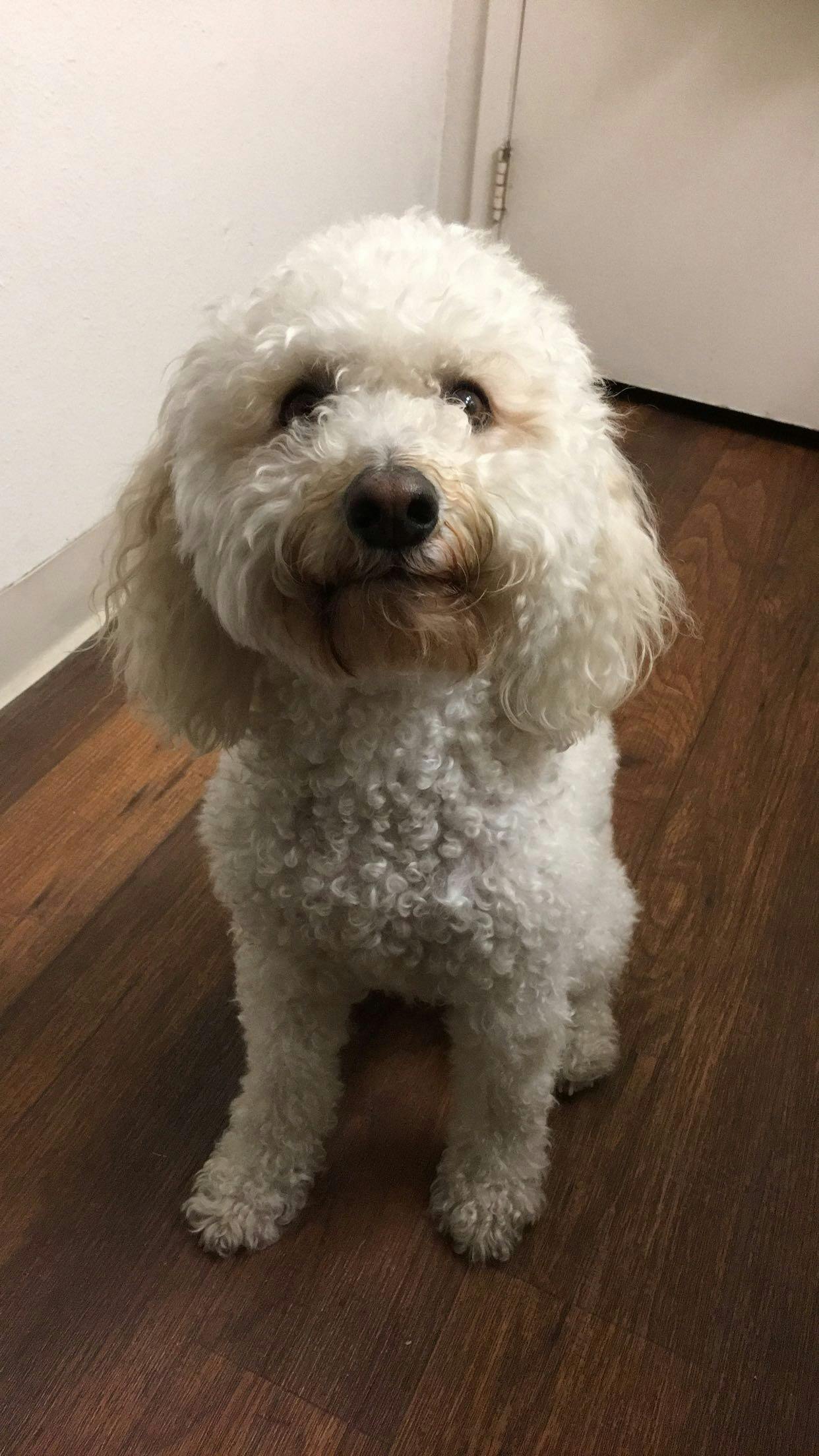 Marley
Male
Goldendoodle
National City, CA
Personality
Playful
Smart
Loves car rides
loves to cuddle
We were on our way home when we saw a guy with a puppy & the poor puppy was shaking for warmth so we told the guy he should keep the poor thing warm but then he told us if we wanted it & we had no intention of getting a dog but I've always wanted one so my mom then decided to get one & keep in mind this was pretty late at night , we ended up taking the puppy & he is the cutest thing ever then he grew and was even cuter.
Bean
Female
Goldendoodle
San Antonio, TX
Personality
Active
Fluffy
Smart
hilarious
one day I was thinking about getting a puppy. while my daughter was sitting in front of me eating some jellybeans so I thought why not name the new puppy jellybean but my family thought it was to LONG!!! so we shortend it to bean ( but on all of her personalized things we call her jelly bean:)
Malachi
Male
Goldendoodle
China Grove, NC
i only had him 5 years but he's been great