Introduction
When you think about majestic dog breeds, one of the top examples that comes to mind is the Great Pyrenees. True to its name, the Great Pyrenees was once considered the royal dog in France. The breed was originally developed to protect flocks of sheep from potential predators. More than its athleticism and agility, it also has an imposing presence and a striking white coat that is sure to catch one's eye. Nowadays, the Great Pyrenees is more of a watch dog for families and homes. It is naturally well-mannered but its guarding instincts may show when dealing with strangers or when provoked. However, with proper training, you will be rewarded with unconditional love and a companion for life.
Great Pyrenees Dog Names in Pop Culture
Featured Famous Great Pyrenees Dog
Belle
Despite it being less popular compared to its other "relatives", the Saint Bernard and Newfoundland, the Great Pyrenees has had its fair share of exposure in various pop culture works, both old and new. Perhaps the earliest literary work to ever feature the breed is the novel Belle et Sebastien by Cecile Aubry. The titular characters include Belle, a Great Pyrenees dog and Sebastien, a motherless, six-year old boy.
In the story, which is set during World War II, Sebastien grew up near the France-Italian border under the care of his adoptive grandfather, Cesar. In their small village, the flocks of sheep are starting to be preyed on by a "beast". One day, as Sebastien makes his way home, he encounters a Great Pyrenees dog, whom he assumes is the "beast" the villagers are talking about. However, upon contact, he finds the dog to be extremely likeable and suspects that he is not the suspect of the attacks. Because of the dog's beauty, Sebastien decides to call her Belle.
Thus begins the adventures of Belle and Sebastien. They are met with several ordeals, including the amount of people who want Belle dead and Cesar's non-acceptance of the dog. However, they are able to overcome most of these challenges and Belle plays a huge role in helping Jews escape to the Swiss border, even if it meant risking her own life.
The story of Belle and Sebastien struck a chord with a lot of people. In fact, Aubry's novel inspired several adaptations, including a 1965 French TV series, a Japanese anime version (entitled Meiken Jolie) and two motion picture films – Belle and Sebastian and its sequel, Belle and Sebastian: The Adventure Continues. The immense fame of the novel, and all the works that followed it, also helped make the Great Pyrenees a more in-demand household pet, both in France and worldwide.
There are other pop culture works that showcase the dog breed. In the 2009 film Santa Buddies, produced by Disney, the leading character is a Great Pyrenees named Puppy Paws. The dog also makes an appearance in the well-known comedy film Dumb and Dumber, starring Jim Carrey and Jeff Daniels.
Several Japanese anime and manga series also include the Great Pyrenees, including highly successful shows Full Metal Alchemist, Naruto, Hanazakari no Kimitachi e, Ginga Densetsu Weed, and Azumanga Daioh. There are also other literary books that have the breed as a character, such as Tara Sivec's Futures and Frosting and Julie Anne Peters' Between Mom and Jo.
Great Pyrenees Dog Name Considerations
The Great Pyrenees is an exceptional breed that has some really lovely qualities. Thus, owners of this breed must take careful considerations before bestowing a name on their new puppy. The word most frequently used to describe the breed is "majestic", and truthfully so. That being said, it is appropriate to give your Pyrenees a name that sounds as regal as it looks. For example, you may give your male dog the name "King" or "Duke" or the name "Duchess" for a female one.
Another thing that makes the Great Pyrenees stand out is its thick, white coat. Picking a fitting name that describes or highlights the breed's color is also a good idea. For instance, you may give your dog the name "Snow", which is an appropriate choice given its snow-colored fur. Although rare, there are some Great Pyrenees with markings of other colors, which you may also use as a basis for a name.
Considering the origin of the breed is also a good way to come up with a name. While there are differing accounts of the Great Pyrenees' history, it became most popular in France, when King Louis XIV declared it as the royal dog of France. The breed was also famously used as a guard dog for French nobility. Hence, it would be cool to choose a French name to go with your dog's country of origin.
Male Great Pyrenees Dog Names
Votes
Name
Vote
1

Phantom

Used to describe a ghost

1

Sirius

The name of a White Dwarf star

0

Casper

A character known as a "friendly ghost"

0

Alaric

German name meaning "noble ruler"

0

Ghost

An apparition, usually depicted as a white being

0

Anjo

Portuguese name meaning "angel"

0

Cloud

A vapor made of water drops, cool name for your fluffy Great Pyrenees

0

Beau

Means "handsome" in French

0

Alair

Means "cheerful" in French

0

Blanc

Means "white" in French

0

Bertrand

French name meaning "intelligent"

0

Blake

An Old English name meaning "white"

0

Nimbus

A type of cloud

0

Argus

Greek name meaning "bright"

0

Pierre

French name meaning "rock"

0

Freddie

Shortened version of "Frederick", which means "peaceful ruler"

0

Prince

A royal figure, the son of the king and queen

0

Antoine

French name meaning "priceless"

0

Luc

French name meaning "light"

0

Heron

A type of long-legged, white bird

0

Specter

Another word for a ghost

0

Shiro

Means "white" in Japanese

-1

Glacier

A mass or river of ice

-1

Bo

Swedish name meaning "to live"

-1

Conrad

German name meaning "bold"

-1

Emile

French name meaning "industrious"

-1

Barley

A kind of white grain

-1

Yuki

Means "snow" in Japanese

-1

Marvel

French name meaning "miracle"

-2

Snowball

A ball of pressed snow, usually used to playfully throw at other people
Female Great Pyrenees Dog Names
Votes
Name
Vote
3

Luna

Means "moon" in Latin

2

Nova

A kind of star that shines brighter than usual for a certain period of time

1

Pearl

A kind of white, precious stone

1

Dasha

Russian name meaning "God's gift"

0

Angel

A spiritual being

0

Magnolia

A large flowering plant that is usually white in color

0

Mignon

Means "small and delicate" in French, a funny name for your huge Great Pyrenees

0

Akasma

Turkish name meaning "white climbing rose"

0

Artemis

A goddess in Greek mythology, twin sister of Apollo

0

Blondie

Slang term referring to someone who is blonde

0

Fluffy

A classic dog name for a dog full of fluff

0

Kaya

Greek name meaning "pure"

0

Sugar

A sweet crystalline substance usually white in color

0

Marshmallow

Sugar-based sweet snack that is white and fluffy

-1

Chenoa

Native American name meaning "dove"

-1

Powder

A type of white, fine particles

-1

Bianca

Italian name meaning "white"

-1

Fleur

Means "flower" in French

-1

Cotton

A kind of white, fibrous material from a plant, normally used for creating textile products

-1

Boo

The sound a ghost supposedly makes; also an informal term of endearment

-1

Blanche

Means "white" in French

-1

Milky

Used to describe something that contains milk

-1

Ivory

A hard, white substance used to make ornaments

-1

Heaven

A place believed to be the abode of God

-1

Adelaide

French name meaning "nobility"

-1

Latte

Kind of coffee made using hot milk and espresso

-1

Vanilla

A substance used for flavoring food

-1

Agatha

French name meaning "good"

-1

Bijou

Means "jewel" in French

-1

Cherie

French name meaning "darling"
Community Dogs With Great Pyrenees Names
Ghost
Male
Great Pyrenees
Fort Stockton, TX
Finn
Male
Great Pyrenees
Arlington Heights, IL
Personality
Loving
Goofeball
playfull
Mischievous
We have 2 cats both named after cheeses (Brie and Jack). We wanted to name our new doggie after a cheese to continue the trend. We found Finn, a unique and rare cheese that also means "white" in Gaelic (my husband is Irish so it's perfect )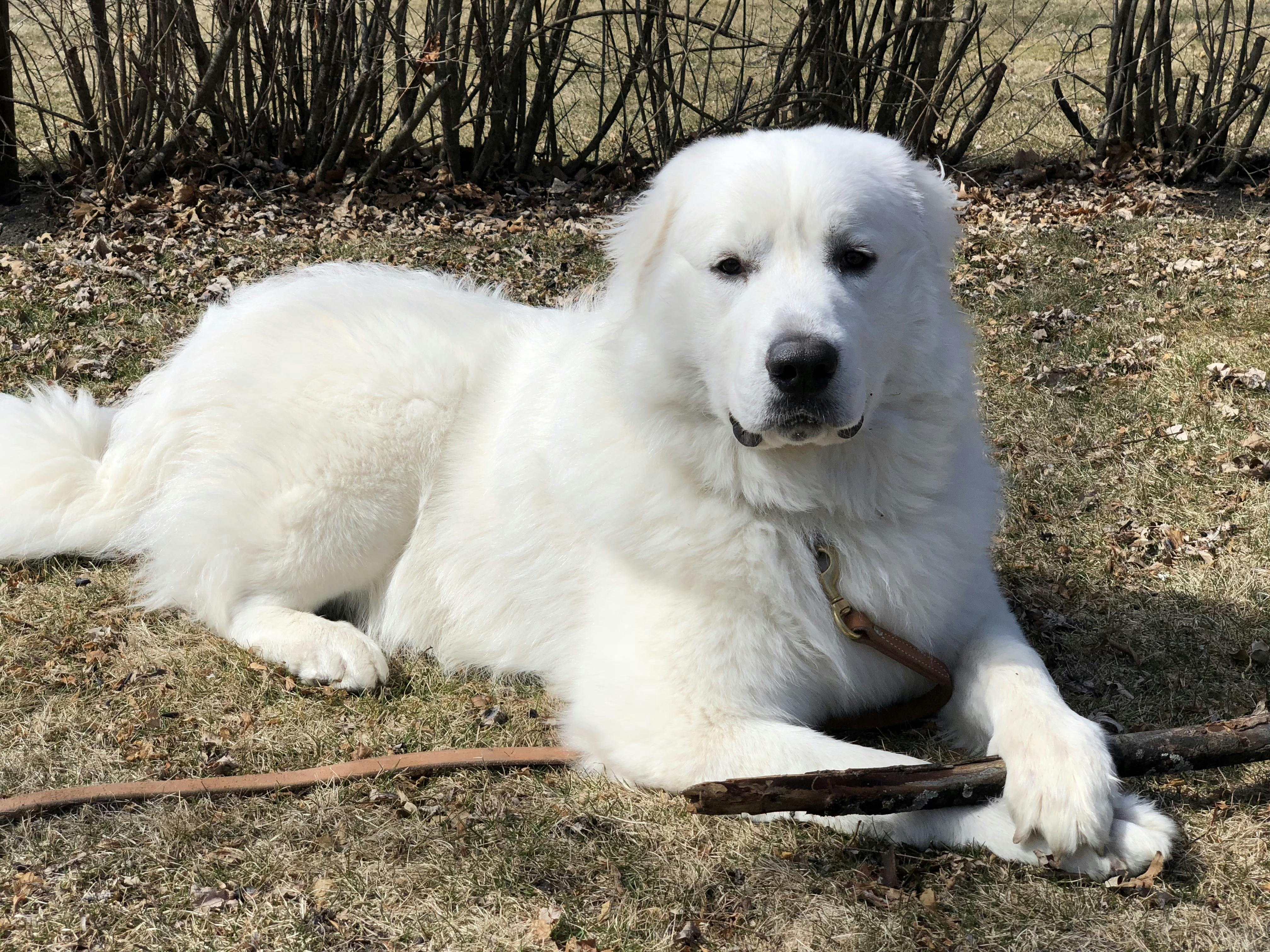 Finn
Male
Great Pyrenees
Arlington Heights, IL
Personality
Loving
Goofeball
playfull
Mischievous
We have 2 cats both named after cheeses (Brie and Jack). We wanted to name our new doggie after a cheese to continue the trend. We found Finn, a unique and rare cheese that also means "white" in Gaelic (my husband is Irish so it's perfect )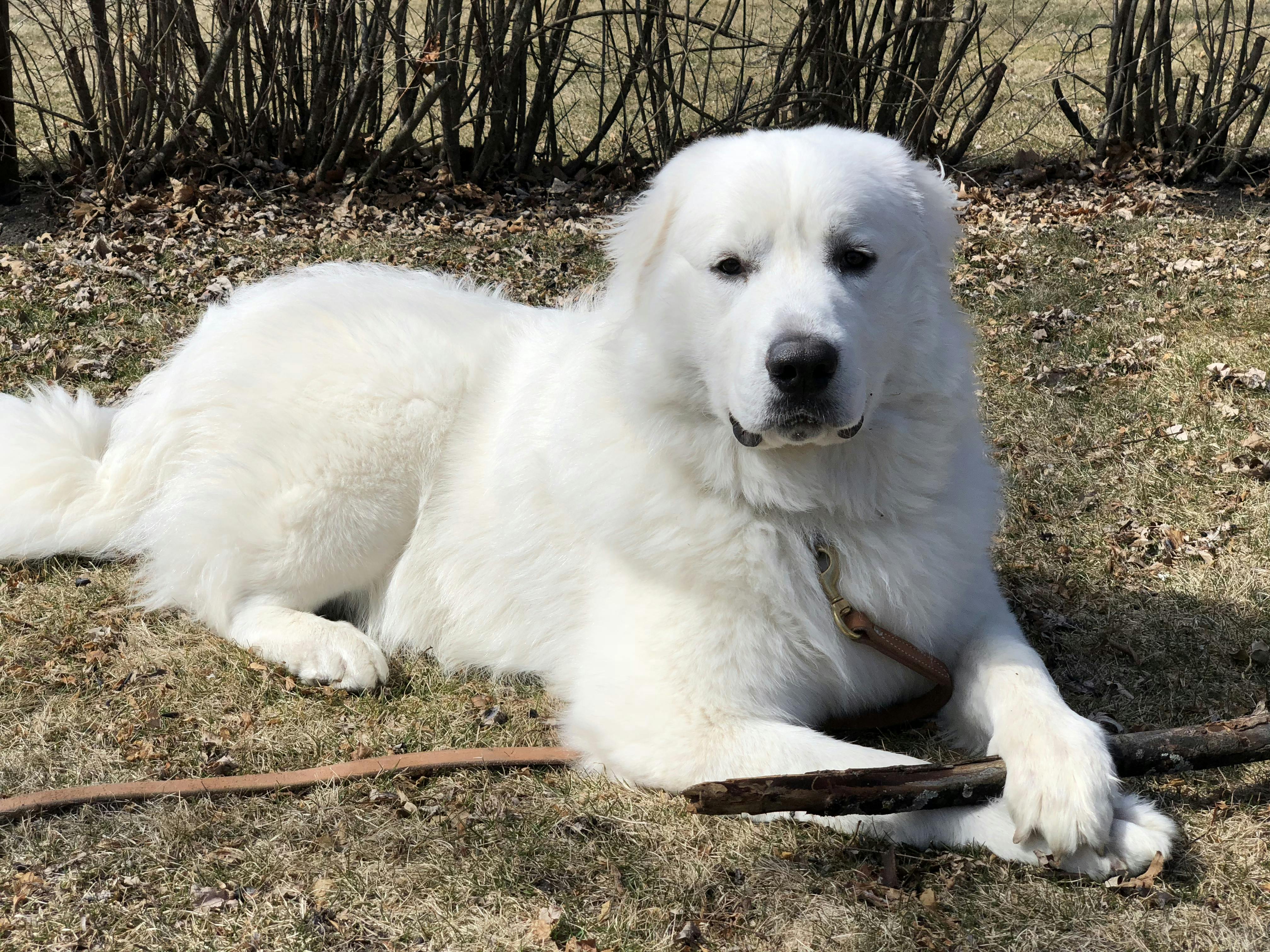 Finn
Male
Great Pyrenees
Arlington Heights, IL
Personality
Loving
Goofeball
playfull
Mischievous
We have 2 cats both named after cheeses (Brie and Jack). We wanted to name our new doggie after a cheese to continue the trend. We found Finn, a unique and rare cheese that also means "white" in Gaelic (my husband is Irish so it's perfect )