Introduction
Not being a popular breed of dog within the United States, the Japanese Chin is the type of dog that you either love or hate. These aloof canines are more catlike than dog. Having once graced the homes of emperors within Asia, these little palace dogs tend to have names that have a Japanese or Asian flare. Some people prefer to grace their Chin with typical small breed names such as Maggie or Mitzi, however, you may want to look beyond the traditional and go with a name such as Megumi or Yoshi that is as unique as your new Japanese Chin puppy.
Japanese Chin Dog Names in Pop Culture
Featured Famous Japanese Chin Dog
Maggie
Even though the Japanese Chin was officially recognized by the American Kennel Club in 1888, this breed is still not a well known breed. The Chin, as he is affectionately called by enthusiasts of the breed is ranked 108th in popularity. These smart, aloof, catlike dogs are one of the best kept secrets within the United States. Originally, the Chin was a devoted palace dog to the emperors of Japan. He can be found regally sitting on the laps of emperors and empresses in artwork depicting Asian royalty.
When you see celebrities toting their little dogs around in cute purses, you rarely see a Japanese Chin peeking out, but in 2002 a little red and white Chin appeared on a reality television show on MTV. Sharon Osbourne, the wife of eccentric heavy metal legend Ozzie Osbourne, introduced her Chin to the world on the show The Osbournes. The Chin, affectionately named Maggie, was seen accompanying Sharon Osbourne everywhere. Being avid dog lovers, the Osbourne family has had a number of pets that have stolen their hearts and the hearts of their fans.
Maggie, being the oldest of the pack, is said to have been the most pampered pooch in the Osbourne home. She was seen happily walking along with Sharon down the street and enjoying lap time in outdoor cafes. The Osbourne dogs want for absolutely nothing and as Maggie began showing signs of slowing down due to her age, it was reported that a special orthopedic bed was crafted for her as well as daily spa time to help ease any aching in her joints. Near the end of Maggie's life, she was said to be deaf and nearly blind.
Japanese Chins have an average lifespan of 10 to 12 years and when Maggie surpassed this timeframe, fans celebrated with her and the Osbournes. Sharon Osbourne's heart was shattered when Maggie passed away at the ripe old age of 16 years. Sharon was so heartbroken over the loss of Maggie that she could not even make the announcement to her fans. Instead, Sharon's daughter, Kelly, announced the news on her Twitter feed the morning Maggie passed away.
Joan Rivers was known for her loud opinions and her diva style. She was also known for being an animal lover who had several dogs. Each of her dogs were extremely pampered and well loved. One of these dogs was Teegan, a red and white Japanese Chin. Teegan came into Joan's life after her beloved Pekingese, Max, passed away. Teegan became Joan's constant companion and went almost everywhere with her, even traveling abroad.
Japanese Chin Dog Name Considerations
Since the Japanese Chin is a toy breed, many people will give him a typical toy breed name. However, this regal little pup may be more deserving of a name fit for royalty. The origins of the Japanese Chin can be found throughout Asia, although many historians believe that he originated in Korea and was imported into Japan as a devoted companion for the emperor and his family. The Chin was only allowed to be owned by royalty for many centuries, commoners found owning one of these dogs were punished. With a past this illustrious, he is deserving of a name that reflects his oriental heritage. Therefore, while you may come across Chins with Americanized names such as Maggie or Daisy, the more popular names come from the Japanese language. It is not uncommon to come across a male Chin with the name Ichiro, Akio or Takumi or a female Chin with the name Fumiko, Megumi or Miki. If you have a new Japanese Chin puppy in your family, take some time to brush up on your Japanese and see if there is a name somewhere that honors his heritage, is easy to pronounce and makes you proud to own such an eccentric toy dog. 
Male Japanese Chin Dog Names
Votes
Name
Vote
8

Sadao

Honorable hero

7

Yasu

Filled with peace

7

Yutaka

Rich or bountiful

6

Hikaru

Radiance or light

5

Arata

Fresh or new

5

Hiro

Generous

5

Kenichi

First son who is strong and healthy

5

Rikuto

Person of the land

5

Tadao

Faithful, loyal man

5

Yoshiro

A righteous son

4

Akio

Bright man

4

Katashi

Firm and strong

3

Takumi

Artistic nature

3

Yoshito

Correct person; ceremonial

2

Jiro

The second son

1

Hachiro

Eighth son

1

Ichiro

The first son

1

Kaito

Flying over the ocean

1

Kenta

Strong, large and healthy

0

Takeo

Warrior; hero

0

Yoshio

Life full of joy

-1

Hitoshi

A motivated person

-1

Masahiro

Prosper greatly

-1

Shichiro

The seventh son

-1

Taro

A large son

-2

Fumio

Scholarly hero

-2

Masaaki

Pleasing brightness
Female Japanese Chin Dog Names
Votes
Name
Vote
8

Miku

Beautiful sky

7

Aimi

Love beautiful

7

Chikako

Child of a thousand perfumes

7

Mei

Sprouting life

7

Naoko

Honest child

7

Toshiko

Clever child

6

Chika

Scatter flower

6

Natsumi

Beautiful summer

5

Akiko

Bright child

5

Masumi

Become beautiful; true clarity

4

Fumiko

Child of abundant beauty

4

Haruko

Spring child

4

Katsumi

Victorious beauty

4

Ryuu

Imperial; dragon

3

Airi

Love jasmine

3

Kiyoko

Pure child

2

Kimi

Noble

2

Michiko

Wise, beautiful child

2

Miki

Beautiful princess

2

Saki

Blossom of hope

1

Chouko

Butterfly child

1

Daiki

Great nobility; great glory

1

Kazuki

Harmonious hope

1

Kimiko

Empress child

0

Hoshiko

Star child

0

Keiko

Respectful child or blessed child

0

Tamiko

Child of many beauties

-1

Kamiko

Superior Child

-1

Megumi

Blessing

-1

Naomi

Honestly beautiful

-1

Yoshi

Righteous or lucky

-3

Maiko

Child of dance

-3

Satomi

Beautiful and wise
Community Dogs With Japanese Chin Names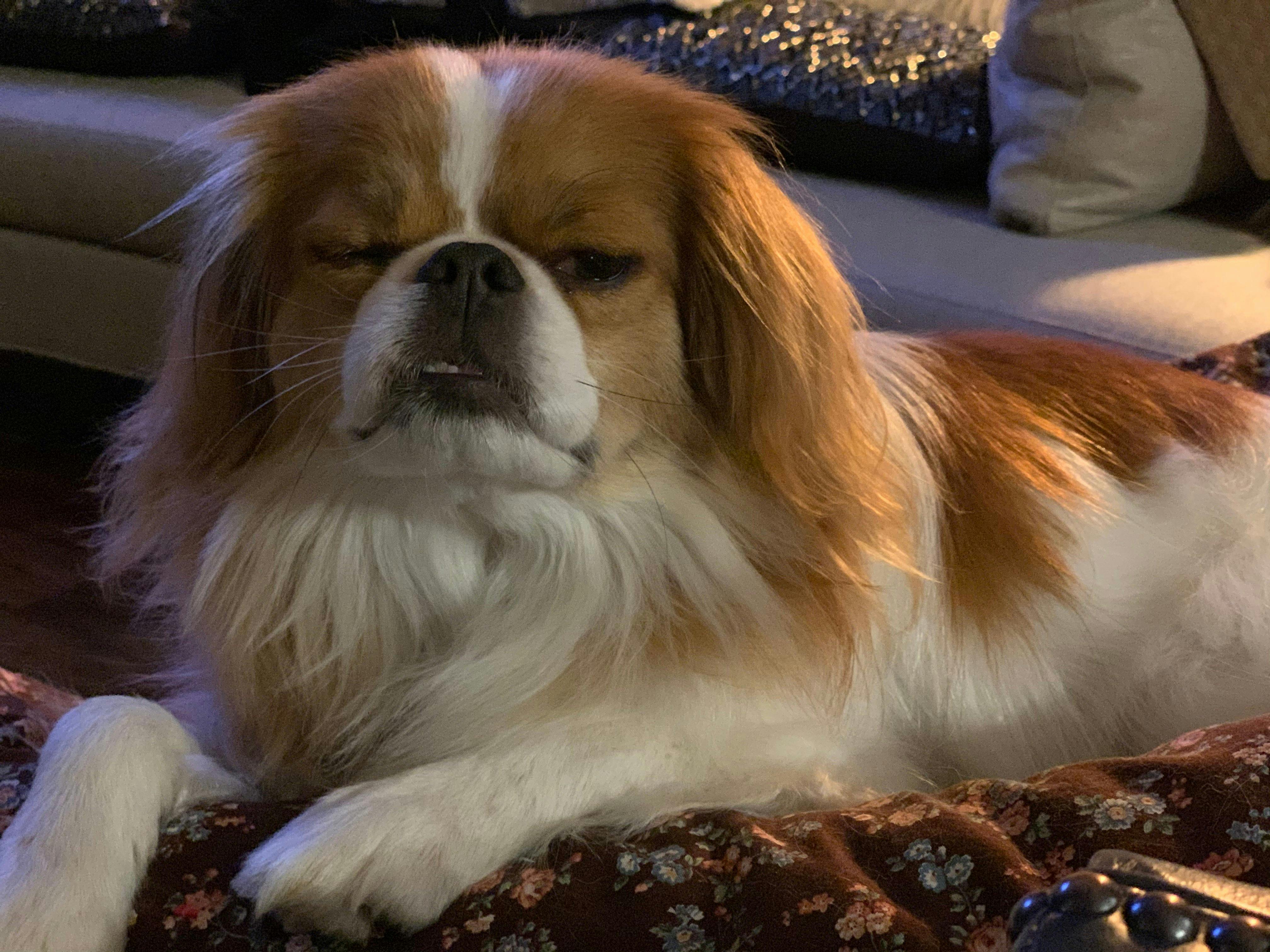 Henry
Male
Japanese Chin
Wichita, KS
Personality
Companionly
Compassionate
Playful
Stubborn
Independent
regal
Quiet
Protective
Funny
Loving
We learned Henry would be a "perfect companion" and would "travel anywhere with us" , so we named him Henry after the Portuguese explorer Prince Henry the Navigator.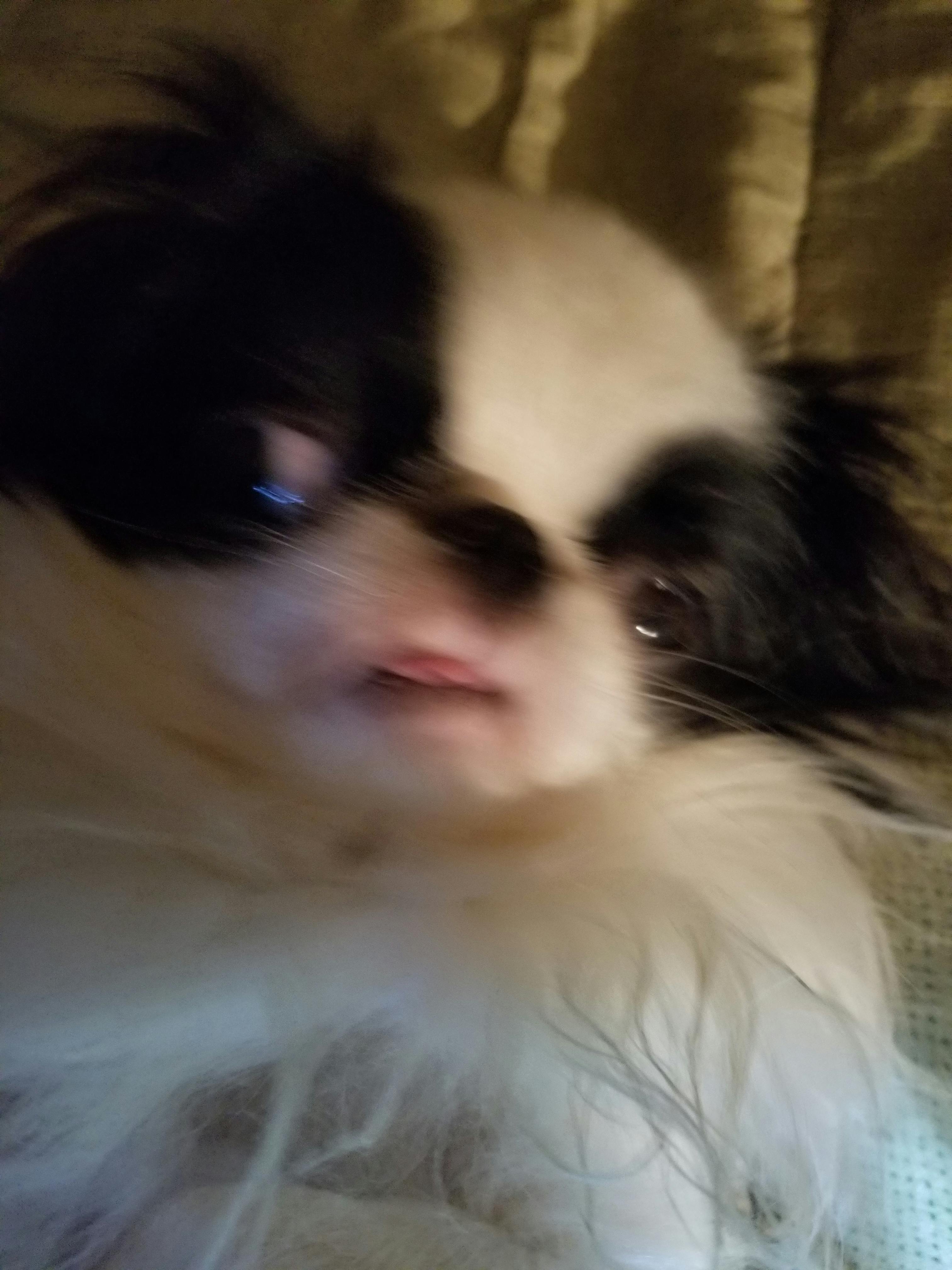 Taiyo
Male
Japanese Chin
Royston, GA
Personality
Guardian
Loyal
Silly
Caretaker
Loving
Taiyo is his call name which means sun in Japanese depending on which character you use. His full show make is Lavish's Mystike Rising Sun.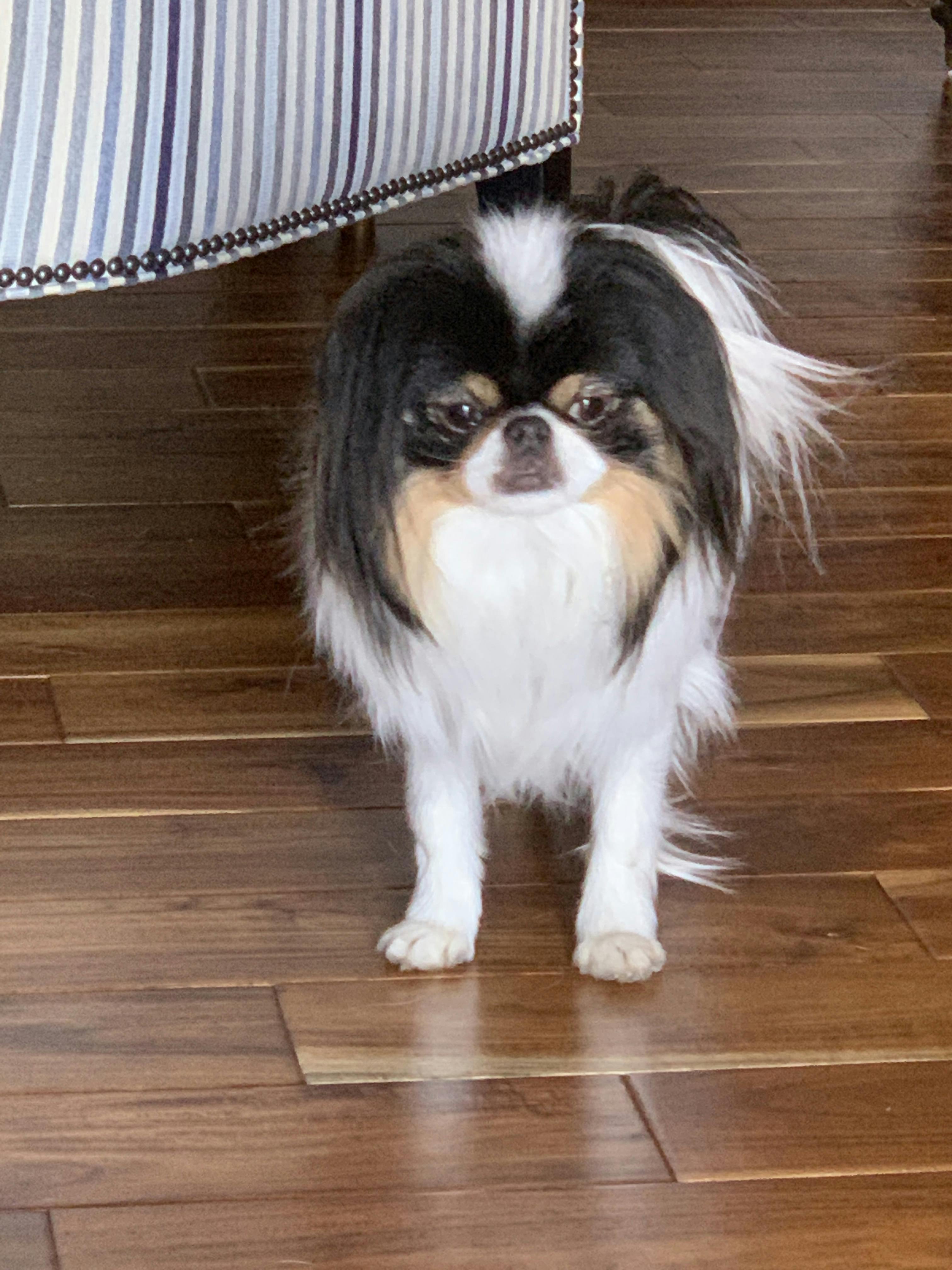 Yuki
Female
Japanese Chin
Wichita, KS
Personality
discerning
Companionly
Playful
catlike
Happy
Quiet
Cheerful
Funny
Loving
We were looking for a Japanese girl's name and Yuki means happiness. She is a very loving and happy little companion.