Introduction
The Keeshond is a beautiful dog with plush thick fur that has two layers to protect them from the ice and cold. They seem to be forever smiling, so if you have acquired a Keeshond as your new dog, then you know you are in for happy times. They have been man's companion for many long years, and were watchdogs on the boats and barges in Holland, way back in the 17th and 18th centuries. Today they enjoy a role of treasured companion, and lets face it - they are such a distinguished looking dog with their silver and black fur with a ruff and a curled tail! As a puppy, they are irresistible balls of fluff, smiling away at anyone who will give them the time of day. Having established how special they are, next comes the conundrum of what you are going to call this adorable dog. Sheba comes to mind for a female, while a name like Kaiser or Kishi would suit a male. Because they are such a handsome dog, we have compiled a list of names that suit their characteristic and appearance. Browse our Keeshond Dog Names list, and you may find that will be all you need to select a name. Keep in mind the many happy years you will share with this dog, so give them a nice name, a name with honor or at least a name that is crisp, clear and easy for your dog to understand.
Keeshond Dog Names in Pop Culture
Featured Famous Keeshond Dog
Tikva
That fateful day of 9/11 where so many lost their lives in the devastation that targeted the World Trade Centre changed many lives forever. As the smoke and dust cleared, it was easy to see the bone weary people sitting around taking a break from their rescue efforts. Shattered and broken, these men and women were quiet, silently taking in the days events. At this fragile time, Tikva the pet therapy dog was brought in to give comfort and hope to the survivors and rescuers. Tikva is a Keeshond with a compassionate expression and gentle, reassuring nature that helps people to forget just for a moment, the horror around them. Tikva is instructed to go and say hello, and she is keen to visit each person. Calm and reassuring, the survivors and team respond to her gentle muzzle, and when she is picked up by one lost soul, she snuggles into the crook of his arm. Patting the soft, luxurious fur seems to comfort him, and her smiling face gets a responding smile. Tikva's name means 'hope' in Hebrew, which seems very appropriate for that day. As the various people responded to the dog's gentle prodding, they started to talk, and you could see them slowly relax. They found it easier to talk about the shocking event while they were stroking her thick, dense fur. 
Of course, Tikva loves all the attention, and she is in her element when performing her duties. You can see by the way she gently approaches each person that she understands they have had a traumatic experience and that she just wants to help even if it is only to relieve their stress for a short few moments. Tikva and her handler worked thoughout the long days after the incident to accompany families on the Ferry Boats. The pair would go to the site for part of the day, then make their way to the Family Assistance Centre to help distraught families. In one instance, a woman hugged Tikva seeking comfort and cried when she saw her name badge, commenting that she knew what it meant as she was Jewish. She had lost her husband, and they both loved dogs, so Tikva gave her great comfort. This gentle dog worked long and hard after the 9/11 disaster, and her gentle, caring touch helped to start the recovery after such a great loss. 
Some dogs seem to sense how people feel, and Tikva was a gorgeous fluffy dog who people loved to hug. She remains for many the first ray of light through the darkest of days. Tikva recently passed away aged 14 years, and her owner Cindy Ehlers commented that she had helped people from 9/11 to Hurricane Katrina, and that Tikva journeyed to support those in need and had spanned the nation in doing so. May you rest in peace, Tikva.
Keeshond Dog Name Considerations
A lot of dog names are trending towards shorter names that are easily recognized by your dog. If you counted how many times a week you used your dog's name, your would be amazed at the high number. Therefore it makes sense to choose a name that you like the sound of, and one that combines well with the type of commands that you will use to train your dog. While one or two syllable names are best, you can buck the trend and go longer, just make sure the name is easy to say. If you think the name can be shortened by family members and friends, ensure you are happy with the sound of the shortened version. Dog names shouldn't be similar to names within the family or friend circles, it just gets too confusing for your dog. They get to a point where they don't know whether you are talking to them or one of the family. If this is the case, they will tend to switch off, and although it may seem as if they are disobedient, they are in reality just downright confused! So before you choose the right name for your Keeshond dog, think it through carefully. Say the name out loud and get a feel for how it sounds. Consider the character of the Keeshond, always willing and able to sound a quick alarm when someone is near. An attractive dog as well, a name to suit this alert breed may be Belle. The Keeshond likes to keep busy; perhaps a name along this vein may be just the fit. Consider Captain or Bolt; the possibilities are endless!
Votes
Name
Vote
4

Kishi

Japanese for the beach or the seashore; it is a good choice for a happy pup

2

Orion

A constellation of stars in the night sky

2

Apollo

The Greek god of music, poetry, art, medicine, sun and knowledge

1

Magnus

A Latin word meaning greatness

1

Bruin

Another name for a bear for your Keeshond look alike

1

Kaiser

Latin for Emperor, and a variant on the name Caesar

1

Cain

Hebrew for a spear; it is a crisp clear name that would suit any dog

1

Prince

For a regal, aristocratic companion

1

Wolf

The moniker 'Wolf' is an attractive name for a serious Keeshond male dog

0

Tikaani

A great name for a Keeshond, it means wolf

0

Khan

This means commander, leader or even king for the Turkish and Mongolian people

0

Malouk

A unique name for your Keeshond, it is the Arabic name for a male dog

0

Omen

A sign, a happy omen of many good things to come for you and your pup

0

Nitro

Suiting a dog who exhibits explosive action; Nitro is a volatile chemical compound

0

Blaze

A dog that finds a way or blazes a trail through the wilderness

0

Tundra

An area of high elevation where no trees grow - a wilderness

0

Maverick

A canine with a strong opinion and who likes to do things his way

0

Gucci

An Italian fashion and leather brand - it depicts style and class

0

Jaegar

German in origin, the word means huntsman

0

Oberon

Meaning 'noble bear', it is a word from German origin

0

Varick

Unusal but a good name for a dog, it means protector and ruler

-1

Cosmos

A Greek word meaning order; it is also another name for the universe

-1

Blackhawk

A cool name for a dog with striking good looks

-1

Phantom

Like a shadow, the Phantom moves through the wilderness

-1

Amigo

Your dog will be your best friend and trusted companion

-1

Malachi

A Hebrew name which means a messenger of God

-1

Aramis

A French name for a fictional swordsman from The Three Musketeers story

-2

Chaos

A Greek word meaning disorder and confusion

-2

Ghost

Another neat name, it seems to suit the Keeshond as it quietly goes about it's day

-2

Raccoon

A medium sized mammal, it has beautiful fur and a cheeky nature like your dog
Female Keeshond Dog Names
Votes
Name
Vote
4

Mika

A beautiful fragrance

2

Amara

This lovely name means 'unfading' and is Greek in origin

2

Minx

This name suits a dog with a touch of impudence or cheekiness

1

Roxy

A Persian name for a star, and that is what your dog is to you

1

Shasta

After the Shasta daisy, a bright flower

1

Kyra

The name means light, and your dog will certainly light up your days

1

Mitzi

A wished for child is the meaning of this name, and your dog has fulfilled this wish

0

Miska

A cute name meaning a little bear, like a Keeshond puppy

0

Nikita

A Greek word which translates into 'unconquered'

0

Leona

With that beautiful coat and ruff your Keehond looks like a mini lion

0

Sheba

The mysterious and mythical Queen of Sheba

0

Aurora

The magical northern lights known as the Northern and Southern Lights

0

Bellamia

My beautiful one

-1

Viveka

A Russian name which means a beautiful voice

-1

Mystique

For a dog who has that mysterious air about her

-1

Felice

A Latin word for the state your dog is always in - a happy state

-1

Jinx

A cute name for a pup, meaning she is a magic charm

-1

Ula

Short and sweet, it means your dog looks like a little bear

-1

Elke

Of Germanic origin, this lovely name means noble and kind

-1

Lorelei

This musical sounding name means murmuring rock

-1

Nordica

Meaning she comes from the north

-1

Idonia

A beautifully unique name of Germanic origin - it means work and tree

-1

Nukla

Little sister, what a sweet name and meaning

-1

Sakari

An Indian word meaning sweet

-1

Genesis

The beginning of something, like your friendship with your dog

-1

Xena

The beautiful yet mythical Warrior Princess

-1

Babushka

A term of endearment from Russian origin

-1

Princess

Simple, because your dog is such a beautiful princess

-1

Karma

Fate or destiny, you only get results based on what your actions were

-1

Blossom

The sweet smell of spring blossoms is unforgettable
Community Dogs With Keeshond Names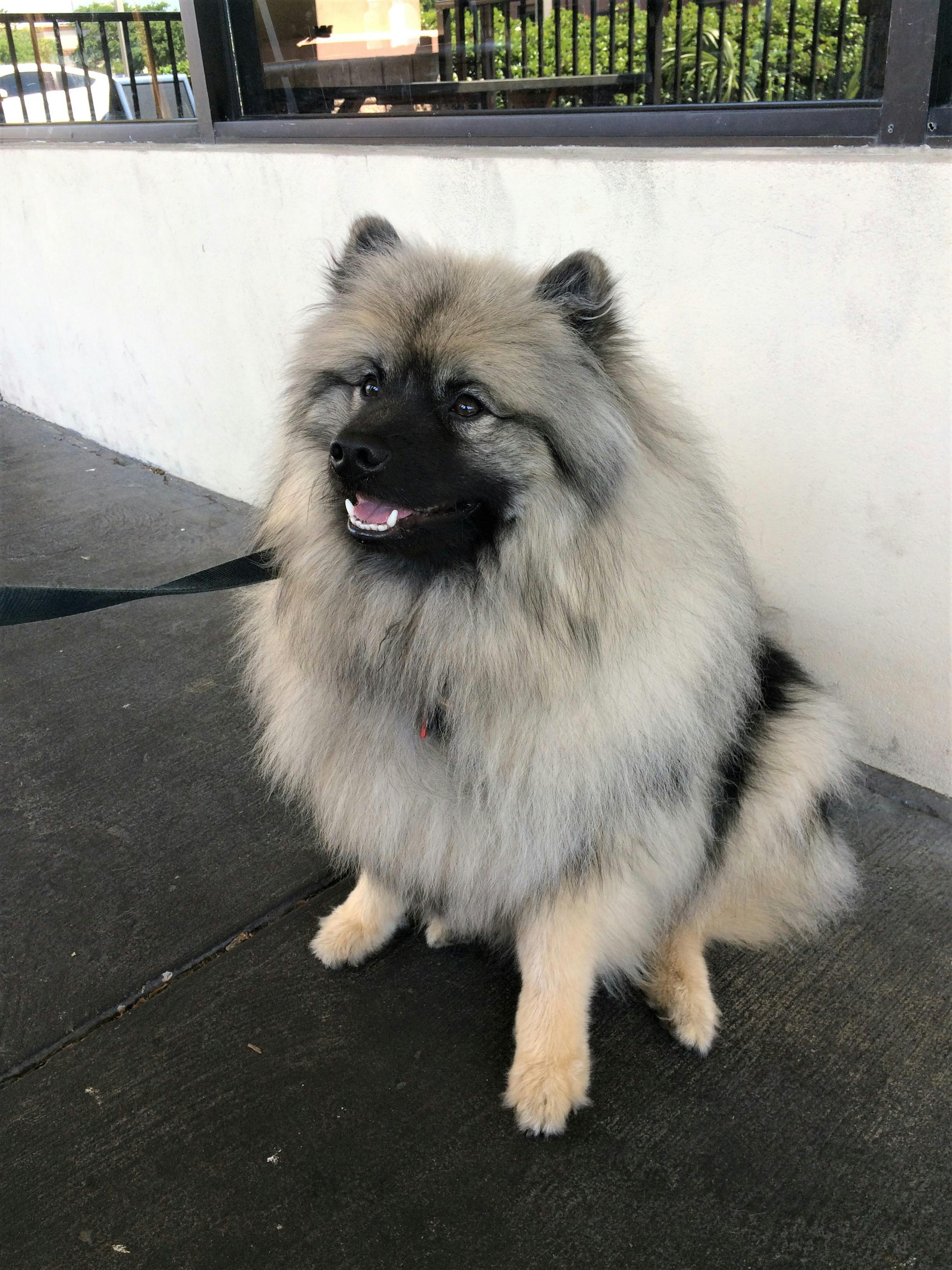 Zaan
Male
Keeshond
Owego, NY
Personality
friendly, outgoing
Named for the Zaan river in Holland.
Pippy
Male
Keeshond
Culver City, CA
Pippy was named after the hobbit Pippen. This was because he was the runt of the litter and our breeder thought Pippen would be cute.