Introduction
Kentucky, the Bluegrass State, is about as unique as states come. The Appalachian Mountains run through the state, giving it a special type of beauty. Middlesboro is the only American city built in a meteor crater. Bluegrass music calls Kentucky home. Kentucky Fried Chicken was literally founded in Colonel Sanders' home state of Kentucky. The state is also home to natural wonders such as large waterfalls and the Mammoth Cave system, the largest of its kind in the United States. Furthermore, the Kentucky Derby is an event that people of all walks of life look forward to witnessing. The state of Kentucky provides something exciting for citizens and tourists alike and will give you plenty of inspiration for a dog name!
Kentucky Dog Names in Pop Culture
Featured Famous Dog with a Kentucky Name
Fido
Fido is often a generic name for any dog. Dog experts may refer to a nameless dog as "Fido" when writing about dog characteristics or other issues. (For example, "You may want to leave a small bowl of water in Fido's crate if you plan to be away from home for more than an hour.") However, you may not know that the name Fido actually belonged to a rather important dog. Yes, President Abraham Lincoln's dog prior to his time in the White House was named Fido.
Fido was the Lincoln family pet from 1855 to 1865. He was a mixed breed dog who is said to have accompanied the future president any time he made a trip to town. The yellow dog would wait for Lincoln as he visited the barber shop or other local businesses, and tales are told that Fido would actually carry packages back to the Lincoln homestead. However, Fido would not accompany the family to Washington after Lincoln's election. During a local celebration, Fido became so distressed by the noise of cannon fire and fireworks that Abraham decided it might be best for Fido to remain in Illinois. Fido was entrusted to a carpenter who had worked for the Lincoln family named John Roll. The Roll family took Fido as their own. In fact, one of the stipulations of being allowed to keep Fido was allowing him to stay inside the Roll home.

Fido was a rather indulged pet. Lincoln gave several rules for the Roll family to follow. Lincoln supposedly stated that, should Fido come inside with muddy paws, the dog was not to be scolded. In addition, Fido was to be allowed to join the family at mealtimes and be hand-fed table scraps. Finally, Fido was accustomed to sleeping on a horsehair sofa, which the Lincoln family left with the Roll family so that Fido would not feel out of place. 
Fido actually came to the Lincoln home in Springfield to pay respects to his former master. He would only outlive Lincoln by one year. Fido was killed by a drunken man who flew into a rage when Fido jumped up on him with muddy paws - something the pup had always been allowed to do without reprimand. An interesting note: Dogs are referred to as "Fido" so often because the term fido in Latin means "to trust believe, confide in" - a perfect description of the human relationship to his dog.
Kentucky Dog Name Considerations
Since Kentucky is a very extraordinary state, a name inspired by the location will fit just about any pup. Kentucky is more than the annual Derby and basketball (the University of Kentucky Men's team regularly makes an appearance in the national championship tournament). The state is famous not only for its breweries, but also for a multitude of outdoor activity opportunities. Kentuckians own dogs for a number of reasons: companionship, hunting, and guardianship, to name a few. Names for these dogs should be just as unique and varied as the state itself. 
Some popular dogs in Kentucky are used for hunting, such as the Beagle or the Labrador Retriever. With such a vast amount of acreage for enjoyment of the outdoors, this is not surprising. Companionship canines such as the Golden Retriever and the Yorkshire Terrier are also quite popular in the Bluegrass state. The Rottweiler and the German Shepherd are popular watch dogs across Kentucky as well. 

Consider the individuality of the state of Kentucky when choosing a dog name inspired by the Bluegrass state. Certainly, a dog with a Kentucky-inspired name deserves something a little out of the ordinary.

Votes
Name
Vote
7

Blue

Kentucky and the color blue are synonymous

7

Rand

Former ophthalmologist Rand Paul represents his home state in the U.S. Senate

6

Roy

The infamous "hanging judge" Roy Bean was born in Mason County, Kentucky

5

Ali

Championship boxer Mohammad Ali was born in Kentucky

4

Kudzu

Kudzu is a creeping vine that was introduced to prevent erosion; it is now considered a nuisance

4

Abe

America's sixteenth president, Abraham Lincoln, was born in Kentucky

4

Sawyer

Journalist Diane Sawyer was born in Glasgow, Kentucky

4

Duncan

The creator of the Duncan Hines line of products is a native of Kentucky

4

Penn

Author Robert Warren Penn hails from Kentucky

4

Evan

Evan WIlliams is a type of Kentucky bourbon; it is brewed in Bardstown

4

Dewey

Dewey Lake is located in Kentucky; this name is befitting of a Golden Retriever or a Yellow Lab

3

Colonel

Colonel Sanders of Kentucky Fried Chicken; this name is befitting of a regal dog

2

Bourbon

Kentucky has a rich history in making liquor

2

Clooney

Actor George Clooney was born in Kentucky

2

Hunter

Controversial author Hunter S. Thompson hails from Louisville

2

Fido

Abe Lincoln owned a very "indulged" dog named Fido

2

Apollo

This horse was the 1982 Kentucky Derby winner

2

Grayson

Grayson Lake rests in Kentucky; it is a perfect name for a silver or gray dog

1

Cotton

Western-style novelist Ralph Cotton hails from Louisville; this is a great name for a white pup

0

Man O' War

Man O' War was a Kentucky Derby winner; this name fits a Rottweiler

0

Bowie

The inventor of the Bowie knife, James Bowie, hails from the Bluegrass state

0

Blaine

A small town in Kentucky; this name is perfect for a Yorkie or a Maltipoo

0

Jim Beam

Jim Beam whisky is manufactured in Clermont, Kentucky

0

Carlisle

A city in Kentucky; this name is perfect for a Pomeranian

0

Kincaid

Lake Kincaid is part of the beautiful outdoors in Kentucky; this name is befitting of a Lab

-1

Kit

Frontiersman Kit Carson hails from Kentucky

-1

Hensley

Hensley was once a settlement in Kentucky; it was later abandoned

-1

Campton

This refers to a small town in Kentucky; an outdoors enthusiast might name his dog "Campton"

-1

Ferdinand

A Kentucky Derby winner; this name is befitting of a Bulldog

-2

Berry

Author Wendell Berry was born in Henry County, Kentucky
Female Kentucky Dog Names
Votes
Name
Vote
6

Sue

Author Sue Grafton hails from Kentucky; this name is great for a hunting dog

6

Georgia

Georgia Davis Powers, civil rights leader, was born in Kentucky

6

Nelda

As in community advocate leader Nelda Lambert Collings

5

Clara

As in Clara Oldham, a women's rights advocate from Kentucky

5

Patty

A variation on the name Patricia Neal, an actress from Kentucky

5

Eula

Eula Hall founded the Grethel's Mud Creek Clinic in Kentucky

4

Carson

Frontiersman Kit Carson grew up in Kentucky before heading west

4

Nelle

Refers to Nelle Pitcock Horlander, a women's rights advocate from Kentucky

3

Wynonna

Wynonna Judd was part of the mother-daughter country duo The Judds

3

Lani

This Kentucky Derby winner's name is befitting of a Rottie or a Pit

3

Lyda

This name refers to Lyda Ramey of Kentucky who worked for orphan's rights

3

Willa

Kentucky's Willa Brown was the first African American female earning a pilot's license

2

Bellefonte

A small town in Kentucky; this name is perfect for a scent hound

2

Belle

A traditional Southern name; this name is befitting of a small, petite dog

1

Amelia

Social activist (ironically, she worked for temperance) hailing from Garrard County

1

Rumer

The daughter of Bruce Willis and Demi Moore lives in Kentucky

0

Loretta

Country music superstar Loretta Lynn made a career of singing about her upbringing in Butcher Holler, KY

0

Laurel

The Laurel River Lake rests in Kentucky; this name is perfect for a dog that loves the outdoors

0

Destin

A variation of Destiny; the name of a Kentucky Derby winner

0

Crystal

Loretta Lynn's sister, Crystal Gayle, was also a country music star; she was known for her ankle-length hair

0

Mae

Mae Street Kidd was a Civil rights activist; this name is perfect for a Boston Terrier

0

Laura

As in Laura Clay, Civil rights activist; this name is perfect for a Goldie

0

Hannah

Community activist Hannah Hume Baird hails from Kentucky

-1

Adlai

Former Vice President Adlai Stevenson hails from Kentucky

-1

Allie

Women's rights advocate Allie Hixson hailed from Kentucky; this name fits a Maltese or a Yorkie

-1

Sophia

Notable educator Sophia Alcorn called Kentucky home; this name is perfect for a designer dog

-1

Maddie

A variation of the name Madelyn Breckenridge, a suffrage advocate

-2

Rosemary

Singer Rosemary Clooney (George's aunt!) hails from Maysville, KY

-2

Dixie

A tradition Southern name; this name is fitting of a Beagle

-3

Mary

Refers to First Lady Mary Todd Lincoln
Community Dogs with Kentucky Names
Music
Male
German Shepherd
Louisville, TN
Buffalo trace
Male
Labrador Retriever
Windsor, OH
I name all of my dogs after something Kentucky related. I loved the name and call him Trace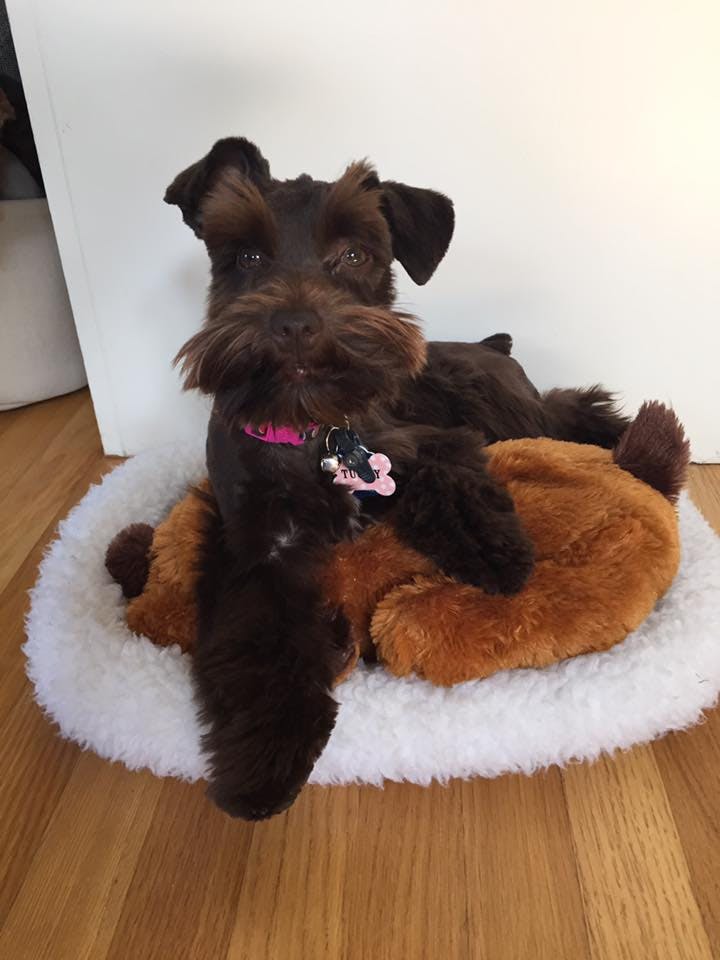 Tucky
Female
Miniature Schnauzer
Newport Beach, CA
I was born and raised in KY-- live in California now. A sweet reminder of my roots.