Introduction
Music is a huge part of a person's daily life. You can hear music playing everywhere, whether it's on the radio while you're driving or coming from a street musician while on your daily commute. Music has the power to touch lives and inspire creativity in people. This is why it comes as no surprise that lots of dog owners look to music for inspiration when naming their new pet. There are numerous music-inspired names that are suitable for your new dog. From famous musicians to musical terms and instruments, you'll be sure to find one that will match your dog's look and personality. 
Musical Dog Names in Pop Culture
Featured Famous Dog with a Musical Name
Beethoven
When talking about famous dogs with a music-inspired name, probably the first pup that comes to mind is Beethoven. The adorable Saint Bernard is the central character in the Beethoven film franchise. The first film of the series tells the story of Beethoven as he escapes from a pet store invaded by dog thieves. He sneaks into the home of Newtons and is found by the family. While the father, George, does not like the idea of taking care of the dog, Alice, his wife, and their kids, Emily, Ted and Ryce, all want to keep the dog and he is eventually convinced.
As Emily was playing the Fifth Symphony by Ludwig van Beethoven on the piano one day, the dog barks along to the music. As a result, the family named him Beethoven, after the famous composer. As Beethoven grows up, he becomes sloppy and constantly performs odd antics. Despite this, the family has grown attached to him, with the exception of George who is jealous of the attention given to Beethoven. Overtime, Beethoven also helps the children face some of their personal issues – he scares away Ted's bullies, gives Ryce the courage to talk to his crush and saves Emily from drowning in the pool.
When Beethoven was brought to the pet clinic for a routine check, the veterinarian, Dr. Herman Varnick, sets his sights on Beethoven for unethical animal testing. He ends up plotting on taking Beethoven from the family and fakes an attack in order to get the family to give Beethoven under the guise of euthanasia. Eventually, the Newtons realize the mistake they made and go to Dr. Varnick to try and save Beethoven. In the end, they not only succeed in taking back Beethoven, they are also able to release all the dogs being held captive by Dr. Varnick and ended up adopting them.
The family comedy film was an instant hit and spawned an entire film franchise composed of eight instalments. The film series told the adventures of Beethoven and the Newton family throughout various seasons and stages of the family's lives. Aside from the films, Beethoven was also brought to television in Beethoven: The Animated Series. The show ran for one season, from 1994 to 1995.
The extreme success met by Beethoven not only raised the popularity of Saint Bernards as pets, it also inspired lots of pet owners to give their dogs some unique, music-inspired names.
Musical Dog Name Considerations
When it comes to naming your new dog, careful planning and consideration must be given. Remember that the name that you will give your dog is the one that he or she will carry for their entire doggy lives. Among dog experts, the rule of thumb is to choose a name that has only one or two syllables at most. This allows your dog to easily remember the name given to them. Another rule is to avoid names that sound like basic dog commands, such as "fetch" or "stay".
While these are all good considerations, the best way to pick a name is to take note of your dog's look, personality or even individual quirks. For example, if you have a really loud and active dog, you may want to call him Jagger, inspired by the Rolling Stones' frontman, Mick Jagger. For some specific dog breeds, you may even go with funny music-inspired puns. An example would be Billy Corgi, a play on the Welsh Corgi breed and Smashing Pumpkins' Billy Corgan. But, most importantly, you should choose a name that you actually like. If you are a fan of a certain band or artist, you can use that as inspiration for your pet's name. For "Beatlemaniacs", naming their dog "Ringo" would be a perfect choice.
When it comes to musical dog names, the possibilities are endless. You just have to take a good look at your dog and figure out which name will be most appropriate.
Votes
Name
Vote
7

Buddy

From 50's rock n' roll superstar Buddy Holly; good for friendly dogs

7

Snoop

From rapper Snoop Dogg

6

Cash

From iconic country singer Johnny Cash

6

Wolfgang

After classical composer Wolfgang Amadeus Mozart; good for wolf-like dogs

6

Lennon

From name of Beatles' member John Lennon

6

Ziggy

From David Bowie's alter ego Ziggy Stardust

5

Prince

From the late popular rock n' roll artist of the same name

5

Marley

From iconic reggae artist Bob Marley

5

Mambo

Taken from Lou Bega's hit "Mambo no. 5"

4

Bowie

From singer-actor David Bowie; good for eccentric dogs

4

Hendrix

From famous guitarist Jimi Hendrix

4

Floyd

From English rock band Pink Floyd

4

Gibson

A well-known brand of guitars

4

Hancock

From jazz artist Herbie Hancock

3

Elvis

Named after "The King" Elvis Presley, good choice for hound dogs

3

Hammer

From hip hop artist M.C. Hammer

2

Bolt

From the name of singer Michael Bolton, good for fast dogs

2

Freddie

From late Queen frontman Freddie Mercury

2

Otis

From soul and R&B singer Otis Redding

1

Jackson

From iconic singer-performer Michael Jackson

0

Axl

From Guns N' Roses frontman, Axl Rose

0

Bongo

A type of drums with small, open bottoms; good for smaller dogs

0

Ramone

From the famous rock band The Ramones

0

Miles

From composer and trumpeter Miles Davis, good for dogs who love walks or runs

0

Dylan

From legendary singer Bob Dylan

0

Henley

From The Eagles' member Don Henley

-1

Sting

From The Police's frontman of the same name

-2

Bono

From the band U2's frontman of the same name

-2

B.B.

From blues singer and musician B.B. King

-2

Buckley

From singer-songwriter Jeff Buckley
Votes
Name
Vote
8

Lyric

The words of a song

7

Pixie

Derived from the band The Pixies

7

Roxanne

From the famous song of the same name by The Police

7

Tegan

From the musical sister duo Tegan & Sara

6

Carole

From singer-songwriter Carole King

6

Jazz

A music genre originating from New Orleans

5

Lennox

From singer-songwriter Annie Lennox

5

Cello

A type of stringed instrument

5

Jolene

From Dolly Parton's song of the same name

5

Janie

From Aerosmith's hit "Janie's Got a Gun"

4

Blondie

From the 80's band of the same name; good for light-colored dogs

4

Dolly

From country legend Dolly Parton; good for doll-like dogs

3

Jett

From rock singer and vocalist Joan Jett; good for fast-running dogs

2

Cyndi

From singer-songwriter Cyndi Lauper

2

Peggy

From Buddy Holly's song "Peggy Sue got Married"

2

Sharona

From The Knack's hit "My Sharona"

2

Domino

From Fats Domino; suitable for dogs with black and white colors

1

Melody

Musical term referring to a sequence of notes

1

Maggie

From Rod Stewart's song "Maggie May"

1

Chubby

From singer-dancer Chubby Checker; good for stubby dogs

1

Lullaby

A soft, calming song usually sung to infants to fall asleep; good for lazy or sleepy dogs

0

Lucy

From the Beatles' song "Lucy in the Sky with Diamonds"

0

Arietta

Musical term meaning "short melody", good for short dogs

0

Rigby

From the Beatles' hit "Eleanor Rigby"

0

Joplin

From rock singer and songwriter Janis Joplin

0

Treble

Musical term referring to tones that are of high range; good for mischievous or naughty dogs

-1

Siouxsie

From English rock band Siouxsie and the Banshees; good for dark-colored, feisty dogs

-1

Queen

From the rock band Queen

-3

Abbey

Taken from The Beatles' famous album "Abbey Road"

-3

Rhiannon

From the Fleetwood Mac song of the same name
Community Dogs with Musical Names
Amadeus
Male
Boxer
Edinburg, TX
As a music director, I have always been very fond of the names of some composer's. And thus, I names my boxer Amadeus.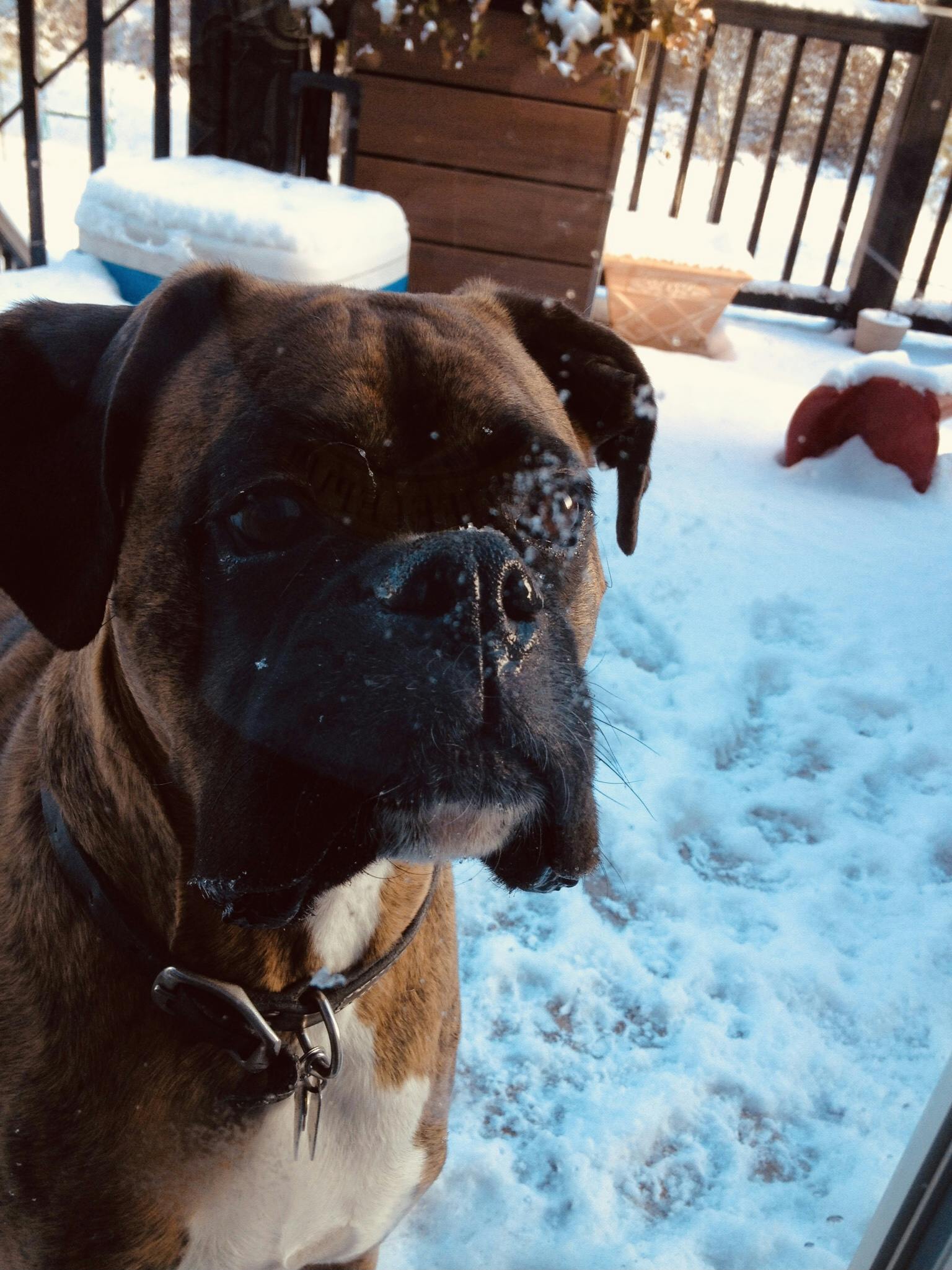 Banjo
Male
Boxer
Gilbertsville, PA
Personality
Calm
Cute
Loving
We have always been a musical family. We were just were looking through a list and loved it at first sight