Introduction
The Newfoundland dog is a rare breed that was first raised in the country of Canada. Playfully called a "Newfie", they were initially bred to be used as working dogs for fishermen in the former Dominion of Newfoundland (now a province of Canada), thus their name. What makes the Newfie stand out is its webbed feet, gigantic size, incredible strength, swimming skills and a high level of intelligence. In fact, it is considered one of the smartest dog breeds in the entire world. Even though it might seem like a menacing pet to have, the Newfoundland is actually a loyal dog and an exceptional guardian for families, especially children. They also love to the outdoors and going on hiking trips. These qualities are what makes the Newfoundland dog the ideal companion.
Book First Walk Free!
Newfoundland Dog Names in Pop Culture
Featured Famous Newfoundland Dog
Nana
The Newfoundland dog is no doubt one of the most prominent dog breeds not just in its local country but also worldwide. In fact, the breed has starred in a wide variety of works, such as in theater, film or literature. Possibly the most recognized character based on a Newfoundland is Nana from the 1904 play Peter Pan, by J.M. Barrie. The story revolves around the titular character, who is an innocent but impish boy with an ability to fly and an aversion to growing up.
Peter Pan resides in the fictional island of Neverland and frequently visits the Darling household, where he befriends the Darling children – John, Michael and Wendy. When Peter Pan decides to bring the children with him to Neverland, a series of events is set in motion, involving getting kidnapped by pirates and walking the plank, to name a few. At the end, Peter Pan and Wendy part ways, with Wendy visiting Neverland once a year.
The play became J.M. Barrie's most renowned work and was adopted by Disney and turned into an animated film, which was released in 1953. It became a huge hit and has made Peter Pan a cultural icon, even after all these years. In all versions of the story, Nana plays the role of the Darling family's nanny. J.M. Barrie actually based Nana's character on his own pet Luath, who is also a Newfoundland. While Nana is a fictional character, her role in the story depicts the Newfoundland dog's true life-saving nature and innate love for children, which is a trait the breed is known for.
While Nana may well be the most memorable Newfoundland dog, the breed has long been involved in numerous other literary works. Charles Dickens' novel, called Little Dorrit, one of the characters' pet is a Newfoundland dog called Lion. Another appearance by the dog breed is in the 1847 novel Jane Eyre, by Charlotte Bronte. In this novel, Edward Fairfax Rochester owns a Newfoundland called Pilot.
Other than literary works, the Newfoundland has also graced the big screen in numerous occasions. In the 1975 comedy movie Police Academy 2: Their First Assignment, a Newfoundland dog named Lou served as dog companion to Officers Shtulman and Mahoney. The breed also starred as a character in the 2005 romantic comedy film entitled Must Love Dogs. In the film, the Newfoundland is named Mother Teresa and plays a major role in getting the two protagonists together, as the woman's requirement for dating is that his potential date "must love dogs", hence the film's title.
The range of works dedicated to the breed has immensely helped in boosting interest in Newfoundland dogs as a household dog and a best friend.
Newfoundland Dog Name Considerations
The Newfoundland is an exceptional dog breed. Hence, it deserves a name that is as striking and memorable as it is. There are loads of possible dog names for your new mutt; you simply have to make a few considerations before finally settling on one.
One of the simplest ways to choose a name for your Newfoundland dog is to assess its physical traits. When you lay eyes on a Newfie, the first thing that you will notice is its exceptional size. Therefore, it would be fitting to choose a name that emphasizes this. A good example is the name "Goliath", a Biblical figure known for being gigantic. Other physical aspects of a Newfie that you may consider are its enormous strength or coat color. Another unique trait of the Newfoundland dog is its impressive swimming skills. The name "Poseidon" or any other name related to water will then be a good match for this breed. You may also forego the physical and focus on your pup's behavior instead. Does he have any odd habits? Is he friendly and outgoing or shy and reserved? These can all be considered when choosing a name.
Lastly, you can also use its country of origin as inspiration for a name. Newfoundland dogs are originally bred in Canada. Thus, a well-known Canadian term, name or place will all go well with your Newfie.
Male Newfoundland Dog Names
Votes
Name
Vote
6

Benji

Shortened version of "Benjamin", which means "intelligent, gentle"

2

Amos

Hebrew name meaning "strong"

2

Titan

A Greek mythological giant

2

Hunter

One who hunts; also a name of a river in Canada

2

Moose

A large deer that is native to Canada

1

Dixon

Teutonic name meaning "strong leader"

1

Roscoe

Norse name meaning "from the forest"

0

Kai

Hawaiian name meaning "from the sea"; perfect for a Newfoundland

0

Zeus

Most powerful god in Greek mythology

-1

Yukon

A territory in Canada

-1

Jett

A black semi-precious stone; good for black Newfoundland dogs

-1

Webster

After Noah Webster, who published the dictionary; great name for your intelligent Newfoundland

-2

Glover

Short for Glovertown, a town in Newfoundland, Canada

-2

Champ

Shortened version of the word "champion"

-2

Max

Shortened version of Maximus, which means "greatest" in Latin

-2

Magnum

A Canadian car manufacturer, also a type of powerful gun

-2

Odin

Norse god of wisdom, culture and art; also a mountain in Canada

-2

Talos

A giant protector in Greek mythology

-2

Magnus

Latin name meaning "great"

-2

Bryer

Canadian name meaning "gentle and sweet"

-3

Bolivar

Spanish name meaning "one who lives by the riverside"

-3

Wayne

After famous Canadian hockey player, Wayne Gretzky

-3

Bronte

Greek name meaning "the sound of thunder"

-3

Raja

Means "king" in Indian

-3

Sarge

An informal, shorter version of sergeant

-3

Gaza

Biblical name that means "strong"

-3

Coast

A part of land near the sea

-3

Cromwell

English name meaning "lives by the winding stream"

-4

Kaiser

Means "emperor" in German

-4

Phelps

After Olympic swimmer Michael Phelps
Female Newfoundland Dog Names
Votes
Name
Vote
2

Ella

Greek name meaning "torch"

2

Irma

German name meaning "strength"

1

Maple

From Canada's most recognized symbol, the maple leaf

1

Zora

Slavic name meaning "dawn"; good for black Newfoundland dogs

1

Chubby

Rounded, plump; cute name for a dog

1

Heidi

German name meaning "noble one"

1

Halsey

Shortened version of "halcyon", which is a mythical bird that breeds in a nest afloat the sea

1

Yoana

A mythical giant in Norse mythology

1

Romy

Latin name meaning "dew of the sea"

1

Oreo

Cookie brand made of chocolate biscuit and white cream filling; good name for a black and white Newfoundland dog

0

Dream

A series of images and thoughts

0

Daliah

Hebrew name meaning "gentle"

0

Makin

Arabic name meaning "strong"

0

Kona

Hawaiian name meaning "lady"

0

Lexy

Greek name meaning "man's defender"

0

Mahala

Hebrew name meaning "tender" and "loving"

0

Daere

Welsh name meaning "friend"

0

Kailani

Hawaiian name meaning "sea and sky"

0

Paz

Hebrew name meaning "golden"; good for brown Newfoundland dogs

0

Freya

Norse name meaning "a noble woman"

0

Sasha

Russian pet form of Alexandra, which means "defender of mankind"

0

Tala

Native American name meaning "wolf"

0

Valda

Latin name meaning "brave"

0

Blithe

English name meaning "cheerful"

-1

Selah

Hebrew name meaning "like a rock"

-1

Matilde

German name meaning "powerful battler"

-1

Aili

German name meaning "sweet"

-1

Sahar

Arabic name meaning "fawn-colored"; good for brown Newfoundland dogs

-1

Laken

English name meaning "taken from a lake"

-2

Quinlan

Gaelic name meaning "graceful, strong"
Community Dogs With a Newfoundland Name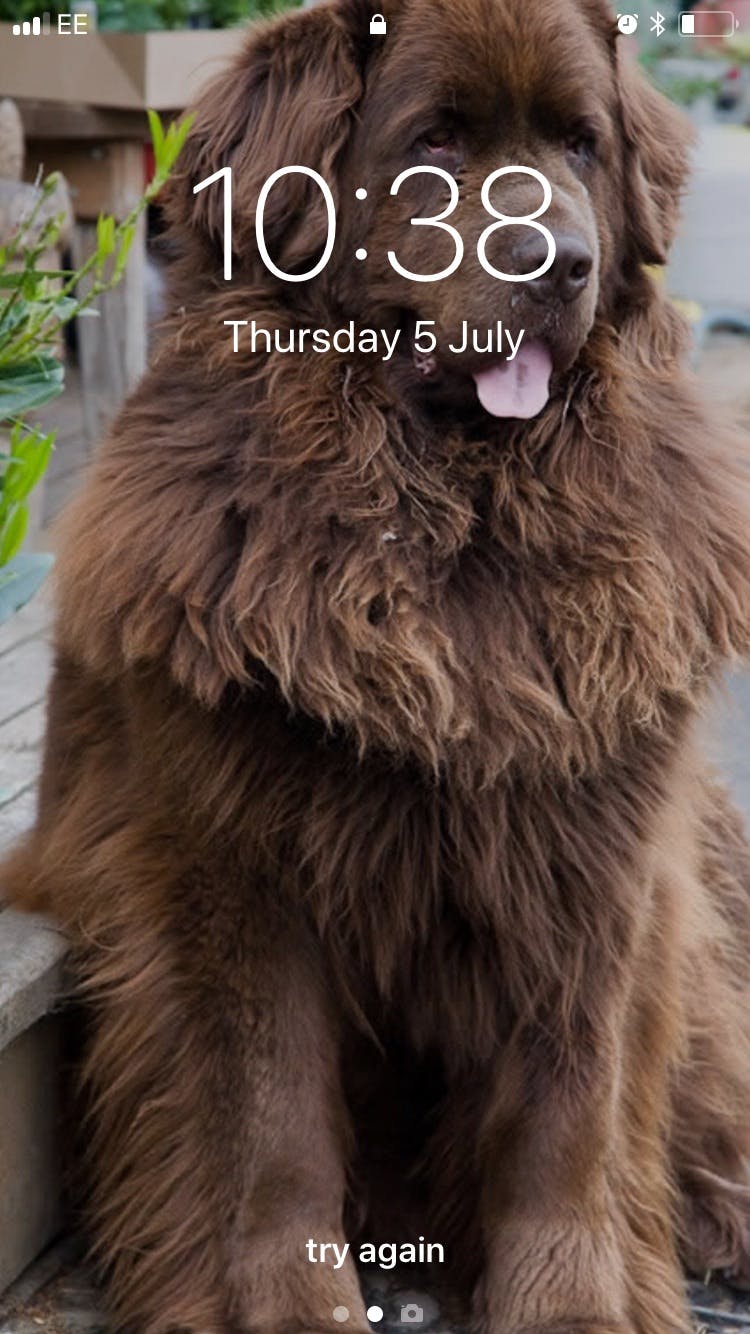 Bea
Female
Newfoundland
Suffolk, VA
Personality
Friendly
Gentle
Bubbly
Well I had a toy called Beatrice when I was young and loved the name Bea.
Sasquatch
Male
Newfoundland
Harrisburg, PA
He is such a big dog with a big sweet personality. I just thought it was a great name for a big dog and one that was not all that common, at least not in my area!