Introduction
The Old English Mastiff, or simply Mastiff, comes from a breed of large dog that is thought to be descended from ancient dogs with elements of the Alpine Mastiff, a now extinct Molosser type of breed. It has an enormous body and, like most Mastiff-type dogs, has a big head that always has a black mask. In spite of its size, however, the Old English Mastiff has a very calm demeanor and a loving nature, which earned him the moniker "gentle giant". But when it comes to protecting its family, the Mastiff will show off its more aggressive side. It has some idiosyncrasies that may be daunting for some but the breed's loyalty, love and companionship definitely outweigh them. 
Old English Mastiff Dog Names in Pop Culture
Featured Famous Old English Mastiff Dog
Hercules
The history of the Old English Mastiff can be traced back to as early as the 19th century but it was not until the 1880s when the breed became more refined. After a certain period of decline in popularity, the Mastiff now currently enjoys worldwide recognition. In fact, it has been the subject of many films and literary works in modern pop culture. In the children's book Henry and Mudge, one of the titular characters, Mudge, is a Mastiff. Kurt Vonnegut's novel, entitled The Sirens of Titan, also features a Mastiff named "Kazak".
Aside from literature, the Mastiff has been heavily featured in films. One of the most memorable roles of a Mastiff was in the 1993 coming-of-age Hollywood film entitled The Sandlot. The plot of the film is about a group of kids who play baseball and a Mastiff, known simply as the "Beast". In the film, a kid named Scotty Smalls wants to become a part of the local baseball team in the sandlot. However, he does not have the necessary baseball skills and was soon rejected and laughed at by the players, except for Benny, the team leader. He seeks the help of his stepfather and eventually, he learns the ropes and makes the team.
As the boys' were playing baseball one day, the ball flies over the wall at the end of the sandlot. When Smalls volunteers to retrieve it, the team stops him and tells him of the story of the "Beast". Owned by Mr. Mertle, the Beast is an English Mastiff who is massive in size and is considered a legendary dog in their neighborhood. Smalls also learned that many baseballs have ended up in the Beast's territory and were lost forever.
As the film goes on, it was eventually revealed that the name of the Beast is actually "Hercules" and that he is not as feral as he is made out to be. Benny and Smalls soon find all the baseballs that were lost, which are kept by Hercules in a small hole. Mr. Mertle also gives Smalls a collection of baseballs signed by all players of the 1927 Yankees to replace his stepfather's autographed baseball that the dog ruined earlier. At the end of the film, the Beast/Hercules also becomes the team mascot.
The Sandlot was a moderate success in the box office but received a lot of positive reviews from critics. It also developed a cult following over the years. A sequel, entitled The Sandlot 2: The Sandlot Continues, was also released in 2005. In the sequel, the canine character "Goliath" is also an English Mastiff.
Other films where an English Mastiff played a role include Hotel for Dogs, Marmaduke and Transformers. 
Old English Mastiff Dog Name Considerations
The Old English Mastiff is a remarkable dog worthy of a name that is as equally remarkable. The Mastiff possesses some notable qualities that can make for a good name. First thing you will notice is its gigantic build. The Mastiff also has a huge head that has the trademark black mask. Its appearance is regal and it carries itself well. Considering all these, you may decide to come up with a name that highlights all or some of these qualities. A name that conveys strength or one that highlights its mammoth size are all good options. Examples of such names are "Goliath", after the Biblical giant figure, or "Hulk", after the comic book character known for his tremendous strength.
If you want to make things easier, you can simply choose to name your dog based on his coat color. The Mastiff has a limited range of coat colors, namely brindle, fawn and apricot that is always accompanied with a black mask face. Hence, you may choose a name based on these colors.
Of course, there is more to a Mastiff than just its physical appearance; their personality is as big as its size. You may opt to choose a name that represents the loyal, protective and gentle nature of the Mastiff.  
Male Old English Mastiff Dog Names
Votes
Name
Vote
2

Tank

A metal armored vehicle used in battle

1

Atlas

A giant from Greek mythology

1

Alastair

English name meaning "defender of men"

1

Brutus

Means "heavy" in Latin

1

Igor

Russian name meaning "warrior of peace"

1

Thunder

A loud crashing sound that comes after lightning

0

Bruiser

Someone tough or aggressive

0

Rocky

After Rocky Balboa, a fictional boxer

0

Capone

After Al Capone, a famous Chicago gangster

0

Nero

A former Roman emperor

0

Vader

After Star Wars character Darth Vader

0

Buck

A type of big deer

0

Denali

The highest mountain in North America

0

Samson

Biblical figure known for his impressive strength

0

Byron

English name meaning "bear"

0

Ajax

A brave warrior in Greek mythology

0

Zorro

A fictional character who is a masked vigilante

0

Beau

Means "handsome" in French

0

Boyd

Gaelic name meaning "yellow gold"; good for Mastiffs with fawn coat

0

Argos

The name of Ulysses' loyal dog in Homer's "Odyssey"

0

Gifford

English name meaning "gift brave"

0

Kane

English name meaning "honor"

0

Leroy

English name meaning "powerful king"

0

Lowell

English name meaning "beloved"

0

Zeus

The ruler of Olympian gods in Greek mythology

0

Ram

Sanskrit name meaning "pleasing"

0

Zane

Hebrew name meaning "gift from God"

0

Koa

Means "brave" in Hawaiian

0

Magnus

Latin name meaning "great"

-1

Harley

From Harley Davidson, a brand of big bikes
Female Old English Mastiff Dog Names
Votes
Name
Vote
2

Freya

Queen of the Norse gods

1

Athena

Greek goddess of warfare and wisdom

1

Avalon

A mystic isle where enchantresses live

1

Sequoia

A type of large tree

1

Matilde

German name meaning "strength in battle"

0

Anka

Hebrew name meaning "grace"

0

Damia

Latin name meaning "untamed"

0

Juneau

Capital city of Alaska

0

Blythe

English name meaning "carefree"

0

Calista

Greek name meaning "most beautiful"

0

Artemis

Greek goddess of the hunt

0

Rane

English name meaning "strong counselor"

0

Farin

English name meaning "adventurous"

0

Imogen

Celtic name meaning "maiden"

0

Hope

A virtue and feeling of trust

0

Heidi

German name meaning "noble"

0

Kula

Means "gold" in Hawaiian; good for fawn-coated Mastiffs

0

Hera

Wife of Zeus in Greek mythology

0

Kahlan

Irish name meaning "strong leader"; also means "beauty" in English

0

Katana

Means "sword" in Japanese

0

Vera

Means "faith" in Russian

0

Huntress

A female who hunts

0

Ramona

Spanish name meaning "protecting hands"

0

Kelsey

Old English name meaning "ship's victory"

0

Luna

Means "moon" in Latin

0

Sheba

Means "oath" in Hebrew

0

Portia

Latin name meaning "an offering"

0

Thalia

Greek name meaning "to bloom"

0

Dawn

The daybreak or start of a new day

0

Saga

Old Norse name meaning "seeing one"
Community Dogs With Old English Mastiff Names
Pablo picasso
Male
Rottweiler
England, AR
I was drunk and found a dog and called him pablo Picasso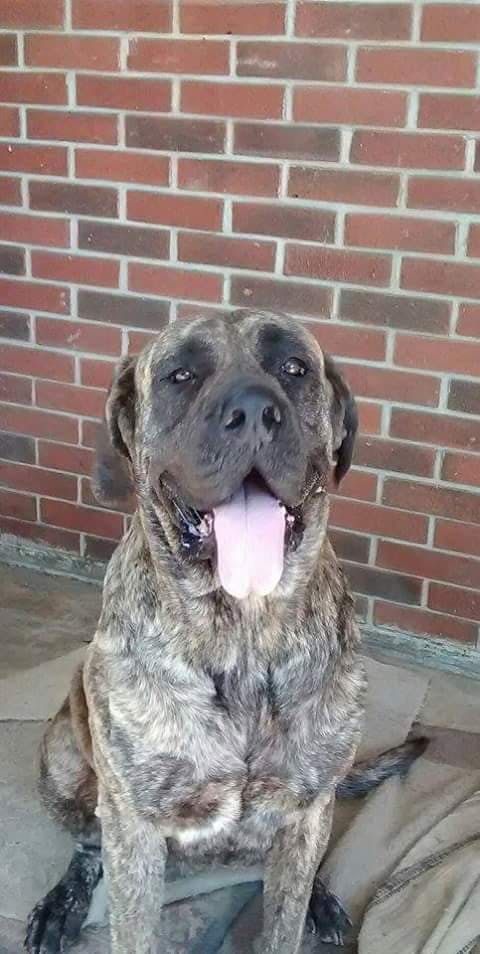 Brindle
Female
English Mastiff
Naples, FL
Personality
Kind, gentle & loving yet increadably protective
Brindies Sassy Pants MDM In memory of her grandma & grandpa ~ parts of their names were used. I wouldn't have her if it weren't for them.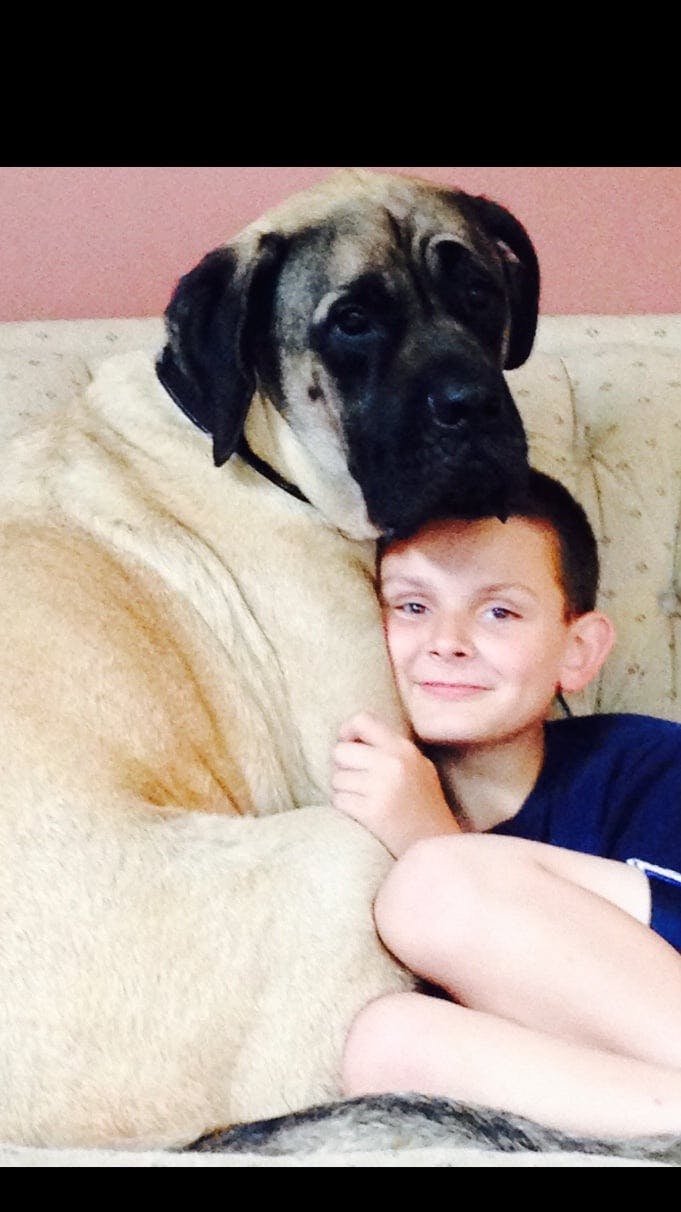 Sarge
Male
English Mastiff
Parma Heights, OH
My grandpa was in Vietnam he was a gunart Sargent so we named him after my grandpa