Introduction
Adding a new four-legged friend to your family is an exciting adventure that begins with choosing the perfect name. Your Pit Bull puppy needs a name that reflects his or her personality and that you will be comfortable using for the next several years. These loving, protective dogs make excellent family pets, and they have becoming increasingly popular in American homes. Trying to come up with a unique name isn't always easy, but there are several great options that are perfectly suited to a Pit Bull's personality and appearance. Keep reading to discover a few ideas for pit bull terrier dog names to help you get your creative juices flowing.
Pit Bull Terrier Dog Names in Pop Culture
Featured Famous Dog with a Pit Bull Terrier Name
Petey
Though they have had a bit of a bad reputation in the past, there are several famous Pit Bulls who have made their mark on pup culture. Pit Bulls have a special place in their owner's hearts as well as in movies and on television. One of the most recognizable, though, is Petey from the Little Rascals and Our Gang shorts from the 1920's and 1930's. Petey had a circle around his eye that made him one of the most recognized canines in cinematic history. What many people don't know, though, is that his trademark circle was added by Hollywood makeup artist Max Factor. While Pal, the original dog who played Petey, did have a partial circle around his eye, makeup was used to complete the ring. When Pal's son Pete replaced him, the production company had no choice but to add the trademark circle.
Petey joined the "rascals" on their adventures and proved to be an amazing friend to the gang. During this time, Pit Bulls were the dog every kid wanted to have. Considered "nanny dogs" during this time period, dogs like Petey were often seen protecting and entertaining small children. In 1994, The Little Rascals story was revived and hit the big screen, reminding people of all ages about the charming Pit Bull Terrier.
The Pit Bull Terrier is also a major part of modern American history. During World War I, an image of a distinguished member of the breed was used to represent the United States and was featured on several propaganda posters. One brave and loyal Pit Bull even became the most decorated dog of WW I. Stubby was the mascot of the 102nd Infantry, Yankee Division, and eventually earned a promotion to sergeant. This courageous canine is credited with attacking a German spy. Stubby attacked the spy and held him until American soldiers were able to take him prisoner. He served for 18 months and was in seventeen battles where he found and comforted wounded soldiers, saved his regiment from a surprise mustard gas attack and more. Sergeant Stubby is the only dog to be promoted to the rank of sergeant through combat and is the subject of the 2018 film, Sgt. Stubby: An American Hero. After the War, he met presidents, generals and many other important figures. Upon his passing, Stubby received a half-page obituary in the "New York Times" – significantly more space than what most notable people of the time received. 
Pit Bull Terrier Dog Name Considerations
When naming your Pit Bull Terrier, there are several important things to keep in mind. In many ways, naming your four-legged kids is much like naming your two-legged children. The name you choose will stick with your pet for all the years of his life, and it's the name you will have to call out the door when trying to get your pet's attention. It's also the name you will have to provide to your veterinarian, so be mindful not to choose something embarrassing.
Think about your Pit Bull's personality. Many traits can be used to come up with unique names. You may also want to consider common Pit Bull characteristics, like strength, courage and loyalty. Pitties come in several colors and often have unique markings. Perhaps yours has a heart-shaped spot or even a circle around his eye like the famous Petey. Your pet's colors or markings could help you come up with a name that's a perfect match. Don't limit yourself to just "dog" names; there are many "human" names that are perfect for our four-legged family members! From classics like Max to more modern names like Dillon, there are several options that could be a great fit for your Pit Bull Terrier. 
Male Pit Bull Terrier Dog Names
Votes
Name
Vote
8

Zeus

The ruler of the Greek gods

7

Blue

For a blue-nosed Pit Bull

7

Hulk

Showcase your Pit Bull's strength with this powerful name

6

Diesel

A rugged name for a tough male dog

6

Ghost

For a white Pit Bull

5

Tank

Perfect for a dog with a stocky build

5

Cupid

The god of love; perfect for an affectionate dog

4

Teddy

For the cute and cuddly Pittie in your life

4

Nitro

Short for nitroglycerine; explosive

3

Thor

A Greek god associated with lightning and thunder

3

Spot

Perfect if your dog has a unique spot or marking

3

Flex

For your muscular canine

2

Hercules

An incredibly strong Greek god, perfect for your powerful Pit Bull

2

Ares

The Greek god of War

1

King

The perfect name for the furry ruler of your home

0

Smokey

Perfect for gray Pit Bulls

0

Frost

For a gray or white Pit Bull, or one who loves the snow

-2

Lucky

Lucky could be just the name for a rescued Pit Bull

-2

Spike

The classic "tough dog" name

-2

Blade

For the classic 1982 film Blade Runner

-2

Sampson

A Biblical character with incredible strength

-3

Cujo

For the fearsome canine in the Stephen King novel

-4

Capone

For notorious 1930s gangster Al Capone

-4

Chaos

If your Pit Bull is destructive, this could be a fitting name

-5

Smiley

If your Pit Bull has that award-winning smile, this could be the perfect name

-5

Sumo

Perfect for a Pittie who loves to wrestle

-5

Bear

A cute name for your big cuddle bug

-5

Buddy

After Air Bud, and a good name for your new best friend

-6

Mack

Like the strong, dependable truck

-6

Bruiser

Perfect for a rough and tumble Pit Bull
Female Pit Bull Terrier Dog Names
Votes
Name
Vote
12

Vega

The brightest star in the Lyra constellation; perfect for your shining star pup

11

Nyx

Greek goddess of the night

10

Athena

Goddess of wisdom and war; one of the strongest females in Greek mythology

9

Nova

An astrological event that creates a new star

6

Willow

This tree type makes a pretty name for a Pit Bull

5

Lady

From Disney's "The Lady and the Tramp"

5

Sari

Name meaning "noble"

4

Jezebel

An Israeli queen from the 9th century BC

3

Queenie

For the female Pit Bull who rules your home

3

Noelle

A great name for a Christmas pup

2

Bella

Means "beautiful" in Italian

2

Tinkerbell

An adorable name for a muscular Pit Bull

2

Bonnie

For the famous crime duo Bonnie & Clyde

1

Xena

For the 1990's warrior princess

1

Valentina

The perfect name for a Pit Bull born around Valentine's Day

0

Winnie

From "Winnie the Pooh"

0

Harley

For comic and movie character Harley Quinn

-1

Dakota

Means "friendly" in certain Native American languages

-1

Ginny

For Ginny Weasley of the Harry Potter series; also means "maiden"

-1

Kalani

Means "the boss"

-2

Gracie

For your graceful Pit Bull

-2

Holly

A plant with red berries; perfect for a Christmas pup

-2

Brindi

For a Pit Bull with a Brindle coat

-2

Sadie

Popular name meaning "princess"

-3

Ally

Female name meaning "pure heart"

-3

Cupcake

Just the fit for your little sweetie

-3

Dotty

Short for Dorothy, which means "adored woman"

-3

Baby

For your baby girl

-5

Hera

Another strong goddess in Greek mythology

-6

Juliet

The perfect complement if you have a male named "Romeo"
Community Dogs with Pit Bull Terrier Names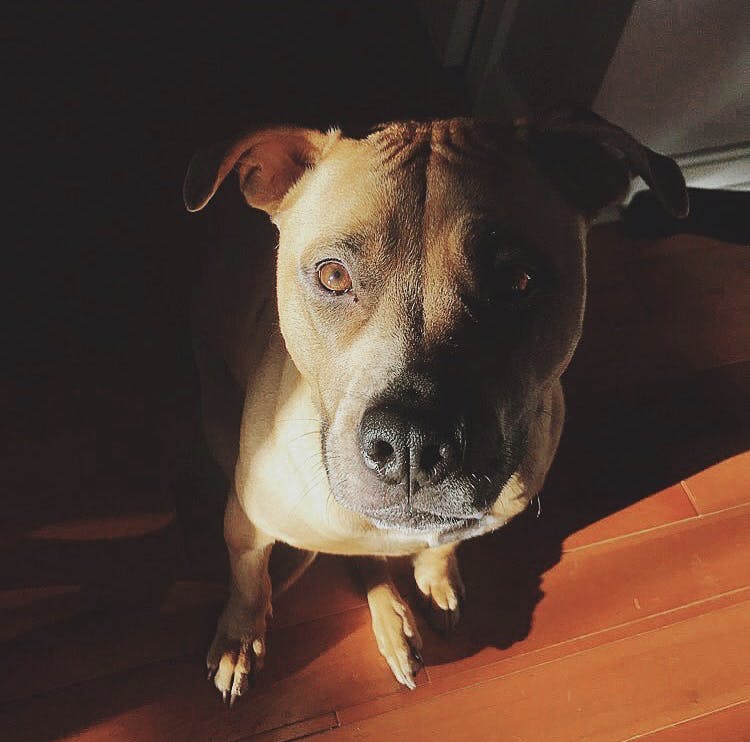 Ginger
Female
Pit Bull
Granville South, OH
We rescued her from a Pound in Indiana when she was 3 months old, she looked just like a Gingersnap so we named her Ginger
Dixie
Female
Pit Bull
Toccoa, GA
Just came up with it after days of thinking of something sounding sweet and girly