Introduction
Rock and roll music is almost as American as apple pie. Rock music finds its roots in the blues, which originates in the Mississippi Delta. In fact, many British musicians from Robert Plant to Eric Clapton and members of the Beatles cite American blues music as a primary influence on their music. The King of Rock and Roll, Elvis Presley, was heavily influenced by the gospel music he heard growing up in Tupelo, MS and later Memphis. Elvis would tweak the bluesy gospel music of his youth into burgeoning rock music. While rock music today is made up of many different subgenres, rock and roll is still influential on other musical styles. It is always immensely popular throughout the world.
Rock and Roll Music Dog Names in Pop Culture
Featured Famous Dog with a Rock and Roll Music Name
Cooper
The author chose the name "Cooper" to honor rocker Alice Cooper, whose real name is Vincent Fournier. Cooper is best known for his controversial stage shows. He often chops the head off baby dolls, and he has been known to face the guillotine himself. Although Alice Cooper is most associated with heavy metal, he has influenced many rock artists through a variety of genres. Cooper, a septuagenarian , still tours regularly. 
When considering famous dogs named Cooper, a sweet and talented Shih Tzu in London is perhaps the most unique. His owner, Kirsty Forrester, purchased Cooper for about 350 pounds in 2013. She began training Cooper to do tricks. These tricks have been viewed on YouTube over one million times. His videos have been monetized so that Kirsty profits from the YouTube views. By the time Cooper was two, he could perform over sixty tricks. 

In fact, Cooper is special because he can recognize colors, count, and sort shapes. He sticks his tongue out on request (a look which makes him somewhat comical looking at times). He also shakes hands, and he will acknowledge the number of treats laid out in front of him. Experts say that Cooper's abilities mirror that of an eighteen month old baby. Cooper is often the guest on talk shows worldwide due to his exceptional abilities.

Kirsty credits early puppy kindergarten classes with Cooper's success rate. Kirsty claims the teachers would send Cooper "homework" because they felt that Cooper enjoyed the challenges of learning new tricks. Ironically, the Shih Tzu, while smart, is not listed as one of the most intelligent breeds of dog (it ranks seventieth of eighty breeds). 

Cooper remains one of the most popular dogs online. He has over 12000 followers on Instagram, and his Facebook page boasts 1,000 likes. His video has been played repeatedly on Animal Planet. 

Critics compare Cooper to the horse "Clever Hans," who was supposed to be able to solve math problems. However, Hans was merely responding to involuntary cues by his human handlers. Some also claim that Cooper suffers from a disease known as "hanging tongue." Kirsty says that neither of these claims is true. Cooper can put his tongue away, and he also knows how to sort shapes and count without prompts from Kirsty. Regardless, cute little Cooper has entertained millions around the world, and will continue to do so. 
Rock and Roll Music Dog Name Considerations
Giving your pup a rock and roll moniker is not necessarily about the breed of dog involved, but the personality of the dog and perhaps the behavior of the pup. If your puppy is the "King" of your castle, then Elvis might be a fitting name; after all, Elvis IS the King of Rock-and-Roll! Other iconic rock-and-roll artists include Jimi Hendrix, Buddy Holly, Elton John, and David Cassidy. Each of these artists possesses a name which could be a unique. 
You might be inspired to give a rather mischievous pup a rock-and-roll inspired name. John Bonham, drummer of Led Zeppelin, was legendary for his off-stage antics. The name "Bonham" is also quite original and would fit your unique pup quite nicely. In fact, John Bonham also carried the nickname "Bonzo" - a most original and attention-getting name! 
Another drummer with a reputation for tearing up hotel rooms and otherwise wreaking havoc is The Who's, Keith Moon. One story tells of Moon's destroying a Holiday Inn hotel room in Flint, Michigan; Moon, celebrating his birthday, drove a car into the hotel pool and started a cake fight. Moon is also a unique name; it might also be good for a dog who likes to stay awake and play at night. 
Male Rock and Roll Music Dog Names
Votes
Name
Vote
9

Bowie

Refers to David Bowie, a rock music icon

6

Jagger

As in Mick Jagger, lead singer of The Rolling Stones

3

Jude

A nod to The Beatle's song, "Hey Jude"

3

Harvey

Refers to alternative rock group P.J. Harvey; this name is fitting of a Basset Hound

1

Elvis

The "King" of Rock and Roll

1

Sawyer

Refers to the Rush song, "Tom Sawyer"

1

Van

Singer Van Morrison sang of the "Brown-Eyed Girl" and "Tupelo Honey"

1

Iggy

Unique singer Iggy Pop has had a successful solo career spanning four decades; this name is fitting of the Italian Greyhound, often called an "Iggy"

0

Clapton

Refers to Eric Clapton, the guitar virtuoso

0

Jethro

Refers to Jethro Tull; this name is fitting of a hound dog

-1

Cooper

Refers to shock rocker Alice Cooper; his career spans four decades

-1

Bruce

Legendary rocker Bruce Springsteen is known for his hit, "Born in the USA"

-1

Buckley

Refers to legendary rock guitarist Jeff Buckley, who worked with Rod Stewart

-2

Bon

As in Jon Bon Jovi, rock music legend

-2

Dylan

Might refer to folk rocker Bob Dylan or his son, Jakob Dylan of The Wildflowers

-2

Huey

Moniker of Huey Lewis and the News; this name fits a Boxer perfectly

-2

Bono

The lead singer of U2, Bono, is known for his social activist work

-2

Sammy

The Red Rocker, Sammy Hagar, has been successful as a member of Van Halen, and as a solo artist

-2

Billy

Rocker Billy Idol has a legendary sneer that people of three generations will remember

-2

Woody

Might refer to The Rolling Stones' guitarist, Ron Wood

-3

Costello

As in Elvis Costello, alternative rock and soft rock musician

-3

Baba

Refers to The Who's song "Baba O'Riley"

-3

Money

Refers to rocker Eddie Money; this name is fitting of a designer breed

-3

Lenny

Refers to Lenny Kravitz, known for his remake of "American Woman"

-3

Barrett

Refers to Syd Barrett of Pink Floyd, the iconic rock group

-3

Rod

Rod Stewart has had a successful singing career, both with The Faces and as a solo artist

-3

Crosby

Refers to David Crosby of Crosby, Stills, and Nash; this name would fit a Terrier pup

-3

Pete

As in Pete Townsend, guitarist for The Who
Female Rock and Roll Music Dog Names
Votes
Name
Vote
4

Gypsy

This Fleetwood Mac song was one of the band's top hits

1

Queenie

A nod to legendary rock group Queen

0

Foxy

Jimi Hendrix had a hit song with "Foxy Lady"

-1

Lola

This song by the Kinks tells an interesting story

-1

Ruby

The Rolling Stones' Ruby Tuesday speaks of a unique person

-1

Stevie

Refers to Stevie Nicks of Fleetwood Mac

-1

Missy

A nod to the Allman Brothers' "Sweet Melissa"

-1

Jett

Perfect for a dog with black fur; this name is honoring Joan Jett

-2

Asia

This band was popular in the early 1980s

-2

Berry

Rock and roll guitarist Chuck Berry was deeply influenced by the blues

-2

Beth

"Beth" is the title of a ballad by the group KISS

-2

Rosie

A nod to rock group Guns N' Roses; this name is fitting of a red-colored dog

-2

Lizzy

A nod to the rock group Thin Lizzy

-2

Layla

This song by Derek and the Dominoes has passed the test of time

-2

Seeger

Singer Bob Seegar's career has spanned four decades

-2

Sally

The legendary Mustang Sally tells of a girl who loves to drive; this song might fit a Goldie who loves riding in the car

-2

Cinnamon

Neil Young's song "Cinnamon Girl" might fit a dog with a red coat

-2

Janis

Refers to popular singer Janis Joplin; this name might be fitting for a pup who is fearless

-2

Christine

A nod to Christine McVie of Fleetwood Mac; this name might fit a Golden or Yellow Lab

-2

Jessica

This is an Allman Brothers song; the name is fitting of a designer pup

-2

Grace

As in Grace Slick, the lead singer of Jefferson Airplane

-3

Annie

As in Annie Lennox of Eurythmics; this name might fit a dog who is unique

-3

Amie

This song was made popular by the band Pure Prairie League

-3

Molly

Rock group Molly Hatchet is known as a Southern rock group

-3

Ann

Refers to Ann Wilson of Heart; this name would fit a hound dog

-3

Nancy

Refers to Nancy Wilson of Heart; Ann and Nancy would be a great name for a pair of pups

-3

Diane

A nod to John Mellencamp's "Jack and Diane" song

-3

Sherry

Journey's Steve Perry began his solo career with the release of "Oh Sherry"

-3

Pat

Refers to Pat Benatar, legendary rock vocalist

-3

Angie

This Rolling Stones song showed that the band could release a ballad
Community Dogs With Rock and Roll Music Names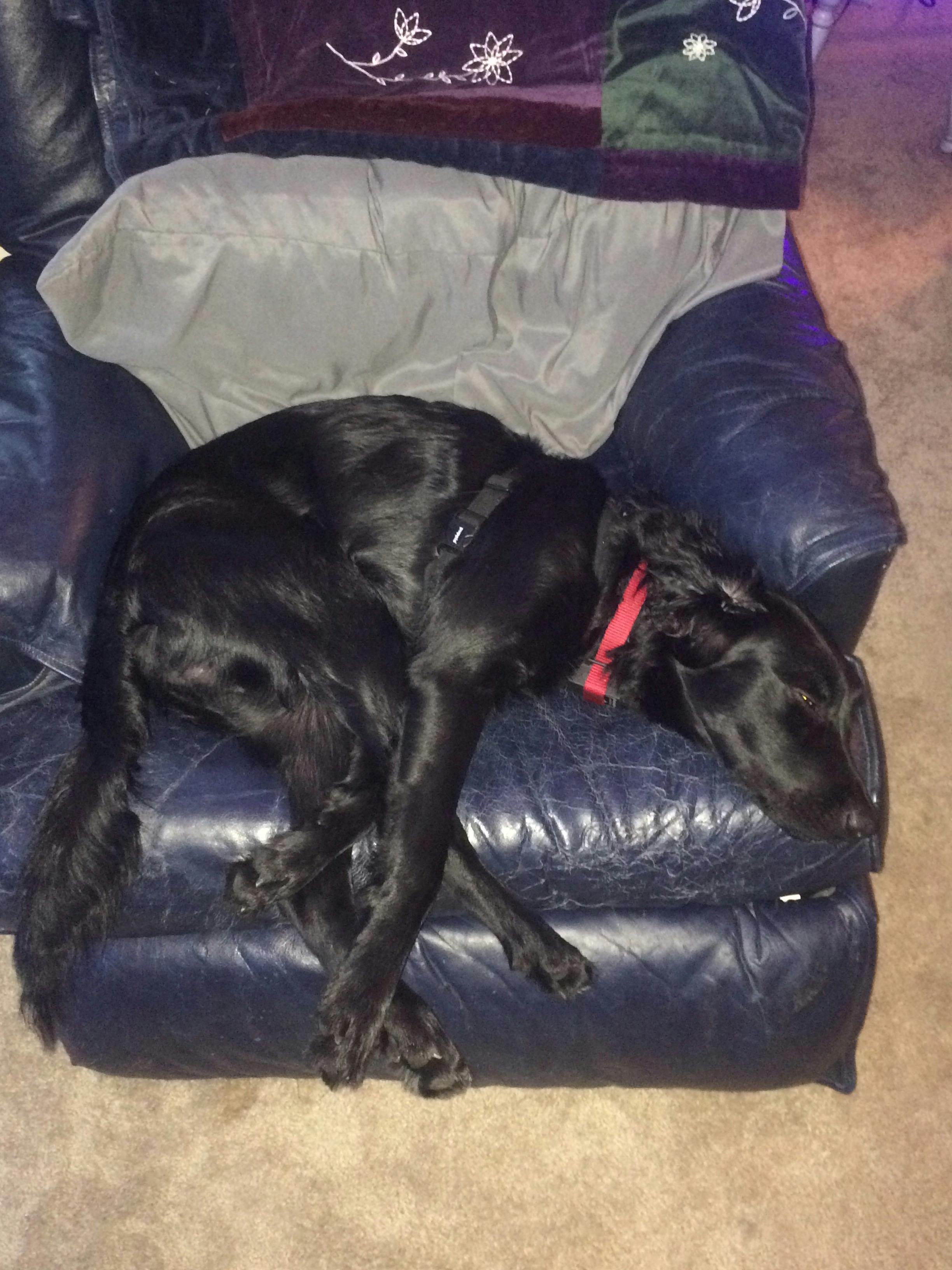 Bowie
Male
Irish Setter
Lewisburg, WV
David Bowie had just passed and I looked at my puppy and knew his name was Bowie.