Introduction
The Shih Tzu literally means "little lion." The Shih Tzu has been the beloved pet of the Chinese Imperial family, and he has also been a beloved pet of an average American. Certainly, while he is a small dog, he does possess the heart of a lion. Some ancient texts mention a "lion-faced" dog, and many experts believe that this is the Shih Tzu (although he was not called such at the time). This tiny tyke is courageous, and he has a lion-sized personality to boot! Some Shih Tzu pet parents give their dogs names that fit their diminutive size while others choose a moniker that fits the personality of the individual dog.
Shih Tzu Dog Names in Pop Culture
Featured Famous Dog with a Shih Tzu Name
Dougie
While many pets are featured on a number of social media platforms, Dougie the Shih Tzu has surpassed many of them in popularity. Dougie is known as a "photogenic Shih Tzu," and his antics have been documented on Instagram, Facebook, and Twitter. His pet parents began posting his picture and random videos on Youtube in 2013 when he was a small puppy. Soon after, they created an Instagram account in his honor. Many followers signed on to view the "Daily Dougie" posting. In fact, his followers on Instagram alone total over half a million. Dougie the Shih Tzu has his own YouTube channel - Dougie the Shih Tzu - which boasts a little over 4,000 subscribers. 
Dougie the Shih Tzu generally takes the lead role in his videos, but, often he will be accompanied by fellow Shih Tzu, Marnie the Dog. In one particular posting, Dougie and Marnie were featured together on an Instagram photo with the caption "Shih Tzu powers unite!" 

Marnie is a special Shih Tzu as well. Although many Shih Tzus throughout history have traditionally been literally given "the royal treatment," Marnie spent the first years of her life on the streets of Connecticut. The local animal control picked her up and brought her to an animal shelter, where she was adopted by Shirley Braha, her current owner. Marnie has a permanent head tilt - and her tongue sticks out to one side - due to a vestibular disease. Marnie was brought to the shelter in August 2012. She is approximately fifteen years old. Marnie has approximately 2.1 million followers on Instagram, and she also had quite a following on the now-defunct app Vine. 
Several Shih Tzus have been owned by celebrities over time - Queen Elizabeth owned a Shih Tzu named Choo Choo, and Mariah Carey owns two Shih Tzus named Bing and Bong. (Yes, the Shih Tzus are twins.) Nicole Richie is the proud owner of a Shih Tzu named Honeychild. Richie and her pooch have been photographed together in public many times over the years. Former American Idol winner Fantasia Barrino also owns a Shih Tzu named Diva. 
Most owners agree that their Shih is a special dog, and they often treat their pooch as a beloved family member rather than a pet. This is evident in names such as Bailey, Bella, and Brittany - names more often associated with humans more so than pooches. 
Shih Tzu Dog Name Considerations
When considering the personality traits of the Shih Tzu, it is no surprise that many people - from royalty to the Dalai Lama to every day Americans - are loyal fans of the breed. Some owners base the name of their Shih Tzu on individual characteristics such as behavior or coat color and pattern. Many owners choose a name that fits the diva-esque nature of the Shih Tzu. His propensity to make friends with most anyone endears him to everyone he meets. 
At one time, the Shih Tzu was considered so sacred that a person could only own a Shih Tzu if he or she was gifted the dog by the Dalai Lama. Marco Polo referred to the Shih Tzu as a dog who was capable of training lions; however, it is more likely that the Shih Tzu was placed there to calm lions down rather than actually train them. 
Some owners choose monikers for their pup that give a nod to the royal past of the Shih Tzu. Legend has it that the Imperial Shih Tzus had their own palace, and when the Empress T'zu Hsi entered the dog's accommodations, the little dogs would sit on their haunches and wave to her. Names such as Duchess, Princess, Duke, and Prince fit the royal past of the Shih Tzu. Other owners make give the dog a name such as Muffin or Cuddles that demonstrate the dog's companionship and general cuteness. 
Votes
Name
Vote
6

Pickles

An American food soaked in vinegar; often viewed as a cute name for small dogs

6

Rascal

Meaning "one who is mischievous"

5

Alfie

Meaning "elf counsel", the Shih Tzu could remind its owner of elves

5

Charlie

Meaning "strong", the Shh Tzu has a strong hold on his owner's heart

5

Choo Choo

Queen Elizabeth's Shih Tzu

5

Harry

Short for Harold, meaning "an army commander", can also refer to Prince Harry

5

Karma

Fate or destiny, a belief of Buddhism

5

Leon

A play on the word "lion"

5

Nipper

Meaning "a small boy"

5

Snuggles

Refers to "one who enjoys sitting closely"

4

Einstein

As in Albert Einstein, also refers to a highly intelligent dog

4

Lionel

A play on the word lion; can also refer to the fact that Shihs Tzus were called lion dogs

4

Riley

A canine named Riley is "valiant and warlike"

3

Cookie

Often given to a dog to describe his sweetness

3

Prince

A rank in nobility

3

Duke

Highest rank below the monarch

2

Muffin

A small, cup-shaped cake

2

Scamp

Meaning "a mischievous youngster"

1

Bailey

Meaning "bailiff, law enforcer", the Shih Tzu was a guard for Tibetan monasteries

1

Nibbles

Meaning "to take small bites", perfect for a spunky pooch

1

Oscar

Meaning "a fighter for God"

0

Amigo

Spanish for "friend", denotes the friendship bond of the Shih Tzu and his owner

0

Bing

One of Mariah Carey's twin Shih Tzus is named Bing

-1

Beau

Meaning "handsome", the Shih Tzu is generally well-groomed

-1

Bubbles

Meaning "irrepressible activity", can refer to the activity level of the Shih Tzu

-2

Chewie

Can refer to the propensity of the dog to chew

-2

Oreo

A popular American snack cookie, can refer to a dog with black and white coloring

-3

Chen

"Treasure" is the meaning of the name

-3

Cognac

A type of French brandy

-4

King

Sovereign ruler
Female Shih Tzu Dog Names
Votes
Name
Vote
6

Mitzi

Meaning "a perfect one"

5

Autumn

One of the four seasons, and a popular girls' name

5

Bonita

Spanish, meaning "pretty"

5

Dolly

Spanish, meaning "lady of sorrow", the Shih Tzu will definitely chase her owner's sorrow away

5

Mimi

A variation of Mary

4

Cosette

One of the lead characters of Les Miserables

4

Petunia

A summer flower; a Looney Toons character as well (Petunia Pig)

3

Blossom

A blooming flower; a popular television show in the 1990s

3

Bitsy

Can refer to the smallness of size of the Shih Tzu

3

Brittany

A Britain female

3

Gucci

Refers to the fashion line

3

Honeychild

The name of Nicole Richie's Shih Tzu

3

Jinx

Meaning "believed to bring bad luck"

3

Princess

One who is a member of the royal family

2

Anais

A brand of perfume

2

Bianca

Meaning "white or pure", alludes to the glamour of the Shih Tzu

2

Diva

The name of Fantasia Barrino's Shih Tzu

2

Gigi

Short for Gilberta, meaning "bright pledge"

1

Calliope

Meaning "beautiful face and voice", for the elegant pup

1

Fifi

A popular name for small dogs

1

Precious

One who is beloved

1

Tinkerbell

A Disney character; often refers to the smallness of a dog

0

Candy

Often refers to the sweetness of a dog

0

Duchess

The wife of a Duke, a noblewoman

-1

Petal

Refers to a flower petal

-2

Felicia

Meaning "joyous one", the Shih Tzu brings much joy to her owners

-2

Lily

A flower often found by bodies of water

-2

Sundae

A dessert, often refers to the sweetness of a dog

-3

Kia

A brand name of car, typically a small car

-3

Libby

Short for Elizabeth, as in Queen Elizabeth (who owns her own Shih Tzu)
Community Dogs with Shih Tzu Names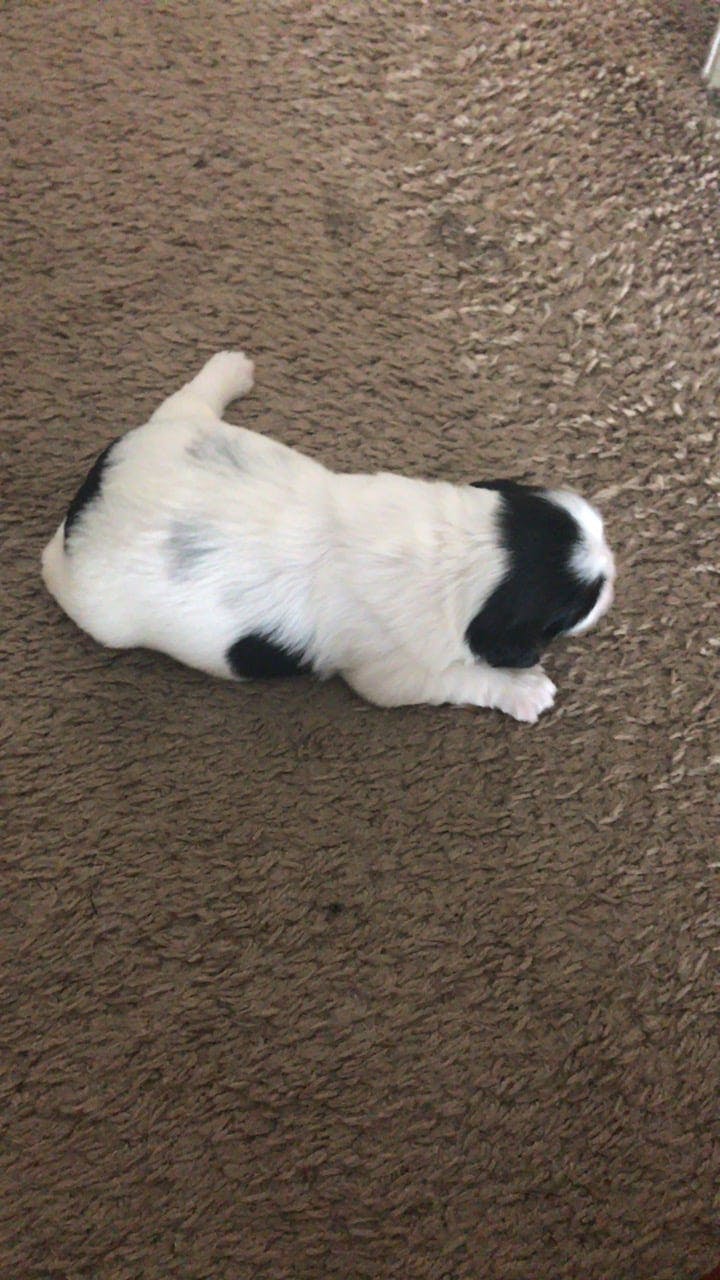 Oreo
Female
Shih Tzu
Waldorf, MD
She has a black and white face, her body is white and she has no tail and her butt is black. Hence the name Oreo.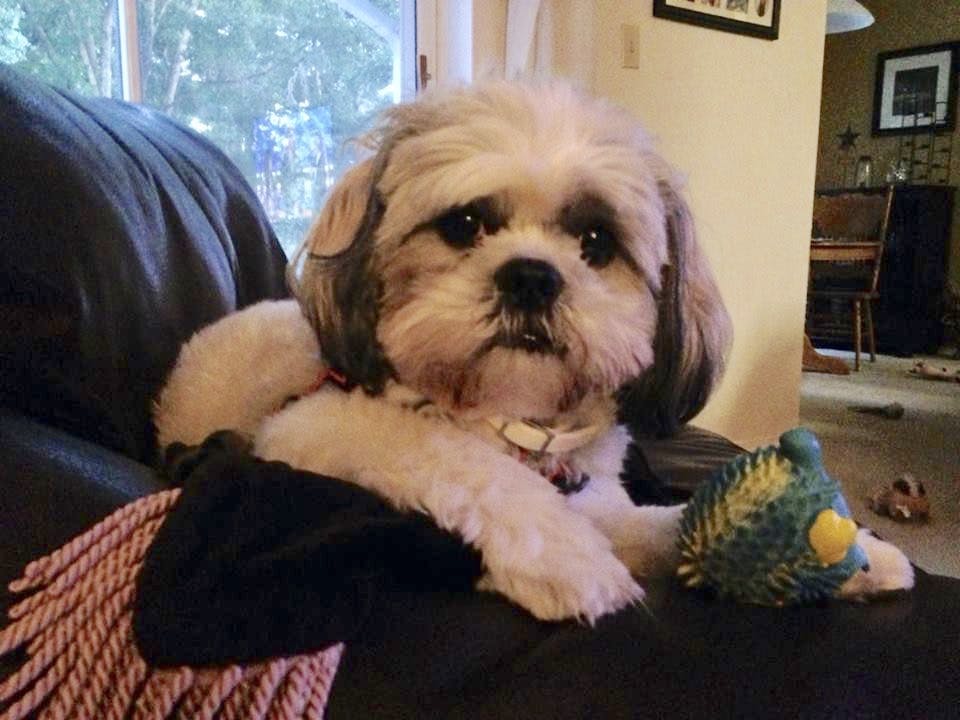 Cooper
Male
Shih Tzu
Orlando, FL
Cooper sounds cute and friendly and it fits this dog perfectly
Wokie
Female
Shih Tzu
Pleasant Garden, NC
She was named after the ewoks from starwars because that is what they look like.
Ichigo
Female
Shih Tzu
Texas City, TX
all my dogs always die,so i hope she stays alive