Introduction
In the South, dogs are a staple of our lives. Many utilize dogs for farming and hunting. Often, Southerners name their dogs due to a variety of influences. Some owners wait a few days after procuring a new pup to give the dog a name that "fits his (or her) personality," or we may name the dog due to his coloring or a pattern of markings. In the South, pets are a part of the family, and we often name them as such. Research says that dogs need a one or two-syllable name, and often, this name does not need to be human. We Southerners pay no heed to that - we may name a dog after a hunting buddy or a relative (and in this case, naming a pet after a beloved relative is always an honor!).
Southern Dog Names in Pop Culture
Featured Famous Dog with a Southern Name
Elvis
Elvis - the King of Rock and Roll! The South, Memphis and Tupelo, Mississippi in particular - claim Elvis as a Son of the South. Elvis was born in Tupelo in a small, one-room house to a poor family. in 1935 during the height of the Great Depression. His parents moved to nearby Memphis, Tennessee a short time later looking for work. Elvis' love for music was first rooted in his early life when he attended the Assembly of God church with his parents. Their raucous song service moved Elvis, and his mother bought him an acoustic guitar for his eleventh birthday.  Elvis won a high school talent show just a few years later, and, in 1953, Elvis cut his first demo track at the Sun Recording Studio in Memphis. In 1954, Elvis released "That's All Right," and the rest is musical history. Elvis died in 1977 due to heart failure, but his legend lives on all over the South. On the day of Elvis' funeral, his home, Graceland, was surrounded by tearful fans. They lined the gate of his mansion with flowers and other gifts. Today, Graceland is still a hot spot for visitors in the Memphis area. It is customary to bring flowers to lay at Graceland's gates on Elvis' birthday. Others bring memorial gifts on August 16, the anniversary of his death. 
Since so many Southerners love and memorialize Elvis, it is no wonder that many dogs are also named after the King. Some may also choose to utilize the King's surname, Presley. This works for male or female dogs. 

There is no limit to the type of dog that can be named Elvis. He can be a cute, small dog. He can be a large dog. Giving tribute to both the King and one of his most famous songs, one might name a "hound dog" Elvis. Disney Star Debby Ryan honored the King by naming her dog Presley. 
The name "Elvis" for a dog has been quite popular since the 1960s. Using Presley for a name has become popular in more recent years. People generally name their dog Elvis due to their love for the performer; of course, younger people who were not alive during the height of Elvis' popularity will not understand the meaning of naming one's beloved pet after the star. It can be compared to naming a pet after Leo Dicaprio or Ben Affleck, two very popular actors in recent history. For many younger pet owners, Elvis is a cute name for a pup. For Southerners young and old, naming a dog Elvis is forever a tribute to the King of Rock and Roll. 
Southern Dog Name Considerations
To be considered a Southern dog, the pooch must live anywhere from North Carolina to Texas. We do include Florida and Kentucky in our list of Southern states. Southern dogs may include hunting dogs such as Beagles, Coon Hounds, or Labrador Retrievers, or they may be pristine, tiny "froo-froo" dogs such as Maltese, Pomeranians, and miniature Poodles. In other words,
any
dog can be a Southern dog provided he or she lives below the Mason-Dixon line. 
Southern dogs may be named after locations: Memphis and Jackson are great examples of this. They may be named after the person from whom the dog was obtained. My father named many of his Beagles after his friend and fellow dog-trader, Bobby. I myself have named a few of my most favorite pups after beloved family members; in the South, it is never demeaning to have a pet as a namesake. In Louisiana, a popular pet name is Boudreaux, which is also a family name in the area. Some dogs are named after historical figures, Jackson and Forest are a couple of popular names inspired by military figures. 
Southerners tend to treat their dogs as a member of the family. He is likely to sleep with you, accompany you on walks or ride along to the store with you. It is for this reason that Southern dogs must have just THE perfect name. 
Votes
Name
Vote
7

Colonel

Colonel is a popular name for many alumni of the University of Mississippi, whose mascot for many years was "Colonel Reb"

6

Bennet

Related to the name "Benedict", but meaning "blessed"

5

Bandit

May refer to a film titled Smokey and the Bandit

5

Basil

Basil is one of the many spices Southerners use in cooking

5

Elvis

Elvis, the King of Rock and Roll hails from Tupelo, MS

5

Hudson

The Hudson was a type of car

4

Butter

Butter is another food staple in the South

4

Cooper

Cooper is an English name; it literally means "barrel maker"

4

Gumbo

Gumbo is one of the primary popular meals in Louisiana

4

Gunner

Refers to the love of the hunt throughout the South

4

Hunter

Another reference to hunting

4

Major

The name Major reflects a deep respect for the military

3

Biscuit

One of Southerners' most favorite foods is the biscuit

3

Bourbon

Bourbon whisky is the influence for this name

3

Jackson

Jackson generally refers to General Andrew Jackson, who saved New Orleans during the American Revolution

3

Khaki

This name is usually given to a dog of cream or tan color

2

Faulkner

Mississippi's own William Faulkner was poet laureate, and spoke out on numerous occasions regarding racism in the South

1

Bailey

Bailey was originally spelled "baili", meaning justice

1

Eli

Commemorates former Ole Miss quarterback (and current NY Giants QB) Eli Manning

1

Memphis

One of the South's most prominent cities

0

Beaux

Beaux means "handsome"

0

Chip

Chip is a variation of Charlie

0

George

George may be given to a dog as a name in remembrance of a beloved friend or family member

-1

Bacon

A staple of Southern cuisine

-1

Charlie

Could be a family name or the name of a fellow dog-lover

-1

Henry

Henry can refer to a family member or friend, or it may refer to the Henry line of pocket knives that many men carry

-1

Hugo

Hurricane Hugo wreaked havoc in the Carolinas in the late 1980s

-1

Leroy

Leroy is just a traditional, good ol' boy Southern name

-3

Blue

This name is often given to Bluetick Coonhounds and Blue Heelers

-3

Bud

A dog named Bud or Buddy will generally be very friendly and playful
Female Southern Dog Names
Votes
Name
Vote
7

Maggie

Maggie is a family name

5

Sally

Many beloved female hunting dogs have been christened Sally

5

Pepper

A dog named Pepper might have a lively, perky personality

5

Hannah

Originates in the Bible, meaning "grace"

5

Ginger

Ginger can refer to Ginger Rogers or the coloring of a pup's coat

5

Emma

A novel by Emily Bronte

4

Madison

Can also refer to several cities in the South of that name

4

Lexie

A variation of Alexandria, a town in Virginia

4

Georgia

This name no doubt refers to the great state of Georgia

3

Trixie

A traditional Southern name for female pups

3

Rosie

Rose or Rosie is usually given as a name when a pup is a rich, red color

3

Lucy

Lucy is another traditional Southern name

2

Ruby

"Ruby" is the name of a classic Kenny Rogers song

2

Millie

A variation of Mollie

2

Lela

Lela means "dark-haired beauty"

2

Harley

Refers to the motorcycle

1

Shelby

Mississippi historian and author Shelby Foote

1

Kiki

Kiki means "ruler of her domain"

0

Savannah

As in Savannah, GA

0

Peaches

"Peaches" refers to a staple fruit of Georgia

0

Maisie

Maisie is a traditional name in the South

0

Magnolia

Magnolia refers to a prominent Southern tree

0

Gracie

A variation of grace

-1

Nellie

Nellie often refers to a popular television show, Little House on the Prairie, and the character Nellie Olsen

-1

Mollie

Mollie is a derivative of the name Mae, which means bitter

-1

Harper Lee

Harper Lee, a native Alabamian, wrote the iconic To Kill a Mockingbird

-2

Myrtle

Can refer to the numerous crepe myrtles across the South

-2

Lola

Lola means "princess of all things"

-3

Sadie

Cute small dogs and large hunting dogs have been named Sadie

-3

Atlanta

One of the largest cities in Georgia
Community Dogs with Southern Names
Dixie
Female
Aussiedoodle
Nacogdoches, TX
We wanted her to have a Southern name to honor our Southern Heritage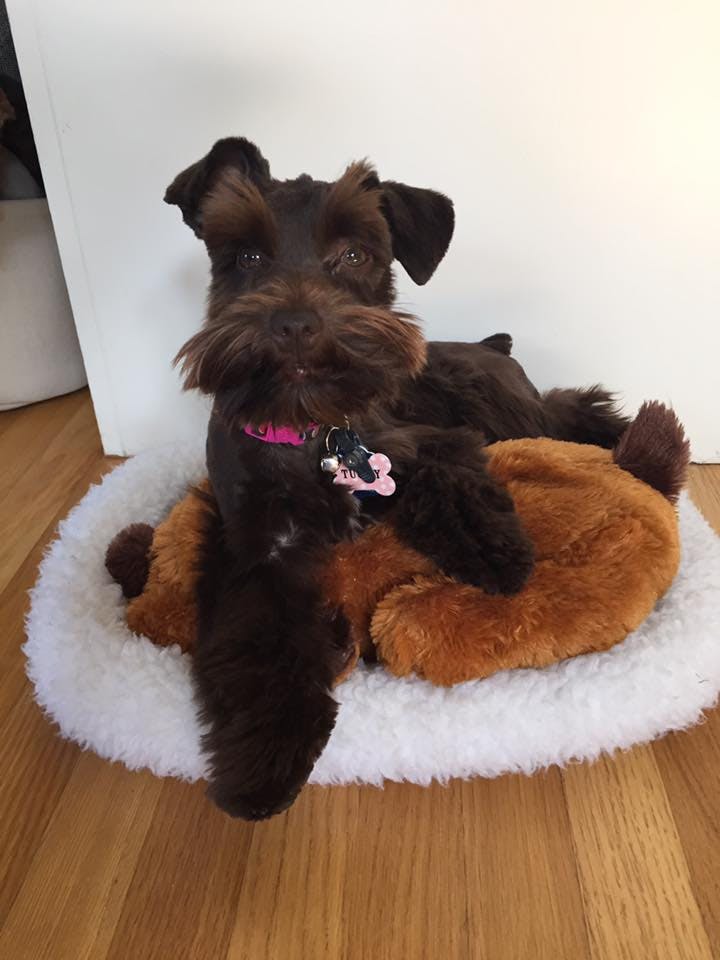 Tucky
Female
Miniature Schnauzer
Newport Beach, CA
I was born and raised in KY-- live in California now. A sweet reminder of my roots.