Introduction
The Staffordshire Bull Terrier is a fun, compassionate dog that enjoys playtime with its family and other friends. Playfully called "Staffie", this breed was first developed in the region of Staffordshire in England, hence the name. Staffies were originally meant for bull baiting, which was a huge sport during the 19th century. However, the interest in the sport died down, and so did the breed's popularity. It was not until the 20th century when Staffordshire Bull Terriers became prominent again, especially in the United States. Since then, the Staffie has become a family favorite for a pet dog and a staple in most households. Choosing a name for this strong and attractive breed will be a fun task.
Staffordshire Bull Terrier Dog Names in Pop Culture
Featured Famous Staffordshire Bull Terrier Dog
Jock
Staffordshire Bull Terriers are among the most well-known dog breeds not only in the United Kingdom, which is its country of origin, but also all over the world. In fact, one of the most popular pieces of literature featuring the dog breed hails from South Africa. The book Jock of the Bushveld, written by Sir James Percy FitzPatrick, details the true story of his travels in the 1880's with his Staffie, named Jock. During this period, FitzPatrick lived in South Africa's Bushveld region and took on several jobs, including a prospector's assistant, ox-wagon transport rider and journalist, among others.
Jock's mother was a dog in FitzPatrick's camp. She gave birth to six puppies, with Jock being the runt of the litter. Since all puppies except the runt was claimed, FitzPatrick decided that he would take it as his pet. He decided to name the pup Jock. In the story, FitzPatrick also talks about the instant connection that he and Jock forged right away, with the puppy even following him on his way home without being coached.
The adoption of Jock was the start of an adventure-filled life for FitzPatrick. Growing up, Jock started to become a fearless and exploratory dog who was loved by many. For the duration of his life, Jock went on many undertakings with Percy. His steadfast dedication and loyalty to his owner was legendary, so much so that Percy decided to use the tales of their adventures as bedtime stories for his children. When FitzPatrick moved up and became a prominent figure, he decided that the loving memory of Jock was too good not to be shared. So, with the insistence of his children, Percy ended up immortalizing their story by writing the book Jock of the Bushveld.
First published in 1907, the book became an instant hit and was considered a South African classic. In the long run, the book started to become popular overseas, with over 100 different versions and translations. FitzPatrick's daughter also built bronze statues and plaques across the different places where Percy and Jock shared memories together in order to commemorate the story.
The book's popularity spawned a few film adaptations, released in 1986 and another in 1994. An animated version of the story was also created. The film was called Jock the Hero Dog and was aired on July 2012, with singer Bryan Adams voicing the titular character.
Jock's story is just one of the many adventurous tales involving a Staffordshire Bull Terrier. His account helped raise the recognition of the breed and helped make it the popular pet choice that it is today.
Staffordshire Bull Terrier Dog Name Considerations
The Staffordshire Bull Terrier is a cute, loving dog breed that deserves a special name to match its special personality. When choosing a name for your Staffie, try to pick one that is not too long. Remember, most, if not all dogs recognize the first syllable of their name the most. Therefore, it is important to not give your dog too long of a name. If ever you do want to a really cool but long name, make sure that you have a shorter version for it. For instance, if you are a Star Wars fan who named your Staffie as "Darth Vader", make sure you have a short form for when you are calling your dog, such as "Darth".
Another important factor to take into account is the physical appearance, temperament or any memorable habits that your Staffie might have. Since Staffies have a muscular build, you may opt for a name that depicts strength and power. A good example of such a name is "Rocky", which is also the name of the famous fictional boxer portrayed by Sylvester Stallone. Staffordshire Bull Terriers are also known for being extremely playful with their owners, which can be another basis for choosing a name. By considering your unique pup's many features, you will surely be able to come up with a long list of possible names for your Staffie.
Male Staffordshire Bull Terrier Dog Names
Votes
Name
Vote
10

Apollo

Goddess of healing in Greek mythology

9

Bear

A kind of wild, dog-like animal

8

Major

A high-ranking military officer

8

Gus

Derived from Latin name "Augustus" meaning "majestic"

7

Bruiser

A tough person, often aggressive

6

Loki

A Norse mythology god known for his mischievous acts; good for playfully naughty Staffies

6

Argus

Greek name meaning "bright"; good for white or light-colored Staffies

6

Draco

Latin name meaning "dragon"

6

Rogers

From the comic character Steve Rogers aka Captain America

6

Rusty

Pet form of the name Ruston, also means "one with a reddish complexion"; good for Staffies with reddish coat

5

Zach

Hebrew name meaning "pure"

4

Chaos

Means "mayhem"; good for playful Staffies who likes to make a mess

4

Maxx

Pet form of the Latin term "Maximus", which means "greatest"

3

Snow

Ice crystals that fall from the sky, usually during winter; good for white-colored Staffies

3

Harley

From renowned motorcycle brand Harley-Davidson; depicts toughness

3

Brock

Old English name meaning "badger"

3

Buster

Someone who likes to break or overpower something

2

Beau

French term meaning "handsome"

2

Dredd

From comic character Judge Dredd

2

Samson

A character in the Bible known for his strength

2

Popeye

From cartoon character of the same name

2

Walter

German name meaning "ruler of the army"

1

Thor

God of thunder and protector of mankind in Norse mythology; good for strong-willed and protective Staffies

1

Butch

Masculine in behavior or look

1

Tank

A huge metal vehicle used for combat

1

Achilles

A hero during the Trojan war in Greek mythology

0

Rufus

Means red-haired in Latin; good for Staffies with reddish coats

0

Clark

From comic character Clark Kent aka Superman

0

Gaius

Latin name meaning "to rejoice"

-2

Scout

Someone who keeps watch; good for Staffies who also serve as watchdogs
Female Staffordshire Bull Terrier Dog Names
Votes
Name
Vote
7

Chica

Spanish term meaning "small girl"; a funny, ironic name for a female Staffie

6

Poppet

A British slang term referring to a sweet, little girl

6

Matilda

German name meaning "strong in battle"

5

Ivory

A solid white material made out of animal teeth or tusks; good for white or light-colored Staffies

5

Joan

From historical figure Joan of Arc

5

Xena

A comic character known as the Warrior Princess

5

Coco

A French pet name

5

Nyla

Arabic name meaning "winner"

4

Empress

Female ruler with great power

4

Gertie

German name meaning "strong spear"

4

Kaia

Hawaiian name meaning "sea"; good for Staffies with a blue-ish coat

3

Callisto

Greek name meaning "most beautiful one"

3

Fleur

French term meaning "flower"

3

Helen

A Greek mythology character known as "the face that launched a thousand ships"; good for Staffie showdogs

3

Psyche

Goddess of soul in Greek mythology who completed impossible tasks to win back her husband, Eros; good for loyal Staffies

3

Artemis

Greek goddess of the hunt and twin sister of Apollo

3

Lakin

African-American name meaning "found treasure"

2

Athena

Goddess of wisdom and war in Greek mythology

2

Koda

Native American word meaning "ally" or "friend"

1

Siren

A type of femme fatale in Greek mythology; good for Staffies with a sweet bark

1

Mulan

From Disney character of the same name

1

Lana

Gaelic name meaning "little rock"

0

Honey

A kind of sugar-like food substance; good for sweet Staffies that are brownish in color

0

Leia

From fictional character Princess Leia of the Star Wars franchise

-1

Ebony

A kind of black hardwood; good for dark-colored Staffies

-1

Pandora

Greek name meaning "bearer of all gifts"

-2

Pax

Latin term meaning "peace"; also pertains to the Roman goddess of peace

-2

Miranda

Latin name meaning "worthy of admiration"

-2

Nyx

Greek goddess of the night; good for dark-colored Staffies

-4

Sundance

A native dance performed to honor the sun and to show bravery
Community Dogs with Staffordshire Bull Terrier Names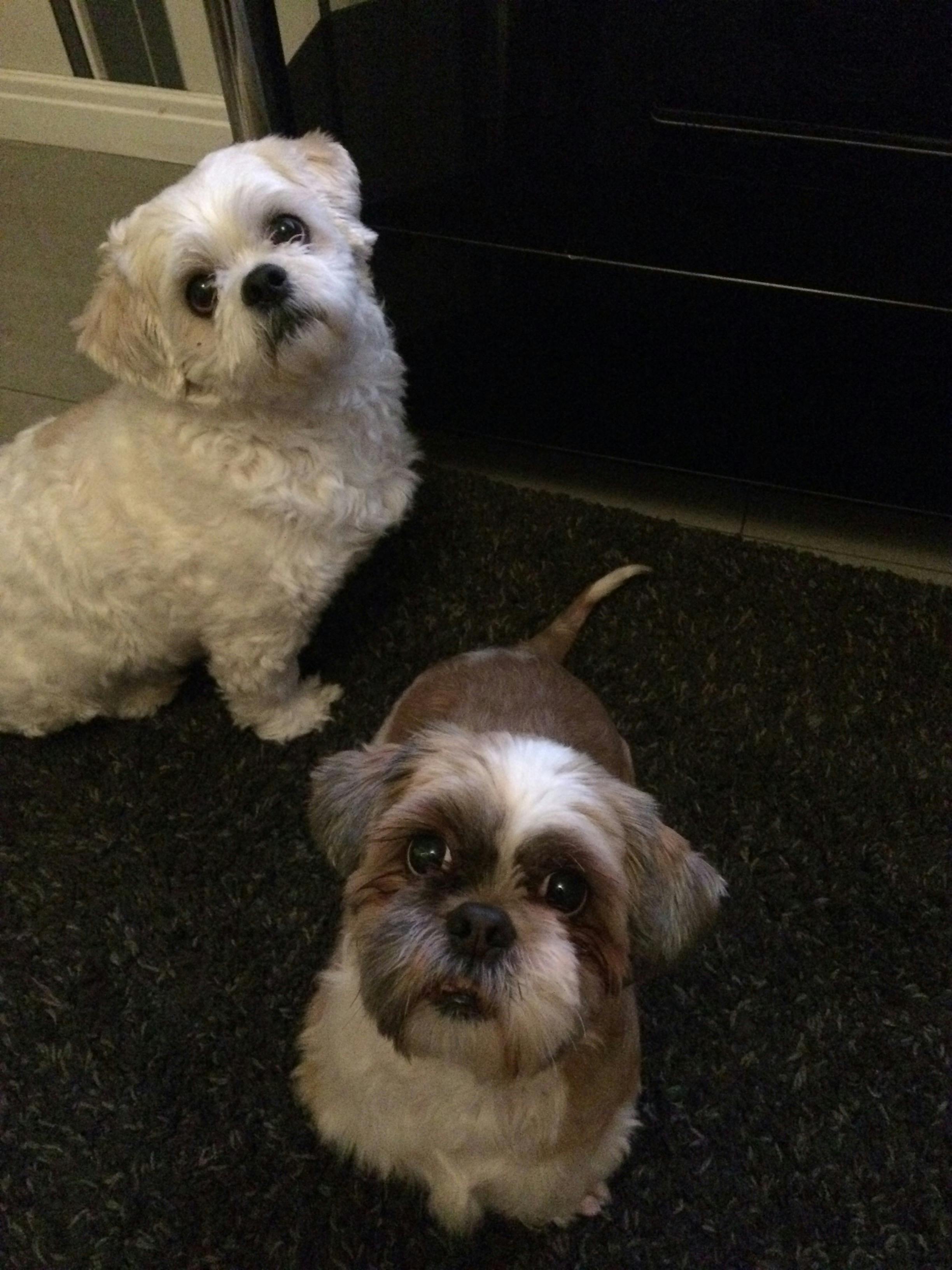 Patch
Male
Shih Tzu
England, AR
He is named it because he had lts of ptches on him when he was a pup The white one on the photo