Introduction
When the news was released that DC would be releasing Suicide Squad, DC fans around the world let out a cheer. Marvel had already crafted a connected universe, showing the world that it could be done. This left many DC fans wondering when they would get their own universe. Suicide Squad promised to change all that. There was a ton of hype surrounding the movie and a lot of high expectations. As we now know, the movie did not launch the DC extended universe like everyone had hoped. Thankfully, it did have a bunch of interesting names to choose from. 
Suicide Squad Inspired Dog Names in Pop Culture
Featured Famous Dog With A Suicide Squad Inspired Name
Boo Radley
Suicide Squad was not set in an environment that would be safe for dogs. If there had been a dog in the movie, we would have been worried for their welfare. So instead, we look to one of the best features of the movie. Harley Quinn as portrayed by Margot Robbie. Harley Quinn is a fan favourite. Originally, she was cast as the Joker's crazy girlfriend. She was his most devoted henchperson and loved to create mischief and mayhem along with her pudding. Unfortunately, Joker's treatment of Harley did not show the same devotion. It quickly became apparent that this was one of the most dysfunctional relationships in the comic world. Which is saying a lot.
In time, Harley evolved and became more than Joker's girlfriend. True, they always find a way back to each other, she has become a full-fledged villain in her own right. In the comics, she teams up with the likes of Cat Woman and Poison Ivy. One might argue that she is crazier than the Joker himself. She is a thorn in the side of every hero and she loves that status. This is one of the reasons why she is so popular among comic fans. She is crazy, she loves it, and this provides a lot of entertainment.
In the movie, mainstream audiences were introduced to this unique character. That Halloween, everyone wanted to dress up like Harley. She was a hit from start to finish. When her character was onscreen, you were not able to look away from Robbie's charming performance. While she and Joker are hardly the most functional couple on the planet, you can't help but root for her. She spends most of the movie talking about him and trying to get to him, but her character does not hinge on him. She spends a lot of the movie doing things for herself. He might have been what pushed her over the edge, but she is her own brand of crazy.
The Joker may not always appreciate what he has in Harley, but audiences sure do. Margot Robbie herself is no stranger to love. While Harley chases the affection of the Joker, Margot gets all that and more from her adorable puppy, Boo Radley. Named after the famous character in "To Kill a Mockingbird", Boo causes a lot of light-hearted mischief. He always manages to keep the star on her toes.
Suicide Squad Inspired Dog Name Considerations
The problem with Suicide Squad, it had many problems, but we will focus on this for now, is that there were too many characters crammed in the narrative. We had a group of people that we did not get a chance to connect with and you left the cinema feeling slightly bland inside. It promised to be a colourful action-packed adventure. It delivered in that department, but it was also very confusing. There were good parts and downright bad parts. The worst of all is that we did not get a chance to see much of the Joker. The Clown Prince of Crime is the reason why most of the audience came to see the movie. At the end of it all, they did not get spend more than fifteen minutes with the iconic character.
Then we had to deal with backstories and character development in a movie that was too short to have so much content. There was enough content in that movie to be stretched into at least four other movies. On the bright side, the characters were awesome. Even though they were villains, many comic fans would be delighted to name their dogs after these DC legends. Think about the characters, whether villain or hero, and select a name from Suicide Squad!
Male Suicide Squad Inspired Dog Names
Votes
Name
Vote
1

Captain

Captain Boomerang is one of the villains

1

Boomerang

Captain Boomerang has deadly gadgets

1

Deadshot

A deadly assassin

1

Flag

Rick's surname

1

Frost

Jonny's surname

1

Gomez

Assisted Rick Flag

1

Griggs

One of Amanda Waller's most trusted henchmen

1

Croc

After the Killer Croc

1

Prince

After the Clown Prince of Crime

1

Panda

Panda Man is in Joker's gang

1

Monster T

A mobster who worked with Joker

1

Markus

Odin's surname

1

Christopher

Slipknot's real name

1

Betty

Betty Harkniss was a character in the movie

0

Batman

The iconic hero

0

Joker

After the Joker

-1

Angelo

Deadshot's employer

-1

Gerard

A businessman killed by the main villain

-1

Davis

Gerard's surname

-1

Edwards

An officer who helped with the mission

-1

El Diablo

One of the main members of the team

-1

Chato

Chato Santana is El Diablo

-1

Will

Will Smith portrayed Deadshot

-1

Eyes

Eyes of the Adversary are monstrous meta-humans

-1

Rick

The man in charge of the Suicide Squad

-1

Joel

Joel Kinnaman portrayed Rick

-1

Jonny

Joker's right-hand man

-1

Hunter

Grigg's real name

-1

Adewale

Adewale Akinnuoye-Agbaje portrayed Killer Croc

-1

Odin

Was Harleen's mentor

-1

Slipknot

A member of the team
Female Suicide Squad Inspired Dog Names
Votes
Name
Vote
2

Harley

A member of the team

2

Quinn

After Harley Quinn

2

Pudding

Harley's nickname for Joker

2

Boo

The name of Margot's dog

1

Harlequin

Comic servants

1

Cara

Cara Delevingne portrayed Enchantress

1

Katana

A hero dedicated to justice

1

Zoe

Deadshot's daughter

1

Belle Reve

The name of the prison in the movie

1

June

The archaeologist who discovers Enchantress

1

Grace

Chato's deceased wife

1

Santana

Grace's husband

1

Katie

El Diablo's daughter

1

Ivy

Poison Ivy is a prominent character in the comics

1

Selina

Selina Kyle is a character in the comics

0

Margot

Margot Robbie portrayed Harley Quinn

-1

Arleen

Arleen Sorkin inspired the character of Harley Quinn

-1

Enchantress

The main villain

-1

Amanda

Amanda Waller assembles the Suicide Squad

-1

Tatsu

Katana's real name

-1

Hikari

Tatsu's former surname

-1

Karen

Karen Fukuhara portrayed Katana

-1

Shailyn

Shailyn Pierre-Dixon portrayed Zoe

-1

Moone

June's surname

-1

Corina

Corina Calderon portrayed Grace

-1

Olsen

After General Olsen

-1

Smile

The name of the club that Joker and Harley visit is the "Smile and Grin"

-1

Arkham

The name of the asylum

-1

Kehlani

An artist who worked on the film soundtrack
Community Dogs With Suicide Squad Inspired Names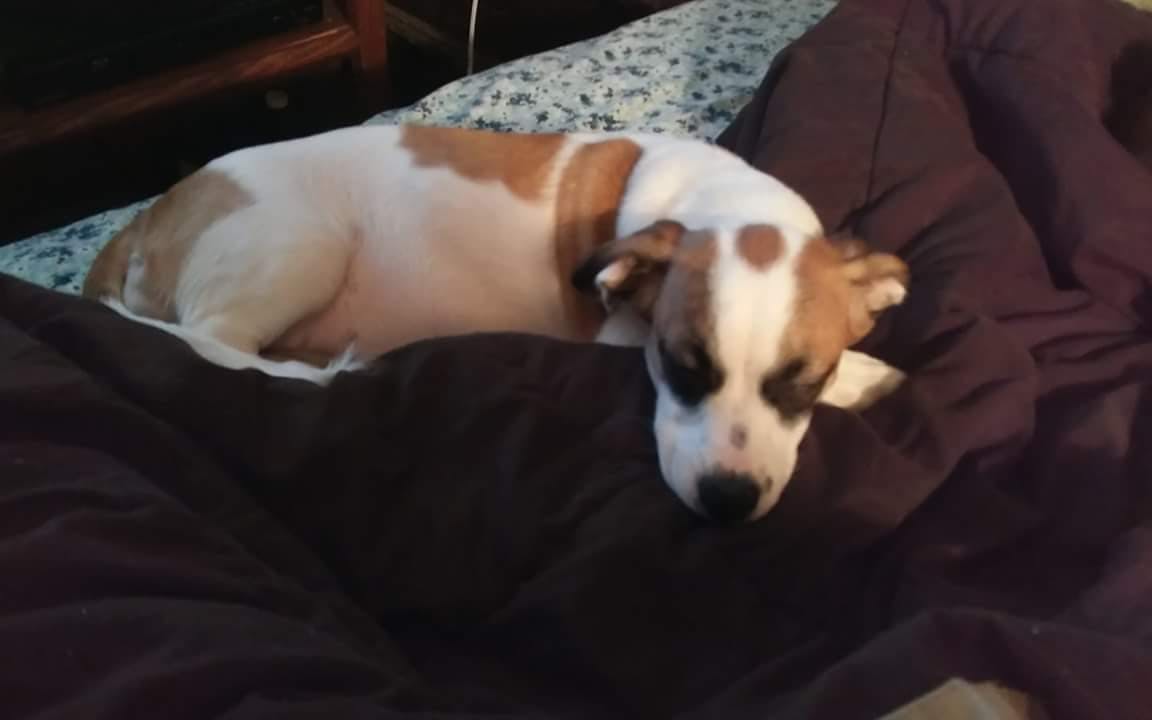 Harley quinn
Female
Beagle
Corydon, KY
I've always loved Harley Quinn so I wanted to name my puppy after her