Introduction
The Vizsla is a dog breed that hails all the way from Hungary. Vizslas fall under the category of Pointer dogs and were bred to work with hunters in the field. The first Vizslas have been used by Hungary's hordes and elite barons back in the 10th century and are almost always beside them. As a result, the Hungarian breed developed an extraordinary attachment towards their human owners. As a matter of fact, Vizslas are even referred to as "velcro dogs" in the country. They are extremely loving, clingy, and want to be with their family most of the time, hence the term 'velcro'. It is important to note that this dog breed is affectionate by default, so you may find it following you whenever you're roaming around the house. Vizslas are easily trainable dogs and would make for the perfect family pet and personal companion. 
Vizsla Dog Names in Pop Culture
Featured Famous Vizsla Dog
Kubrick
Even though the Vizsla is both remarkable and fascinating, the dog breed is far from being popular. The American Kennel Club recognizes the breed as "moderately popular" and is ranked 43rd in popularity among 150 breeds. Vizslas are not exactly the Hollywood type of breed; nowadays, they're being used either as watchdogs or personal companions. Vizslas can be observed in ancient art and paintings, there were also a few Vizslas who worked with the US SWAT team after the 9/11 terrorist attack. Other than that, this dog breed remains low-key. 
However, there are some significant personalities that own and appreciate the Vizsla. One of them is the famous and internationally acknowledged photographer and filmmaker Sean Ellis. On February 28, 2011, Sean Ellis released a photography book entitled "Kubrick the Dog." Inside the book are photos and some details about Kubrick, Sean Ellis's Hungarian Vizsla. Ellis shared that in 1998, when he was starting to become more recognized for his photography and filmmaking skills, he adopted a Vizsla puppy. According to him, he named Kubrick after the prominent film director Stanley Kubrick. Ellis describes Kubrick as a handsome and talented dog. In an interview with Sunday Times, he mentioned how his success in fashion photography "can make you selfish" and that he needed someone else in his life. He told the interviewer "I wanted something to save me from thinking only about myself and work. I wanted a dog." This led him to visit a breeder and upon seeing Kubrick, he immediately fell in love. He mentioned how he didn't expect the Vizsla to be extremely clingy to the point that he had to buy a bigger bed so they both could fit in. Kubrick kept Ellis company throughout his photo shoots. Kubrick then started winning the hearts of the models who have been working with Sean, going so far as to pose beside them. It didn't take long for Kubrick to get used to being behind the lens and after only a few months, he became a photo model. Kubrick has posed many times beside iconic people including supermodel Kate Moss, fashion designer Stella McCartney, and songwriter Sharleen Spiteri.
Kubrick played a major role in Ellis' photography career. As he recalled, Kubrick was in charge of calming the overall atmosphere on set. They were best friends with each other and it has been the same for the next eight years. Unfortunately, in 2009, Kubrick passed away after losing his battle against lymphatic cancer. After the dog's death, Ellis started to develop and compile the most iconic and heartwarming photos of his beloved dog. The photography book of Kubrick is both moving and heartbreaking. Sean Ellis loved his dog as if he's his own child. He may not have appeared in any Hollywood film, but Kubrick will forever be engraved in the hearts of the people who has worked with him.
Vizsla Dog Name Considerations
Finding the perfect dog name that best matches your new furbaby can be a difficult task to accomplish. As always, it is most ideal to choose a name that reflects or resembles your dog's traits and personality.  Vizslas are effortlessly stunning and quite exotic looking, which makes them easily recognizable. Vizslas possess many imposing characteristics. The most distinctive characteristic of the Hungarian dog breed is their strong attachment towards their owners. As previously mentioned, they are extremely loving and can be very clingy; they are affectionate and devoted to their human family. Although dogs in general are loyal by nature, there's no denying that the Vizsla is one of the most loyal dog breeds ever.
Also, in true hunting dog nature, the Vizsla is fearless and protective. Their ability to trace scent is outstanding, this gives them the capability to detect drugs and even bombs. They are quick-thinking and hardworking. Having said all of that, it is most appropriate to choose a name which reflects or resembles the aforementioned characteristics. For male Vizslas, the Hungarian name Éber means "watchful" is a great example while the name Édes which means "sweet" fits your female Vizsla perfectly. Since the Vizsla is native to Hungary, a Hungarian name or a name that is related to Hungarian culture would also be fitting. 
Votes
Name
Vote
5

Wyatt

Means "little warrior" in French

5

Nando

Means "brave" in Hungarian

4

Leon

Means "brave as a lion" in French

4

Sandor

Means "defender of mankind" in Hungarian

3

Rudi

Means both "strong" and "wise" in Hungarian

3

Odon

Hungarian name that means "prosperous protector"

2

Amos

Means "strong" and "brave" in Hebrew

0

Casey

Means "brave" in Celtic

0

Jeno

Means "noble" in Hungarian

0

Iven

Means "little archer" in French

0

Arpad

Means both "brave" and "adventurous" in Hungarian

0

Bernat

Means "brave as a bear" in Hungarian

0

Erneszt

Means both "sincere" and "loyal" in Hungarian

0

Elek

Means "defender of mankind" in Hungarian

0

Imre

Means "industrious ruler" in Hungarian

0

Garrett

Means "brave" in English

-1

Vitez

Means "valiant" in Hungarian

-1

Lekszi

Hungarian name that means "defender of mankind"

-1

Geller

Hungarian name that means "brave with a spear"

-2

Eber

Means "watchful" in Hungarian

-2

Eli

Means "defender of mankind" in Hungarian

-2

Gergeli

Means "vigilant watchman" in Hungarian

-2

Kellman

Means both "gentle" and "kind" in Hungarian

-2

Odi

Means "prosperous protector" in Hungarian

-3

Gyor

The most important city of northwest Hungary

-3

Vilmos

Means "resolute protector" in Hungarian

-3

Kort

Means "bold" in German

-3

Lukacz

Hungarian name that means "bringer of light"

-6

Eger

A city in northern Hungary
Votes
Name
Vote
3

Edes

Means "sweet" in Hungarian

2

Lacy

Means "cheerful" in French

2

Adelaide

A Hungarian princess; the only daughter of King Andrew I of Hungary

0

Ada

Means "sweet" in German

-1

Baja

A city in southern Hungary

-1

Bonnie

Means "sweet" in French

-1

Candy

An American name that means both "bright" and "sweet"

-1

Tata

A town in Hungary

-1

Habika

African name that means "sweetheart"

-1

Csilla

Means "protection" in Hungarian

-1

Honey

A sweet fluid collected from a bee's nectar; good for loving and sweet Vizslas

-1

Etel

Means "noble" in Hungarian

-1

Manju

An Indian name that means "sweet"

-1

Alix

Means "defender of mankind" in Greek

-1

Mali

Means "industrious" in Hungarian

-1

Agota

Means "good-hearted" in Hungarian

-1

Joli

Means "lovely" in German

-1

Orsolya

A Hungarian name that means "strong as a little bear"

-1

Szandra

A Hungarian name that means "protector of humanity"

-1

Shadow

Means to follow and observe someone closely in English; perfectly fits the clingy characteristic of a Vizsla

-1

Cher

Means "darling" or "beloved" in French

-1

Klari

Means "bright" in Hungarian

-2

Buzgo

Means "zealous" in Hungarian

-2

Cimbora

Means "companion" in Hungarian

-2

Irene

A Hungarian empress; daughter of Ladislaus I of Hungary

-2

Angyal

Means "angel" in Hungarian

-3

Violant

Hungarian princess; second wife of King James I of Aragon

-3

Hajna

Means "gracious" in Hungarian

-3

Gyula

A town in Hungary

-3

Constance

A Hungarian princess; the daughter of Béla III of Hungary

-3

Alexa

A Greek name that means "defending men"
Community Dogs With Vizsla Names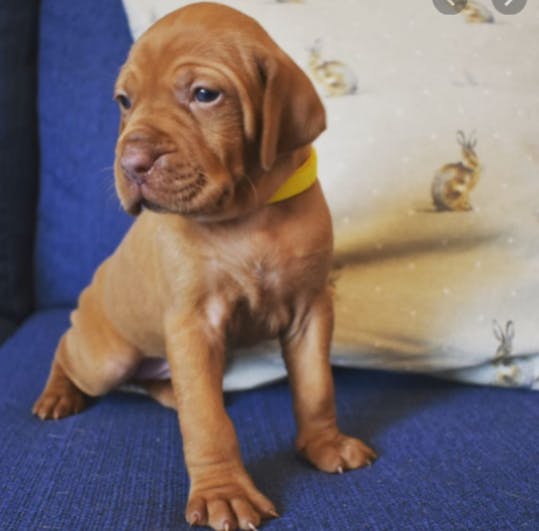 Arrow
Female
Vizsla
Toronto, KS
Personality
Active
Elegant
Sweet
Loving