Introduction
Whippet dogs are a smaller breed of greyhounds. Nicknamed Snap Dogs due to their knack for snapping up prey, they are recognized for their elegant look, lean physique, gentle expression and an incredible ability to run full speed ahead. Despite its active nature, however, Whippet dogs are also known to be couch potatoes who love to stay indoors and snooze the day away. Additionally, a Whippet's coat is short, which makes it easier to maintain. All these qualities make Whippet dogs a popular pet choice, especially for those who are looking for a calm indoor dog and a loyal companion. 
Whippet Dog Names in Pop Culture
Featured Famous Dog with a Whippet Name
Jim
For years, dogs have had starring roles in film, art and literature. Whippet dogs, while not the most popular breed of choice for such features, have had their fair share of exposure in these works. Perhaps the most well-known literary work featuring a Whippet dog is the Terry Darlington's travel trilogy, namely Narrow Dog to Carcassonne, Narrow Dog to Indian River and Narrow Dog to Wigan Pier.
This trilogy revolves around the amazing, true-to-life expedition taken on by Darlington, his wife Monica, and their Whippet dog, Jim, who is also the "narrow dog" being referred to in the book titles. In the Narrow Dog to Carcassonne, the newly-retired couple bring their beloved whippet and decides to take their narrowboat, Phyllis May, and cross the English Channel and head down to the South of France. The story is full of action as they navigate the seas while facing numerous ordeals and discovering new sights. In the novel, the readers are introduced to different places, people and adventures through the eyes of the threesome.
With the first book becoming a surprising success, Darlington was inspired to follow it up with Narrow Dog to Indian River. In this sequel, the trio decides to take Phyllis May out to U.S. seas and start a nine-month journey along the Intracoastal Waterway. Similar to the first novel, Narrow Dog to Indian River is full of hilarity and exploits as they encounter ice storms, alligators and even piranhas along the way. Aside from the misadventures, however, the couple and their beloved travel buddy also see some of the most beautiful cities and meet some odd individuals along the way.
The last book of the trilogy, Narrow Dog to Wigan Pier, is centered on the life of the couple and their Jim as they try to settle down and adjust to a normal life. With Terry being a bestselling author, they start to lead a normal, daily routine but find themselves starting to get bored. The book also details how their renowned boat Phyllis May was ruined by a fire and how it pushed them to get out of their tedious lifestyle and set sails once more. The Darlingtons buy a new boat, aptly named Phyllis May 2, and take their old pal, Jim, and Monica's new dog, Jess, with them on one final adventure heading north to Wigan Pier.
Jim's central role in the famous trilogy led to a lot of Whippet dog owners naming their dogs after him.
Whippet Dog Name Considerations
Choosing a name for your Whippet dog is no simple feat and must be taken seriously, since this is the name that they will carry for the rest of their lives. Think of it as choosing a name for your kid! The Whippet is such a unique breed and deserves an equally unique name. For the Whippet breed, there seems to be an inclination for short names that can easily be recognized by the dogs, preferably one or two syllables at most. Ideally, the name that you will be giving to your Whippet dog should not sound similar to the names of other family members or close friends who frequent your household. This is important so that your dog can avoid any confusion when being called. Also, if your Whippet pup has any special quirks or characteristics, you can use that as inspiration for its name.
Male Whippet dog names usually reflect the size, color, personality, strength or country of origin of the breed. On the other hand, female Whippet dog names are often mellower and are indicative of the Whippet dog's gentle and loving personality. These are some of the considerations to remember when choosing the perfect name for your Whippet. 
Votes
Name
Vote
8

Barny

German name meaning "brave as a bear"

8

Harry

German name meaning "home ruler"

7

Jasper

Persian name meaning "treasurer"

6

Ace

Means "one" in Latin

6

Magnus

Latin term meaning "great"

6

Scout

Someone who watches or observes

5

Beau

Means "handsome" in French

5

Jacob

Hebrew name meaning "supplanter"

5

Lucky

Means "fortunate"

4

Bailey

Old French name meaning "bailiff"

4

Bandit

Means "outlaw" or "robber"

4

Boris

Slavonic name meaning "battle"

4

Connor

Gaelic name meaning "lover of hounds"

4

Cosmo

Means "order" in Greek

3

Luther

German name meaning "people's army"

2

Antony

Latin name meaning "praiseworthy"

2

Buzz

To move at a quick pace

2

Chief

Someone who has a high ranking or authority

2

Diesel

A kind of fuel

2

Dillon

French name meaning "like a lion"

2

Gunther

Means "battle" in German

2

Isaac

Hebrew name meaning "he will laugh"

1

Angus

Gaelic name meaning "one choice"

1

Dash

Means "to run fast"

1

Rascal

Refers to someone who is playfully naughty

0

Finn

Gaelic name meaning "fair"

0

Leo

Latin term for "lion"

-1

Duke

A term referring to a male monarch

-1

Guy

Means "guide" in French

-2

Logan

Gaelic name which means "hollow"
Votes
Name
Vote
6

Roxy

Persian name meaning "star"

5

Dora

Greek name meaning "gift"

5

Kimi

Hawaiian pet form of Kimberley

4

Lucy

Means "light" in Latin

4

Marley

Means "pleasant wood"

4

Phoebe

Greek name meaning "bright"

3

Luna

Means "moon" in Latin

3

Maggie

Greek name meaning "pearl"

3

Pixie

A playful, fairy-like being

3

Sunny

Means "full of sunlight"

3

Zoe

Greek name meaning "life"

2

Blossom

Means "to flower or bloom"

2

Heidi

German name meaning "noble one"

2

Pepper

A kind of spice

2

Sophie

Greek name meaning "wisdom"

2

Stella

Means "star" in Latin

2

Zelda

German name meaning "gray warrior"

1

Chica

Spanish for "little girl"

1

Ella

Greek name meaning "torch"

1

Eva

Hebrew name meaning "life"

0

Jinx

Latin name meaning "magic charm"

0

Rosie

Latin name meaning "rose"

0

Vicki

Latin name meaning "conqueror"

-1

Amy

French name meaning "loved"

-1

Bambi

Italian name meaning "young girl"

-1

Lexi

Greek name meaning "man's defender"

-2

Jade

A precious stone of green color

-2

Mindy

Pet form of the name Melinda

-2

Sadie

Hebrew name meaning "princess"

-3

Sassy

Means "lively" or "jaunty"
Community Dogs with Whippet Names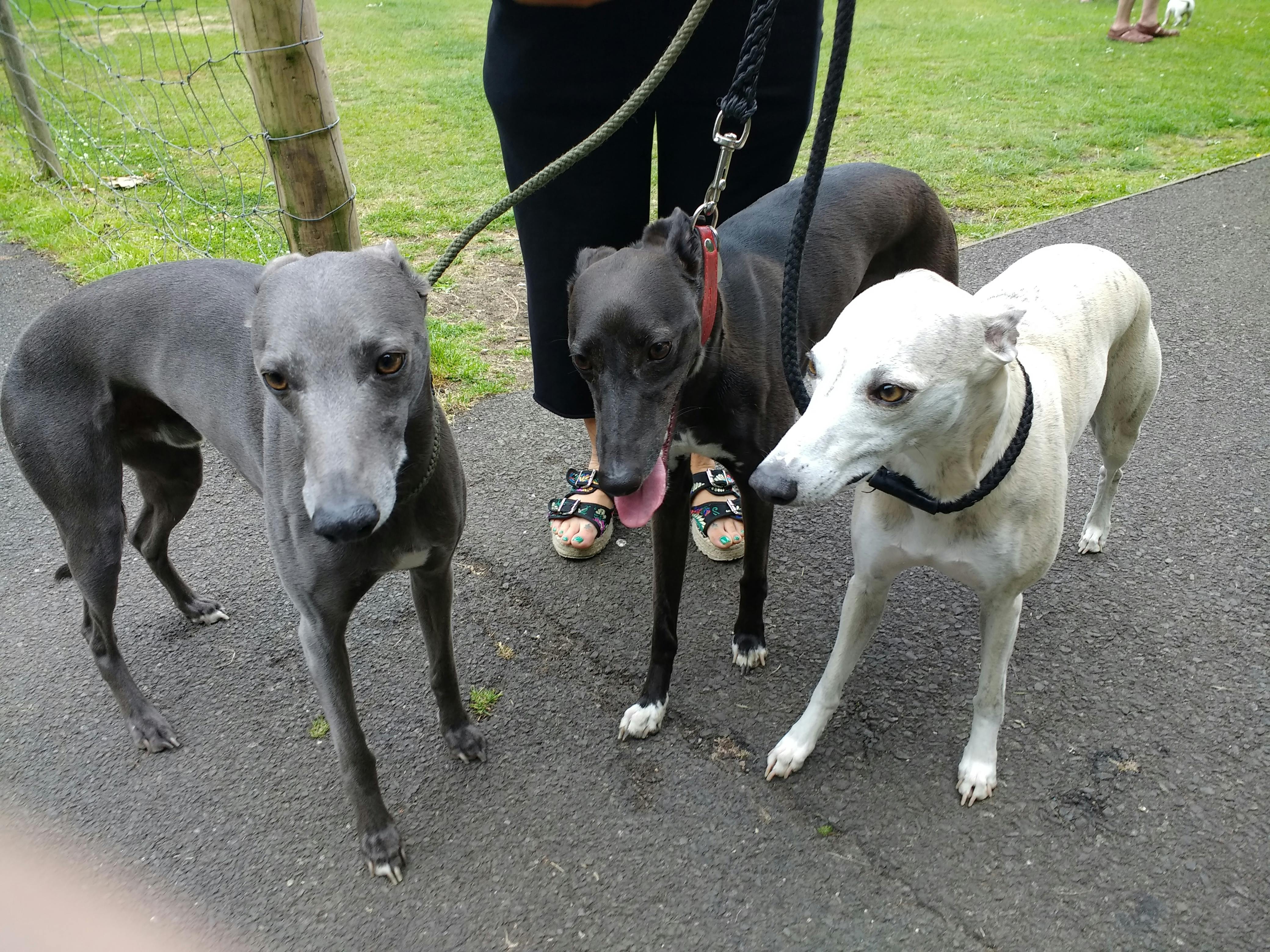 Kizzie
Female
Whippet
Belfast, ME
She is a rescue dog and was named when she adopted us.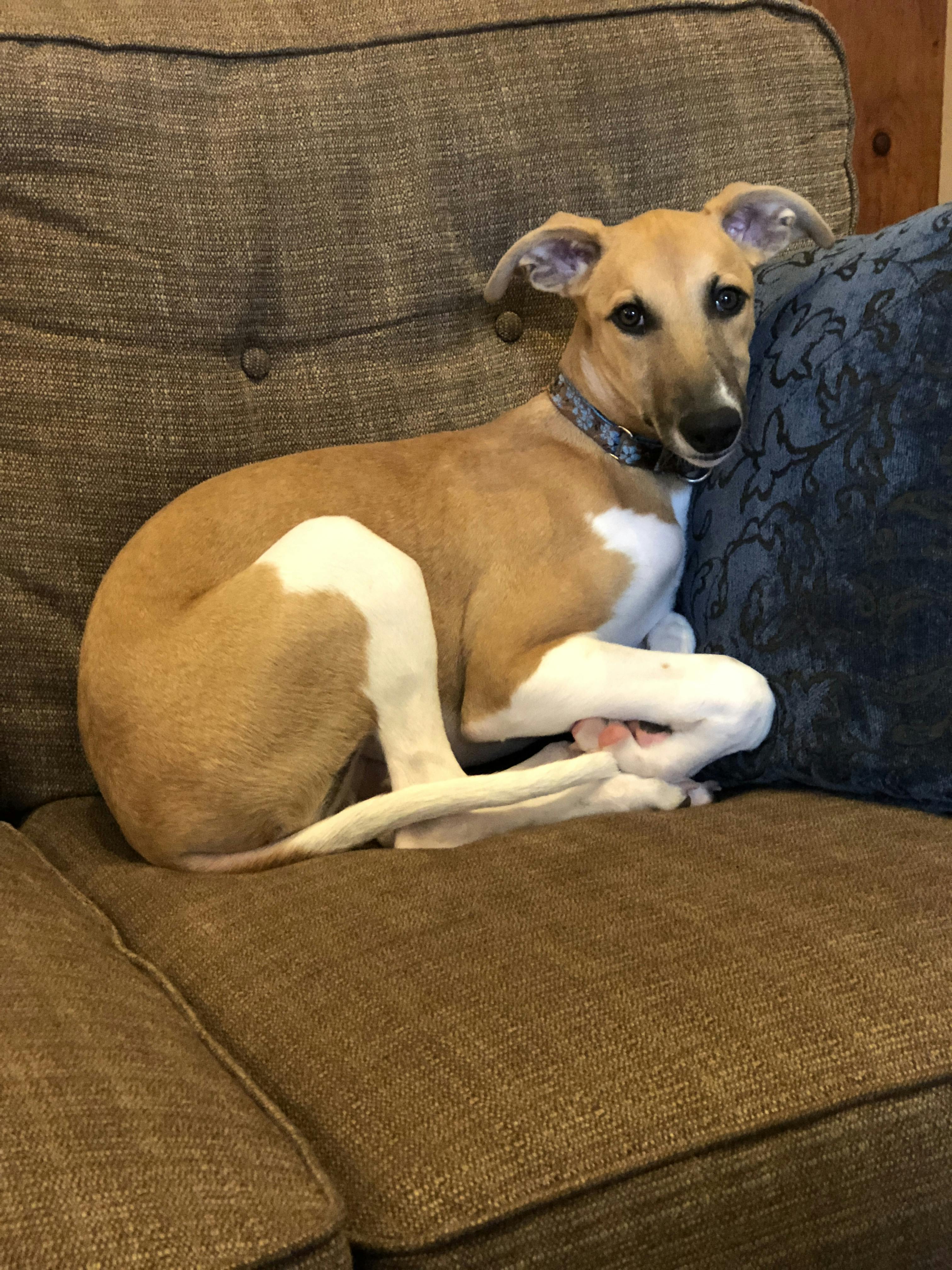 Finix
Male
Whippet
Decatur, TX
Personality
Playful
Intelligent
Sweet
Named after his champion grandmother, Fifi