Introduction
The Airedale Terrier originates from a place called West Riding, in England, that is close to the River Aire. They were originally bred for hunting small animals in the early 1800s. This sturdy breed is ranked as the 55th most popular breed in America by the American Kennel Club. His little beard on the end of his triangular jaw makes his appearance similar to that of a Black and Tan Terrier, also originating from England, and this breed was often referred to as a little old man due to their bearded appearance. They are very eager to please, so now you've chosen to get an Airedale, what will you call him or her? Read on for some Airedale inspiration!
Airedale Terrier Dog Names in Pop Culture
Featured Famous Airedale Terrier Dog
Laddie Boy
The Airedale Terrier is an intelligent breed and as they train well and stand proud, they make excellent show dogs.  The American Kennel Club first recognized this breed in 1888 and state that these dogs are clever, courageous and friendly.  The Airedale Terrier Club of America was founded soon after, in 1900.  They encourage quality when breeding purebred Airedale's and also offer awards versatility awards to formally recognize an Airedale's achievements.  It's down to the owner to put their pooch through this program, but it can certainly be worthwhile, especially if you plan to enter your Airedale in shows and competitions in the future. 
The spotlight name for this name guide is Laddie Boy.  This was the name of the Airedale that was loved and owned by US President, Warren G. Harding.  Of course, Laddie boy was a key part of Harding's administration.  After being born in Ohio in 1929, he was given to the president by Charles Quetschke of Caswell Kennels and soon found himself with a celebrity status.  Sources say he was the first dog to be followed and reported upon regularly in the press. 
It is stated that Laddie Boy was very well trained and would often retrieve the president's golf ball.  He was said to be extremely faithful, and an integral part of the family and neighborhood. It was also said that Laddie Boy had a birthday party every year and all the neighborhood dogs were invited. 
In 1923 President Harding died, and Laddie Boy is said to have howled for three days before this in recognition of Harding's deteriorating health.  Laddie Boy was then given to secret service agent Harry Barker, in Boston, becoming a loving member of the Barker family until his death in 1929.  Of course, his death made headlines right across America.  Sadly, his famous collar that was made from Alaskan gold nuggets was stolen from the Harding Museum in 2012. 
Airedale Terriers are known as a breed to be just as loyal as Laddie Boy.  They are intelligent and active, but on the whole, can make excellent family pets.  They are versatile and adaptable, as well as having excellent tracking and hunting skills which are typical traits of a terrier breed.  The Airedale is a special dog and deserves a special name that does him justice and makes him proud.  Read through this guide and take your time, choose only the best for your Airedale!
Airedale Terrier Name Considerations
Naming a brave, proud and loyal companion like the Airedale Terrier isn't an easy task. When naming your Airedale, there are certainly considerations you can make, that might make your choosing a little easier. 
Your Airedale is quite energetic and requires brisk walks as well as mental stimulation, so you could choose a name based on this; a name like Dash would be suitable.  If you consider the temperament of an Airedale Terrier, you could select a name like Lear for the proud pooch, or if you have a dog with a strong personality, then you could pick a name like Avery. A brave canine might suit the name Camelot, if he is as courageous as a knight. 
Color can be another inspiration, for example, a name like Shadow, Rusty, or Sandy would be just the fit for an Airedale.  Some sources suggest that the dog belonging to Annie in the original Annie movie, is in fact an Airedale Terrier named Sandy. You could also consider the appearance of Airedale.  For example, you could consider their coat, which is often thick and wiry, so a name like Shaggy, or Raggy or Scruffy could be another choice. Check out the list below and see if we can inspire you with a special name for your Airedale!
Male Airedale Terrier Dog Names
Votes
Name
Vote
0

Bisto

If your Airedale is dark and delicious

0

Clyde

The name of a Scottish river

0

Conall

Of Gaelic origin meaning strong wolf

0

Dante

Of Latin origin meaning everlasting

0

Dodge

For the playful pooch who likes to run and dodge

0

Fergus

Scottish origin meaning man strength

0

Homer

Of Greek origin, meaning hostage

0

Jig

A lively Irish dance

0

Keats

Inspired by the English poet

0

Lear

Inspired by the famous Shakespearean king

0

Omen

Hopefully your pooch is a good omen

0

Odin

Norse god of wisdom and war

0

Paws

A cute name for your pooch with cute little paws

0

Rags

For your little raggy dog

0

Rio

Spanish origin meaning river

0

Vesta

Of Latin origin; also means asteroid

0

Whelan

Because your pup makes you joyful

0

Ziggy

Of German origin; a form of Sigmund

0

Avery

Avery means elf ruler

0

Beck

Meaning from the brook; of English origin

0

Camelot

Your pooch is as brave as a knight of Camelot

0

Dagwood

Meaning from the bright one's forest

0

Devlin

Irish origin meaning descended from someone who is unlucky

0

Donovan

Irish origin meaning brown black

0

Aristotle

Of Greek origin meaning best

0

Caesar

Inspired by Julius Caesar

0

Da Vinci

Inspired by Italian polymath Leonardo Da Vinci

0

Einstein

Inspired by German theoretical physicist Albert Einstein

-1

Laddie Boy

Inspired by President Harding's Airedale Terrier

-1

Bounty

Inspired by Bounty Hunters for the dog who likes to hunt
Female Airedale Terrier Dog Names
Votes
Name
Vote
1

Brook

English for a small stream

1

Candy

For your very sweet Airedale

1

Dana

The name of an Irish mythical goddess

1

Faith

English origin meaning belief

1

Honey

For your little pooch who is sweet like honey

1

Juno

Roman origin; goddess and protector of women

1

Nell

Of English origin meaning light

1

Trinidad

A beautiful island and name; Trini for short

1

Tilly

Shortened form of the name Matilda

1

Una

A name of Irish origin; means one

0

Elsa

Scandinavian origin and form of Elizabeth

0

Isis

Inspired by the Egyptian goddess of fertility

0

Karma

Because your pooch is your good karma

0

Kali

Indian origin meaning maiden or bud

0

Kerry

An Irish county

0

Lottie

Shorter form for Charlotte

0

Meg

A great female dog name, short form of Margaret

0

Pearl

English origin meaning small bead

0

Skye

Inspired by the Scottish Island the Isle of Skye

0

Zaira

Irish origin and form of Sarah

0

Blythe

Of English origin meaning happy

0

Darby

A cute little name of English origin

0

Diana

Means divine

0

Lark

A kind of songbird

0

Wynn

Of Welsh origin meaning blessed and fair

0

Malika

Arabic origin meaning queen

0

Regina

Of Latin origin meaning queen

0

Sofia

Of Spanish origin meaning wisdom

-1

Shona

A name of Hebrew origin

-2

Bess

The name Bess suggests loyalty
Community Dogs With Airedale Terrier Names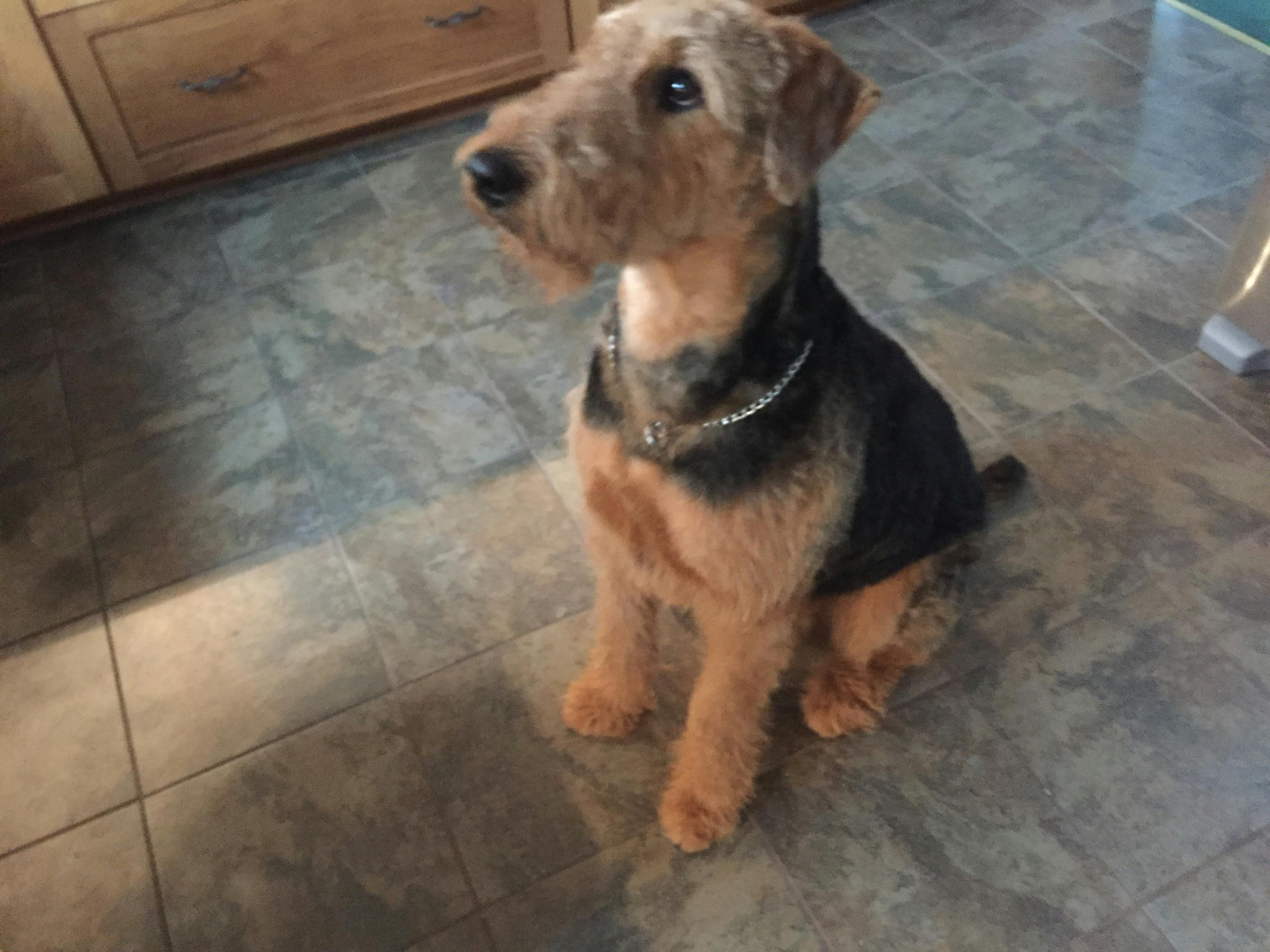 Tabac
Male
Airedale Terrier
Avon Lake, OH
Tabac is a cigar name. My husband loves cigars