Introduction
The Bichon Frise is fun-loving and friendly pooch that thrives in a family environment.  They love playing and they also love cuddles and attention.  Their coats are magnificent, although they require regular grooming.  In French, the name Bichon Frise means fluffy white dog.  There are many similarities between the Bichon and Maltese breeds, although the Maltese appears to be more popular choice with celebrities.  The Bichon Frise is ranked as the 45th most popular dog breed in America.  This poochis so cute and cuddly, who could resist such a thing?  Of course, there is the issue of when you choose a Bichon as your pet, what can you possibly name him or her? 
Bichon Frise Dog Names in Pop Culture
Featured Famous Dog with a Bichon Frise Name
Lucy
The adorable Bichon is a curly-coated wonder.  He is magnificently white and pristine.  The Bichon prances confidently and is a friendly, family orientated dog.  The American Kennel Club have recognized the Bichon Frise breed officially since 1972, and have categorized this canine as being in the toy group because it is a small breed. The Bichon is playful, curious and peppy.  The Bichon makes a great companion and enjoys company, but this delicate pooch can become anxious if left alone as it tends to get attached to its owners. 
The Bichon Frise is simply lovable and there are some celebrities who favor this delightful family pet.  Debbie Reynolds was a recognized Bichon Frise owner, and English actress, Sadie Frost, has two: Rosie and Ringo.   This intelligent breed is said to be trained easily too, which makes things much simpler for the owner. The origin of the Bichon remains a mystery dating back to ancient times.  This breed is thought to have originated in the Mediterranean and is said to have been a favorite of King Henry III, but is it any wonder that this attractive and pristine pooch was in the good graces of a King?
Due to it's eloquent appearance and obedient behavior, the Bichon Frise is often entered into Crufts, a UK canine event and dog show.  This means that the Bichon is popular amongst dog owners who like to showcase their dog.  Crufts appears on British television each year in the United Kingdom, and this breed appears regularly, performing in the show every year.  In 2017, a Bichon Frise named Magic won Best of Breed. 
In the 1990's, a toy named Puppy in my Pocket, was popular with children.  Their depiction of a Bichon Frise was named Buffy.  She sat proudly on a pink pillow.  A card came with each breed giving information including name, agility level, size, and the name of the breed.  Unfortunately, this craze didn't last long! 
The Bichon Frise spotlight dog is Lucy.  Lucy is the name of the Bichon belonging to singer and actress, Christina Aguilera.  Lucy was famously snapped in photographs, draped on Christina's shoulder as she worked the red carpet. Christina and her pooch are said to be close companions, and sources suggest that the Bichon Frise breed tends to get attached to its owner, just as Lucy appears attached to Christina.  The name Lucy is super-cute for your baby girl, Bichon Frise.  The name Lucy actually means bringer of light, and this pooch will certainly light up your life!  
Bichon Frise Name Considerations
Choosing a name for your adorable four-legged friend is an important process, but sometimes it can be daunting.  You, as the owner have a responsibility, but never fear, there is lots of inspiration out there!  Remember to take your time when choosing a forever name for your pet. Luckily, this guide has done some of the hard work for you, but there are some things you might want to consider when choosing a name.  Remember the Bichon is usually white in color.  The color of a breed can influence your choice of name, and another consideration is the fact that the the Bichon has a uniquely fluffy and curly coat.  You may wish to call your Bichon something like Cloud, Fluffy or Angel to reflect their color and coat.  The Bichon also has a wonderful temperament.  It's kind, gentle, and really, really, friendly.  You might want to choose a name to reflect this, so something like Sweetie or Cutie might be more appropriate.  The Bichon loves attention and being petted, so even a name like Cuddles or Teddy may suit your lovable companion.  This breed is also said to be very playful and have bursts of energy, which means that a name like Tinker could also be ideal. 
Male Bichon Frise Dog Names
Votes
Name
Vote
12

Bailey

Deriving from Bailiff; a person who collects on debts

10

Lucky

Lucky is a popular dog's name

9

Prince

Because your Bichon deserves a royal title

7

Peanut

A cute pet name for your toy breed pooch

6

Skittles

For the energetic Bichon who likes games

5

Teddy

If your Bichon is a teddybear who enjoys cuddles

4

Rascal

Meaning your Bichon is a mischievous little tinker

3

Monty

A lovely name for the posh pooch, short for Montrose

3

Gizmo

The good gremlin from the 80's movie Gremlins

2

Polar

Your Bichon is white like a little Polar bear cub

2

Toby

From the medieval name Tobias

2

Doodle

Meaning a roughly sketched drawing

1

Oscar

Oscar represents the friendly Bichon as it means dear friend

0

Chipper

Bichons are known to have a positive outlook

0

Duke

A royal title for a deserving dog

0

Dulce

A Spanish word meaning sweets or candy

0

Zeus

For the Greek God-like Bichon

-2

Peppy

Because the American Kennel Club says the Bichon breed is peppy

-2

Charlie

From the Germanic name Karl, meaning man

-2

Hiccup

For the Bichon that doesn't let life's hiccups hold him back

-2

Cooper

Listed as AKC's 4th most popular dog names of 2016

-3

Ringo

The name of Sadie Frost's male Bichon Frise

-4

Sam

A super simple dog name for your Bichon

-4

Pipsqueak

Because your Bichon is a tiny toy breed

-5

Jack

The AKC lists this in 5th place of their top 10 dog name list of 2016

-6

Nipper

Suitable for the small and quick Bichon

-7

Dorian

Inspired by Oscar Wilde's Gothic novel The Picture of Dorian Gray

-7

Alair

A medieval French name

-8

Titch

Because your Bichon boy is small

-8

Incy

Meaning small like Incy Wincy Spider
Female Bichon Frise Dog Names
Votes
Name
Vote
9

Molly

American Kennel Club voted Molly 6th favorite name in 2016

9

Chloe

A popular and cute dog name

9

Hope

Your Bichon is a positive pooch and is hopeful

8

Angel

Because your Bichon is a gift from heaven

7

Rosie

Inspired by Sadie Frost's Bichon Frise

6

Sweetie

Because your Bichon is simply sweet

6

Zoe

Zoe means life in Greek

5

Princess

Because your Bichon is a pampered princess

3

Tiny

Perfectly cute for your toy-breed Bichon

3

Cutie

A Bichon is a big ball of cuteness

2

Lucy

Inspired by actress and singer Christina Aguilera

2

Maddy

A shortened version of the name Madison

1

Minnie

Deriving from the name Wilhelmina, the word mini means small

1

Cuddles

Because your Bichon loves lots of cuddles

0

Maggie

Number 10 of the top female dog names by AKC in 2016

0

Precious

Precious in Latin means price or worth, your Bichon is precious

-1

Bunny

This tiny toy breed is as cute as a little white bunny

-1

Lady

Your Bichon is a lady; inspired by Disney's Lady and the Tramp

-2

Roxy

Deriving from Roxanne,a cute and cool name for your pooch

-3

Gisele

Cute French name deriving from a German word meaning pledge

-3

Abby

A cute shortened version of the name Abigail

-3

Annie

A cute variation of the name Ann

-4

Heidi

Inspired by the Johanna Spyri novel, 'Heidi' (1880)

-4

Midge

Midge is a great name for this small breed

-4

Lily

A flower that is a symbol of purity

-4

Daisy

Because your perfect pooch is a dainty flower

-6

Daria

Inspired by 3rd century woman Saint Daria

-8

Girly

Your little Bichon girl is a girly girl

-11

Twiggy

Inspired by the English model Lesley Lawson, nicknamed Twiggy

-12

Sammy

Inspired by singer Barbra Striesand's Bichon
Community Dogs with Bichon Frise Names
Munchkin
Male
Bichon Frise
Waynesboro, PA
He was named foe his size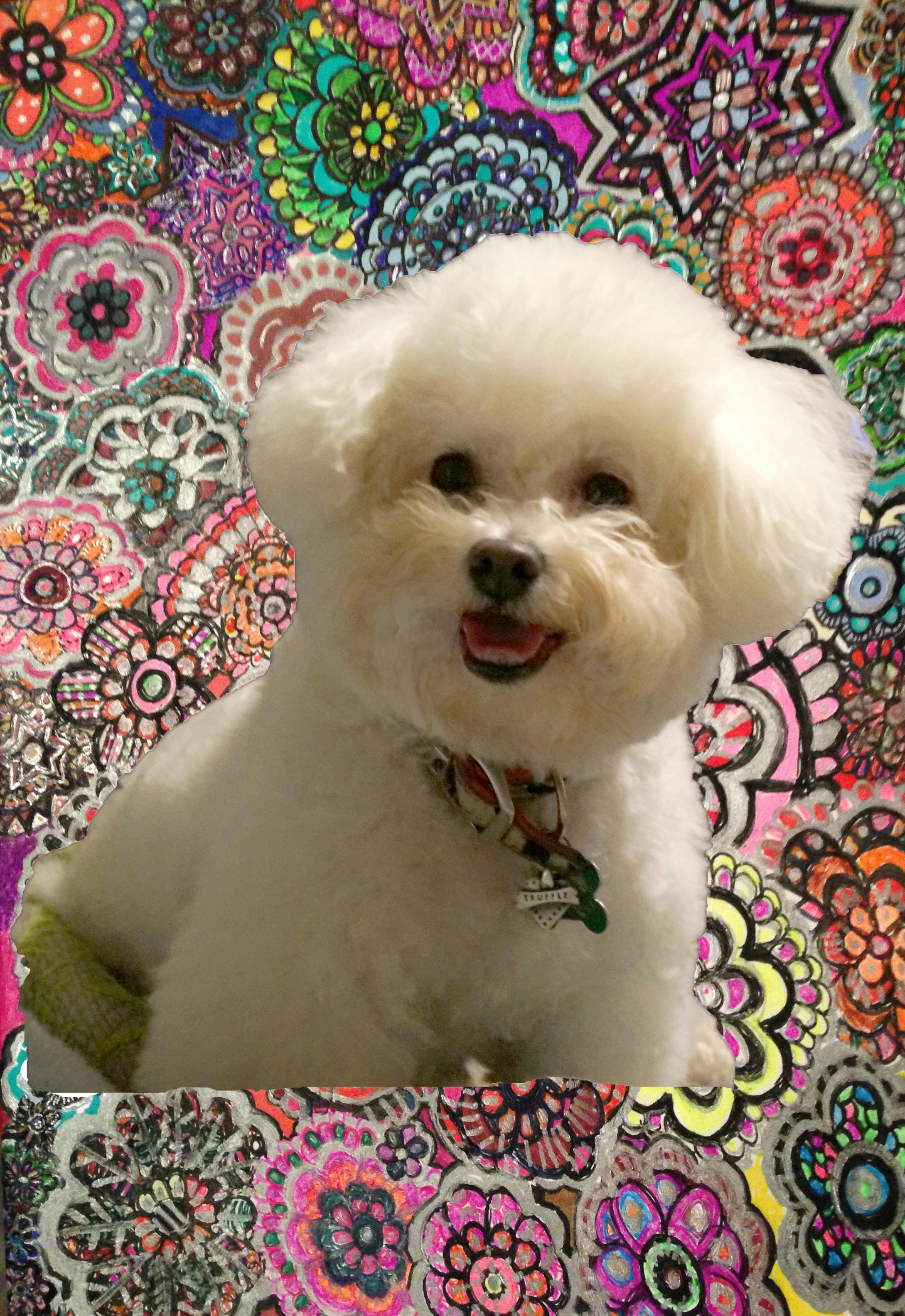 Truffle
Male
Bichon Frise
Chicago, IL
Personality
Humorous
Persistent
Smart
Sweet
Philospher
Willful
Sweet like a whie Truffle candy. Exotic like a wild mushroom.
Mojo
Male
Bichon Frise
Auburn, MA
my daughter was in hospital and the bichon was a welcome home gift. he has been such an assest to our family. we all love him Bilinda (i don't have a dog, but this is what i would name her)
Female
Bichon Frise
Boston, MA
Personality
Shy
Playful
Happy
fun
Well, since I don't have a dog yet... Bilinda is an unusual name for dog.
Rufus
Male
Bichon Frise
Ann Arbor, MI
my father told story's of a dog named rufus who went around fighting danger
Ozzo
Male
Bichon Frise
Nashville, TN
Personality
Spastic, happy, grumpy when wet or tired
We actually didn't name him a previous owner did but it felt natural because whenever you saw him u just had to say "ozzo Ozzie fuzz ball" cause he was the fluffiest mess you had ever seen but was so incredibly sweet and happy!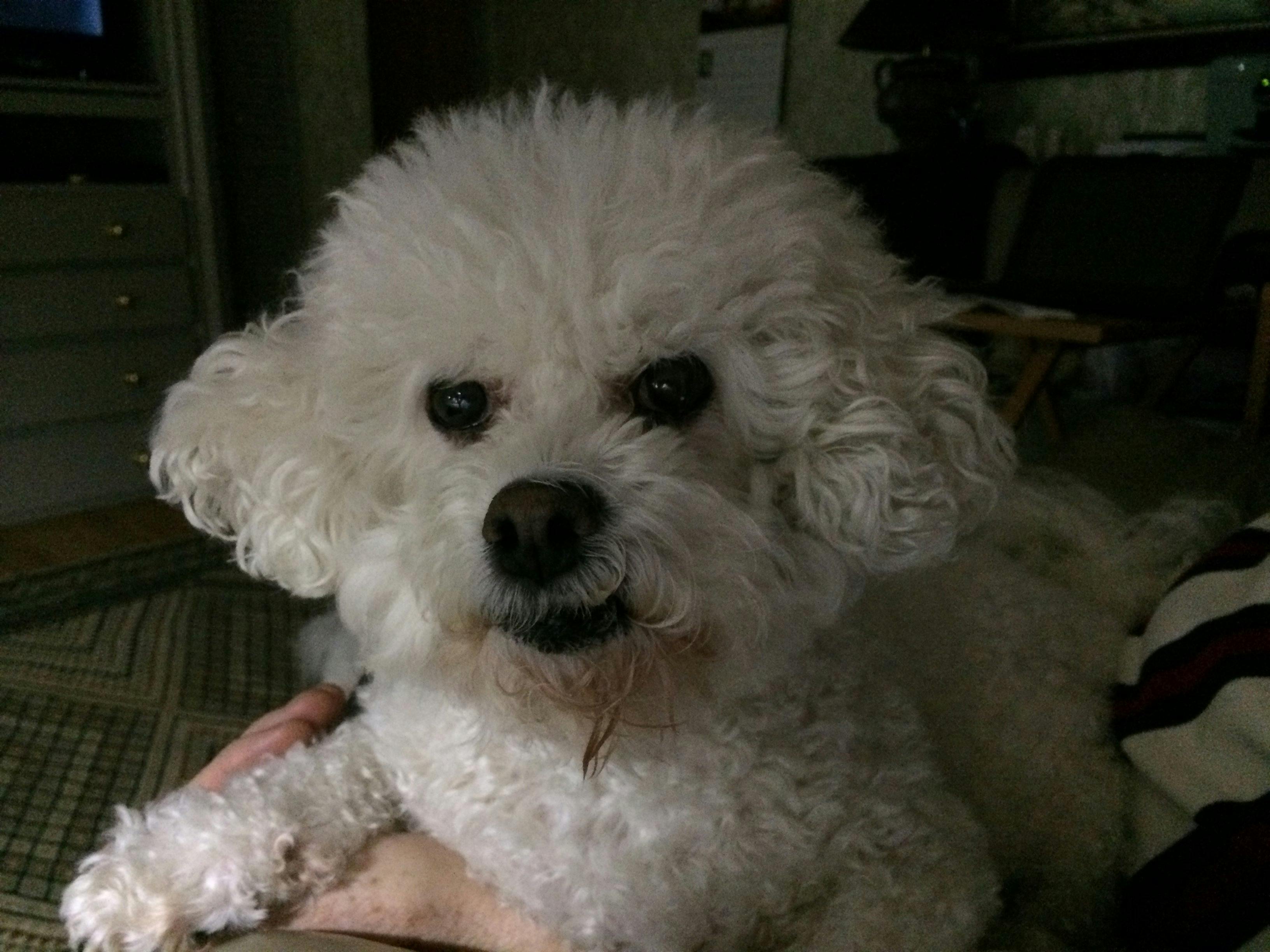 Puffy
Female
Bichon Frise
Morristown, TN
Named after a winner in a national dog show named' Puff n' Stuff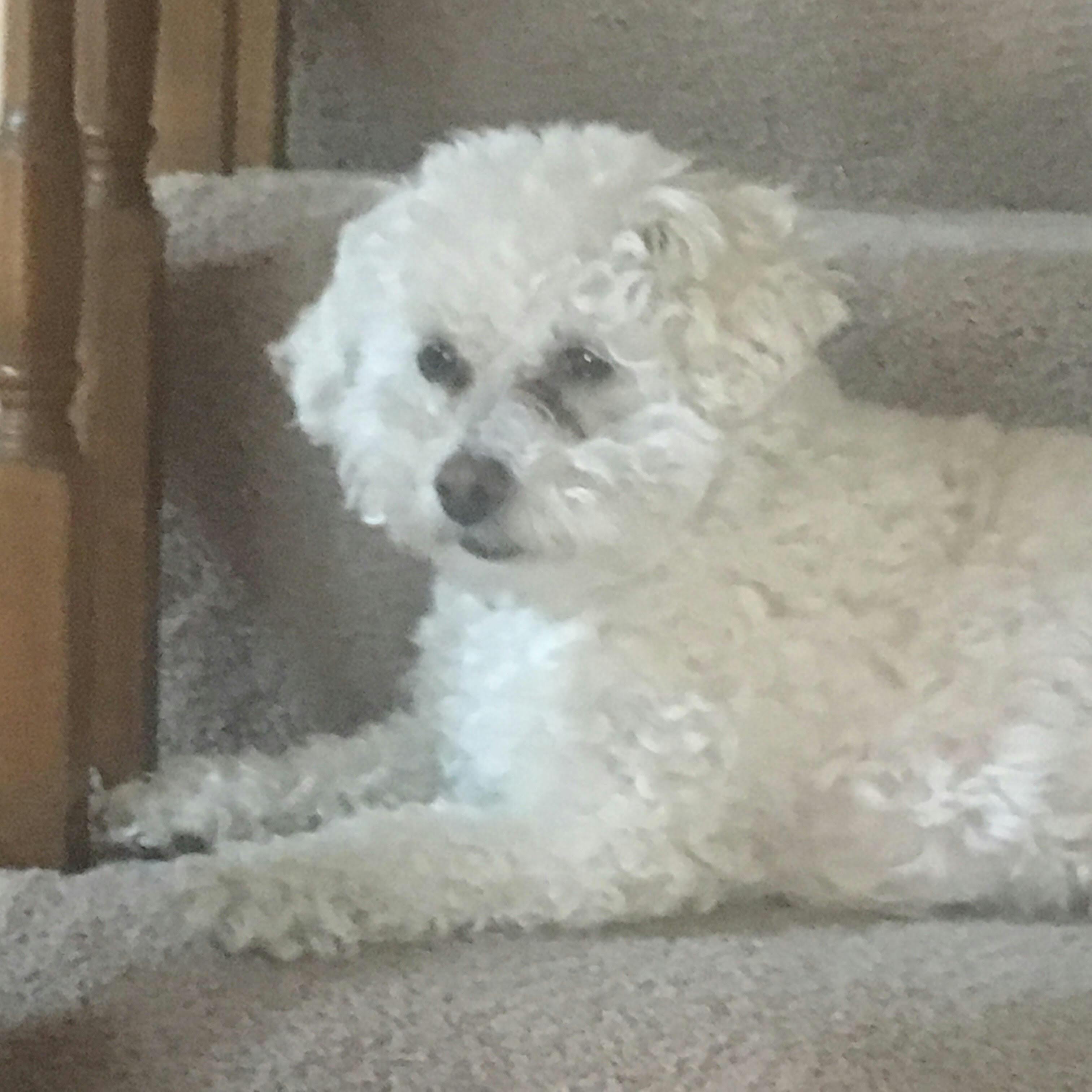 Tinker belle (we call her belle)
Female
Bichon Frise
Littleton, CO
Shelter had her named Tinkerbell. Didn't likker so we call her Belle (like Beauty and the Beast Belle). She's a sweet but tough little and brave dog.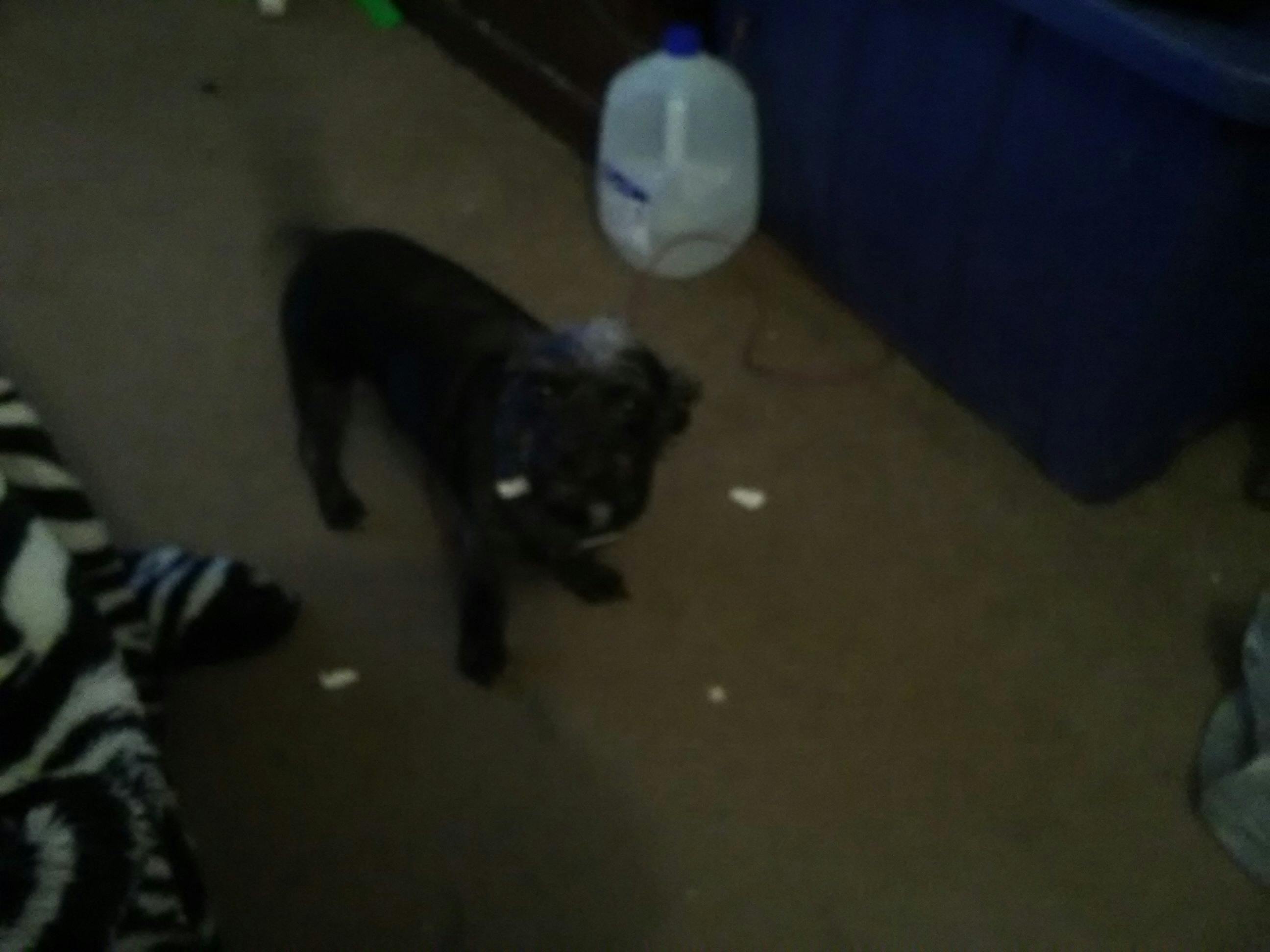 Onyx
Male
Chihuahua
Watkins Glen, NY
He was pure black with a white strip on his chest as a puppy, he reminded me of the black onyx stone.
Pip
Female
Bichon Frise
Toronto, OH
Personality
Energetic
Playful
Persistent
Stubborn
Surprisingly fearless
Smart
Kind
Me and my brother had no idea what to call her until we realized that she was the runt, making her look like a pipsqueak. But that was too long and a little hard to say so we shortened it to Pip.
Rikki
Female
American Eskimo
Austin, CO
Personality
Fun, playful, loving
My mom looked at him and said he looks like a Rikki.