Introduction
If you've recently welcomed a tabby cat into your life, it's time to find the right name for your distinctive kitty! The term tabby doesn't refer to a specific breed, but to a fur pattern found in felines. The pattern, which can appear as stripes, whorls, spots, or patches, is present in various cat breeds. 
Regardless of breed or pattern, all tabbies sport a distinctive 'M' on their forehead. According to Christian folklore, mother Mary left this 'M' on the forehead of a tabby cat who had comforted baby Jesus in his manger. Another story talks about a tabby cat who had saved the prophet Mohammed from a poisonous snake and, as a reward, all tabbies were marked with an 'M'.
Whatever the origin of the your tabby's signature marking, one thing's for sure—with different coat patterns and colors, tabbies are as unique and as beautiful as they come! 
Tabby Cat Names in Pop Culture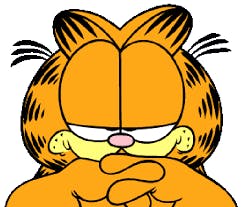 Featured Famous Tabby Cat
Garfield
Garfield is, without a doubt, one of the most famous tabby cats of all time. The sarcastic, lasagna-loving, orange ball of fluff has been entertaining audiences since his first comic strip appearance in June of 1978. 
Portrayed as a feline couch potato with a bit of extra weight, Garfield was born in the kitchen of an Italian restaurant and sold to a pet shop due to his huge appetite for pasta. He was eventually brought home by the socially awkward Jon Arbuckle, who had to choose between Garfield, an iguana, and a pet rock the day he visited the pet store. Over the years, readers have followed the anthropomorphic feline's adventures as he watches TV on the couch, is ridiculed by his electronic talking scale, goes through internal monologues, and makes fun of Jon and the house dog, Odie. 
Of course, the orange tabby is rarely seen without a box of lasagna nearby, as the cheesy pasta dish has been his favorite food since he was a kitten—so much so that he orders an average of 50 boxes of lasagna a week, and even more on his birthday! Garfield also enjoys most other foods, and he often tries to sneak a few bites of Jon's meals when Jon is not looking.
So how did Garfield get his name? One might think that he is named after James Abram Garfield, the 20th president of the United States. But creator Jim Davis actually named the rotund feline after his grandfather, James A. Garfield Davis, whom he described as "a large cantankerous man". 
In addition to being the star of a long-running comic strip, Garfield has also been the subject of several books, animated series, TV specials, films, and video games. His first book, Garfield at Large, came out in 1980 and stayed at the top spot of The New York Times best sellers list for almost 2 years. In 2002, Guinness World Records recognized Garfield as the world's most widely syndicated comic strip, appearing in 2,570 newspapers across the globe. 
While it has been decades since Garfield's debut, the cynical tabby's "pawpularity" shows no signs of slowing down. The comic strip continues to be written to this day, and it is reported that Garfield merchandise makes $750 million to $1 billion annually. Every year, the ginger feline is celebrated on June 19, which has been declared National Garfield the Cat Day.
Not bad for a cat who would rather eat and sleep than chase mice!
Tabby Cat Name Considerations
Since tabbies come in a variety of breeds and fur patterns, it can be helpful to consider your cat's unique personality and appearance when choosing a name for them. For example, if your feline companion is brimming with energy, you might want to name them Comet. On the other hand, Pax would be more suited for a cat who prefers to lounge around. 
If you're picking a name based on appearance, look at your cat's coat color. The moniker Midnight works well for a tabby with dark fur, while Pearl would be "pawfect" for a light-colored cat. You can also draw inspiration from your pet's markings—for instance, does the pattern look like a tiger's stripes or marble cake?
There are also some famous tabbies and famous people who have cared for them that may be just the right fit for your furry "furiend". Get to know your cat and take your time in finding the right name for them. Below are several tabby cat name suggestions to get you started!
Votes
Name
Vote
0

Garfield

If your cat is also a funny, food-loving little loafer, then why not name them after this famous ginger tabby?

0

Nermal

Nermal is the "purrfect" choice for a cat who is cute and mischievous, like Garfield's frenemy.

0

Lasagna

If you have a penchant for food-themed names, consider Garfield's favorite food.

0

Boots

Does your tabby have eyes you can't say no to, just like Shrek's adorable friend Puss in Boots?

0

Gingy

If your cat has a beautiful ginger coat, then you might want to name them after Gingy, another "furbulous" feline from Shrek.

0

Mack

A Scottish or Irish name meaning "son of", Mack makes a good name for a male mackerel tabby.

0

Samuel

A Hebrew name which means "told by God", Samuel is the real name of writer Mark Twain, who once cared for 19 cats.

0

Finn

This Irish name meaning "fair or white" is also a homage to the feline-obsessed Mark Twain.

0

Sawyer

Another tip of the hat to Mark Twain, Sawyer means "woodcutter" and would suit a brown or gray tabby.

0

Stubbs

For a "pawlitically" ambitious feline, name them after Stubbs, an orange tabby who served as the honorary mayor of Talkeetna, Alaska, for 20 years.

0

Cheshire

Suited for a grinning feline like the one from Alice's Adventures in Wonderland.?

0

Freddie

A homage to the late Queen frontman, who was a doting dad to his beloved cats.

0

Tarvo

A Finnish name that means "energy", Tarvo is a great name for a playful, energetic tabby.

0

Earl Grey

A cute, yet regal-sounding name for a tabby cat with a dark coat.

0

Aydin

An excellent choice for a smart kitty, as this Turkish name means "intelligent".

0

Bly

Is your cat a social butterfly? Then Bly, which means "friendly", would be "purrfect" for them.

0

Regis

For a feline companion who is the king of the house, call them Regis, a French name meaning "kingly".

0

Cheetah

This would make a wonderful name for a spotted tabby. Bonus if they're also quick on their feet!

0

Jasper

This Persian name means "bringer of treasure" and is a top choice for that special feline in your life.

0

Obi

A name of African origin meaning "heart", Obi is suited for an affectionate tabby who loves to snuggle.

0

Shadow

A simple yet mysterious name for a dark-colored tabby.

0

Archer

This modern name means "bowman" and is fitting for an adventurous cat.

0

Philemon

Greek for "kiss", this name is ideal for a cat who always wants to be on your lap.

0

Dillon

An Irish name meaning "loyal", Dillon is a beautiful moniker for your steadfast feline companion.

0

Tigger

A cute name for your bouncy little tiger.

0

Lionel

This Latin name means "young lion" and would especially suit a long-haired tabby cat.

0

Alard

Uncommon, yet easy to pronounce, this German name means "noble" and "steadfast".

0

Nacho

Just like the Mexican dish, this name is fun and appealing.

0

Ash

Short and sweet. You can't go wrong with this name for a gray tabby!

0

Khalil

Khalil means "friend" in Arabic, and is definitely a wonderful choice for your feline BFF.
Votes
Name
Vote
0

Maureen

An Irish name meaning "star of the sea", Maureen can also be shortened to Mau, which is the Egyptian word for "cat".

0

Sweet Pea

Is your female tabby super sweet and affectionate? Then this just might be the moniker for her!

0

Patch

An adorable and fitting name for a patched tabby.

0

Marble

If your cat's fur is reminiscent of marble cake, then consider this cute descriptive name.

0

Momo

The Japanese word for "peach", Momo would make a lovely name for a female tabby cat who is pretty as a peach.

0

Betty

An homage to Golden Girls star Betty White, whose love for animals began with an orange tabby cat named Toby.

0

Lincoln

If you're a fan of boy names for girls, then name your feline after Abraham Lincoln, who was the first US president to bring cats to the White House.

0

Nightingale

This beautiful name pays tribute to the famous Florence Nightingale who also provided a home for more than 60 felines throughout her life.

0

Pumpkin

A cute vegetable-inspired name for your favorite orange tabby.

0

Leona

A charming name for the little lioness in your life.

0

Brylie

This modern, uncommon name would suit a stylish city cat well.

0

Sage

A Latin name meaning "wise", Sage is an ideal name for a smart feline companion.

0

Lennon

Does your cat like being cuddled? Then call them Lennon, which means "lover" in Irish.

0

Daisy

Choose this flower name for a tabby who is fresh and energetic.

0

Bronte

A homage to the Bronte sisters, who shared a love of cats and featured them in many of their writings.

0

Reina

For the feline who reigns supreme, call them the Spanish word for "queen". Alternate spellings include Raina and Reyna.

0

Honey Bee

This moniker is best suited for a striped tabby who is active and curious.

0

Bowie

A Scottish name meaning "blond", Bowie is a great choice for a tabby with light fur.

0

Juliet

Originating in the Middle Ages, this classic name has stood the test of time and is still lovely today.

0

Sesame

If you're looking for something uncommon but familiar, consider this seed-inspired name for a brown tabby..

0

Dot

The diminutive form of Dorothy, Dot means "gift of God" and would make a nice name for a spotted tabby cat.

0

Storm

Ideal for a tabby with dark fur.

0

Viatrix

A Latin name meaning "voyager", for the feline who's always looking for adventure.

0

Sumi

For the kitty who is spoiled, name them Sumi, which means "elegant" or "refined" in Japanese.

0

Misty

Suited for a tabby with a gray coat or markings.

0

Ellie

An English name meaning "bright shining one". For the light-colored tabby who brightens up your days.

0

Tru

A short but pretty name for the feline companion who's always by your side.

0

Dash

An energetic name for a tabby who can often be found running, jumping, and climbing things.

0

Serenity

This Latin name, which means "peaceful", is ideal for a cat who's pretty chill and laid-back.

0

Saffron

This spice-inspired name would be great for an orange tabby.
Dog Name Stories