Introduction
If you have a new pooch and haven't chosen a name yet, then this guide might just be what you are looking for.  This name guide will explore the best dog names that end in 'ley'.  Using the 'ley' suffix can make a name sound quite cute and sweet.  Maybe you have other dogs and their names also end in 'ley', so you want to follow the same pattern with your new companion!  Many celebrities have named their pooch with a moniker that ends in 'ley', and if you have narrowed your choice down to a name that has this ending, read on for inspiration!     
Dog Names Ending in 'ley' in Pop Culture
Featured Famous Dog With a Name Ending in 'ley'
Beasley
In popular culture there are many dog names that end in 'ley'.  Celebrities have also embraced the 'ley' ending when choosing a name, for instance, Hilary Duff's sister, Hailey, had a Pomeranian named Bentley and a Golden Retriever named Brinkley, stars in the movie You've Got Mail.  We can't forget Dick Dastardly's dog, the famous animated dog from the Wacky Races, Muttley. 
The dog in the spotlight for this guide, is Beasley.  Beasley is an acting dog who plays the role of Hooch, in the 1980's movie, Turner and Hooch.  Hooch is the lovable, yet destructive Dogue de Bordeaux that belongs to Turner's friend, Amos.  Amos is murdered because of a crime he has been investigating and is about to crack. 
Hooch is a messy, beer-drinking pooch that drools a lot, so needless to say, Tom Hank's character, Scott Turner, has his hands full.  He is affected by the death of his owner and shows this by being off his food and by behaving destructively.  Hooch is very brave and loyal.  He saves Turner's life, resulting in Hooch being shot.  It's an emotional race against time to save his life! 
The Dogue de Bordeaux breed is known for being courageous, loyal and affectionate.  It is also presently ranked as the 63rd most popular dog breed by American Kennel Club.  This breed is not particularly active; however, they do need to be socialized from an early stage, or destructive behaviors can occur.  When socialized appropriately this breed makes a perfect pet! 
If your pooch is brave and loyal, you may want take inspiration from Beasley, the Dogue de Bordeaux.  Beasley only ever took part in this one movie, and sadly, he died in 1992.  If you feel inspired by Beasley, it's a great way to honor this fantastically cute and heroic Dogue de Bordeaux. 
There is also the beloved Labrador Retriever, Marley, from the 2008 movie Marley and Me.  Marley is a cheeky and spirited dog who is very loving and family oriented.  This movie will make you laugh, but also cry; it's an emotional rollercoaster film. 
Choosing a name for our four-legged companions is never easy, but there is plenty of inspiration to help us decide.  Names that end in 'ley' are a great place to start, so make sure you read the guide for more information and motivation! 
Dog Name Ending in 'ley' Considerations
There are things to consider when thinking about dog names that end in 'ley'.  We could consider size for instance, the larger dogs might be named Burley or Beasley, whereas the smaller dogs could be Harley or Ryley. 
There are plenty of cute dog names to consider, Wesley, Ceciley, or maybe Lilley after a delicate and pretty flower.  Maybe your dog is pretty and deserves a pretty name like Joley.  We might also feel inspired by celebrities like Marley, or Bentley.  We are often inspired by the breed or the coat color of our dogs.  If you have an Irish pooch or a dark colored pooch, you might consider the name Dooley, which derives from Irish Gaelic and means dark hero.  Sometimes we are inspired by the texture of a dog's coat, for example a Bichon Frise has a curly coat, so we could be inspired to name our dog, Curley.  
Choose your forever name wisely!  Take your time and note down a few that you like the sound of.  You can then compare the names on your list and pick your best from that.  Choosing the name for your dog can be as daunting as naming a child, so take a deep breath and look at the list below for the top 30 'ley' girl's names and boys names for inspiration. 
Male Dog Names Ending in 'ley'
Votes
Name
Vote
9

Bentley

The 'ley' named dog belonging to Hilary Duff's sister, Hailey

7

Wesley

Wesley can be shortened to the name Wes

5

Kingsley

Deriving from Old English meaning Kings clearing

4

Marley

Inspired by movie Marley and Me

4

Beasley

The lovable actor Dogue de Bordeaux pooch who plays Hooch

3

Stanley

Explorer Sir Henry Morton Stanley found David Livingstone in Africa

2

Curley

Old English meaning strong man

2

Barkley

Inspired by the word bark for the dog that likes to say woof

2

Oakley

Traditionally a surname meaning oak clearing

2

Huntley

Means meadow of the hunter

2

Farley

Inspired by Old English Sheepdog in comic strip Better or Worse

2

Harley

Means of the hare meadow

1

Burley

Light-colored tobacco grown in Kentucky; can also mean strong

0

Knightley

For the brave pooch who is your knight in shining armor

0

Charley

Deriving from the name Charles

0

Atley

The word atley means meadow

0

Dooley

Irish Gaelic word meaning dark hero

0

Langley

Means long meadow

0

Berkley

Inspired by the town in California

0

Zarley

A unique name that is not common, meaning golden

0

Dudley

A British noble family or a character surname from Harry Potter

0

Bailey

A middle-English surname meaning bailiff

-1

Radley

Inspired by designer Radley who uses a dog symbol on its branding

-1

Muttley

Dick Dastardley's pooch in The Wacky Races animated TV show

-1

Hadley

Meaning heather field

-1

Brinkley

Inspired by the Golden Retriever from Romantic movie You've Got Mail

-2

Riley

Inspired by an Irish last name

-2

Huxley

Inspired by author Aldous Huxley (1894-1963)

-3

Yardley

Originally a habitual surname for someone who lived in Yardley

-4

Bradley

The word brad is said to derive from the word broad
Female Dog Names Ending in 'ley'
Votes
Name
Vote
7

Brinley

Feminine word brin means burnt

6

Polley

Taken from poli, which is French for polite

5

Nelley

Deriving from the Italian name Nelli

5

Aemiley

A form of the name Emily

4

Charley

Derived from the name Charlene

4

Tilley

Meaning mighty in battle

4

Paisley

A Scottish surname; means church in latin

3

Rowley

The name of Princess Margaret of England's beloved pooch

3

Barley

Small grains that can be added to soup

2

Rosaley

Another form of the name Rose

2

Eiley

Scottish Gaelic word; a form of Eilidh

2

Ceciley

From the name Celia that was common in the middle ages

2

Presley

As in the king of rock and roll

2

Bayley

Variant of the name Bailey

1

Sisley

A skin care company in France

1

Ridley

Another last name deriving from the word reed

1

Miley

Inspired by dog lover Miley Cyrus

0

Lesley

Means holly garden in Scottish Gaelic

0

Joley

As in jolie, which means pretty in French

0

Fernley

Old English meaning meadow of ferns

0

Amberley

A cute name for your pooch deriving from Amber

-2

Ryley

A form of the name Riley

-2

Calley

Greek word meaning beautiful flower

-2

Halley

The word hall derives from the meaning large house

-2

Alley

Name of Scandinavian origin

-2

Ripley

Ripley is often used as a last name

-3

Liveley

Inspired by the surname of dog-lover Blake Lively

-3

Magaley

Deriving from French and Greek words meaning pearl

-3

Lilley

Inspired by the flower lily, can be a last name

-4

Valley

A low spot in the landscape
Community Dogs with Names Ending in 'ley'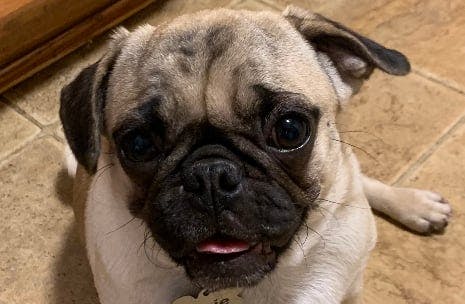 Archley
Male
Pug
Mexico Beach, FL