Introduction
If you are thinking about getting an English Springer Spaniel, you are indeed very lucky.  These dogs have lots of energy, so they require your time and attention, however, you couldn't have a more loyal four-legged friend.  The American Kennel Club indicates that this breed is friendly, obedient, and playful, and these are certainly personality traits of the English Springer.  They make very handsome pets with their large floppy ears and kind expressions with their dark, trusting eyes.  Name inspiration for the English Springer Spaniel can be drawn from the appearance or history of the breed, but if you're not quite sure what to name your new addition and need ideas, you should certainly read on.

Book First Walk Free!
English Springer Spaniel Dog Names in Pop Culture
Featured Famous English Springer Spaniel
Theo
As this breed is ranked as the 26th most popular breed in America by the American Kennel Club, it's no surprise that an English Springer once lived in the White House.  President George W. Bush owned an English Springer Spaniel named Spot 'Spotty' Fetcher, inspired by former Texas Ranger's baseball player, Scott Fletcher. This is a fantastic name for a pooch, and it's certainly one that sticks in the mind if you want an unusual name.
English Springer Spaniel, Theo, is a true embodiment of how hard working, loyal and loving this breed can be.  As a working dog for the British Army, Theo and his handler, Lance Corporal Liam Tasker, worked together tirelessly locating bombs in Afghanistan as part of their first tour.  Tasker had transferred to the Royal Army Veterinary Corps in 2007, and was assigned to the 1st Military Dog Regiment.  Theo was the third dog assigned to Tasker as the first two didn't work out.  Sources say that the duo were well-matched, and they were a very successful team during their 5 month tour and located a record number of bombs.
Due to their success their stay was extended by a month, and it was then, when on Patrol with 1st Battalion Irish Guards, that they found themselves under fire by Taliban forces, and a sniper killed Theo's handler.  Troops took Theo back to base, but he suffered a major seizure and died, just hours after his team mate.  Autopsy reports were inconclusive, but sources suggest that it was the trauma and stress of his handler's murder that caused his deadly seizure.
In October 2012, Theo was awarded the Dickin Medal to honor his service.  The Dickin Medal is awarded to heroes and is said to be the animal equivalent of the Victoria Cross.  The ceremony actually ran at the same time as the launch of the poppy appeal for that year, which is of course very fitting.  It was accepted by a fellow sergeant and his detection dog, Grace.   
This clever breed appears in an animated children's TV show, too.  Midnight Patrol: Adventures in the Dream Zone, is a series of stories about an English Springer Spaniel named Potsworth who patrols dreamland with four children who have special powers. 
English Springer Spaniel Dog Name Considerations
There are lots of considerations to think about when choosing a name for your English Springer Spaniel.  Coat color is one consideration to make.  A name like Ginger, Rusty or Sandy could be a good choice.  Often the English Springer is more than one color, so Patch could be a suitable name, as is a name like Spot or Spotty.  This breed typically has high energy levels and because of this fun trait names like Bullet, Jolt and Rocket could be strong contenders.  This gorgeous canine is also a beautiful breed; a name like Precious or Duchess could be inspired by their looks. 
If you are inspired by the bravery of the featured famous English Springer Spaniel, Theo could be just the name to choose. A military name like Major, Sergeant, or Corporal would be great for the confident canine that likes to lead. 
If you still haven't found the perfect name for your pooch, you should check out the lists below.  Why not make your own lists of the ones you like and then you can go back to them later?  You might also want to show your favorite names to family and friends as they could help you to decide.  It's important to choose a forever name carefully and ensure it suits your dog.  Why not call out the title you like to your pet and see if they respond?   
Male English Springer Spaniel Dog Names
Votes
Name
Vote
6

Cooper

English surname meaning barrel maker

6

Theo

A Springer who sniffed out bombs in Afghanistan for the British army

5

Oscar

From Irish origin meaning deer lover

4

Fletcher

Of English origin meaning arrow maker

4

Dash

For the Springer who likes to dash around

2

Archie

Of Germanic origin from the name Archibald

2

Rocket

For the pooch that is as fast as a rocket

2

Jolt

For the dog that moves fast and suddenly

2

Bullet

For the pooch that is faster than a speeding bullet

1

Sherlock

Inspired by the English detective

1

Gunther

Of German origin meaning war army

0

Jinx

For the dog whose luck is about to change

0

Tracker

For the Springer who is good at tracking and agility

0

Magnum

From Latin origin meaning big

0

Spot

Inspired by George W. Bush's Springer Spaniel

-1

Ezra

Of Hebrew origin meaning help

-1

Forest

Of English origin meaning from the woods

-2

Patch

Amercian origin meaning noble

-2

Flint

A large rock and type of quartz that can strike a fire with steel

-2

Chisholm

Of Scottish origin originally meaning person from Chisholm

-2

Caius

Of Latin origin meaning person of earth

-2

Bracken

A bracken is a large, coarse, fern

-2

Boscoe

For people who love tranquility and comfort

-3

Pax

Of Latin origin meaning peace

-3

Ben

A shortened form of the name Benedict or Benjamin

-3

Vault

For the pooch who can leap like a horse

-3

Sydney

The name Sydney is of French origin

-3

Potsworth

Inspired by the Springer in animated series Midnight Patrol

-4

Wolf

An ideal name for the canine who likes to howl

-5

Swift

For the quick and nimble pooch
Female English Springer Spaniel Dog Names
Votes
Name
Vote
5

Willow

Inspired by the willow tree for the pup who loves the outdoors

3

Ruby

For the pup that is your precious jewel; or possibly color inspired

3

Lucy

Of English origin meaning light

3

Lady

Inspired by Lady and the Tramp

3

Molly

Of English origin meaning of the sea

3

Maggie

Means pearl; of English origin

2

Duchess

Because your pooch is royalty

2

Sandy

A great name for the pup who loves the beach

2

Zest

For the dog that has a zest for life

2

Lacey

Coming from the word Lassey

1

Honey

Of American origin for the dog that's really sweet

1

Precious

Because your new addition is precious

1

Coco

For the pooch that is sweet like chocolate

1

Pepper

Of American origin meaning hot spice

1

Matilda

Of English origin meaning strength in battle

0

Kishi

Of native American origin meaning night

0

Whisper

For the quiet canine

0

Suzy

Of English origin coming from the name Susan

0

Spice

A fragrant powder used to flavor food

0

Mesa

A plateau on the hill

0

Katie

Of English origin meaning pure

0

Charlotte

Of English origin meaning free

0

Cassie

Shorter form of Cassandra

0

Annie

Of Hebrew origin meaning prayer

0

Abigail

A hebrew name meaning joy of the father

-1

Leah

From the Hebrew word for weary

-2

Baby

Because your Springer is your baby

-2

Daisy

Of American origin inspired by the daisy flower

-2

Harriet

Means home ruler; origin English

-2

Gillie

In Scottish Gaelic gillie means helper
Community Dogs With English Springer Spaniel Names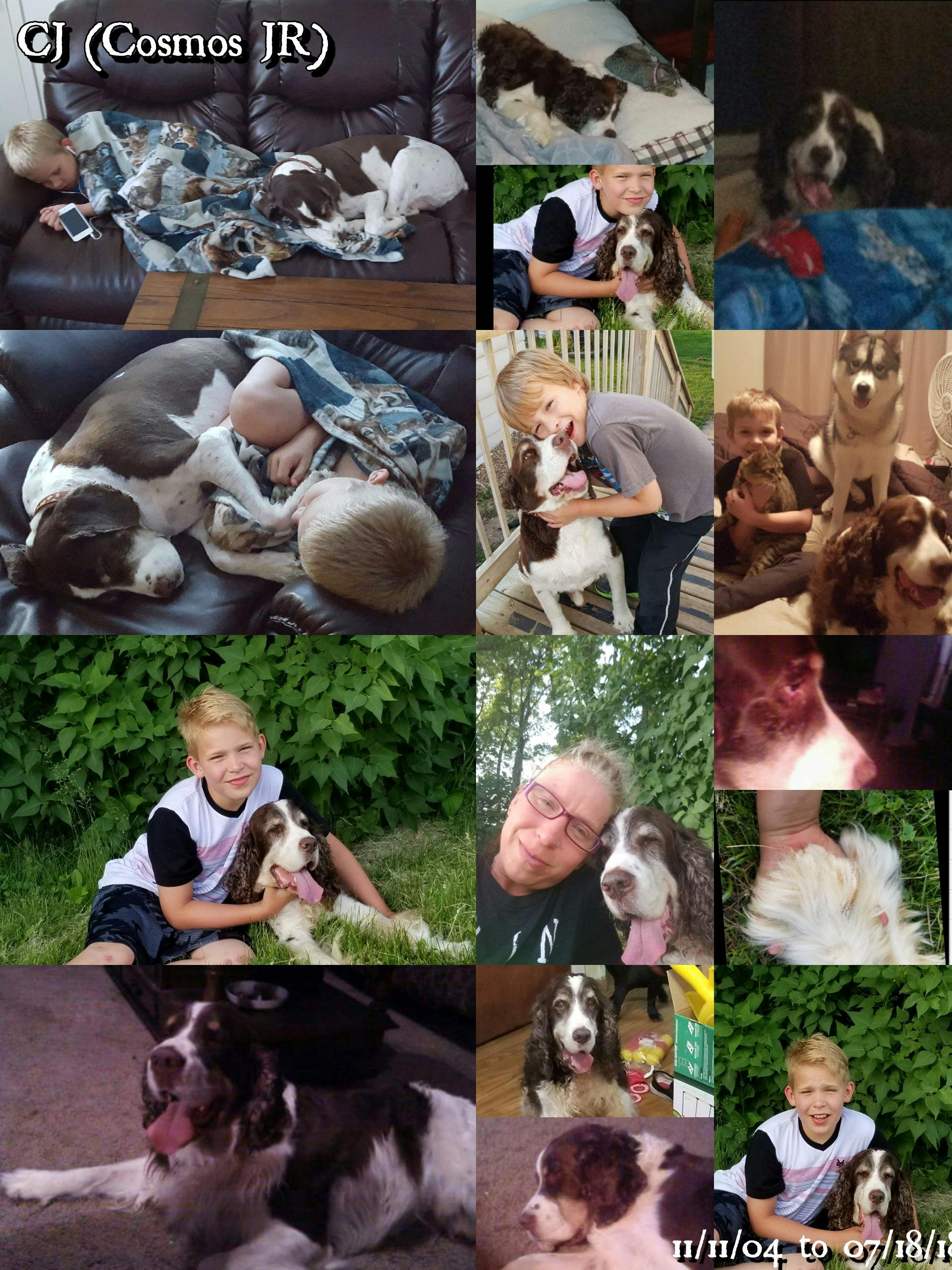 Cosmos jr
Male
English Springer Spaniel
Brandon, IA
Personality
Familial
Outgoing
Loving
My ex husband had a dog named Cosmos. Cosmos was 17 years old when he passed away. My ex was so heart broken. I found a English Springer Spaniel that was liver and white which ended up being liver tri. My ex picked him out and was going to name him Cosmos Jr or Draco. After thinking about it he named him Cosmos Jr. Which became CJ and a nickname of new new b. I was pregnant with my oldest at the time. When my oldest was born and we came home from the hospital he because his protector and best friend. He loved all kids and didn't mind the ear pulling or climbing on him. CJ was family not a dog. In July we had to put him down. Was the hardest day of my life to have to say goodbye to my big baby.
Buttercup
Female
English Springer Spaniel
Millsboro, DE
My family and I have to cats Reece and Peanut so buttercup seemed to fit perfecty!