Introduction
Fairy Tail is a Japanese manga that was created by Hiro Mashima and first printed in August, 2006. This extremely long series had 545 chapters to it's name and ran from August 2, 2006 to July 26, 2017. The plot follows the interesting experiences of Lucy Heartfilia, a sassy blonde girl who can bond with Celestial spirits, and the friends that she makes through a rowdy guild known as Fairy Tail. Primarily, the story shows Lucy teaming up with one guild member in particular from the very beginning, Natsu Dragneel, who is searching for his dragon father. While it may seem like a simple (if not slightly strange) storyline, Fairy Tail doesn't have 545 chapters for no reason! This extensive manga is full of interesting characters, plot twists, and some serious cliff hangers- not to mention a ton of great names to choose from if you are seeking a unique title for your dog.
Fairy Tail Dog Names in Pop Culture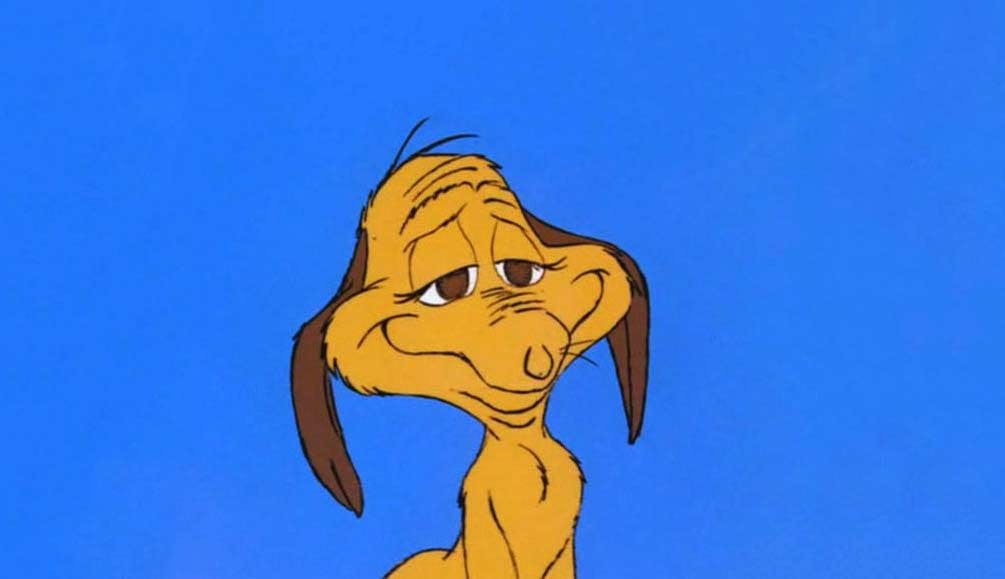 Featured Famous Dog With a Fairy Tail Name
Max
For our spotlight dog, we are turning to another popular book and  cartoon duo. Max the dog is the loyal and ever so under-appreciated companion of the Grinch in Dr.Suess's story "How the Grinch Stole Christmas". While the Grinch tends to steal the show and the spotlight throughout the entire story, Max is never far behind and puts up with everything the Grinch throws at him. He deals with being grumped at, sneered at, and even having a tree branch tied to his head. But despite all that, Max stays faithful to the Grinch. And you know why? Because he is a great example of man's best friend (even if that man is green)!
In the story, it is never mentioned how the Grinch became Max's master, or why he even chose to have a pet at all. The Christmas hating fellow certainly doesn't seem like the type to care for an animal. However, regardless of what the reason may be for Max coming into the Grinch's life, it is very obvious that the Grinch gets a lot more from his dog than Max gets from his owner. Besides being turned into a makeshift reindeer to accompany the fake Santa, Max also must pull the large sled himself, and deal with a constant barrage of insults and mockery from the Grinch. Us as viewers tend to feel bad for Max,  but he doesn't seem to mind and continues to stick around for the Grinch's sake.  
Based on the information from Humane Hollywood, we learn that Max is a mixed-breed, otherwise known as a mutt. In the Jim Carey version of "How the Grinch Stole Christmas" (which was released in the year 2000) Max was actually played by six different dogs who were all touched up to look the same. This was done so that Max's personality could be matched best, as each of the dogs had different personalities that excelled best in varying areas. This film did a great job of bringing life to Max's character and showing just how much he actually means to the Grinch, once the green menace actually realizes he has a heart.  Despite all of the rough things Max has to put up with, in the end it's all worth it. And although we still don't know how the Grinch actually got his dog, it seems like Max has the very important purpose of keeping the Grinch from going completely looney from his solitude. 
Fairy Tail Dog Name Considerations
For those who are an anime and manga fan, a Fairy Tail-themed name may be the perfect choice for your pup. The vast character list that is within
Fairy Tail
provides a lot of variation for dogs of all types. Smaller dogs, for instance, may do well with names such as Pleu, Wendy, Happy, and Michelle as these are all names that are assigned to characters that are cute and delicate in their own way. Larger dogs on the other hand, may be perfect for names like Gajeel, Erza, and Cana. These characters aren't necessarily giant in size but they have large personalities that may be perfect for the giant fur-ball in your life.
All of the characters in Fairy Tail have over the top personalities. This provides an excellent selection to choose from if you want to match the name of your dog with his personality over his appearance. Natsu Dragneel for example is always loud, proud, and ready for a tussle. He isn't a bad guy and always means well, but he is definitely a handful and his powers tend to get out of control from time to time. This name would be perfect for the rowdy and rambunctious puppy who has a strong desire to play and willingness to learn, but always manages to destroy something in the process.
Male Fairy Tail Dog Names
Votes
Name
Vote
15

Leo

One of Lucy's main Celestial Spirits and leader of the Zodiac

11

Max

In charge of the guild's social activities and control sand

7

Rogue

Controls shadow magic

5

Jet

Uses a jet type magic and is a friend of Levy's

2

Loke

Leo's human disguise while part of the Fairy Tail guild

2

Lyon

An ice mage and Gray's rival

1

Gray

Has the ability to control ice

1

Hades

Fairy Tail's second guild master who eventually became evil

0

Happy

Natsu's sidekick and best friend

-1

Ren

Super tan with spiky dark hair

-3

Natsu

Fiery young man with pink hair and fire dragon abilities

-3

Alexei

Ivan's armored disguise

-4

Laxus

Makarov's grandson who has spiky blonde hair and controls lightning

-4

Plue

The Canis Minor Celestial Spirit

-6

Mystogan

Jellal's Edolas counterpart who disguises himself with a dark blue cloak and bandages

-6

Igneel

A red dragon who raised Natsu

-6

Alzack

Dark haired with a western style and the husband of Bisca, uses gun magic

-6

Pantherlilly

Gajeel's steely sidekick

-6

Taurus

The bull Celestial Spirit who is obsessed with Lucy's appearance

-7

Gajeel

Large man with spiky black hair and metal dragon abilities

-7

Capricorn

One of the Celestial Spirits who resembles a goat

-7

Zeref

An extremely dark and powerful evil mage with a mysterious past

-7

Gildarts

An extremely powerful S class mage of Fairy Tail

-7

Macao

Master of Fairy Tail in Makarov's absence

-8

Arcadios

Chief of the Cherry Blossom Holy Knight Squadron

-8

Jellal

Calm, mature, and powerful with blue hair and a red tattoo near his eye

-9

Frosch

A quiet cat who wears a pink frog costume

-10

Elfman

A large guild member with beast abilities who is obsessed with being manly

-10

Makarov

The kind and jolly 3rd, 6th, and 8th guild master of Fairy Tail

-12

Acnologia

The Black Dragon
Female Fairy Tail Dog Names
Votes
Name
Vote
12

Aries

A timid and shy Celestial Spirit with pink hair and horns

10

Erza

An intense red headed woman with weapon type magic

7

Zera

Daughter of the Red Lizard guild master and Mavis' illusionary friend

5

Cana

A loud card magic guild member who loves to drink

4

Flare

A strange and slightly disturbing red headed mage who fights with her long hair

3

Wendy

A young blue-haired girl with wind dragon abilities

3

Juvia

In love with Gray and has the ability to control water

3

Mavis

The founder of Fairy Tail and renowned strategist

2

Yukino

A Celestial Spirit mage

1

Lucy

The female lead who has blonde hair and an enthusiastic personality

1

Levy

A bookworm with blue hair

0

Kagura

Strongest mage of the Mermaid Heel guild who fights with a sword

0

Sherry

One of the Mages from Lamia Scale who has long pink hair and a very dramatic attitude

-1

Virgo

The Maiden Celestial Spirit

-1

Mickey

Fairy Tail mage who prefers hand-to-hand combat over magic

-1

Michelle

The human version of Lucy's childhood doll, very sweet and caring

-2

Sorano

A former Celestial Spirit mage who now specializes in Angel magic

-2

Bisca

Mother of Asuka, uses gun magic

-3

Evergreen

One of Laxus' good friends who uses fairy magic

-3

Libra

Celestial Spirit of the Heavenly Scales

-4

Aquarius

The water Celestial Spirit who is like an irritable mother to Lucy

-4

Meldy

Member of Grimoire Heart guild

-4

Asuka

Daughter of Bisca and Alzack

-5

Lisanna

Mirajane's younger sister

-7

Charles

Wendy's sidekick and best friend

-8

Mirajane

A sweet, white haired woman with demon magic

-8

Milliana

Very friendly and has a cat-like appearance, a good friend of Erza's

-9

Ur

Uses ice magic and was Gray's teacher

-9

Shagotte

Queen of the Exceeds

-13

Ultear

Daughter of Ur and former member of the Magic Counsel
Community Dogs with Fairy Tail Names
Korra
Female
Bichon Frise
San Francisco, CA
She's named after an animé character!