Introduction
The French Bulldog breed is a very affectionate and adorable breed.  Their cute wrinkly faces make them irresistible, but they do have an occasional stubborn streak.  They are adaptable and are known to be good with children which makes them an ideal addition to your family.  They require lots of love and attention, however they are fairly easy to look after as they require minimal exercise.  Now you've made your decision to get a Frenchie, or you maybe you already have one, you just need to figure out the perfect name for your perfect pooch, but you need inspiration.  Read on!
French Bulldog Dog Names in Pop Culture
Featured Famous Dog with a French Bulldog Name
Coco Chanel
Who can possibly resist the wrinkly face of the Frenchie? Not only are they cute, they are also friendly and make excellent companions. The French Bulldog is a popular breed and according to the American Kennel Club, they are the 6th most popular breed in America.  The breed was recognized by the American Kennel Club in 1898, and the American Kennel club says that this breed is adaptable, smart and playful. They are known to be great with children which means that they make excellent family pets.  The Frenchie doesn't require a lot of exercise, but they do require love and attention to prevent destructive behavior. They can also have a stubborn streak, so patience is sometimes needed when training. 
The Frenchie is a small breed of dog, originally from France.  This is a particular favorite amongst celebrities.  Actor Hugh Jackman has two French Bulldogs: Dali and Buddy.  The Beckham's have Scarlett, who makes regular Instagram appearances.  The late Carrie Fisher's Frenchie, Gary, famously attended the London Premiere of The Force Awakens in 2015. 
Actress Reese Witherspoon has a French Bulldog named Coco Chanel, inspired by the famous French fashion designer.  This is the spotlight dog as it seems quite fitting that a dog of French origin should have such an iconic French name.  Coco Chanel is regularly spotted in public with Reese and they are often seen shopping together.  The Chanel brand has grown into so much more than fashion, including jewelry, handbags and fragrance, so it's great that Reese has honored this iconic designer by naming her beloved family pet in dedication to Gabrielle Bonheur "Coco" Chanel. 
French fashion designer, Yves Saint Laurent, was also a fan of the Frenchie and owned a little pooch named Moujik. French Bulldogs are said to be easy going and well-behaved.  The breed has also made regular appearances in shows and movies over the years.  A French Bulldog named Stella has appeared in the TV Show Modern Family over several years.  This role has been played by two different Frenchie's.  Two French Bulldogs, Francesca and Sharky, also appeared on Martha Stewart's show, keeping this breed in the public eye.  A Frenchie named Mr Quiggly was the star of the 2012 Superbowl advert too! This low-maintenance breed will be a most precious and valuable addition to your family. 
French Bulldog Dog Name Considerations
There are lots of things to consider when naming your Frenchie.  You may want a traditional French name, like Celine, or you may seek inspiration from its country of origin and consider names like Paris or Versailles.  Another consideration might be color as the French Bulldog is available in a range of colors.  Suitable names like Frosty for the white canine, Sandy for the cream, or Biscuit for the fawn colored coat may be considered or chosen.  The Frenchie is quite a small dog, so you might pick a name in the spirit of its size.  Names like Tiny, Peanut or Mini are popular. The Frenchie loves attention so names like Lamour, Sweetie, and Honey are affectionate pet names to consider for your pooch.    
A name is very important, in fact, it's a huge responsibility to choose a forever name for your pooch.  Take some inspiration from our name lists below and write down a few of your favorite.  Why not shout them out to your Frenchie and see which one sparks an interest with this intelligent breed?  You could also discuss them with your family and friends to see what they think too.  Take your time and don't rush!

Male French Bulldog Dog Names
Votes
Name
Vote
9

Felix

Means lucky or successful in Latin

6

Bentley

An adorable name for Brody Jenner and Kristin Cavalri's Frenchie

6

Dylan

In Welsh mythology Dylan means hero or god of the sea

5

Rocky

Inspired by the famous Hollywood Frenchie

4

Leo

The name of a Frenchie belonging to Denise Richards

4

Scooter

Scrubs actor Jack Braff inspired the name Scooter

4

Cain

Another biblical name from the book of Genesis

3

Wolf

Ideal if your Frenchie is as fearless as a wolf

3

Ezra

Ezra is a prophet in the Old Testament

2

Hank

Denise Richards has a Frenchie named Hank

2

Gary

Attended The Force Awakens Premiere with Carrie Fisher

2

Thurman Murman

Inspired by actress Rachel Bilson

2

Smoky

Great color inspired name for your Frenchie

2

Gaius

An ancient Roman name

1

Puddy

A Frenchie belonging to John Legend and Chrissy Teigan

1

Swifty

Jason Priestly loves his pooch Swifty

0

Sid

Cesar Milan's Frenchie who often appears on The Talk

0

Woof Woof

The name of actress Shanna Moakler's beloved Frenchie

0

Bandit

Pamela Hasselhoff loves Bandit the Frenchie

0

Mr Quiggly

The famous dog from the 2012 Superbowl advert

0

Hobbs

Dwayne The Rock Johnson loves beach walks with his Frenchie

0

Buddy

Hugh Jackman adores his Frenchie Buddy

-2

Django

Inspired by actor Leonardo Di Caprio's Frenchie

-3

Julio

Julio Cesar Chavez belongs to actor Mario Lopez

-3

Ramon

Inspired by Christina Ricci's adorable Frenchie

-3

Rambo

Snowboarder Shaun White chose this name for his Frenchie

-4

Moujik

Inspired by fragrance expert Yves Saint Laurent

-4

Sharkey

Inspired by Martha Stewart's TV Frenchie

-5

Zorro

American singer Kris Allen named his Frenchie Zorro

-7

Pistachio

Inspired by Christina Perri; perfect name for your little nut
Female French Bulldog Dog Names
Votes
Name
Vote
10

Stella

The famous Frenchie in Modern Family

10

Lola

A cute little name for your sweet Frenchie

9

Honey

Because your Frenchie is sweet like honey

6

Pippa

Frenchie owned by Chrissy Teigan and John Legend

4

Biscuit

Inspired by actress and producer Shanna Moakler

4

Misty

A cute girly name for your little family Frenchie

2

Pearl

Inspired by artist Amanda Dolan

2

Bon Bon

A French word meaning candy

2

Reba

Deriving from the name Rebecca

1

Dali

Inspired by Hugh Jackman's adorable pooch

1

Coco Chanel

Inspired by Reese Witherspoon's fragrant Frenchie

1

Mila

Inspired by Sex and the City actor Gilles Marini

0

Mara

Means bitter Hebrew

0

Sassy

Because your female Frenchie is sassy

0

Celine

A female French name

0

Dixie

Deriving from the French word for ten

-1

Scarlet

Inspired by the Beckham's beauty Scarlet

-1

Glee

Melissa George's Frenchie makes her gleeful

-1

Cinders

Meaning ashes usually from a fire

-2

Diva

Inspired by Patty Hurst's Frenchie

-2

Olga

Inspired by Madonna and her Frenchie

-2

Zara

Inspired by Spanish clothing designer

-2

Brie

A French cheese

-2

Lamour

Meaning love or sweetie in French

-3

Asia

A Lady Gaga inspired name; Asia is her beautiful brindle Frenchie

-3

Mya

Michelle Trachtenberg loves her little Frenchie Mya

-3

Beatrice

Played dog Stella in Modern family from 2012

-5

Kishi

This name means beach

-6

Francesca

Inspired by Martha Stewart's TV Frenchie

-8

Brigitte

Originally played dog Stella in Modern Family
Community Dogs with French Bulldog Names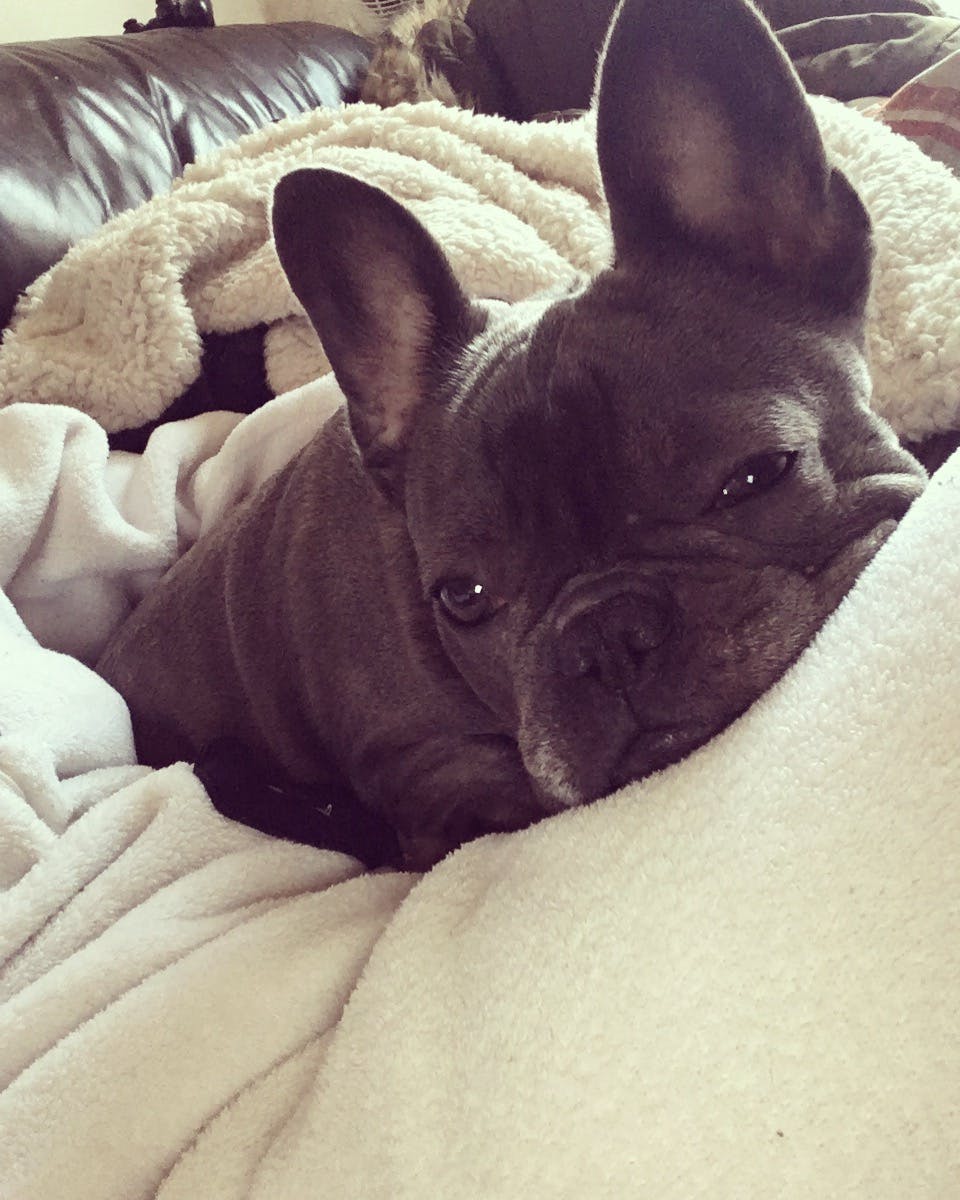 Aurora
Female
French Bulldog
New York, NY
After the Disney princess