Introduction
There's no doubt that the Old English Sheepdog is a beautiful breed of dog.  It's long, furry coat that falls over its eyes adds to the cuteness - they are too cuddly.  If you have chosen an Old English Sheepdog as your pet pooch, the American Kennel Club states that they are adaptable, gentle and smart, so they will make an excellent companion or family pet.  Just bear in mind, they need plenty of exercise.  This breed has starred in movies, TV shows and an iconic advertisement, so thinking of a suitable, deserving or appropriate name isn't always simple, especially for a dog as iconic as this one!
Old English Sheepdog Names in Pop Culture
Featured Famous Old English Sheepdog
Digby
Originally used as a herding dog, this breed has proved itself popular over the years.  The Old English Sheepdog was recognized as early as 1888 by the American Kennel Club and is ranked by them as the 75th most popular dog breed in America.  Most iconically, this breed rose to fame as the Dulux dog, as this breed of dog has appeared in the TV advert for Dulux paint for decades, starting first of all, in 1961.  After a 15-year break, the Dulux dog returned in 2013, appearing, as before, with a paint brush in his or her mouth.  Who can resist a pet that does the painting? 
This is quite a large breed of dog so when the movie Digby, the Biggest Dog in the World was released in 1973, who better to play the role of the oversized Digby, other than an Old English Sheepdog? Digby is the spotlight name for this guide because even if your sheepdog isn't actually the biggest dog in the world, dogs of this breed are known to have a big personality.  In the movie, Digby is given to a vet named Bill, but his grandfather doesn't want an Old English Sheepdog in the house, so Bill gives Digby to his friend who works in the defense lab.  Digby drinks some growth formula in the lab, and ends up becoming gigantic in size.  Numerous events take place; Digby is stolen and sold to a circus, he escapes and is hunted by the military forces.  Thankfully, everything works out in the end!
Fame didn't even begin there for the Old English Sheepdog, as Patsy the Old English Sheepdog appeared in 1937 movie, The Storm in a Teacup.  After that, this breed starred in the Shaggy Dog movies,which were about animal transformations.  The first movie was released in 1959, and the sequel in 1976.   In 1968, an Old English Sheepdog starred as Edison in the musical movie, Chitty Chitty Bang Bang.  An animated Old English Sheepdog was also the star of children's TV show, Dinky Dog. 
Celebrity, Paul McCartney had an Old English Sheepdog too, named Martha.  The Beatles, released a song in 1968 named Martha, My Dear and sources suggest that this song, written by McCartney and Lennon, was inspired by his pooch. 

With so much fame and popularity, how do we choose the perfect name for such an iconic breed?  The truth is, there is inspiration out there, but we need to narrow it down. This guide has done that for you, to help you choose a suitable name for this adorable canine. 
Old English Sheepdog Name Considerations
There are lots of celebrity inspired considerations to think about, when naming your old English Sheepdog.  We have Martha from Paul McCartney, Patsy from The Storm in a Teacup, Elwood from the Shaggy Dog movies – or maybe even the name Shaggy would be a perfect name based on the type, length and density of the Old English Sheepdog's coat.  Color can also be an inspiration, and often this breed is white and gray, although the gray color is sometimes light, and sometimes dark. 
This is a large breed of dog that the American Kennel Club has identified as being part of the working group of dogs, so even this could help us determine the right name, or we could consider temperament and personality too – for example Chaos might be a suitable name if your pooch is energetic, busy, or clumsy.  For the sweet dog, Flossy or even Candy might be the perfect name. Yeti is also a popular name, and this can certainly be inspired by color, or simply the legend of the Abominable Snowman – a hairy kind of snow creature.
Now we've established several considerations, why not read the lists below for further inspiration?  Don't forget to jot down the ones you like so you can review them later.  Have a play about with the names, for example you could take the name King, and add a further word, like King Monty for instance.  The difficult choice of choosing a forever name is up to you!
Male Old English Sheepdog Dog Names
Votes
Name
Vote
2

Rudy

Deriving from the name Rudolph

2

Samson

In Hebrew, the word Samson means strong

2

Max

Short name deriving from the names Maximilian or Maxwell

1

Gus

Shorter form of Roman name Augustus

1

Archie

Deriving from Germanic name Archibald, meaning bold and genuine

0

Edison

The family dog from the 1968 musical movie, Chitty Chitty Bang Bang

0

Higgins

An Irish name meaning descendant of Uiginn

0

Monty

From the name Montgomery meaning mountain

0

Shaggy

Inspired by the dog transformation movies, Shaggy Dog

0

Scout

Means to secretly gather information

0

Beau

Means beautiful in French; deriving from the name Beaumont

0

Chaos

Ideal if your pooch is energetic and busy

-1

Digby

From the 1973 movie Digby, The Biggest Dog in the World

-2

Elwood

From The Shaggy DA movie 1976; sequel to The Shaggy Dog movie 1959

-2

Wilby

Inspired by Wilby Daniels from The Return of Shaggy Dog movie 1987

-2

Dinky

Inspired by TV animated series Dinky Dog

-2

Brinkley

Means field in the forest

-2

Walter

Inspired by this Germanic name meaning ruler of the army

-2

Comet

A small icy solar system; produces a tail of gas when close to the sun

-2

Smoky

The gorgeous Old English Sheepdog with gray smoky patches

-2

Ezra

Means help in Hebrew

-3

Barney

Inspired by the 1988 British TV show Barney

-3

King

Because your pooch deserves a royal name

-4

Alf

The name Alf derives from the name Alfred

-4

Flash

If your Old English Sheepdog is as quick as a flash

-4

Rufus

Deriving from a Roman word meaning red-haired

-4

Yeti

Inspired by Nepal folklore; the Abominable Snowman

-4

Zaxby

If you are called Zaxby you are serious and never influenced by others

-7

Dulux

Inspired by the Old English Sheepdog from the Dulux advert

-7

Arrow

Deriving from the Old English name Arwen
Female Old English Sheepdog Dog Names
Votes
Name
Vote
5

Flossy

Because your pooch is sweet and scrummy like candy floss

4

Flora

The Roman goddess of Spring and flowers

4

Clover

The name of a wild flower

3

Lola

Lola is said to come from the name Delores

3

Daisy

The name Daisy was first used in the 19th Century

3

Fern

Fern has been used as a name since the late 19th century

2

Ivory

An elephant's tusk is made of ivory

1

Eva

This name derives from the Biblical name Eve

1

Meg

Meg is taken from the name Margaret

0

Rhona

Means rough island in Gaelic

0

Cassie

Taken from the name Cassandra

-1

Sadie

Deriving from the name Sarah

-1

Daphne

A nymph in Greek mythology that was turned into a laurel tree

-2

Ella

Deriving from the French name Eleanor

-2

Fudge

A soft golden sweet

-2

Pandora

Greek mythology suggests that Pandora was the first mortal woman

-2

Maddy

Inspired by the French name Madeline

-3

Patsy

The Old English Sheepdog from the 1937 movie, The Storm in a Teacup

-3

Martha

Inspired by Paul McCartney's Old English Sheepdog

-3

Astral

Because your Old English Sheepdog is a star

-3

Zara

The name of Princess Anne's daughter; British Royal family

-3

Jasmine

A flower used to make perfume

-3

Mara

The term mara means bitter in Hebrew

-3

Brea

From the name Bree meaning power in Irish

-3

Saya

Means shadow in Hindi

-3

Charlotte

Inspired by iconic author Charlotte Bronte who wrote Jane Eyre

-3

Mystique

For the pooch that is mysterious and powerful

-4

Holly

Inspired by the Holly tree

-4

Reba

A form of Rebecca

-5

Lily

Because your pooch is like a beautiful flower
Community Dogs With Old English Sheepdog Names
Deuteronomy
Male
Old English Sheepdog
Nixa, MO
I loved John Wayne movies and he had a dog named Deuteronomy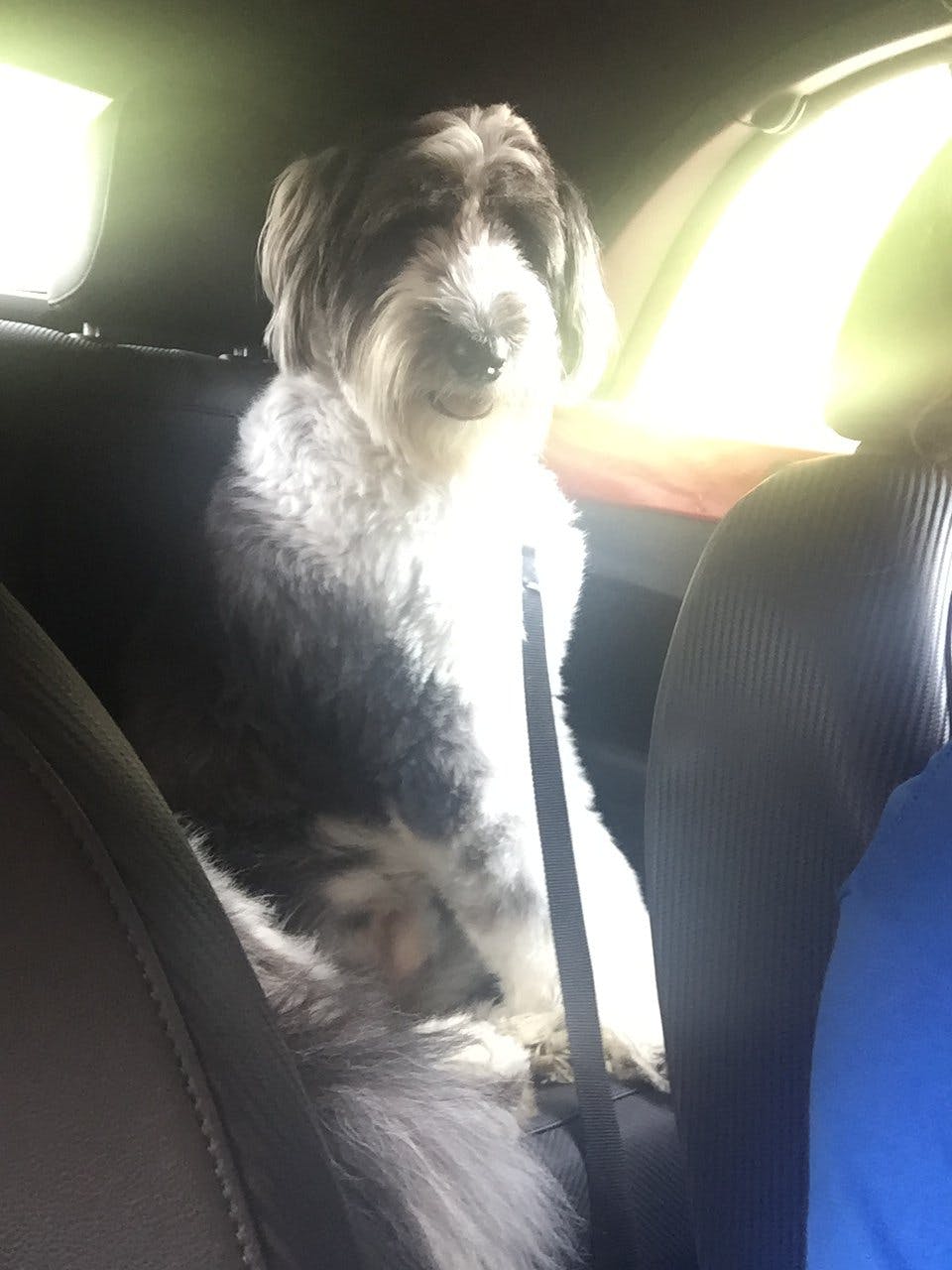 Daisy mae
Female
Old English Sheepdog
Charleston, WV
First look and I knew she was a Daisy