Introduction
The thrilling tales of pirates and all their crazy adventures have been most excellently captured by Disney in their movie series known as Pirates of the Caribbean. The inspiration for this series was actually taken from Disney World's popular attraction known by the same name. When the first movie in the line of pirate entertainment ( The Pirates of the Caribbean: Curse of the Black Pearl) was released in 2003, Johnny Depp swept us all of our feet with his antics and downright fantastic portrayal of the main pirate character, Jack Sparrow. Ever since then, he has lead us down the path of many laughs and crazy adventures through the following 4 movies with the most recent film being released in 2017 (Dead Men Tell No Tales).
Pirates of the Caribbean Dog Names in Pop Culture
Featured Famous Dog With a Pirates of the Caribbean Name
Poochie
Poochie, just like the pirates he deals with everyday, is a bit of a misfit with a rather mischievous attitude. He once belonged to Captain Teague (who is Jack Sparrow's father) but somehow eventually ended up in Port Royal as a prison dog. Throughout the first movie, his name is really only mentioned as being "the dog with the keys" although Pintel calls him "Poochie" during his sorry attempts to lure the dog closer with a bone. Fit to character, this highly loyal prison dog was not swayed by the pirates calls and coaxing and ends up running away with the keys tight between his jaws. Interestingly enough, Jack Sparrow was the only one who was almost capable of getting Poochie to listen, and this most likely has to do with the fact that he and the dog basically grew up together. Jack makes a comment sometime during the movie that states it was his job to feed the dog when he was younger and surprisingly, Poochie had a very strong taste for rum; so it must run in the family!
Throughout the first three movies of Pirates of the Caribbean, Poochie is seen off and on in minor (and sometimes not so minor roles), such as bringing the keys to Captain Teague during the Brethren Court's meeting and becoming "chief" of Pelegosto Island. Behind the scenes, the dog who played Poochie varied based on the movie. In The Curse of the Black Pearl  Poochie was portrayed by a dog names Twister and in Dead Man's Chest and World's End  he was played by another dog named Chopper. Not much is really known about Twister, but Chopper is listed as being a Terrier mix so it's most likely that Twister was as well since they both resemble each other. Regardless of what exact breed these actor dogs are, there is no doubt that the strong Terrier intelligence and independence comes through in their portrayal of Poochie. 
If you don't really like the idea of calling your beloved dog something as basic as "Poochie" you could definitely opt for the names of the dog actors who played him. Both the titles of "Twister" and "Chopper" could pass as pirate names with their rugged and outdoor inspired themes. No matter what name you choose, we think it would be an awesome idea to at least train your dog to carry around keys; that way you'd always have someone to help you find them! 
Pirates of the Caribbean Dog Name Considerations
If you are a fan of the
Pirates of the Caribbean
 films, you most likely love the idea of giving your furry friend a swashbuckling name. Thankfully, due to the vast amount of characters that have graced the screen during the 5
Pirates of the Caribbean
movies, there are quite a few names to choose from. No matter whether you are searching for a mermaid name, or a title that's fit for a scaly member of Davy Jone's crew, this list pretty much has it all. 
One excellent example of a name for a male dog may be "Jolly Roger". This is a well-known pirate ship and it offers a bit of flexibility depending on which part of the name you like better; you could either call the dog "Jolly", "Roger", or both of them together if you really want to stick to the whole-hearted pirate theme! For a female dog, an obvious choice may be the name "Elizabeth", but if you'd like to travel a bit off the beaten path, there is also the newest character in the Pirates of the Caribbean films, "Carina". This is a lovely and sweet name, but if you know the character, there is no doubt that the name also represents a good deal of bravery and intelligence; that girl really isn't messing around!
Male Pirates of the Caribbean Dog Names
Votes
Name
Vote
1

Henry

The name of Will and Elizabeth's son

1

Sparrow

The infamous last name of Captain Jack

0

Captain

This may be an obvious name, but it goes perfectly with a pirate theme

0

Weatherby

The name of Elizabeth's father

0

Will

The son of Bootstrap Bill and Elizabeth's true love

0

Barbossa

A captain who decides that Jack's Black Pearl should really belong to him

0

Davy

Davy Jones is master of the sea and is tasked with the job of guiding souls who have been lost to death on it's waters

0

Blackbeard

An infamous pirate with quite the intimidating reputation

0

Jack

The name of the goofy main character, Captain Jack Sparrow who is actually much smarter than he lets on

0

Turner

Will's last name

0

Teague

Captain Teague is Jack Sparrow's father

0

Monkey

Known as Jack the Monkey, he and Jack Sparrow do not get along at all

0

Cooper

The name of one who made and maintained wooden barrels upon the ship

0

Beckett

Governor of the East India Trading Company

0

Norrington

Once a Lieutenant upon a ship when Elizabeth was a young girl

0

Kraken

The extremely dangerous sea monster

0

Philip

The young religious man who ends up saving, and falling in love with, Syrena

0

Gibbs

A devoted first mate of Jack Sparrow

0

Pintel

A comedic and rather gruff pirate with an ever present scowl

0

Ragetti

A pirate with a wooden eye

0

Ferdinand

Monarch of Spain

0

Cotton

A mute pirate who uses a parrot to talk

0

Jolly Roger

A famous pirate ship

0

Marty

A tough and no-nonsense dwarf pirate

0

Murtogg

A silly soldier who served under James Norrington

0

Mullroy

Stationed with Murtogg and also serving under Norrington

0

Scarfield

A British Navy Lieutenant who is out to get Jack Sparrow

0

George

The greedy Kind of England

0

Joshamee

Gibb's first name

0

Bootstrap

Will Turner's Father
Female Pirates of the Caribbean Dog Names
Votes
Name
Vote
1

Swann

The last name of Elizabeth

1

Aquala

Leader of the mermaids who encountered Jack Sparrow when he was young

1

Syrena

A captured mermaid who was hunter for her tears

1

Calypso

A powerful witch doctor and voodoo priestess who is entombed into a human body

0

Amenirdis

A princess from the mythical island of Kerma

0

Danielle

A female pirate in the Pirates video game

0

Carina

Barbossa's daughter who people believed to be a witch due to her high intelligence

0

Frances

Wife to the Mayor of Saint Martin Island

0

Grace

A gypsy who set up shop in Port Royal within the Pirates video game

0

Elizabeth

The main female character and Will Turner's wife

0

Angelica

Blackbeard's daughter and a past lover of Jack Sparrow

0

Kiit

A courtroom wench

0

Mary

One of the most dangerous pirates on the Seven Seas

0

Tamara

A mermaid who lives in Whitecap Bay

0

Minuit

A powerful Creole witch who has power over snakes

0

Melinda

A working girl on Shipwreck Island

0

Penny

One of the few female pirates in the Age of Piracy

0

Marina

One of the mermaids of Whitecap Bay who may have strong feelings for Jack Sparrow

0

Estrella

A maid who worked in the Swann household

0

Anamaria

A tough female smuggle and pirate who once worked with Jack Sparrow

0

Giselle

A woman who lived in Tortuga and whose history with Jack Sparrow caused her to be jealous when she saw him with Scarlett

0

Scarlett

A woman who lived in Totuga with bright red hair, a red dress, and far too much blush

0

Tia

Tia Dalma was Calypso's human form

0

Shansa

A sea witch with a unique beauty who studied the dark arts thoroughly

0

Jane

The sister of Cutler Beckett

0

Esmeralda

One of the most capable female pirates of her time

0

Rachel

A sailor who swore to avenge her father after his crew mutinied against him

0

Cassandra

A woman who lived in Port Royal within the Pirates video game

0

Anne

An Irish female pirate

-1

Barbara

The wife of Benedict Huntington
Community Dogs with a Pirates of the Caribbean Name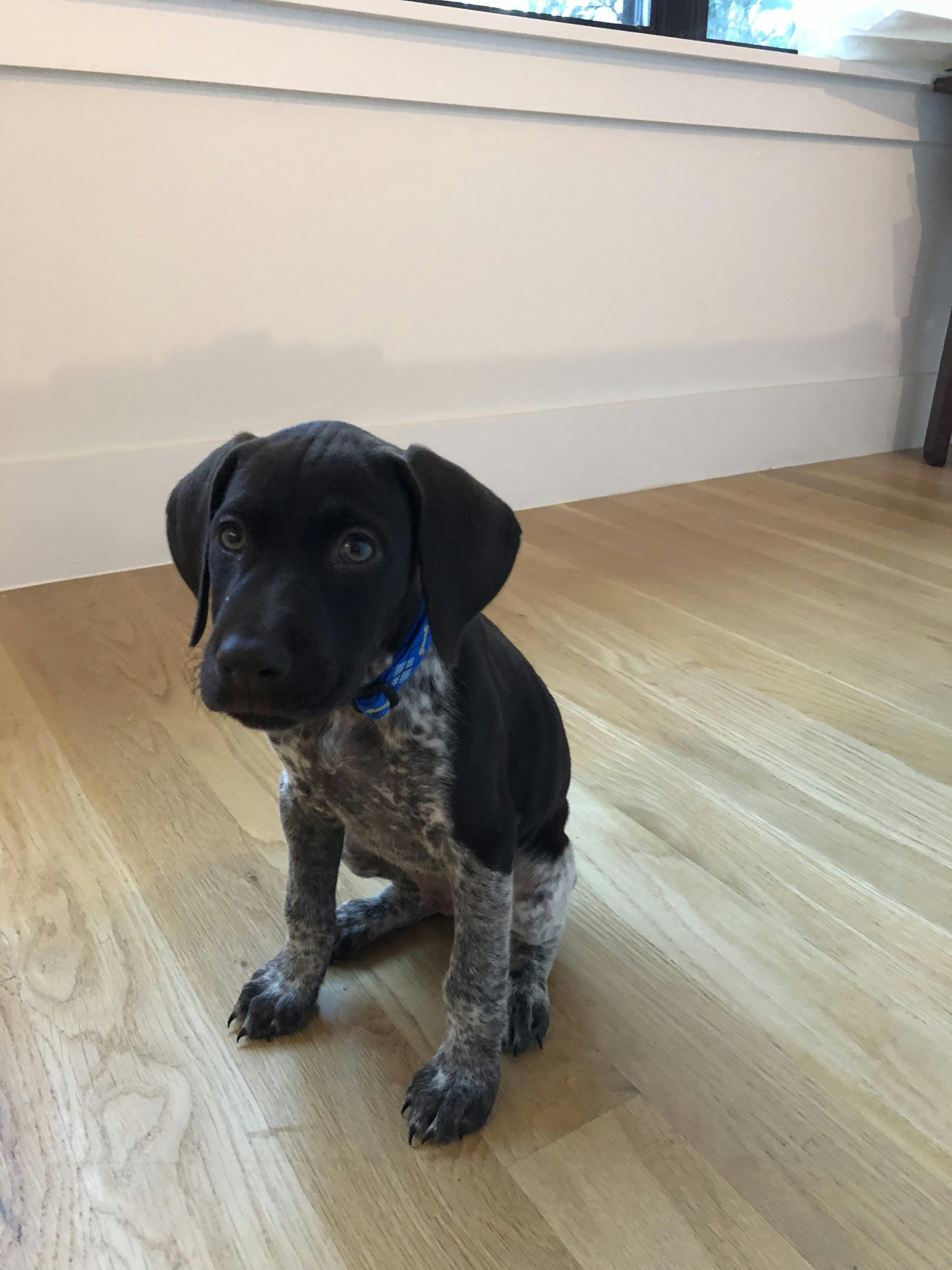 Monte
Male
German Shorthaired Pointer
Dallas, WI
Named after montepulciano wine

Captain redbeard cooper
Male
Redbone Coonhound
Houston, OH
His name is Cooper and he's already a captain and he's obviously red.