Introduction
The Saint Bernard is a large breed of dog originally bred to withstand the coldness of the Alps.  They are renowned for their love of children and are even referred to as the 'Nanny dog'.  These lovable creatures will certainly make a great family pet for you to adore.  If you are lucky to enough to have a Saint Bernard, you want to give this adorable softy a deserving name.  Maybe you want a strong name to match your pooch's strength, or a name like Cuddles to match his temperament. This guide is perfect to help you choose that perfect name for your Saint-like Saint Bernard.     
Saint Bernard Dog Names in Popular Culture
Featured Famous Dog with a Saint Bernard Name
Beethoven
The Saint Bernard is an intelligent breed of dog that gets its name from a hospice at the Great St. Bernard Pass in Swirzerland.  Initially a working dog, this breed was used to rescue people who braved the pass and became stranded.  They were raised by Monks and were famous because the pups were not trained a lot by the Monks, instead they mirrored the behavior of the older dogs. 
There is no way that the Saint Bernard could be discussed without mentioning the iconic Beethoven movies.  The first comedy movie was released in 1992, and the next decade saw Beethoven's 5th come out in 2003.  Five years later saw the release of Beethoven's Big Break in 2008.  The first movie, in particular, is comical in its depiction of the Saint Bernard pup who is particularly mischievous.  The Newton's gain this pet by accident.  The Saint Bernard pups are stolen from a pet shop, but Beethoven escapes and sneaks into the Newton's house.  It's at this moment that the fun begins!
Their father doesn't want the responsibility of raising a puppy, but the Newton children love their new addition and name him Beethoven, after Ludwig Van Beethoven, who was an 18th century composer.  This is because the new puppy responds well to the sound of his music. When Emily plays part of the composer's 5th Symphony, he barks along. 
The Saint Bernard breed is known for its good nature and the level of care it shows towards children.  They are friendly and placid, so when the vet in the Beethoven movie puts fake blood on his arm and says Beethoven bit him, anyone who knows the breed would be aware that this is completely out of character for the Saint Bernard.  All is well at the end of the movie when Beethoven is saved from being shot by the corrupt vet who is in cahoots with the puppy thieves.  Of course, the father, George Newton, comes to love his beloved pooch – but who wouldn't?
The American Kennel Club registered the Saint Bernard as a recognized breed in 1885, and they state that the Saint Bernard is friendly, patient and outgoing, and also comment on how the dog acts as a nanny for children.  The AKC also suggest that the Saint Bernard breed is the 49th most popular breed in the USA. The Saint Bernard is eager to please and really loving, so it's certainly important choose the name for your gentle giant carefully. 
Saint Bernard Dog Name Considerations
There are many different things to consider when choosing the right name for your new addition.  It's important that such a special dog like a Saint Bernard is given a meaningful name that they suit and deserve.  You might want to consider color when naming your Saint Bernard, as they are available in a variety of colors.  Usually the Saint Bernard white along with patches of other colors, including brown, red, brindle, orange and rust.   A color inspired name could be something like Rusty, or Ginger, or even the name Red would be suitable.  Names based on temperament could include Teddy and Cuddles.  If you have a mischievous pup, you could call him Rascal, or what about Beethoven, if you are inspired by the movie.  Size is another factor that can influence a name.  Giant, Colossus, and Titan are all great names based on size, too.  Take a look at the lists provided below and write down a few that you like, and see if they suit your treasured companion.  You should also have a discussion with the rest of the family, as sometimes others can motivate more inspiration, for instance try doubling the names up if you want something unusual, like Teddy Cuddles for instance. You can certainly mix it up!  Take your time when choosing, and why not have a vote if you can't all agree?  
Male Saint Bernard Dog Names
Votes
Name
Vote
7

Hugo

Victor Hugo wrote the Hunchback of Notre Dame

6

Giant

Because your Saint Bernard is a large breed of dog

5

Teddy

For the cuddly Saint Bernard

5

Maximus

A great Roman gladiator name

5

Brutus

Another strong Roman name

5

Clifford

Inspired by the TV show, Clifford the Big Red Dog

5

Grendel

The monster defeated by Beowulf

4

Goliath

A giant philistine in the Old Testament of the Bible

3

Titan

A name referring to any of the sons of Uranus and Gaea

3

Berny

Breed inspired; short for the name Bernard in Saint Bernard

3

Octavius

A Roman family name meaning eighth

2

Zeus

The highest Greek God

2

Thor

Name your pooch after the god of war

2

Hercules

A hero and name of a Disney movie

1

Colossus

Means giant or powerful

1

Rusty

Inspired by color for the pooch with brown or red patches

1

Barney

Sometimes people called Bernard are nicknamed Barney

1

Sergeant

A soldier position in the military

0

Barry

A Saint Bernard monument in Cimetière des Chiens in France

0

Samson

Biblical hero with exceptional strength

-1

Beethoven

There are 6 Beethoven movies in total

-1

Rascal

For the dog who is a tinker like the young Beethoven

-1

Hulk

Inspired by the green, strong, Marvel super-hero

-1

Ragnor

Norwegian name meaning power and decision

-2

Rescue

Saint Bernards were used as rescue dogs in the Alps

-2

Magnum

As in something larger than normal

-3

Roman

Romans were often strong and trained as soldiers or gladiators

-3

Jumbo

Because your pooch is jumbo-sized

-3

Grizzly

Inspired by the Grizzly Bear

-5

Red

Inspired by the red colored Saint Bernard
Female Saint Bernard Dog Names
Votes
Name
Vote
8

Liberty

Meaning free for the free spirited Saint Bernard

8

Velvet

If your Saint Bernard has a soft and smooth coat

6

Garnet

The dark red birthstone for January

5

Delia

taken from Artemis, a Greek goddess

5

Mercy

For the compassionate and kind Saint Bernard

5

Roxy

Deriving from the name Roxanne

4

Autumn

Color inspiration for the brown colored Saint Bernard

4

Nanny

If your Saint Bernard loves children

4

Berry

If your pooch is as sweet as a berry

4

Lana

Deriving from the name Alana

4

Eva

Deriving from the name Eve

3

Venus

Roman goddess of love

3

Ruby

Color inspiration for the dog with red patches

3

Cleo

Inspired by Egyptian Queen Cleopatra

3

Lara

A Russian name deriving from Larisa

2

Trudy

Deriving from the name Gertrude

2

Scarlett

Inspired because Scarlett is a type of red color

2

Boudicca

The name of a 1st-century queen

1

Bonnie

A Scottish word for pretty

1

Pepper

Pepper is sometimes the nickname for Petra

1

Sally

Deriving from the name Sarah

1

Swiss

The Saint Bernard is said to come from the Swiss Alps

1

Star

If your Saint Bernard is a large bright light

0

Jupiter

The largest planet in our solar system

0

Aphrodite

Inspired by the Greek goddess of love

0

Indie

Deriving from the word independent

-1

Tinker

If your pooch is a tinker like the young Beethoven

-1

Ginger

Color inspiration if your Saint Bernard has brown or red patches

-2

Sheba

Inspired by the Queen of Sheba

-3

Cuddles

Your Saint Bernard loves lots of cuddles
Community Saint Bernard Dog Names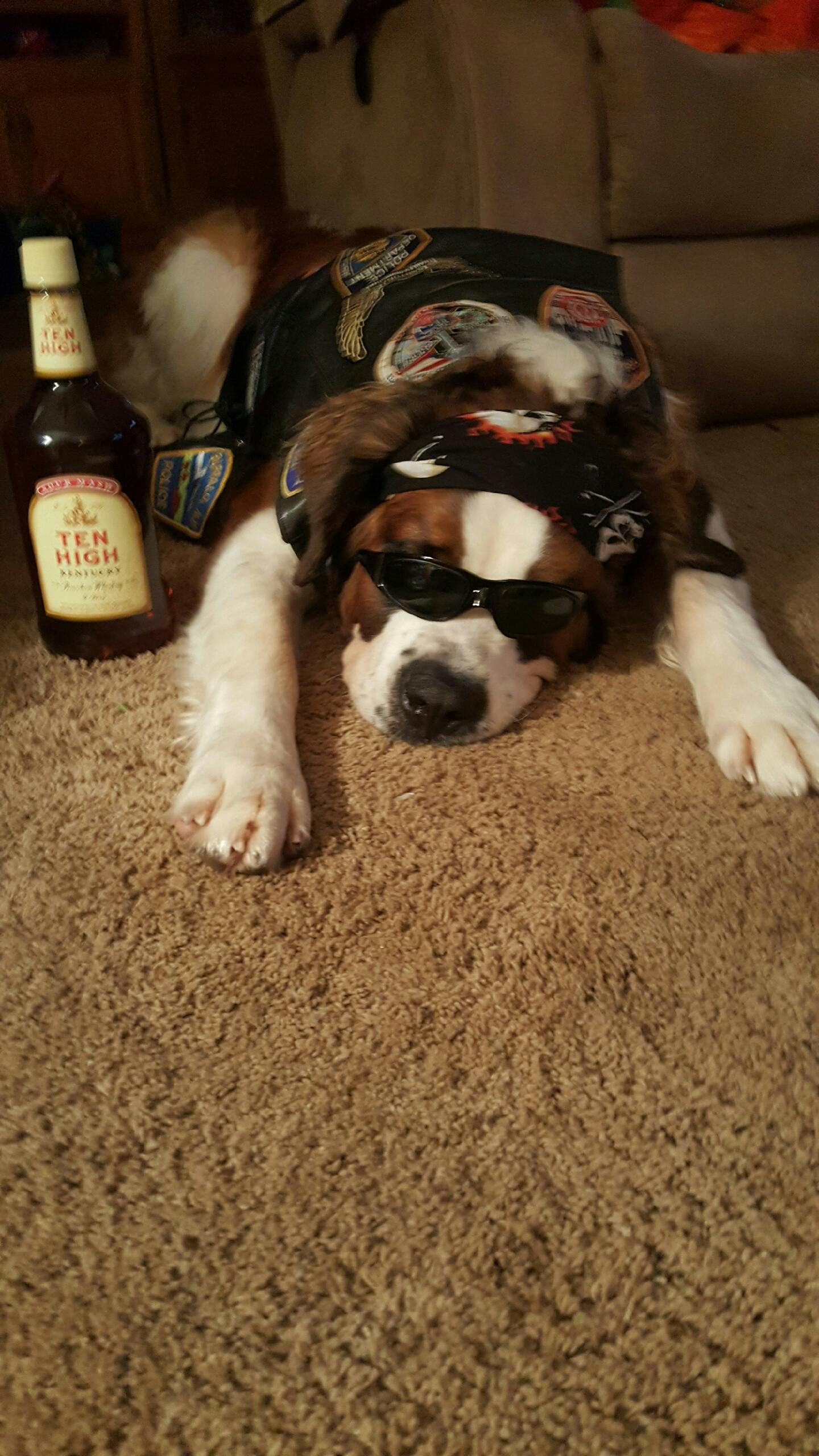 Harley
Male
Saint Bernard
Cheektowaga, NY