Introduction
Everyone loves a good cup of tea, and in fact, there is quite a following of people who could be considered Tea Elites. They know all the best ways to brew the perfect cup of tea (no matter what kind it is) and thoroughly enjoy tea that is the "real deal" such as loose leaf tea. If you are someone who is a tea elite (or just someone who really loves tea in general) you may have thought about naming your dog after the delicious beverage. Since tea has been around for a very long time, there is quite an excellent selection of names to choose from. Some of the titles we've listed are actual types of tea, while others are just merely associated with the entire idea of tea.
Tea Inspired Dog Names in Pop Culture
Featured Famous Dog With a Tea Inspired Name
Giggy
If you've ever heard of the movie
Beverly Hills Chihuahua
 then you may be very aware that there are some super spoiled pups in the movie industry. If the movie is unfamiliar to you, basically it is a comedy film that was released by Disney in the year 2008 and it features the story of a fancy Chihuahua by the name of Chloe who gets taken on a roque road trip and accidentally left in Mexico. Her friends back in Beverly Hills then need to try and rescue her, which is where all the fun begins. Interestingly enough, this movie not only got a sequel, but also went on to receive a third addition! It is at the 
Beverly Hills Chihuahua 3
 tea party that we meet our famous dog of the day. 
Giggy is a spoiled and very well loved Pomeranian who belongs to Lisa Vanderpump; and he definitely knows how to throw a good party! To celebrate the DVD release of Beverly Hills Chihuahua 3 in style, Giggy and his owners had the stars of the show Rusco and Angel, who play the main Chihuahuas, over for a lovely cup of tea. Dressed to the nines in a white onesie, Giggy served his guests warm tea with lemon wedges and designer dog biscuits. They had a wonderful time lapping up tea from teacups and being appreciated by the Paparazzi; who yes, attended the event in order to capture the unique scene. Sitting at the fanciest table in Villa Blanca's restaurant (star of Real Housewives of Beverly Hills), Giggy and the other pups enjoyed the pampering of Villa's husband, Ken Todd, who acted as an excellent tea pourer. 
While not all dogs may be too particularly thrilled to throw a tea party like Giggy (or who knows, maybe some are), you can definitely be sure that your dog will be excited over any tea themed name you choose for him! Dogs are great in the fact that they don't care what their title is, as long as it is one you have given them. Just be sure to think about what name will bring you happiness to recall when thinking of your dog many years down the road and how it will best capture his personality. Giggy is a great example of the amount of patience and individuality that a dog can show. While a tea party may be a bit out of the norm, we are sure he enjoyed time with his puppy friends (and humans) all the same. 
Tea Inspired Dog Name Considerations
Once you have decided that your love of tea should be carried on through your dog, it comes time to decide which tea name will actually work best. There are a few main categories of tea: Black, Green, White, Oolong, Rooibos, Herb, Yerba Maté, and Pu'erh. Each of these tea types are extremely different and unique with their own delicious flavors. When it comes to narrowing down which tea may be the perfect fit for your dog, a few key things to think of would be
size, personality,
and
appearance. 
For instance, say you have a female Bernese Mountain dog. This breed is typically tricolored with a white chest, brown markings on the legs, and a black "blanket" covering the rest of him. With coloring such as this, along with the calm yet playful personality these dogs tend to possess, a name such as "Ceylon" may be perfect. This type of Black tea is known for being deep and delicate in taste; and with just a splash of cream to sweeten it up, the coloring would be the same idea as your Bernese Mountain dog! Another example may be the name "Brew". This would be a great name for a very patient and determined male dog, as the processes of brewing the perfect cup of tea can take a while. There is no doubt that the theme of "Tea" has a lot to offer; so have fun with it and discover which name works best to represent the love you have for both tea and your furry friend. 
Male Tea Inspired Dog Names
Votes
Name
Vote
4

Matcha

A delicious green tea that is made from finely stone-ground leaves

4

Milo

Taken from the name Faskomilo which is a Greek tea made from dried sage leaves

3

Oolong

A mid-way tea between Green and Black

3

Chai

A famous spiced Indian tea typically made with ginger or cloves

3

Pepper

Short for Peppermint which is a popular Herbal ea

2

Silver

Short for the most famous white tea known as Silver Needle (Yin Zhen)

2

Licorice

The Licorice root is used as an Herbal tea

2

Lu

Taken from Ganlu Tea which literally means "sweet dew"

2

Bai

Another name for White Peony Tea (Bai Mu Dan)

1

Rooibos

A naturally caffeine-free Herbal tea

1

Kombucha

A fermented tea that is excellent for the health of the gut

1

Woodruff

An Herbal tea that is commonly used as a sedative

0

Assam

An Indian Black tea that has a sturdy, deep and sweet flavor

0

Yunnan

A Black tea that is commonly fermented, putting it as a mid-way between Black and Pu'erh teas

0

Yerba

Yerba Maté is a medicinal type of tea

0

Masala

Taken from the popular Chai tea, Masala Chai

0

Boston

A city where tea has a very strong meaning, and where the Boston Tea Party took place

0

Dian

Short for Dian Hong which is a Black tea from China

-1

Gyokuro

A green tea that has an aroma similar to seaweed

-2

Earl

Taken from Earl Grey tea which is one of the world's most famous black teas

-2

Irish

This name is for Irish Breakfast tea which is a black tea

-2

Pu'erh

A fermented tea that is even darker than Black tea

-2

Turmeric

A Spice tea that can be used for medicinal purposes

-2

Moroccan

Short for Moroccan Mint Tea

-2

Caffrey

A fun way to combine the words "caffeine free"

-2

Ilex

Also known as Yaupon Holly whose leaves are used to make tea

-4

Roman

Taken from the herbal tea, Roman Chamomile

-4

Brew

The name for preparing tea

-4

Hawthorn

Berries that are taken from the Hawthorn tree and used to create an Herbal tea

-4

Hyson

A brand of tea
Female Tea Inspired Dog Names
Votes
Name
Vote
2

Nilgiri

A fragrant, floral Black tea

1

Ceylon

A Black tea that comes from Sri Lanka and tends to have a chocolate or spice undertone

1

Genmai

A very unique Japanese tea that means "roasted rice tea"

1

Camellia

Taken from the Camellia Sinensis plant that is used to produce tea

1

Tea

A very cute and simple name that reflects the theme perfectly

1

Noni

An Herbal tea that has medicinal properties

1

Verbena

An Herbal tea

1

Amacha

A Japanese Herbal tea that means "sweet tea"

1

Bohea

A Black tea with a smoky flavor

1

Astrid

A type of flowering plant used to make Black tea

0

Minty

A clever and cute name that combines the words "Mint" and "Tea", also an Herbal tea type

-1

Jasmine

Any type of Black, Oolong, or other tea that has been flavored with Jasmine flowers

-1

Sencha

The most well-known variety of Green tea

-1

Chamomile

A relaxing Herb tea

-1

Tencha

The leaves that are ground up and become Matcha

-1

Ginger

A Spiced tea

-1

Cinnamon

Commonly used to flavor Black teas

-1

Peony

Short for White Peony Tea

-1

Hibiscus

A gorgeous flower that is commonly used to flavor teas

-1

Rose

A flower that has been used to make a Pu'erh tea

-1

Chicory

The Chicory Root is used to make tea and a coffee substitute

-1

Grey

A shortened version of Earl Grey tea

-1

Darling

A twist on the Darjeeling Black tea

-1

Lavender

A flower that is used to flavor teas

-1

Lotus

A very strong green tea from Vietnam

-1

London

A London Fog tea is another name for Earl Grey tea

-1

Cassia

An Herbal tea that is made with Cinnamon

-1

Jade

A steamed Green tea

-1

Rosella

An Herbal tea that is brewed from Hibiscus flowers

-2

Porcelain

The material used to make teacups
Community Dogs with Tea Inspired Names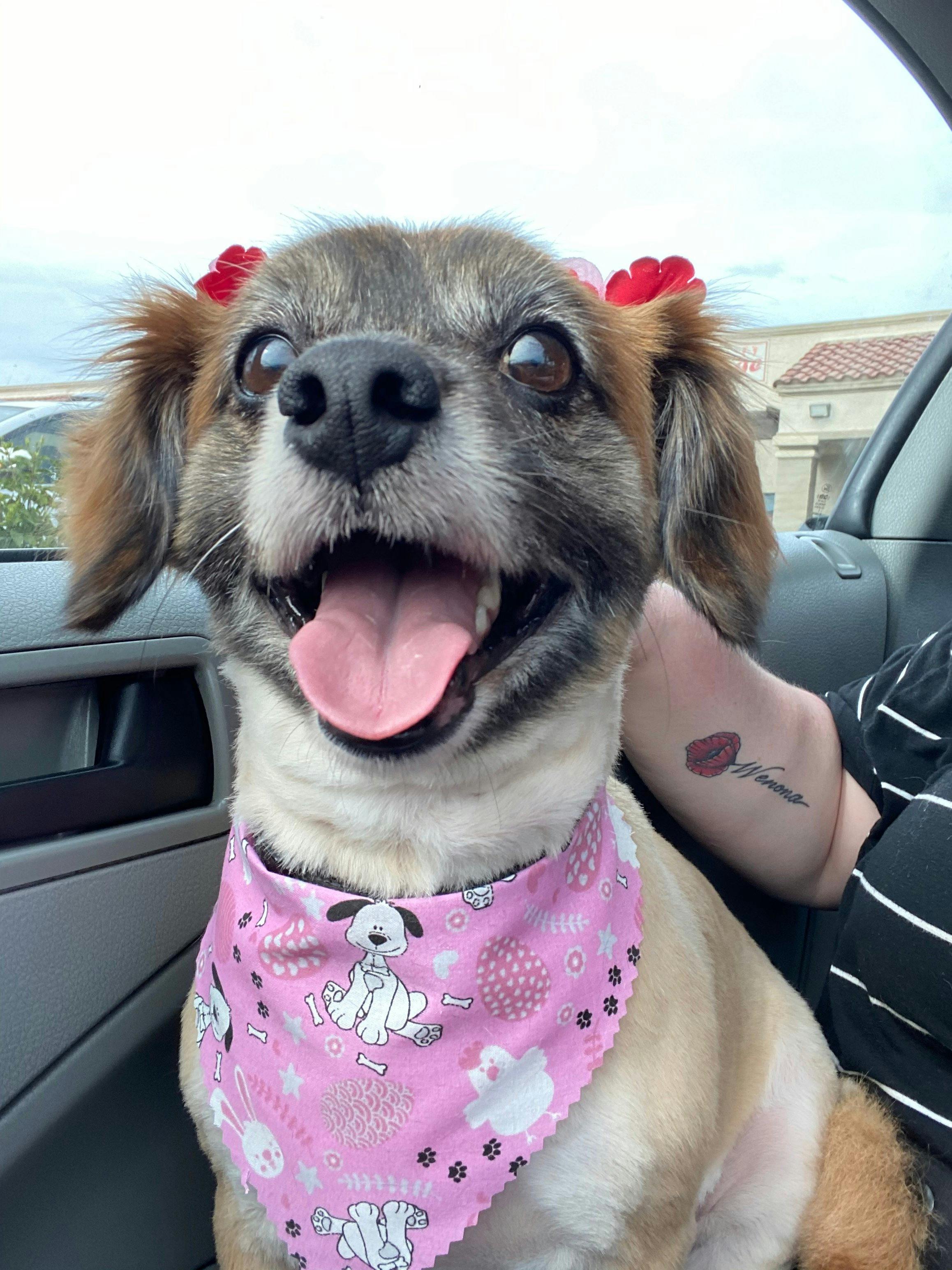 Chai
Female
Pekingese
Downey, CA
Personality
Hyper
Playful
Loyal
Crazy
Loving
child friendly
Cat lover
Adopted her from another girl when she was 2 months old and she said her name was Charlie. I already had a siamese cat named Charlie so I asked if I could rename her. She said yes, but to pick something similar since she already knew her name. As I was driving home with my new baby I was thinking what sounded like Charlie when I looked down and saw my Starbucks drink sitting next to me. A Chai latte and it just clicked! 🐶☕️