What is Total Hip Arthroplasty?
Your dog may need a total hip arthroplasty if your he or she is otherwise healthy but is experiencing debilitating hip pain. If your dog is lame or not eager to get up or play as they used to, your veterinarian may want to look further into their health and behaviors to determine if they are a good candidate for a total hip arthroplasty. If so, your veterinary surgeon will replace the ball and socket of the hip joint with implants. These implants could be cemented, uncemented, or a hybrid of both depending on which prosthetic products your veterinarian uses and recommends for your dog.
Total Hip Arthroplasty Procedure in Dogs
Your veterinarian will recommend and help you determine which sort of joint prosthesis is best for your dog and their condition. A prosthesis which uses a quick drying cement to adhere the new joint to the bone is a cemented joint prosthesis. One which is textured to allow bone growth around it is a cementless joint prosthesis. A combination of the two, in which the prosthetic uses a cemented stem and a cementless cup, is a hybrid.
Your veterinarian will determine if your dog is a candidate for a total hip arthroplasty based on an examination and observations as well as X-rays to view the hips.
This is an invasive surgery, so your dog will undergo CBC (complete blood count) and be placed under general anesthesia. The leg and hip will be shaved. Your veterinary surgeon may perform an epidural for pain control.
Once the surgical team is ready, they will open the surgical site and remove part of the ball and socket in the hips bones. These will be replaced with a prosthetic implant which will work as a normal hip ball and socket.
Top
Efficacy of Total Hip Arthroplasty in Dogs
Studies show a high percentage of dogs have a working hip replacement for the rest of their lifespan. Up to 95% of dogs show excellent performance and function after this procedure. Quality of life improves once this procedure is done, giving the dog better mobility and improved range. With a total hip arthroplasty, your dog will have better mobility improving on many ailments including painful stiff joints and lameness while favoring other limbs. Improved mobility could also result in increased exercise and a healthier lifestyle overall.
Top
Total Hip Arthroplasty Recovery in Dogs
Once the surgery is complete, the surgical team will keep a careful eye on your dog. Your surgeon may want to keep your dog in the hospital for a few days for observation and pain control. Once home, you will have post-op instructions from your veterinary surgeon. These instructions will include pain medications and antibiotics at home. You may be required to change bandages. Be sure to keep the surgical site clean and dry.
As your dog begins to move on their own, your veterinarian may recommend a sling or similar support to keep the dog from slips and falls.
After a few days, your dog will begin to place minimal weight on the limb and start to use the new joint. This will increase over time until your dog can bear all his weight on the limb. It may take a couple of months, and for the first few months, your dog will be restricted from exercise. Leash walking for elimination purposes will be allowed, but be sure to keep your dog calm and relaxed.
This recovery time is crucial for your dog. Be sure to follow all instructions and attend follow-up appointments to ensure the hip is healing and working properly. Your veterinarian will want to take follow-up radiographs as well to make sure the hip is stable, and the implants are still in place.
Top
Cost of Total Hip Arthroplasty in Dogs
A total hip arthroplasty will cost between $5,000 and $6,000. This total should include all initial visits, blood work, X-rays, and hospital stay. You may want to budget another $200-$300 for follow-up appointments and recovery X-rays. These prices will also depend on the location and specialty of your surgeon and team.  
This is a costly procedure, however, it is the only viable option for many dogs who are suffering from hip dysplasia and advanced arthritis. There are medications used to treat arthritis, but if your dog is a candidate for a total hip arthroplasty, your veterinarian is at the point of understanding the medications your dog has been on are no longer effective.
Top
Worried about the cost of Total Hip Arthroplasty treatment?
Pet Insurance covers the cost of many common pet health conditions. Prepare for the unexpected by getting a quote from top pet insurance providers.
Dog Total Hip Arthroplasty Considerations
Arthritis is an extremely painful condition, and it will affect your dog's overall life. Surgery is a last resort option and suggested if you and your veterinarian have tried other treatments. Your veterinarian has probably prescribed anti-inflammatory medications and supplements to help regenerate cartilage and improve bone strength. Before considering surgery, exhaust all options available with medications and physical therapy or hydrotherapy. Some veterinarians can recommend providers who can perform chiropractic care or acupuncture.
Once these options have been considered and tried, surgery quickly becomes the last and best solution for your dog. Discuss the cost of the other options compared to the expense of a total hip arthroplasty. You may find a total hip arthroplasty will be necessary after all other treatments, increasing the overall cost. Consider the overall health and mobility of your dog when making this important decision.
Top
Total Hip Arthroplasty Prevention in Dogs
Many factors cause arthritis. Keeping your dog at the healthy weight is crucial for bone and joint health. Maintaining a healthy diet with proper fat and protein ratios for the size and breed of your dog will help keep their weight ideal. Talk with your veterinarian about diet and exercise for the perfect weight for your dog.
Your veterinarian can also recommend supplements for your dog based on size and breed. Large and giant breeds may require supplements earlier in life compared to smaller dogs. Supplements such as glucosamine and omega fatty acids can help repair damaged joints before they are unrepairable.
Incorporate your whole family in an exercise routine with your dog if your dog is overweight. Walking with your dog can improve the overall health of your family.
Some breeds are more susceptible to arthritis and hip dysplasia. These problems are more common in larger breed dogs. Be sure to talk with your veterinarian about your particular breed so you can best care for your pet.
Top
Total Hip Arthroplasty Questions and Advice from Veterinary Professionals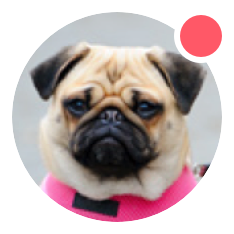 Need pet insurance?