What are Mediastinitis?
The success of treatments will depend greatly on how quickly mediastinitis is diagnosed and treatments started. In milder cases, anti-inflammatory medications and antibiotics will ease the symptoms. In more severe cases, surgery and chemotherapy may be necessary.
Mediastinitis affects the central chest region that contains the heart, lymph nodes and central bronchi. This region is called the mediastinum. Mediastinitis is inflammation of the mediastinum that is usually caused by a fungus or bacterial infection. While mediastinitis is rare, it can quickly become life-threatening and is very likely to spread through the bloodstream.
Symptoms of Mediastinitis in Dogs
Mediastinitis is a rare, but deadly condition in dogs. Symptoms may come on slowly; causing you to not think the problem is severe. However, quick diagnosis and treatment are extremely important. If you notice any of these symptoms do not wait to see if they lessen, contact your veterinarian immediately for an appointment.
Chest pain
Gagging
Drooling
Coughing
Difficulty breathing
Difficulty swallowing
Vomiting
Swelling of the neck, head and/or front legs
Fever
Lethargy 
Loss of appetite
Rapid heart rate
Weight loss
Top
Causes of Mediastinitis in Dogs
There are several different causes of mediastinitis in dogs. Inflammation of the mediastinum can occur from dogs eating or swallowing foreign objects that then cause a blockage in the esophagus. The usual signs of an esophageal blockage will follow, including gagging, drooling, difficulty swallowing and/or vomiting. The blockage then creates inflammation within the mediastinum.
A partial obstruction may occur, allowing your dog to still drink but not necessarily be able to get food down their esophagus. This will cause your dog to simply refuse to eat, lose weight and/or become lethargic. 
Trauma to the chest or neck can also cause inflammation of the mediastinum. If your dog takes a blow to the neck or chest, watch your dog closely for any symptoms of mediastinitis.
Top
Diagnosis of Mediastinitis in Dogs
Your veterinarian will begin by taking a full medical history. They will want to know about the symptoms that have presented and when they started. A full physical examination will be conducted, paying close attention to the mediastinum.
Your veterinarian will more than likely order a complete blood test, biochemistry panel, urinalysis and a fecal exam. Respiratory tests may also be ordered to determine if there is a loss of function within the respiratory system. Your dog's esophagus may need to be scoped to look for any foreign bodies that may be lodged or for an abscess. 
X-rays and ultrasounds of the chest or the mediastinum region will be ordered to locate the extent of the infection. This will help your veterinarian determine the best course of action for your dog.
Top
Treatment of Mediastinitis in Dogs
Once your veterinarian has determined the extent of the mediastinitis, they will discuss treatment options with you. Be sure to ask questions and get clarification on the treatments available so you and your veterinarian can make an informed decision.
If your dog has a severe infection, they will require hospitalization and supportive care while they are being treated. This will usually entail having a drainage tube inserted into their lungs. Intravenous fluid therapy, nutrition therapy and antibiotics will be used.
The presence of an abscess will generally require surgery. Your veterinarian will need to put your dog under general anesthesia for the procedure. Post-surgical care will be required; some dogs will need to remain hospitalized until they have recovered from the general anesthesia. 
Your veterinarian will remove a foreign body using a flexible endoscope and forceps. Some foreign objects that have smooth edges can be removed using a suction tube. Foreign objects that have sharp edges may need special care when being removed. In some instances, the foreign body will need to be pushed into the stomach where it can be moved through the digestive tract or be surgically removed. 
Your dog will need to be on antibiotics if the mediastinitis is found to be from a bacterial infection. If the mediastinitis is found to be from a fungus, your dog will be put on antifungal medications. Antifungal treatments can last up to six months. You will need to schedule follow-up appointments with your veterinarian to ensure that the mediastinitis has been eliminated.
Top
Worried about the cost of Mediastinitis treatment?
Pet Insurance covers the cost of many common pet health conditions. Prepare for the unexpected by getting a quote from top pet insurance providers.
Recovery of Mediastinitis in Dogs
Your veterinarian will want to conduct blood tests every two to three days while your dog is recovering to ensure that the infection is not spreading. X-rays of your dog's mediastinum will need to be taken every seven to ten days.
Speak with your veterinarian regarding your dog's prognosis once treatments have begun. This will allow your veterinarian to see how well your dog is responding to treatments and they may need to adjust your dog's treatment plan to eradicate the infection.
Top
Mediastinitis Questions and Advice from Veterinary Professionals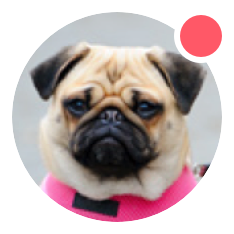 Need pet insurance?