How to Train Your Dog to Accept an Object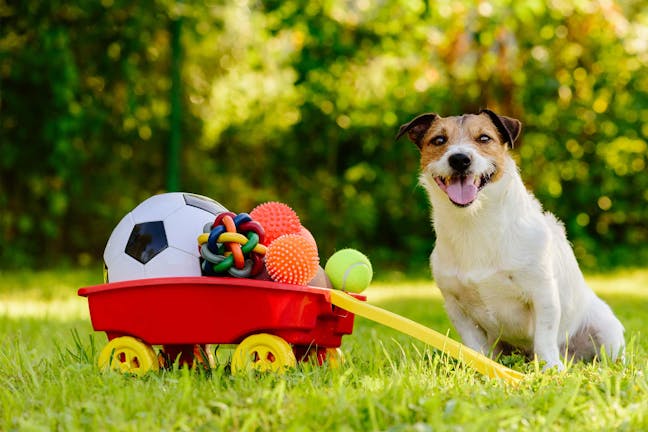 Introduction
Imagine taking your dog to the local park for a game of fetch and retrieve. Or maybe you'd like to teach your dog to pick up his leash when it's time for a walk. Perhaps you want to train your dog to carry items without damaging them, as working dogs do sometimes. One of the most useful tricks you can teach your dog is to hold and accept an object, and with some patience and practice, your dog can quickly learn this skill in a matter of weeks.
Accepting an object is a vital skill for dogs used for service work, hunting, or competition. But it's also a helpful skill for your dog at home to learn too. This trick can even come in handy for entertainment purposes and adorable photos of your pup!
Top
Defining Tasks
Training your dog to accept an object can be accomplished within a few weeks' time provided you approach the training with consistency and patience. This skill may be easier for some dogs to acquire than others based on their breed and genetic tendencies.
For instance, working and sporting dogs, like Labrador or Golden retrievers, have softer mouths and are predisposed to carrying objects in their mouths. Regardless of the breed, with the proper steps, your dog can learn this valuable ability.
Top
Getting Started
Along with your positive, patient attitude, make sure that you have the right kind of training object. These items can be purchased at pet and sporting goods stores, however, you can also use objects around the house to accomplish this task. Whatever object you choose, make sure it is a comfortable size and weight for your dog.
Be ready to give plenty of praise to your dog, but hold off on any treats. You will have to remove the object from your dog's mouth to provide him with the snack, and that can send mixed messages about what you're trying to teach your four-legged companion.
Top
The 'Hold' Command Method
Place the object in your dog's mouth
Take your dog's jaw and gently open his mouth. Place the object in the dog's mouth back behind his canine teeth.
Give the 'hold' command
Give your dog the "hold" command. Prevent the dog from spitting out or dropping the object by placing gentle pressure on the lower jaw.
Repeat the command
While you help keep the object in your dog's mouth, repeat the 'hold' command and then praise the dog the whole time he is accepting the object.
Take a break
Every ninety seconds, take a break from the training process. Break even sooner if you are losing your patience, or if your dog becomes frustrated or bored.
Repeat
Repeat this training process until your dog accepts objects on his own without your assistance.
Encourage your dog to mouth his leash
Take your dog's leash and put it to his mouth, encouraging him to mouth it. Praise him whenever he accomplishes this step.
Give the 'hold' command
Hold one side of the leash and give the 'hold' command.
Praise your dog
Once your dog grabs onto the leash, give him plenty of praise and pats on the head.
Practice this session again
In short intervals, practice getting your dog to hold his leash on your instruction.
Repeat the process
Continue to repeat this training process in ten-minute training segments. Within a few weeks, your dog should get the hang of it!
The PVC Peanut Butter Method
Find a piece of PVC pipe
PVC pipes are an excellent object to train a dog with because of their light weight and shape. Be sure to file off any rough edges on the pipe before using it with your dog.
Get the peanut butter
Spread a thin line of peanut butter along one side of the pipe, then hold it in front of your dog's nose.
Allow your dog to lick the peanut butter
Let your dog lick the peanut butter off the pipe, then gently place it against his lips.
Give the 'hold' command
As soon as your dog opens his mouth against the pipe, give him the "hold" command. Gently scratch the underside of his chin while giving this instruction.
Repeat
Practice this skill in short, 10 minute sessions. Gradually reduce the amount of peanut butter on the PVC pipe until your dog picks up the pipe and holds it on his own.
By Erin Cain
Published: 12/07/2017, edited: 01/08/2021
---