How to Train Your Dog to Agility Jump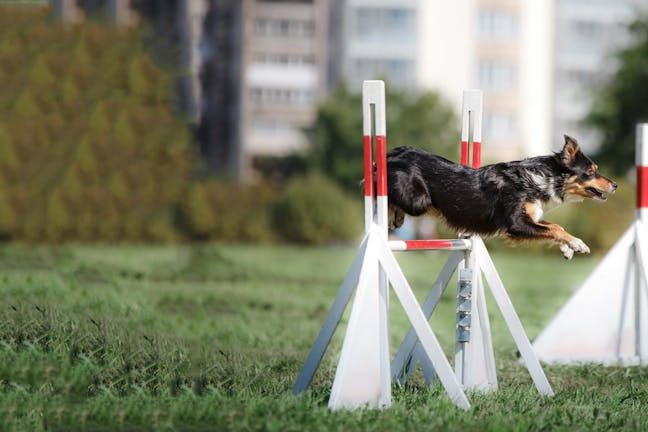 Introduction
Have a dog that loves to run and jump? Why not use that ability to create a fun activity together that promotes learning, following direction, and developing physical strength. You and your dog can even get involved in agility competitions. Many dogs love to jump and are very good at it. Both large and small dogs can be naturally good at jumping--although a small dog may require somewhat smaller obstacles, you would be surprised at how high a talented small dog may be able to jump. Training your dog to agility jump builds your relationship with your dog, provides a fun training experience, and builds physical strength. Before teaching agility jumping, ensure your dog should be jumping, as some dogs with physical limitations, medical conditions, or certain conformational traits, such as long-bodied dogs, should avoid this exercise. Be sure to check with a veterinarian whether your dog should learn agility jumping before proceeding.
Top
Defining Tasks
An agility jump is part of most agility competitions, so if you are planning on competing you will need to teach your dog how to perform these obstacles. Some dogs and owners may just choose to learn agility jumping for fun. To perform an agility jump correctly, your dog will need to wait patiently for the jump command in front of the obstacle, approach the jump on command, launch himself over the jump, land, and approach his handler ready for his next command. Jumping is a natural activity for dogs. Working dogs, such as herding and hunting dogs, routinely jump obstacles as part of their work, and your dog's ancestors routinely jumped obstacles while hunting and traveling. Most dogs jump naturally as part of play, so the "trick" to teaching agility jumping is to combine this natural activity with a command.
Although it may not take long to teach your dog to jump to a command, it may take weeks or months for them to develop the strength to jump larger obstacles efficiently and safely, without risk of injuring themselves. Because of the physical requirements of a jump, it can be hazardous to dogs that are not physically ready to attempt the jump, especially if a jump height is too challenging, or in young dogs where joints, bones, and muscles are still developing. Be sure to determine what is an appropriate height for your dog to jump and remember that different dog breeds develop at different rates--some dogs may be ready to start agility jumping activity younger than others. It's usually recommended that dogs are at least 1 year of age, older for giant breeds, before initiating agility jumping.
Top
Getting Started
Make sure that the jumps you have set up do not present a hazard if your dog fails to clear them. Sharp objects or objects that can hurt your dog if they fall on him are not appropriate for jump construction. Usually, jumps consist of a lightweight bar suspended at an appropriate height.
Determine the recommended height for jumps for your dog based on their size and ability. Dogs are eager to please and may attempt to jump an obstacle that is beyond their ability, resulting in muscle or joint strain or injury if they fail to clear the jump Always start easy, and work your way up to more difficult jumps slowly and according to your dog's ability. Have appropriate jumps starting at 4 inches for small dogs and 6 inches for larger dogs, that will not injure your dog. Jumps are commercially available, or can be homemade with broom handles elevated above the floor.
Many agility jump training methods incorporate a long leash, 6 to 12 feet in length, and rewards such as food treats or a favorite toy, so be sure you have these available. Decide on a command you will use, such as "jump" or "over". You can use wings or poles leading up to the jump to guide your dog toward the jump, and discourage him from going around the jump. Vary jump types to include bars, tires, hoops, logs, straw bales or whatever else is appropriate, safe, and available in your home or yard.
Top

Position your dog
Set up a low jump a few inches from the floor. Ask your dog to sit and stay a few feet in front and facing the jump, while you walk to the other side of the jump with a long leash attached.
Call your dog to the jump
Show him his reward, food, or toy, and call your dog. Give a slight tug on the leash.
Introduce the command
As he approaches the jump, give the verbal command for jump. Use the leash to guide him over the jump and prevent him from going around the jump.
Reward and repeat
Your dog may just step over the jump, if it is low. This is OK – reward him for going over the obstacle. Gradually raise the obstacle and repeat the process, until your dog is jumping the obstacle smoothly. If your dog goes around, back him up to a closer starting point and try again. Do not punish the dog for failed attempts, simply start again until success is achieved and a reward can be provided.
Join in
Once successful, start walking or running beside him towards the jump, give him the jump command as he approaches the obstacle, and reward him after he completes the jump. Eventually remove the leash and walk or run next to your dog as they complete the jump.

Introduce the obstacle and the object
Start by walking or running with your dog on a leash, and both you and your dog jump over the obstacle. Provide the retrieval object when he is on the other side of the obstacle.
Split off
Gradually begin to go around the obstacle as your dog jumps the obstacle while still walking or running at his side.
Toss the object
After your dog is jumping the obstacle solo, with you at his side, wait until you are near the obstacle, and then release and toss the retrieval object over the jump as your dog jumps the obstacle to retrieve the object.
Increase distance
Slowly start releasing the object from further and further back.
Object only
When a successful pattern is established, throw or toss the retrieval object over the jump for your dog to retrieve.

Approach the jump
Set up one or several jumps, and walk or run with your dog on a leash towards the obstacle.
Introduce the command
As you approach each obstacle, give the verbal jump command, and step or jump the obstacle with your dog. Reward your dog each time he completes a jump with you by providing him with a treat or toy.
Remove the leash
Remove the leash and complete the obstacles, jumping with your dog off leash.
Change positions
Engage a helper to run or walk beside the dog while you call him from the opposite side of the jump. Your helper runs or walks beside the dog, but does not jump the obstacle with the dog.
Going solo
With the dog still off leash, walk or run beside your dog toward the obstacle. When you approach the obstacle, give the jump command, but allow the dog to jump over the obstacle while you pass on the outside of the obstacle. Gradually raise the jumps. You may need to go back to the beginning steps if necessary after raising the jump if your dog avoids the jump. Practice this several times a day for several days or weeks to gradually increase your dog's jumping ability and build strength.
By Amy Caldwell
Published: 09/21/2017, edited: 01/08/2021
---