How to Train Your Dog to Be Calm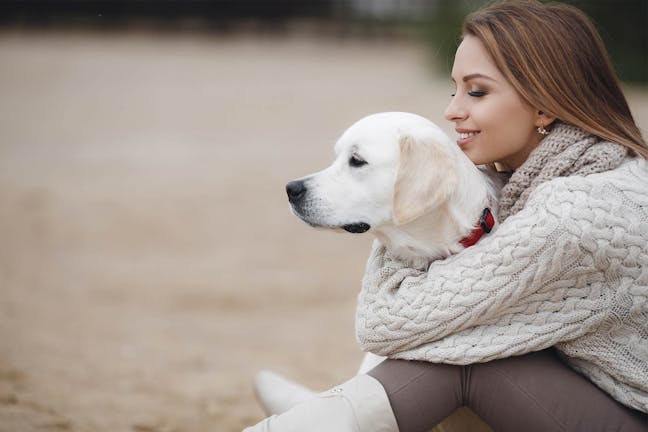 Introduction
Dogs can be great additions to help owners increase their activity level, encouraging people to walk, run and enjoy outdoors and social activities. These dogs make excellent companions with their high activity levels and willingness to participate and learn. There are times, however, when you may want your high-energy dog to calm down, take a break, or relax. The good news is that, whether at home or out in public, it's completely possible to teach your dog to be calm. In fact, we have several methods to choose from to help train this important behavior.
Top
Defining Tasks
Dogs, unlike humans, have a hard time understanding the meaning behind words. You can, however, train your dog to associate certain words to specific behaviors. Training your dog to be calm will involve teaching your dog to lay down, stop moving, or otherwise focus on a specific task for a prolonged period of time. This behavior can be helpful for times when you are hosting friends or family in your home or when your dog's energy level is upsetting to other household pets.
Top
Getting Started
Before you start training your dog to be calm, you will need a few supplies. A wide selection of treats is important to helping cement any given behavior. Treats should be of a variety of reward levels. Dry cookie treats, slices of hot dog, small cubes of cheese, and cooked meat slices provide a range of values for treats, allowing you to treat your dog with a better item to reward especially good behavior. A treat pouch is also important during training. Attaching a pouch to your waist frees up your hands for gestures or to hold a leash or praise your dog with physical attention. You will also need several chew toys to occupy your dog. Once you have collected your items, you are ready to choose a method that works best for your dog and your training style.
Top
The Down with Settle Method

Lure into a down
Hold a treat in your hand and lure your dog into a sit by raising it above their head. Keep your dog following your hand as you lower it to the ground until they are in a down position. Release the treat when your dog is in a down position.
Add in a command
When your dog is luring into a down reliably, add in a command word such as "down." Say the command as you are luring your dog into the down position. Release the treat when your dog is on the floor. Repeat this step multiple times in numerous sessions.
Remove the lure
When your dog is reliably lowering into a down with the treat, remove the lure and say the command only. If your dog lowers into a down, treat and praise immediately. If your dog hesitates, give him time to think about it and treat and praise if he ends up in a down. If your dog doesn't perform the behavior, go back to step 2 and repeat numerous times.
Adjust position
While your dog is in a down, hold a treat in your hand and move it back towards their shoulder and away from their body. Watch your dog's body. When your dog moves from a straight up and down, laying on top of their feet, to shifting their weight onto one of their hips, immediately praise and treat. This is the "settle" behavior.
Add command to settle
Once your dog is reliably performing the behavior with the lure, add in the command word "settle." Tell your dog "settle" as you lure them into the position with the food. Release and treat and repeat numerous times until your dog is able to settle on command without the lure.
The Ignore and Reinforce Method

Build up Excitement
In order to train your dog to be calm, you first have to get them excited. Try playing with a favorite toy, engaging in mild wrestling, or initiating a game of tug of war. Playing with a ball or frisbee in the back yard is another way to work your dog's excitement level up in preparation.
Stop and go
After you have built up your dog's initial excitement level, it's time to engage in a game of red light, green light in energy level. Get your dog worked up, then stop and allow them to calm. Repeat this multiple times, petting your dog and stroking their ears gently until they begin to calm then rev them up again.
Be a tree
After you've prepped your dog and gotten them used to varying levels of calm and play, it's time to demand complete calm. Work your dog's excitement up then stop and remain completely still. Your dog may try to get your attention or keep attempting to play. Do not react in any way until they are completely calm. Treat and praise immediately then begin playing with your dog again, repeating the process.
Add in a command
After you've repeated the process multiple times and your dog is calming quickly when you remain still, it's time to add a command. The next time you rev up your dog, when you go still add in a cue word. "Still" or "calm" are good choices here.
Repeat and reward
Repeat using the cue word and being still until your dog is readily stopping and waiting for you to engage in play again. Begin loosening your body language and use just the command word. Repeat this in multiple settings with different types of toys and over multiple days to reinforce the command and get your dog to calm.

Lure to place
Start out with a selection of treats. Get your dog's attention and throw a treat onto their bed or spot you've designated as their "place." The moment your dog's feet touch their bed, praise and provide another small treat. Repeat this multiple times.
Add in a command
Once your dog is reliably going to their bed with the treat, add in an appropriate command word. "Bed", "place" and "rest" are all great choices. Say the word then throw the treat and praise and reward for feet touching the bed.
Remove the lure
After you have repeated the command and lure combo multiple times over several training sessions, remove the lure of throwing the treat. Say the command only and treat and praise if your dog goes to his space. If your dog does not go to their spot, go back a step and repeat.
Increase delay and time
Once your dog is going to their spot on command, start adding in a delay for the treat and praise reward. Let your dog wait on their spot expectantly for several seconds, working your way up to 15, 30, 60, and longer slowly and gradually. At the end of that time, treat and praise.
Repeat and add toys or treats
Once you've worked up to a significant period of time, reward your dog with praise and a chew appropriate treat. Kongs, bones and bully sticks are great options here. If your dog removes their treat from their space, take the treat away and repeat the "bed" or "space" command, slowly training your dog that remaining calm on their bed gains a reward.
By Amy Caldwell
Published: 10/05/2017, edited: 01/08/2021
---