How to Train Your Dog to Be More Social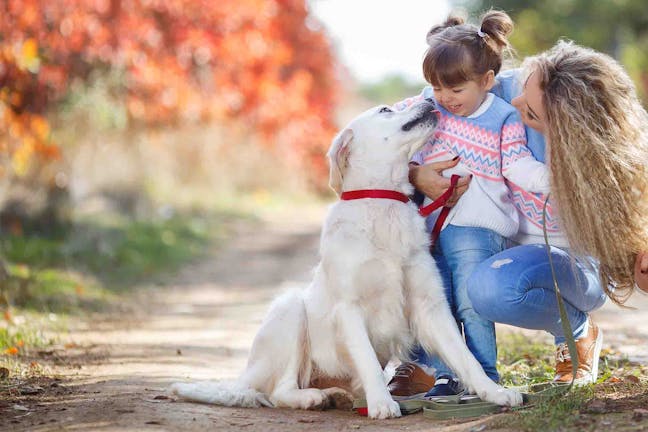 Introduction
You go out for a walk and your normally loving pup lunges and barks at everyone or everything he sees! Not only is this embarrassing, it's dangerous. Your dog could pull away from you and get lost or run into traffic, he could run afoul of another bigger, meaner dog, or he could pull you over. Some dogs express their lack of socialization by retreating or hiding. This can also lead to a dog that runs away from a social situation, and into trouble. Your dog is not happy, you're not happy, and no one the two of you encounter is likely to enjoy your dog's company very much either.
Dogs are naturally social creatures. Think about a pack of your dog's wild cousins, their survival depends on being part of a social group. Your dog definitely wants to be social, but depending on his past experiences, he just might not know how. If you have a dog that has come from a situation in which they were isolated, neglected, or abused, or where a transition occurred which may have caused emotional stress to your dog, you may need to help him to develop his social skills! Most of us require our dogs to be social with other people and with other animals, so if your dog needs help with his social skills, you will have to give him some guidance.
Top
Defining Tasks
If your dog acts aggressive, barks, growls or otherwise is not his usual charming self around other people, or animals, you are going to need to give him some etiquette lessons! You will need to establish whether your dog is aggressive or fearful, or a combination of both, to help counteract this and teach your dog another way of interacting with others. Has there been abuse? Is your dog just inexperienced? Determining what is causing his antisocial behavior so you can address it will be useful in developing strategies and experiences to develop socialization. You want your dog to develop the ability to be around others in a confident, calm and relaxed way. Providing your dog with positive social experiences in a controlled environment, in which he feels comfortable and follows your leadership, will develop a dog that responds appropriately in social situations with other people and dogs.
Top
Getting Started
Never use punishment to redirect an antisocial dog, as this just creates a negative experience associated with the social situation and will make existing antisocial behavior much worse. If your dog has acted up before in a social environment, do not give into that memory and tense up or be nervous about his behavior, as this will make your dog nervous and tense. You want to teach and encourage your dog to see other people and animals as friends, pack members, and have a positive, rewarding experience. You should be calm and confident in social experiences to provide your dog with the guidance he needs.
You will need a leash, treats to reward appropriate behavior, and lots of friends, both furry and otherwise, to assist you. If your dog is prone to be aggressive or bite, you may want to use a basket muzzle to ensure everyone is safe during training.
Top
The Desensitize to Dogs Method
Go
Take your dog on leash to a setting with other dogs, such as a dog park or a friend's house or yard with other dogs. Approach, but do not enter.
Approach
Approach the fence or door. Wait. When your dog is calm and shows no signs of retreat, or barking or growling, give him treat.
Enter
Enter the yard, home or park. Keep your dog on leash. Let him get used to being around other dogs. If necessary, put a muzzle on him if there is a danger to other animals.
Ignore
If he reacts fearfully or aggressively, ignore the behavior. Do not pet him, reassure him, or punish him. Do not react in any way.
Reward
When your dog is calm, reward him with a treat. Repeat this process, getting closer and closer to the other dogs until your dog learns to react calmly and get a reward. Repeat in multiple settings, with different dogs, over a period of weeks and months until your dog learns to be calm and friendly with other dogs and be positively reinforced for his behavior.
The Desensitize to People Method
Expose
Have a friend come to your home, or go to a friend's home. Start with one person at a time.
Entice
If your dog reacts negatively to another person's presence, ignore the behavior. If your dog retreats, put out some high-value treats, like bacon or chicken, near the new person to tempt the dog to come and interact. Do not make a big deal about your dog's behavior or insist that he comes out. Most dogs will come out for a high value, smelly food on their own.
Encourage proximity
Give the new person a treat, have the person quietly offer the treat to the dog by placing it on the ground nearby. Wait for the dog to take it.
Encourage closer
Offer another treat, a little closer this time. Do not drag or force the dog to accept, wait for the dog to come get the treat on his own. Be patient, if the dog does not come closer, move the treat a little farther away and wait for a positive response.
Repeat
Repeat often with the same "new" person until your dog accepts their presence, then introduce another new person repeat the procedure. Repeat with different people, and eventually settings, over a period of weeks or months until your dog learns to accept new people and associate other people with positive rewards.
Walk
Put your dog on a leash and go for a walk.
Meet
Meet another person, or a person with another dog, that you have pre-planned. If your dog has a tendency to be aggressive, you may want to use a basket muzzle. Walk parallel to the new person and their dog.
Ignore
If your dog is behaving badly, put your body between your dog and the new person or dog at first.
Reward
When your dog comes along quietly and appropriately, even for a few steps, give a treat.
Repeat and reinforce
Continue, ignoring inappropriate behavior and rewarding appropriate behavior, until your dog learns to walk with his new pack members. Repeat often and with different people and dogs.
By Amy Caldwell
Published: 11/14/2017, edited: 01/08/2021
---