How to Train Your Dog to Catch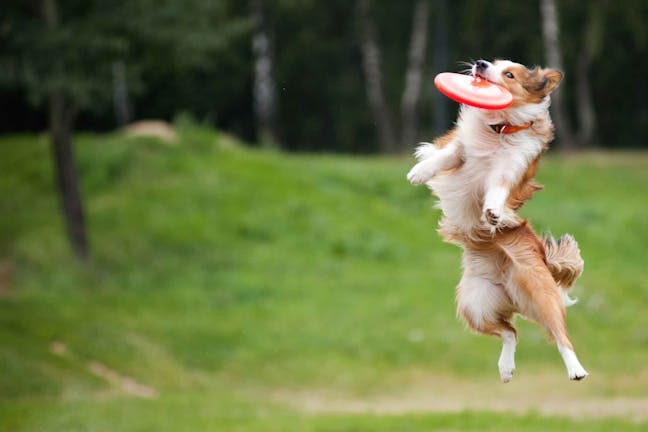 Introduction
Are you looking for a relatively easy trick to teach your dog that he is going to love? How about a trick that is sure to impress your friends and neighbors? Imagine being able to go out to the park or the beach and play frisbee or catch with a tennis ball. There is nothing like playing catch with your dog--not only is it fun, but it will be great exercise for the both of you.
Remember to use a soft toy during the early phases of his training to ensure your dog doesn't hurt himself while he is learning to catch. Many people seem to be under the impression that dogs should naturally know how to catch. Unfortunately, this is not the case with most dogs, it is a behavior they must learn.
Top
Defining Tasks
Teaching your dog to catch a frisbee, a ball, a toy, or anything else is a great way to interact with him and make sure he gets plenty of exercise. In most cases, dogs can be taught this trick in just a few weeks, but this depends on several factors, including the breed of dog, his physical abilities, and his own ability to learn. It also depends a lot on how much time you have to spend training him every day.
Choose a command word such as "catch" and stick with it, you should never change a command once you have used it once. Continually changing the command used for a particular task only leads to confusion. This can make training difficult if your dog is too confused to understand what you expect from him.
Top
Getting Started
In order to teach your dog to catch there are a few things you will need in order to make the training more successful and fun. These include:
Treats: You will need a large supply to reward your dog and encourage him during his training.

Various objects: You will need a selection of soft toys for your dog to catch before he can graduate to hard items like a Frisbee.

A quiet place to train: Pick a time when your backyard or the local park is nice and quiet for your training sessions. The fewer distractions there are, the smoother each training session will go for you.

Patience: Training your dog this trick is not something that is going to happen in a hurry. You will need an ample supply of patience until he finally gets it and is ready to get out there and play catch with you at every possible opportunity.

The right command: Most people use the word "catch" as their command for this trick. It is simple, works very well, and is not easily confused with other commands.

You can teach this trick to any dog that is old enough to have mastered the basic commands such as 'sit', 'stay', and, 'come'.
Top
Find a spot
Go outside in the backyard or a quiet park with your dog and a bag of his favorite treats.
Toss
Throw a treat in the air towards your dog and give the command, "Catch."
Hit or miss
If he misses it, he will simply pick it up and eat it. But if he catches it, give him lots of praise.
Change it up
Once he manages to catch the treats on a regular basis, move on to toys.
Double bonus
Start tossing toys his way and when he catches them, give him a treat. Repeat until he has mastered the fine art of playing catch with you.
Be ready
Start by standing in front of your dog with a treat.
The drop
Drop it in front of him and say "Catch!" If he catches it before it hits the floor, let him eat it.
Think fast
If it hits the floor, scoop it up and try again.
Change the lure
Once he has mastered this, move on to soft toys. Give him a treat every time he catches it and lots of praise.
Toss
Start moving farther away from him, encouraging him to catch the toys you are throwing to him. Each time he catches them, reward him with treats and praise. It won't take long before your dog masters the game of catch and will demand to play it every time you go out.
Pass
Have your dog sit in front of you and pass him the object you would like him to catch.
Add command
Introduce him to your chosen command word and give him a treat.
Drop
Move on to dropping the object from above him so that he has the opportunity to catch it. Be sure to reward him with tons of praise and treats.
Distance
Once he has mastered close-up catching, start moving further away until he can catch any object you toss his way no matter how far away you are from him.
Change it up
Finish his training by following this by varying up the different items you want him to catch. What you want is for him to be ready the minute you say "catch" so that the two of you can go out and get some fresh air and fun.
By Amy Caldwell
Published: 12/28/2017, edited: 01/08/2021
---