How to Train Your Dog to Catch a Treat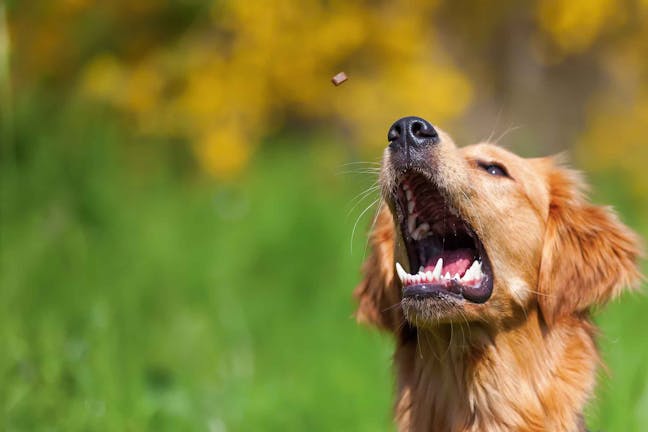 Introduction
You've had a long day at work, you're feeling lazy and you want to simply lie on the couch and chill out with an episode of Judge Judy. While you want to play with your canine pal and give him the odd treat, you don't want to get up and feed him. You want to throw the treats and see him catch them in the air. It would also make a for a neat trick when family and friends are over. Once he can catch a treat he can catch a whole range of things. That means when your kids won't eat their vegetables at dinner at least they can get rid of them without you having him causing havoc under the table.
Teaching him a fun trick like this will also make teaching him a range of other things easier too. It will keep his mind active and ensure he remains eager to learn and please.
Top
Defining Tasks
The good news is that it's pretty easy to train your dog to catch treats. If he's young and agile he will probably respond to training in just a day or two. If he's older and not quite the acrobatic king he once was then he may need a few more days to catch on. Because this trick relies on food and I'm yet to meet a dog who doesn't have a never-ending appetite, it's quick and easy to incentivize them.
Training consists mainly of hurling treats at him, making it significantly more entertaining than a lot of the training needed for other commands! While it's a fun treat to demonstrate when you have friends and family over, it's also a good way of helping him dispense some of that endless energy. If he comes back from walks still full of life, a quick game of 'catch the treat' will soon have him ready to retire for a nap.
Top
Getting Started
Before you begin training you will need a few things. The most important training component will be a large supply of treats. If you don't want to use treats, you can break his favorite food into small pieces.
You'll also need some space to practice in; a large room or a yard works well. Try and avoid training in a room with lots of furniture, or in 10 years' time, you might move a couch to find some moldy doggie treats underneath.
Once you have the above just bring a can-do attitude and you're ready to begin!
Top
Sit
Take him to the training area and have him sit in front of you. Make sure your pocket is full of tasty treats.
Toss
Take out a treat and throw it gently towards him at head height. You don't want to take out an eye, so don't throw it too hard. At this point you want to make it as easy to catch as possible.
Praise
As soon as he catches it, go over to him and verbally praise him. It is important you emphasize this is the correct behavior. It is also crucial you give him the praise as soon as possible, leave it too late and he won't associate the action with the praise.
Try again
If he doesn't catch it, scoop it off the floor before he can get to it. By doing this he will realize he will need to try a different technique next time. This is the way to correct any failed catching attempts. He will soon realize he needs to get it mid air if he wants the treat in his tummy.
Challenge
Increase the distance you throw it from and change up the angle. Now it's time to make it more challenging. Throw it from a range of different angles until he can run and jump to get the treat. Practice daily until he becomes a treat catching pro. Dogs are pretty agile so he should get the hang of it in a matter of days.
Lure
Have him sit in front of you and then hold out a treat to get his attention. For this method you are going to use a verbal cue to signal to him what you want him to do.
Give command
In a firm but playful voice say "catch". You don't have to use 'catch', you can use any word you like. Just make sure you give the command in an upbeat playful voice. Dogs learn quickly when they think they are playing a game.
Toss
As soon as you give the command throw the treat from a couple of feet away so he can easily catch it in his mouth. Then head over to him and give him verbal praise. Really emphasize how good a job he has done, this will encourage him to want to keep playing.
Not from the floor...
If he doesn't catch it, say 'NO' in a firm voice when he tries to pick it up from the floor. This will help him realize that he has to catch the treat when it is in the air. Then pick up the treat and try again.
Change it up
As he improves make it more challenging. Start throwing the treat from further away and at angles that mean he has to run and jump to catch it. Be sure to keep up with praise until he gets seriously good. You can then use the verbal cue even when you want him to catch a toy or something else, as the word will now signal to him to get ready to catch.
Sit and stage
Have him sit in front of you and hold out an average treat. Make sure in your pocket though that you have another even tastier treat. The more he loves the treat the harder he will be willing to work.
Easy catch
Stand directly above him and drop the average treat into his mouth. Unless he's blind, he shouldn't have any problem catching the treat. It is important you make it nice and easy to start with so he quickly catches on what you want him to do.
Double reward!
As soon as he catches the treat, shower him with praise and give him one of the tastier treats in your pocket. This double treat method will really get him to keen to learn and please. Practice this for 5-10 minutes until he gets the hang of it.
Toss
Take a few steps back and throw an average treat to him again. Now you're ready to make it harder, so throw the treats at an angle he has to work for. Have him jumping around and running to get the treat in his mouth. Each time he catches it make sure you give him another tastier treat and praise.
Reduce the bonus
Once he gets really good, slowly reduce the frequency of the second tastier treat. Now that he understands what you want and he's developed a habit, you can slowly cut down the second treat until it is no longer needed.
By Amy Caldwell
Published: 12/06/2017, edited: 01/08/2021
---